These easy to make Peruvian Chicken Wings are served with a spicy and herbaceous creamy green sauce that is just fantastic and have you craving "just one more…" (Jump directly to the recipe.)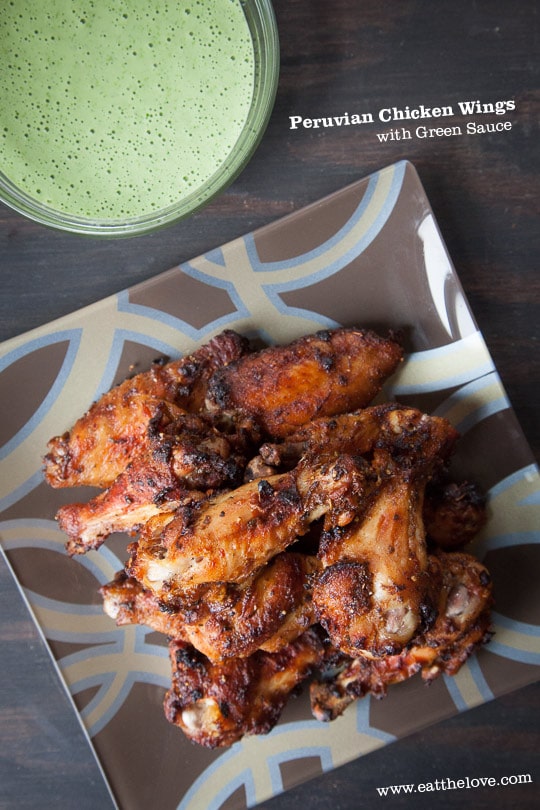 I've been slightly obsessed with Peruvian roasted chicken for years, ever since I tasted it at a local restaurant here in San Francisco called Limon Rotisserie. But it was the version of it in New York (during our fateful trip this past summer) that really had me deciding I needed to attempt it at home. It wasn't the chicken itself that was so great so much as the accompanying green sauce that I fell in love with. Spicy, creamy herbaceous and utterly addictive, I knew that I wanted to make a Peruvian chicken wings for Chicken Wings Week complete with Peruvian green sauce. AJ's eyes lit up when he saw them and they were gone pretty much the minute I served them up.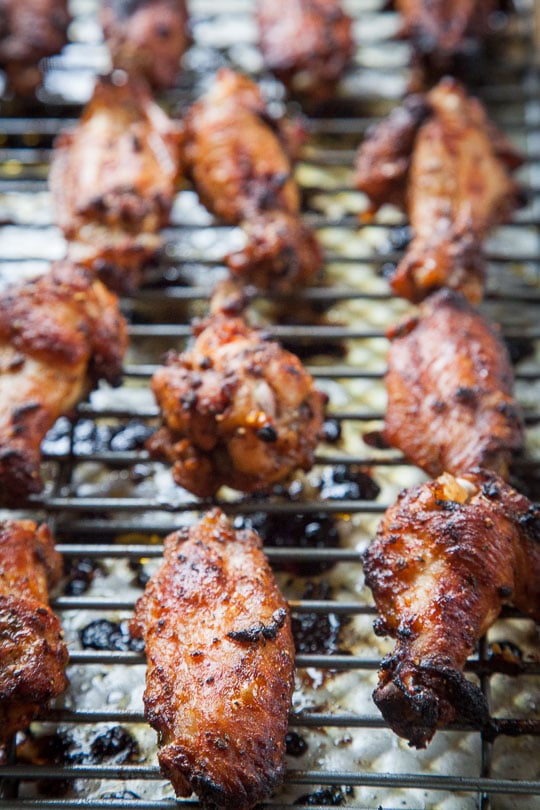 Roasted chicken is actually my go-to comfort food to make at home, and it's especially quick if you spatchcock the bird. The Peruvian marinade that I used in this recipe can also be used for a roast chicken of course. But there's something really great about making Peruvian roasted chicken wings. I think it's the spicy Peruvian green sauce that you can use for dipping the wings into. Sure you can spoon the sauce over the roasted chicken but the finger appropriate chicken wings are almost designed for dipping!
The best part of making these wings though is how easy they are. The marinade comes together in a snap and the oven cooking is all "walk away" time. I place the wings on a wire rack so you don't even need to turn them over halfway through like other oven baked wings. And while the wings are baking, you make the green sauce by throwing all the ingredients in a food processor or blender. Couldn't be easier.
Peruvian Chicken Wings with Peruvian Green Sauce
By Irvin Lin
These are AJ's new favorite chicken wings. And I'm pretty fond of them myself, especially because they are insanely easy to make. Don't skip the spicy green sauce as it super easy to make in a blender or a food processor. And if you hate cilantro, try this at least once because even my friends who HATE HATE HATE cilantro love this sauce. Something about spicy Serrano pepper and the mayonnaise and sour cream that mellows the off-putting soapiness of the cilantro.
Adapted from a Once Upon a Chef recipe.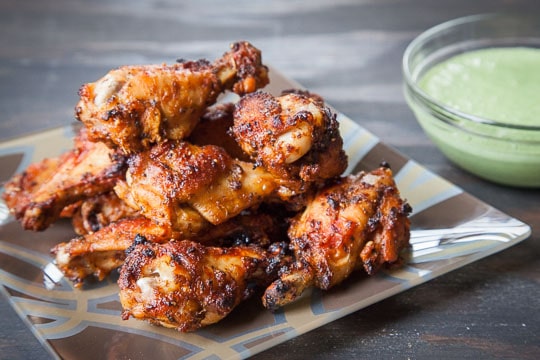 Ingredients
Chicken Wings
3 tablespoons olive oil
6 large garlic cloves, forced through a press or minced
1 tablespoon ground cumin
1 tablespoon kosher salt
2 teaspoon coconut sugar or brown sugar
2 teaspoon paprika
1 teaspoon ground coriander
1 teaspoon dried oregano
1 teaspoon fresh ground pepper
Juice and zest of 1 lime
2 1/2 pounds chicken wings, broken into flats and drumettes (save the tips for stock or discard)
Oil for the wire rack
Green Sauce
1 cup fresh cilantro
1/2 cup mayonnaise
1/4 cup sour cream
2 tablespoons olive oil
2 green Serrano peppers
2 large cloves garlic
1/2 teaspoon kosher salt
1/4 teaspoon fresh ground pepper
Directions
1. Prep the chicken by placing the oil, pressed garlic, cumin, salt, sugar, paprika, coriander, oregano, pepper, juice and zest of the lime in a small bowl or glass measuring cup and stir until well blended. Place the chicken wings in a 1 gallon ziplock bag and pour the marinade over them. Seal the bag and then "massage" the chicken to make sure the marinade coats the chicken completely. Refrigerate for 1 hour or up to 4 hours.
2. Preheat the oven to 425˚F. Once the chicken has marinated, place a wire rack on a rimmed baking sheet and brush with oil to prevent sticking. Place the wings on the rack. Bake in the oven for 45 minutes or until the wings are cooked through and slightly charred on some of the edges.
3. While the wings are baking, place al the ingredients for green sauce in a food processor or blender. Process until all ingredients are well blended. Pour into a bowl, cover and refrigerate while the chicken is cooking. The sauce will seem thin but will thicken up as it sits. Serve with the chicken.
Makes enough for 4 to 6 people as appetizers.
I'm going to be posting chicken wings recipes all this week! So be sure to come back this week for more recipes.
In the meanwhile, if you like these Peruvian chicken wings, checkout some of these other awesome Peruvian recipes from around the web:
Skinny Taste's Lomo Saltado (Stir Fried Beef and Fries)
Spoon Fork Bacon's Tallarines Verde (Green Spaghetti)
Sippity Sup's Aguadita (Peruvian Chicken Soup)
What's Gaby Cooking's Peruvian Avocado Tostada