This easy-to-make Turkish Yogurt Carrot Dip is incredibly addictive and tasty. You'll be making it not only for dinner parties, but for everyday eating. (Jump directly to the recipe.)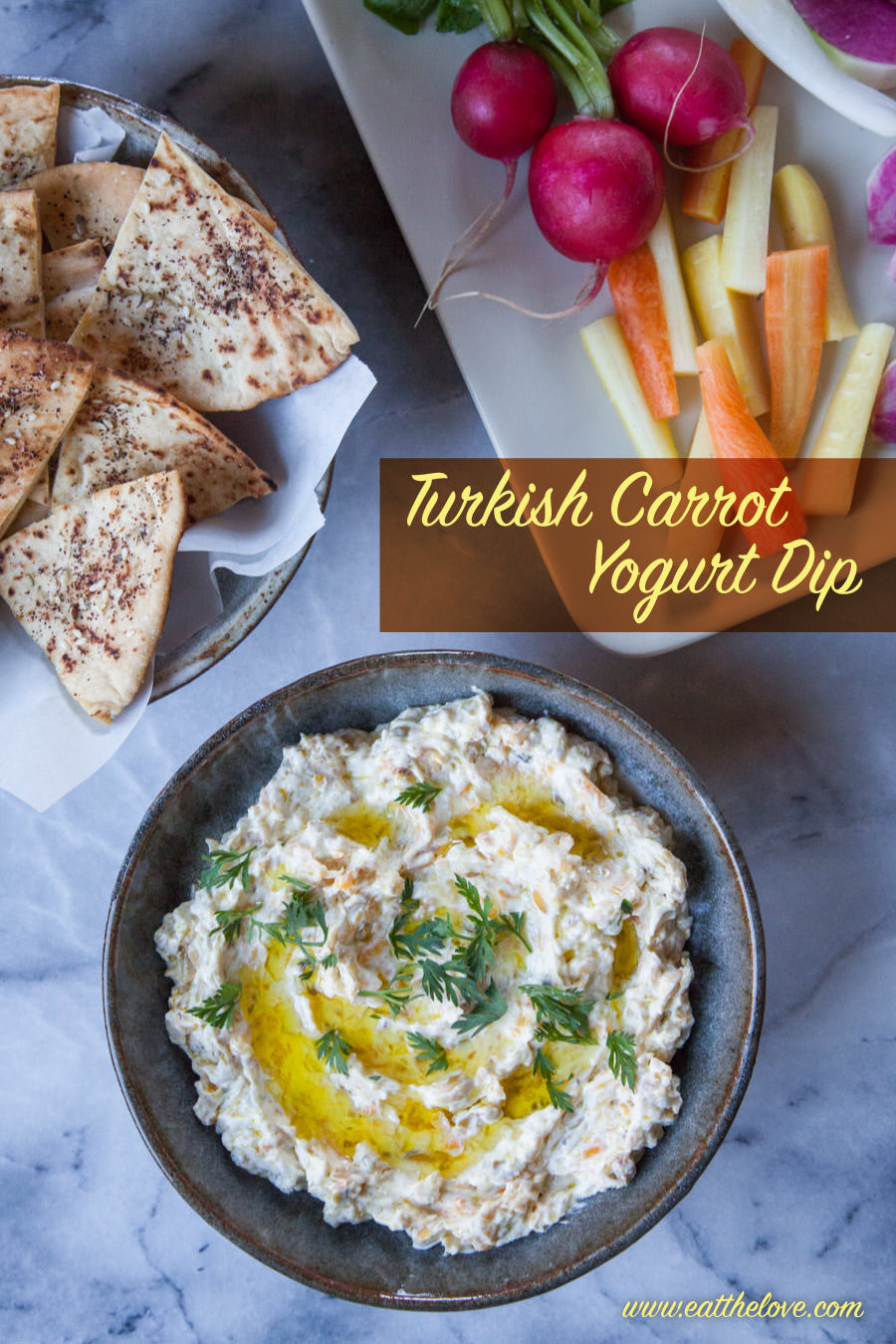 Picture the 80s: all neon colors and bad hairdos along with graphic squiggles and synthesizers. Now picture me in the 80s, a child with an even worse hair (think out-of-control mullet), terrible fashion (why did my mom let me buy those suspenders?) growing up in the Midwest as an awkward Asian-American kid, where everyone just assumed I didn't speak English (yeah, I was born here, thanks). My diet consisted of quick stir-fries that my mom made, traditional Taiwanese food that took all day to prepare, and an occasional frozen pizza that I ate at my friend's house. There wasn't much dairy, there wasn't much junk food, and there wasn't much exposure to food culture outside my parent's Taiwanese and Chinese cuisine and my friend's Midwest convenience food.
So it probably comes to no surprise that I didn't really have Middle Eastern food until I moved out here to San Francisco. And though I love to eat various types of food, out and about, it rarely occurs to me make it at home. But lately the cookbooks have been piling up in my house and I still keep on making the same thing over and over again for dinner. Not that I don't love my Bolognese style sauce, or my Turkey and Noodles. But when your tiny one bedroom apartment has run out of space and you start storing your cookbooks underneath your desk, you know it's time to either start using them or start purging. And thus, it was flipping through the Vegetable Butcher looking for vegetable inspiration, that I came across a recipe for Turkish Carrot Yogurt Dip that I had to make immediately. Once taste of it and I know I'll be putting this recipe into my standard rotation.
I first discovered the idea of savory yogurt from Cheryl Sternman Rule, the author of Yogurt Culture. For me, yogurt was a base for granola or fruit, perhaps with a drizzle of honey on top if I'm feeling extra fancy pants. Sure I used yogurt as a substitute for baking when I didn't have sour cream for bundt cakes and pound cakes. But the idea of savory yogurt was foreign to me. Funny though, it's a fairly common thing in other cultures, including the Middle East, where labneh, a strained yogurt (strained beyond Greek yogurt) is incredibly common. Stir a teaspoons of salt into 2 cups of Greek-style yogurt and strain for a day (or longer). You have labneh.
Labneh is served savory, often strained to the point of cream cheese consistency or even firmer, and preserved in balls in olive oil. The Turkish Carrot Yogurt dip doesn't require the yogurt to be anywhere near that firm. But the savory flavor reminds me of a labneh dips I had a local Mediterranean restaurant Tawla that I've fallen in love with. They have a reasonable priced prix-fixe set dinner which I adore because I don't have to decide on anything other than to just enjoy whatever they bring. It also has me enjoying dishes that I probably wouldn't normally order because I'm just a fuddy duddy and stick to what I know. Sometimes it's good to get out of your comfort zone. And this easy-to-make dip is a great way to start.
Turkish Carrot Yogurt Dip
By Irvin Lin
This dip is sort of, kind of, but not really like a Middle Eastern version of French Onion Dip. The sweetness of the cooked carrots, the crunch of the pistachios and the punch of garlic all blend together to make a brilliant dip that will impress with very little effort. Make it ahead and it will keep for about 5 days in the fridge. I used a mix of orange, yellow and white carrots but you can use regular orange carrots or whatever carrots you find at the store. I also use already deshelled raw pistachios that are not salted. If you can only find salted pistachios, reduce the salt to 1/4 teaspoon and then salt to taste at the end. I like to serve it with toasted pita wedges and fresh vegetables like carrots, turnips, radishes, and endive. But it's also great slathered on a piece of crusty toast.
Adapted from Vegetable Butcher by Cara Mangini
Ingredients
Dip
12 ounces (85 g or 3 large to 5 medium) carrots
1/4 cup extra virgin olive oil, plus more for finishing
1/3 cup (45 g) de-shelled non-salted pistachios, chopped (see headnote)
1 teaspoon kosher salt (see headnote above)
4 medium cloves garlic, forced through a press or minced
2 cups plain Greek-style yogurt (full fat preferred but use whatever you have)
To Finish
kosher salt
extra virgin olive oil
carrot greens or parsley, chopped
Directions
1. Grate the carrots through the large hole on a box grater. Heat the olive oil in a medium skillet until shimmering hot. Grab a little carrot shreddings and drop it in the oil. If it sizzles, it's ready, and add the remaining carrots. If not, wait a bit and repeat until the carrots sizzle.
2. Cook the carrots on medium high heat, stirring frequently, for about 4 to 5 minutes or until they start to soften. Add the pistachios and salt, then reduce the heat to medium. Cook for an additional 3 to 4 minutes, stirring constantly, until the carrots start to brown a bit. Add the garlic and cook for another minute or until you can start to smell the fragrant garlic. Remove from heat.
3. Put the yogurt in a medium size bowl and then add the cooked carrot mixture. Stir together and adjust the seasoning by adding more salt to taste. Drizzle olive oil over the top of the dip, then garnish with a sprinkling of chopped carrot greens or parsley. Serve with toasted pita wedges or vegetables of your choice.
Makes 2 1/2 cups.
Reader Interactions