This Korean BBQ Chicken Recipe is above and beyond better than your typical teriyaki chicken wing recipe! Easy to make, either baked, broiled or grilled! (Jump directly to the recipe.)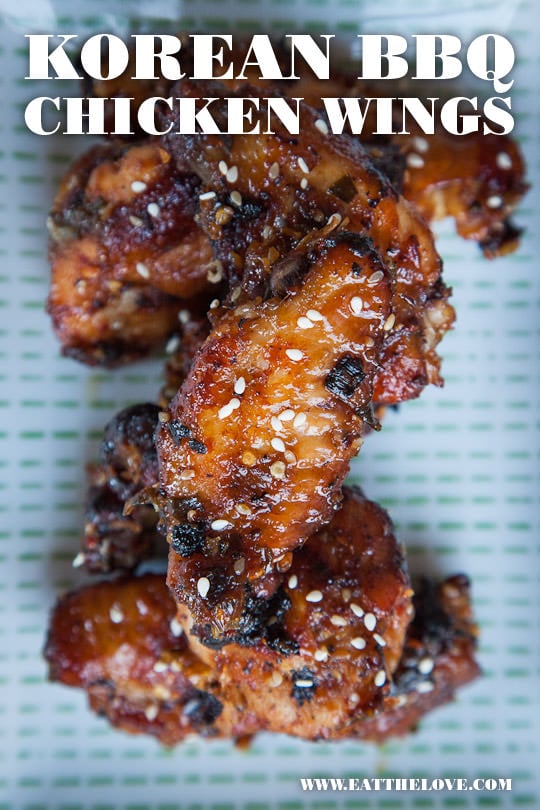 "This one. These are the best wings. Ever!" declared AJ, even though he pretty much said that of every single chicken wings batch I've made. Truth be told, I think it's the proverbial apples to oranges when it comes to comparing the different wing recipes that I made over the past week for Chicken Wings Week. But the one that AJ seemed to definitively declare the best (at least at the moment) were my Korean BBQ Chicken Recipe that I converted for the wings. I can't really argue because I kind of love them too.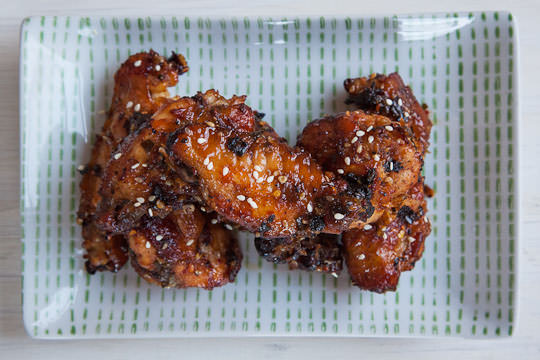 Now these Korean BBQ chicken wings aren't to be confused with the Korean Fried Chicken wings that I posted about earlier this week. Those sticky sweet crispy wings are a class all by themselves (and were also declared AJ's favorite at the time that I made them). But these wings are marinated in the same marinade that you'd find at Korean BBQ house, the kind that you walk into and feast on seeming endless amounts of marinated meat grilled at your table whereby you walk out of smelling like smoky meaty goodness for days afterwards. The sort of marinade that is normally associated with Kalbi short ribs. But this Korean BBQ marinade work just as well with chicken or pork or pretty much any meat now that I think about it.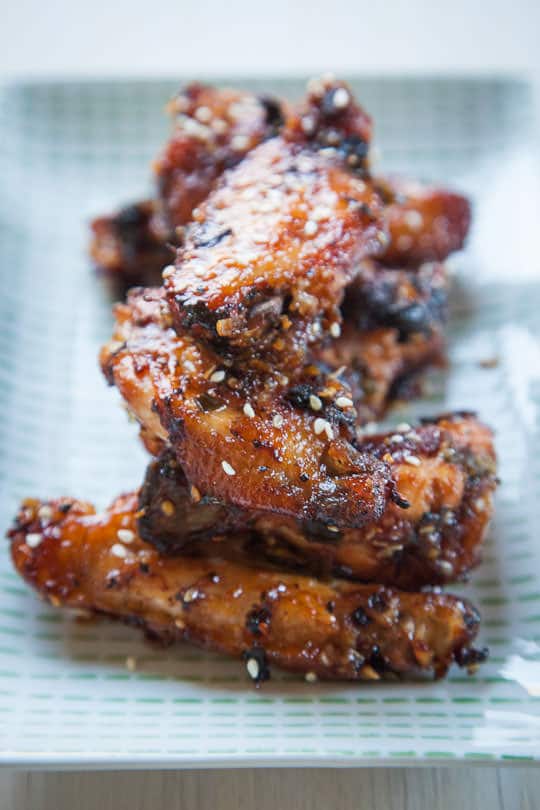 The best thing about these wings is you make the marinade in the evening, throw everything in a gallon ziplock bag, then bake, grill or broil the wings the next day. Super easy and perfect for a crowd. They're similar to teriyaki wings so they won't freak people out who get scared easily by "foreign" cuisine, but they're SO much better than the super sweet teriyaki sauce you can buy pre-made in the bottle. But don't take my word for it. AJ came home from a bike ride and I was pulling them out of the oven. He hovered over me as I finished them and then proceeded to eat 1 1/2 lbs of them without even taking a breather. Apparently they really were the best wings ever.
Korean BBQ Chicken Recipe for Wings
By Irvin Lin
This crazy versatile ginger garlic marinade is awesome on pork, beef or chicken. The addition of kiwi may sound odd, but the fruit functions as both a sweetener to the marinade as well as a tenderizer. Enzymes in the kiwi help to breakdown the meat protein, making it super tender and juicy. Just be forewarned that you shouldn't over marinade. After 12 hours or so, the kiwi starts to break down the meat and it gets weirdly mushy. So marinate overnight but don't let them sit too long. Afterwards, it's super easy to just pull the wings out and cook them. I've given instructions on how to bake, broil or grill these wings. Best wings ever indeed!
Adapted from an old Gourmet Magazine recipe (oh man, I so miss that magazine).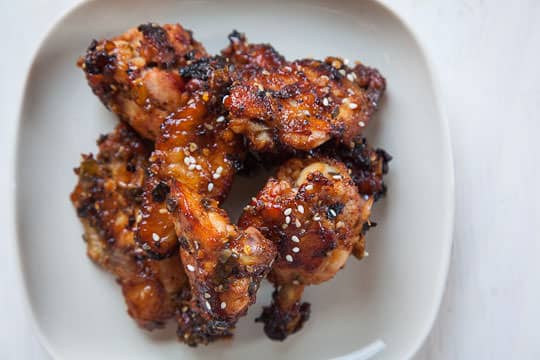 Ingredients
6 medium sized garlic cloves, minced or pressed
1-inch knob of fresh ginger root, grated
1/2 cup soy sauce
1 tablespoon rice wine vinegar
4 green onions (scallions), sliced into 1/4-inch discs (greens ends included)
1 tablespoon white sesame seeds
3 tablespoon white granulated sugar
2 medium kiwis, peeled and diced
1 teaspoon fresh ground black pepper
2 teaspoon red pepper flakes
2 lbs chicken wings, broken down into drummettes and flats, tips discarded or saved for stock.
Directions
1. Combine the garlic, grated ginger, soy sauce, rice wine vinegar, green onions, sesame seeds, sugar, kiwis, black pepper, and red pepper flakes in a medium sized bowl. Stir to combine, then spoon out 1/2 cup of the marinade and reserve it in a small bowl (cover and refrigerate).
3. Place the chicken wings in a gallon ziplock bag and pour the marinade into the bag. Squeeze out as much air as you can in the bag and seal it. Massage the chicken to make sure the marinade reaches every chicken piece. Place the bag in a large bowl and refrigerate for 8 hours or overnight, massaging and turning the bag every now and then if you have the chance.
2. To bake the wings, preheat the oven to 400˚F and spray or coat a rimmed baking sheet with cooking oil. Place the wings on the baking sheet, discarding the marinade in the bag. Bake for 30 minutes, then flip each wing with a spatula and bake for an additional 15 minutes. Once the wings are done, remove from the oven and let rest on the pan. Take the reserve marinade out and puree it in a food processor until smooth. Pour the marinade puree into a medium size nonstick pan. Cook the marinade for about 2-3 minutes on medium heat until it darkens in color and thickens. Remove the wings from the pan (they'll still be hot) and place them in a large bowl. Scrape the reduced marinade out of the pan and onto the chicken and gently toss. Serve immediately.
3. To broil the wings, place wings on a rack of a broiler pan. Broil 4-5 inches from the heat, for about 10 minutes per side, or until the chicken is cooked through. While the chicken is broiling take the reserve marinade out and puree it in a food processor until smooth. Pour the marinade puree into a medium size nonstick pan. Cook the marinade for about 2-3 minutes on medium heat until it darkens in color and thickens. Once the chicken is done, baste the chicken with the reduced marinade. Serve immediately.
4. To grill the wings, preheat the grill for high heat. Take the reserve marinade out and puree it in a food processor until smooth. If the grate on your grill is widely spaced apart, you might want to skewer the wings together so they don't fall through or use a grill basket. Place the wings on the grill and cook 8 minutes per side, until the wings are cooked through. Baste the wings as you grill them with the pureed marinade. Serve immediately.
Makes 12-16 medium sized wings. Enough for 4-6 people as appetizers.
This is the end of Chicken Wings Week here at Eat the Love! If you liked my Korean BBQ Chicken Recipe for Wings, check out my other posts for Chicken Wings recipes from this week:
Pok Pok Chicken Wings
Korean Fried Chicken (baked not fried!)
Honey Fried Chicken, Mississippi Style!
Mole Chicken Wings with Tequila Lime Marinade
And check out these nine other awesome chicken wings recipe from around the web. So many wing recipes, so little time!
Verses from My Kitchen's Sticky Lime Grilled Chicken Wings
The Shiksa in the Kitchen's Spicy Middle Eastern Chicken Wings
Love and Olive Oil's Sweet Tea-Brined Hot Chicken Wings
Comfort of Cooking's Baked Honey-Sriracha Chicken Wings
Chocolate Moosey's Jack Daniel's Honey BBQ Baked Chicken Wings
Food Republic's Gin And Lemon Chicken Wings
Steamy Kitchen's Sticky Asian Chicken Wings
Sea Salt with Food's Crispy Baked Lemongrass Chicken Wings
A Culinary Journey with Chef Dennis' The Best Buffalo Chicken Wings
And finally, here's a video by my pal Chef John of Food Wishes on how to properly eat a chicken wing!