This easy summer minestrone soup recipe takes advantage of seasonal vegetables for a dish that is bursting with flavor. (Jump directly to the recipe.)
Summer is in full swing and, as always, my eyes are bigger than my mouth and stomach when it comes to the grocery shopping. Going to the supermarket (or the farmers market if I can remember to head over on Wednesday when the neighborhood one is up and running) means I end up buying big bunches of beautiful vegetables and fruit, more than I can actually ever use before it goes bad. It's a constant dash to the finish line, where last place means a bulging compost bin. But I have very little self-control when it comes to the bountiful amounts of summer vegetables and usually that means I'm always coming up with big batches recipes to use it all up. One of my favorite go-to dish is Summer Minestrone soup. I make a huge batch of it, freeze leftovers in quart ziplock bags and I can pull it out for a quick fast meal.
The last time I resorted to the recipe (and I use the word "resort" loosely because I actually love this recipe and wonder why I don't make it more often) was right before I left to go to Los Angeles to pick up AJ from the AIDS Lifecycle. We offered our apartment to my mom to stay here when we were gone (she loves our neighborhood) and I left her some of the soup to eat, as my freezer was already on the verge of maxing out. To say she loved the soup is an understatement. She absolutely adored it.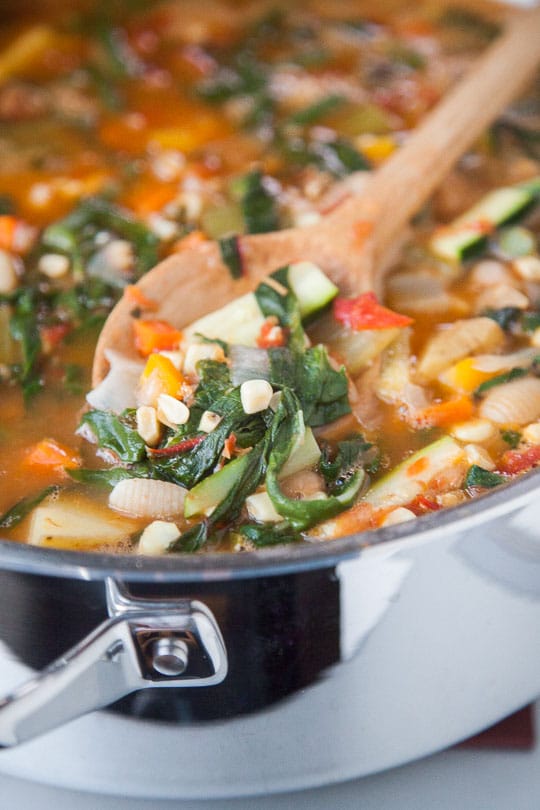 As with most recipes likes these, feel free to substitute whatever ingredients you have on hand. If you have more corn, feel free to use that. If you don't have chard, try savoy cabbage or spinach instead. I've thrown in asparagus in place of the green beans or I've used snow peas or sugar snap peas instead. It's a flexible recipe that allows you to use whatever you find at the grocery store or have in the fridge. Just add more or less chicken stock to accommodate for the vegetables.

Summer Minestrone Soup
By Irvin Lin

This flexible and fantastic soup recipe takes advantage of all the great summer produce available. I like to use corn, zucchini, chard and green beans as well as anything else I happen to have in the refrigerator that needs to be used up. The addition of the soy sauce sounds oddball but don't omit it. You can't taste it with all the other ingredients but it really does give a really nice deep complexity and subtle salty umami depth to the soup. If you happen to have the rind of a piece of parmesan cheese, add that as well to punch up the umami depth! I save all my rinds in a ziplock bag in the freezer for just this reason, but a lot of times fancy pants grocery stores sell them for cheap. Just ask the person at the cheese section to see if they have any in back if you can't find them on display.
Ingredients
4 tablespoon olive oil
1 bunch chard
2 carrots, peeled and diced
2 celery stalks, diced
1 yellow onion, diced
3 ears of corn, kernel cut off cob
1 lb Yukon Gold potatoes, diced into 1/2-inch pieces
6 to 8 cups of chicken stock
2 lbs (905 g) tomatoes, chopped
2 tablespoon soy sauce
rind of Parmesan wedge (optional, see note above)
8 ounces (225 g) green beans, cut into 1-inch pieces
2 zucchinis, cut into 1-inch long pieces
2 cups dry pasta (shells, elbow macaroni, bow tie)
14-ounce can cannellini beans, drained and rinsed
salt and pepper to taste
chopped fresh basil for garnish
Directions
1. Place the olive in a large stockpot or Dutch oven. Cut the chard leaves from the stems, and then slice the into 1-inch thick pieces. Cut the chard stem into 1-inch pieces and add to the stockpot.
2. Heat the stockpot over medium heat. Add the carrots, celery and onion then add a heavy pinch of salt and pepper. Cook, stirring frequently, until the vegetables start to soften, about 3 to 4 minutes. Add the corn and potatoes, and cook for an additional 3 minutes.
3. Add 6 cups of chicken stock, tomatoes, soy sauce and Parmesan rind (if using) along with another heavy pinch of salt and pepper. Bring to a boil, then lower heat to a simmer. Cover and simmer for about an hour, until the vegetables are tender and the potato is soft.
4. Add the green beans, zucchini, pasta, cannellini beans and the cut chard leaves. Cook for an additional 10 minutes or until the pasta is cooked al dente. Add more chicken stock if needed to thin the soup down. Taste and adjust seasoning by adding salt and pepper to taste.
5. Serve hot, with basil sprinkled on top.
Makes enough soup for 6 to 8 servings.
If you like this Summer Minestrone soup, check out some of these other summer soup recipes from around the web:
Love and Olive Oil's Yellow Summer Squash and Corn Soup
Sprouted Kitchen's Summer Corn Soup with Shrimp
Skinny Taste's Cream of Zucchini Soup
Art and Lemon's Summer Tomato Soup
Simply Recipes' Summer Pea Soup