These easy-to-make deep dark rich chocolate cookies have a surprise caramel filling and a sprinkling of crunchy salt on top!
I need to talk about these Salted Caramel Chocolate Cookies! I've been on a cookie baking binge, baking up monster cookies, brown butter blondies and one of my favorites cookies, chocolate crackle cookies. I want to blame the holiday season for the cookie extravaganza but that's only partially the reason. It's been awhile since I've baked cookies, and like all things, once I start down a path of baking, I start endlessly riffing and creating similar things. So cookie baking begats cookie baking in my kitchen. And when my friend Maria Lichty's book Two Peas and Their Pod cookbook arrived on my doorstep, I immediately turned to the cookie chapter, because Maria is known for her cookies!
Of course, I was immediately drawn to her caramel stuffed snickerdoodles. My love of snickerdoodles is pretty evident on this blog. I have recipes for classic snickerdoodles, gluten-free snickerdoodles, caramel apple snickerdoodles and I just baked up some pumpkin snickerdoodles! But the idea of stuffing gooey caramel into them was GENIUS. But since I had just made those pumpkin snickerdoodles I needed to do something different. So I turned the page and found her triple chocolate cookies. Which also sounded amazing but a bit too similar to my triple chocolate butterscotch cookies which was already on my to-do baking list. But then the proverbial lightbulb appeared over my head. I realized I could just mash up both of the two cookies and make a Chocolate salted caramel cookie!
Now I'm a huge fan of caramel. Case in point – my caramel bars, my apple pie bars with caramel sauce and my pumpkin cinnamon rolls with caramel cream cheese drizzle. But I always made my caramel from scratch, while Maria stuffed her snickerdoodles with store-bought caramel candies. There's a reason why Maria is known for her cookie recipes! I'm totally sold on how easy it was to make these cookies and the true WOW factor that you have when someone bites into them. And now I want to basically make EVERY cookie with a caramel center. Make these cookies now and check out Maria's book. It's packed filled with accessible genius recipes.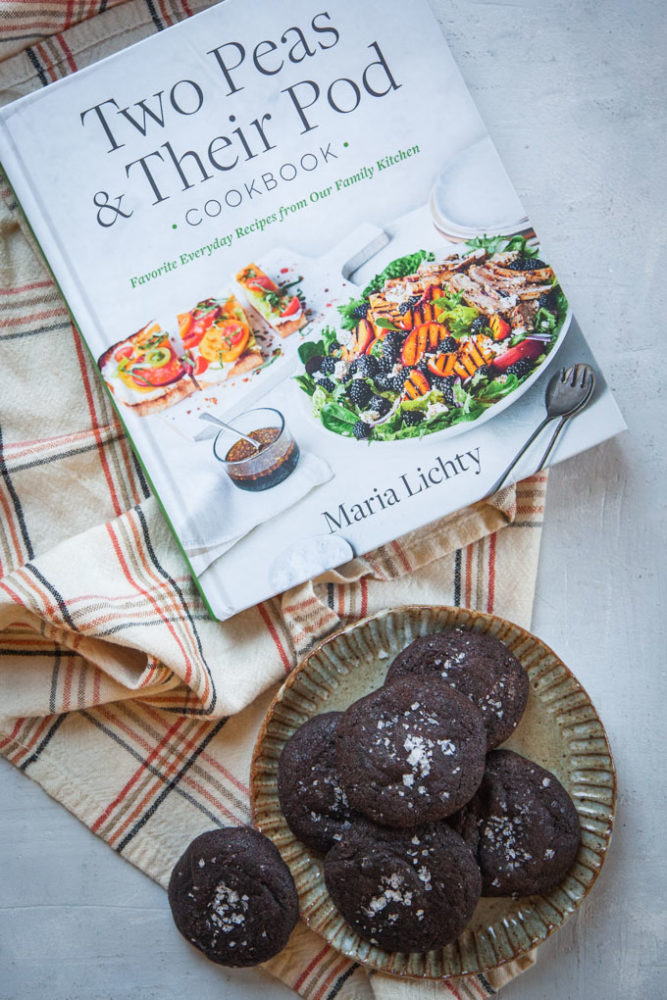 How to make salted caramel chocolate cookies
Making these cookies is easier than they look! You make a classic chewy chocolate cookie by first creaming butter with white sugar, brown sugar, vanilla extract, baking powder and salt together until you have a uniform paste. Then you mix in eggs, cocoa and flour, all one at a time.
Once the dough has formed, you cut some store-bought caramel chews in half. Roll out a round of cookie dough and then press the caramel chew into the dough. Sprinkle with a heft pinch of sea salt and bake!
What is Dutch-processed cocoa and can I substitute regular natural cocoa?
I used Dutch-processed cocoa in this cookie because I like the dramatic black color that it has and mellow chocolate flavor that works in contrast to the caramel filling. Dutch-processed cocoa is a specially processed cocoa that is darker than regular cocoa and is less acidic. It's what gives Oreos their distinctive flavor and color. I also use it in my nostalgic marshmallow filled cake (the one that is on the cover of my cookbook Marbled, Swirled, and Layered).
Dutch-processed cocoa can sometimes be hard to find at grocery stores, but Hershey's Special Dark cocoa is readily available in most well-stocked grocery stores and works great for this recipe. Look for the Hershey's cocoa container with the red label. Other popular Dutch-processed cocoa include Guittard's Cocoa Rouge, Droste Cacao, and Valhrona's Cocoa Powder.
If you have to, you can substitute regular natural cocoa powder in this recipe and swap out the baking powder with 1/4 teaspoon baking soda. The flavor and color might shift a bit though with this substitution since natural cocoa is a little more assertive in flavor.
How do you keep the caramel inside gooey?
These cookies are best when they are just out of the oven and still warm. I mean, most cookies are best warm from the oven, but these cookies really benefit from the heat as that keeps the caramel filling inside super gooey. Once they cool, they're great but the caramel solidifies and is more chewy. Not a bad thing, just different!
But if you've had the cookies sitting around at room temperature and you want to get that gooey caramel center, just microwave a single cookie for 15 to 20 seconds. It will heat the cookie up enough to get the caramel nice and soft.
How do I store these cookies?
Store these cookies at room temperature in an airtight container or resealable Ziploc bag. At room temperature, the cookies will last about 3 days.
Can I freeze these cookies?
Yes! These cookies freeze great. Keep them stored in an airtight container or a resealable Ziploc bag in the freezer for up to 3 months. Keep in mind that the sea salt on top might melt over time, or as you thaw them out. But the top of the cookies will still be salty, you just won't get the crunch from the solid sea salt on top.
Can I freeze the raw cookie dough?
Yes. I recommend making the cookies all the way to rolling them out with the caramel in the center. Then freeze them on baking sheets until they are frozen solid. You can then store them in a resealable Ziploc bag until you're ready to bake them! You can bake them directly from the freezer. Just take them out and place the on the baking sheet. Sprinkle with the salt and increase the bake time by 2 minutes longer than usual, for a total of 12 to 13 minutes.
If you like these chocolate salted caramel cookies, check out some of my other chocolate cookies:
Chocolate Salted Caramel Cookies
These deep dark rich chocolate cookies have a surprise caramel filling! They're easy to make with the use of store-bought caramels. Just roll the dough, insert the caramel, re-roll so the caramel is covered, and bake! The recipe does call for Dutch-processed cocoa. If you're not familiar with Dutch-processed cocoa, I have a section about talking about it, as well as substituting out regular natural cocoa if you want.
Ingredients
1

cup

unsalted butter

225 g or 2 sticks

1

cup

white granulated sugar

200 g

1

cup

packed dark brown sugar

220 g

1 1/2

teaspoon

vanilla extract

1

teaspoon

baking powder

1/2

teaspoon

kosher salt

2

large eggs

2 1/2

cups

all-purpose flour

350 g
Instructions
Preheat the oven to 350°F. Line a baking sheet with a silicon baking mat or parchment paper.

Cut the butter into 1/2-inch chunks. Place in the bowl of a stand mixer fitted with a paddle attachment. Add both sugars, vanilla extract, baking powder and salt. Mix until a uniform colored paste forms and clings to the side of the bowl.

Add the eggs, one at a time, scraping down the side of the bowl between additions. Sift the cocoa into the bowl and beat in.

Add the flour and mix until a dough forms and all the dry ingredients are absorbed.

Unwrap the caramel candies and cut them in half.

Lightly wet your hands (this will keep the dough from sticking to it). Roll out a heaping tablespoon of the dough into a ball roughly 1-inch in diameter.

Push one of the caramel candy halves into the center of the dough and roll the dough in your hands to "enclose" the caramel inside.

Place on the baking pan, sprinkle with a pinch of sea salt and repeat with the remaining dough, placing the cookies about 2 inches apart from each other.

Bake in the oven 10 to 11 minutes or until the top of the cookie looks dry and set. Let cool on the pan for 5 minutes before moving the cookie to a wire rack to cool more. Serve warm!
Nutrition