Red velvet crackle cookies are fun variation of the chocolate crackle cookie with a secret ingredient to give that classic red velvet flavor!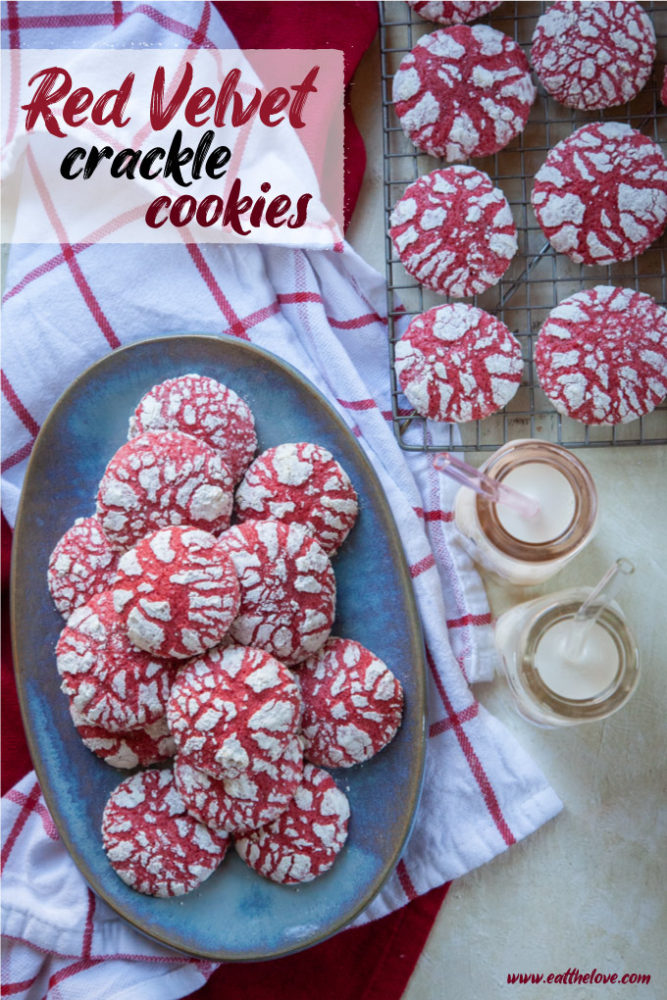 I've been obsessed with red velvet EVERYTHING for years now. This is evident with my recipes for red velvet cinnamon rolls, red velvet smores (with cream cheese marshmallows), and my ridiculous blood orange and coconut velvet cake. And though red velvet's popularity has definitely gone up and down over the years, I've been a steady proponent of it. So this year, I finally got around to nailing the red velvet crackle cookie recipe that I've been working on for years.
Similar to my chocolate crackle cookies and my reverse white chocolate crackle cookies, and my black forest chocolate crinkle cookies, these cookies have a touch of cocoa powder and a healthy dose of red food coloring gives the cookie the same look and flavor of red velvet cake. In addition, the powdered sugar coating has a touch of buttermilk powder to give a slight tang to it, just like the cream cheese frosting would give. A festive cookie perfect for the holidays (and, truthfully, all year round).
How do you make these cookies?
Making these crackle cookies are pretty easy. Start by mixing together melted butter with sugar, cocoa powder, vanilla, baking powder and salt.
Then add in eggs, milk and red food coloring. Add in the flour and then mix until you have a very sticky loose batter.
At this point you need to refrigerate the dough for at least an hour, preferably overnight. The dough is super sticky and can be challenging to work with. The chilling definitely makes it easier!
Once chilled, divide the dough, roll it in granulated sugar, then a combo of powdered sugar and buttermilk powder. Bake and serve!
What is buttermilk powder and why use it?
Buttermilk powder is dried buttermilk that has been turned from liquid to a powder form. You can find it online (Amazon affiliate link) and in well stocked grocery stores.
That said, it's totally optional in this recipe. I add a touch of it to the powdered sugar coating. It has a slight tang to it and adds a subtle creaminess to the coating, giving the cookies that classic cream cheese frosting tang.
But if you don't have buttermilk powder, or don't feel like tracking it down, feel free to skip it or substitute nonfat dry milk or malted milk powder in its place. The cookies will be awesome anyway you make them!
How do you make the best looking cookies?
Often times crackle cookies, once baked, end up absorbing the powdered sugar, which means the cookies don't look that great. You want the bright white powdered sugar to stay bright white in contrast to the dark inside.
The secret is first coating the cookie in granulated sugar, then the powdered sugar! The granulated sugar acts as a "protective" coating and keeps the powdered sugar from being absorbed into the cookie. The result is a bright white coating over the cookie which makes the best looking cookie.
Do you need to use food coloring? Is there a natural way to dye the cookies?
Though I am usually not a fan of artificial food coloring, almost all the natural red food colorings that I have tried in the past have either imparted an odd flavor (paprika, beets or hibiscus) or fade to a brown color when baked or heated. Because of that, I recommend using conventional artificial red food coloring for these cookies.
But if you find a natural food coloring that holds its color when baked and doesn't add an odd flavor to these cookies, please leave a comment below and I'll be sure to test it out and add it to the recipe notes!
Frequently Asked Questions
Can you make these cookie dough ahead of time?
Yes! In fact, the recipe calls for a chilling of the cookie dough for a minimum of an hour. If you want, you let the dough rest up to 48 hours (2 days) in the refrigerator. The longer you chill the dough, the easier to handle the cookie dough when dividing and rolling them into balls and in the coating. Just make sure the cookie dough is tightly wrapped in plastic wrap and store in the fridge.
How do you store these cookies?
Store these cookies at room temperature for up to 3 days in an airtight container.
Can you freeze these cookies?
Yes. You can freeze these cookies. Keep in mind that the powdered sugar will dissolve a bit when you thaw them out. So the appearance might not be as beautiful as when you first baked them.

To freeze the, put them on a rimmed baking sheet and place them it in the freezer. Once the cookies are frozen solid, about 2 hours, store the cookies in an air tight container, with parchment paper between layers. The cookies will keep in the freezer for up to 2 months.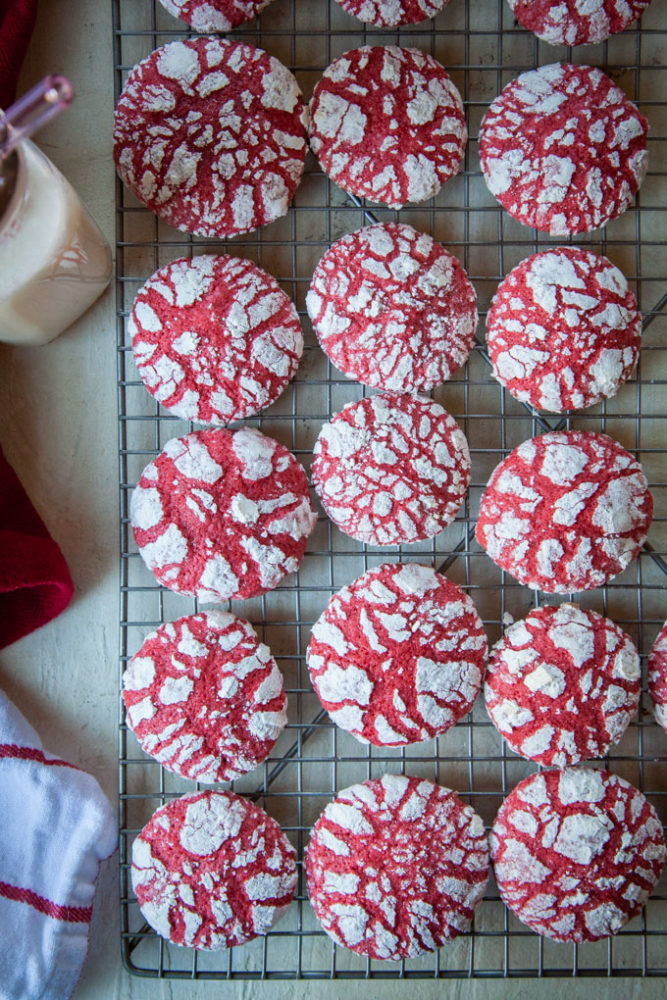 If you like these red velvet crackle cookies, check out some of these other cookie recipes
Red Velvet Crackle Cookies
These red velvet crackle cookies are variation of the traditional chocolate crackle cookies. The addition of the buttermilk powder in the coating is optional but helps give the coating a creamy tangy flavor reminiscent of cream cheese frosting. If you want a more intense red color, increase the food coloring to 2 teaspoons.
Ingredients
Dough
1 1/4

cup

granulated sugar

250 g

1/4

cup

unsalted butter

melted 57 g

1

tablespoon

cocoa powder

natural not Dutch-processed

1

teaspoon

vanilla extract

1

teaspoon

baking powder

1/2

teaspoon

kosher salt

2

large eggs

2

tablespoons

milk

any percentage

1

teaspoon

red food coloring

2

cups

all-purpose flour

280 g
Coating
1/2

cup

powdered sugar

57 g

1

tablespoon

buttermilk powder

optional (see note above)

1/2

cup

granulated sugar

100 g
Instructions
Place the sugar, melted butter, cocoa powder, vanilla, baking powder, and salt in the bowl of a stand mixer, fitted with a paddle attachment. Mix the ingredients together until uniform in color and clings to the side of the bowl.

Add the eggs, milk, and red food coloring. Mix until incorporated. Scrape down again.

Add the flour and mix slowly, turning the mixer on and off if necessary, until the flour is absorbed. Scrape down the sides and bottom of the bowl with a spatula, the increase the speed and mix until everything is thoroughly incorporated. The dough will be very loose.

Place a piece of plastic wrap on your counter or table and scrape the dough onto it. Wrap tightly, pushing and spreading the dough into a rectangle after you wrap it tightly. Place in the refrigerator for one hour, or preferably overnight.

Once the dough has chilled, preheat the oven to 350°F. Line a baking sheet with a silicon baking mat or parchment paper.

Combine the powdered sugar with the buttermilk (if using) in a medium bowl. Place the granulated sugar in a different bowl.

Divide the dough into 4 pieces. Then divide each 4 sections into 9 pieces. Take one piece and roll it in your hand into a ball.

Roll the ball in the granulated sugar until coated. Then place in the powdered sugar and roll until completely coated.

Place on the baking sheet and repeat, making sure the cookies are placed 2 inches apart from each other.

Once the pan is filled, bake the cookies for 10 to 12 minutes, or until they are just set. Don't overbake. Let the cookies cool on the pan for 5 minutes, then move to a wire cooling rack.
Nutrition