These hot chocolate cookies taste like a mug of the best quality hot cocoa, in cookie form! The secret is the addition of powder milk in the dough.
One of my favorite things to do is take a much beloved treat or dessert and put a different twist on it. I'm talking turning a red velvet cake into a red velvet s'mores, taking the flavor of cinnamon rolls and turning them into cinnamon roll cookies, or converting the flavors of carrot cake into a carrot cake marshmallow. So it's a little bit surprising for me that it took me so long to come up with a hot chocolate cookies! These cute little cookies totally mimic the flavor of a quality hot cocoa, complete with a melty marshmallow on top!
How do you make hot chocolate cookies?
These cookies are super easy to make. You'll need these ingredients to make them, which are easily found at most grocery stores:
Butter
Chopped dark chocolate
Eggs
Dark brown sugar
Vanilla
Baking powder
Salt
Natural Cocoa powder
All-purpose flour
Dry milk powder
Chocolate cut into 1/2-inch squares
And Marshmallows!
You start by melting the butter with the chopped chocolate in a microwave or on the stovetop. Set it aside to cool. While it's cooling, combine the eggs, brown sugar, vanilla, baking powder and salt in a large bowl. Mix in the melted chocolate liquid. Then fold in the cocoa powder, flour and milk powder!
Form the cookie balls and bake in the oven. Take the cookies out about 3 to 4 minutes before they are done and stick the chocolate square in the center, and half a cut marshmallow on top. Then finish baking them! Dust with a little bit of extra cocoa powder and you've got hot chocolate cookies.
What makes these hot chocolate cookies different from other recipes out there?
There are numerous hot cocoa cookies recipes out there, including some that use actual hot cocoa mix and some that use small tiny hard marshmallows that you find in those cocoa packets. My favorite one out there is probably Rachael Ray's hot cocoa cookie with a hidden sliver of actual chocolate right underneath the melty marshmallow. The chocolate helps stick the marshmallow to the cookie AND is an added chocolate surprise to the cookie. But when I tried the recipe, it tasted more like a chocolate cookie with a marshmallow on top and less like hot cocoa.
So after tinkering with the recipe a bit, I realized the missing ingredient was MILK! Powdered dry milk to be specific. Most hot cocoa mixes are a combination of powdered dry milk and cocoa powder, which is why you can make the hot chocolate with just plain hot water and cocoa mix. To mimic the flavor of hot chocolate, I had to add powdered dry milk to this cookie. Once that's added into the mix, these cookies actually tasted like hot cocoa in cookie form!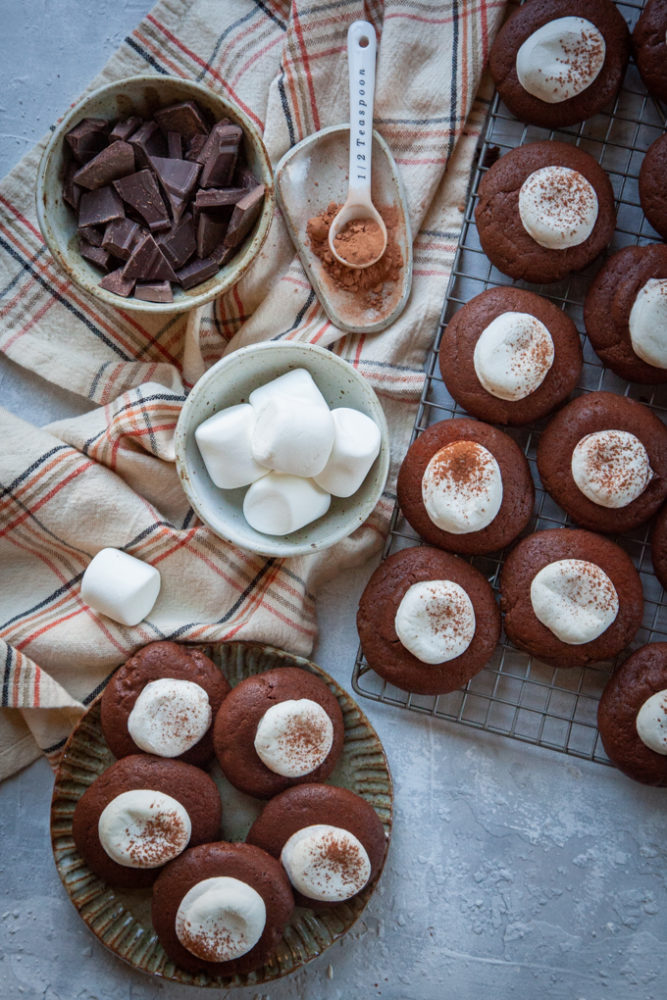 Powdered dry milk is also my secret ingredient in making my mint chocolate chip cookie taste like mint chocolate ice cream, and not just like a regular chocolate chip cookie with some mint thrown in. Christina Tosi of Milk Bar uses powdered milk a lot in her baked goods. It's her secret weapon and it's mine too.
You can find powdered dry milk in almost every grocery store. Look in the baking aisle, or near the coffee and tea. Though I haven't tried it, you can probably also substitute non-dairy creamer powder or even malted milk powder if you'd like, though both will give you a different flavor.
Can I make these with homemade marshmallows or flavored marshmallows?
If you're an overachiever and want to make these cookies with homemade marshmallows you can! But keep in mind that homemade marshmallows melt much faster at high heat than store bought ones. Keep an eye out the marshmallow when you bake them. You might want to bake them for less time after you add the marshmallows.
That said, the sky is the limit for flavored marshmallows! Go crazy and either use homemade flavored marshmallows or buy some gourmet marshmallows and add those in place of the regular puffy marshmallows that I used.
How do you store hot chocolate cookies?
You can store these cookies at room temperature in an airtight container or resealable Ziploc bag. They keep for about 3 to 5 days. Try microwaving the cookie for 15 to 20 seconds before eating one, as the microwave will warm up the cookie and make the inner chocolate melty again.
Can you freeze these cookies?
Yes! These cookies freeze surprisingly well. Just store them in the freezer in an airtight container or resealable Ziploc bag. They should keep in the freezer for up to 3 months. Keep in mind the dusted cocoa on top of the marshmallow might melt, so if you plan on freezing the, don't dust the top with cocoa but rather dust them after you thaw them out.
Leave them out on the counter for about 30 to 45 minutes to thaw them out before serving.
Can I freeze the raw cookie dough?
Yes! I suggest you portion out the dough into balls first and freeze them spaced out on a baking sheet. Once they are frozen solid, you can store the dough balls in a resealable Ziploc bag. You can even bake the cookies directly from the freezer. Just increase the bake time by 2 minutes to accommodate the cold dough.
If you like this hot chocolate cookie, check out these other chocolate cookies:
Hot Chocolate Cookies
These hot chocolate cookies taste like a mug of the best quality hot cocoa, in cookie form! The secret is the addition of powder milk in the dough. You can find powdered milk in almost every grocery store.
Ingredients
1/2

cup

unsalted butter

115 g or 1 stick

12

ounces

dark chocolate

chopped

1 1/4

cups

packed dark brown sugar

275 g

3

large eggs

2

teaspoon

vanilla extract

1 1/2

teaspoons

baking powder

1/2

teaspoon

kosher salt

1/4

cup

natural unsweetened cocoa powder

not Dutch-processed, 30 g

1 1/2

cups

all-purpose flour

210 g

1/2

cup

dry milk powder

70 g

8

ounces

semi-sweet chocolate

cut into 1/2-inch squares

16

large marshmallows

cut in half
Instructions
Preheat the oven to 325°F. Line a baking sheet with a silicon baking mat or parchment paper.

Place the butter and the chopped dark chocolate in a microwave safe bowl. Microwave in 30 second increments, stirring between each cook time, until the chocolate is melted and the mixture is smooth. It should only take 60 to 90 seconds. Be careful not to overheat the chocolate, as it will get grainy and you can burn it. You can also melt the butter and chocolate in a pan on the stovetop.

Set the chocolate and butter to cool slightly (about 5 minutes or so). Place the dark brown sugar, eggs, vanilla extract, baking powder and salt in the bowl of a stand mixer fitted with a paddle attachment. Mix together until combined. Add the melted chocolate to the bowl (it's ok if the chocolate is warm but if it is too hot to touch, let it cool a little bit longer) and mix in.

Sift in the cocoa powder (cocoa has a habit of lumping together so sifting breaks the clumps apart). Mix until the cocoa is absorbed. Add the flour and dry milk powder. Mix until absorbed.

Form 1-inch round balls by scooping out heaping tablespoons of the dough. The dough will be sticky. To prevent it from sticking, wet your hands by dunking them in a bowl of water or under the faucet. Then shake most of the water off (about 5 or 6 shakes). Your damp hands won't stick to the dough!

Place the dough on the baking sheet and flatten them slightly with the palm of your hands. You want to create a 1/2 inch thick disk. Repeat with the remaining dough.

Bake the cookies for 7 minutes. Once the baking is done, remove the pan baking sheet from the oven and place a 1/2-inch square of chocolate in the middle of each cookie, pushing in slightly. Then place half a marshmallow on top of the chocolate, sticky side down. Move back to the oven and bake 3 to 4 minutes more, or until the marshmallow has softened but not turned brown.

Let the cookies cool on the pan for about 5 minutes before moving the to a wire rack to cool completely.
Nutrition