This apricot and blueberry cake is a delightful summer coffee cake that uses summer stone fruit and berries along with moist almond flour.
Jump to Recipe
In the pantheon of summer fruit, apricots surprisingly fall LOW on my list of must haves, especially for fruit to add to cakes. I've made numerous summer coffee cake recipes, including peach and blueberry cake, strawberry coffee cake, Earl Grey blueberry coffee cake and cherry buckle cake.
But I don't often reach for the apricots. The fruit you find at grocery stores seem designed for durability and shipping, not for flavor. Though other fruits have seen a revival of heirloom varietals at stores, apricots still often show up as just apricots, with their soft velvet skin and vaguely generic summer stone fruit flavor.
This, of course, is changing a bit with farmer's markets. But if you don't have access to a local farmer's market, the apricot you are getting from the supermarket is most likely not ideal. But once you start baking or cooking with it, the generic fruit mellows and deepens into something quite delightful. A handful of blueberries, and this summer coffee cake is an easy mid-morning or mid-afternoon snack, not to sweet, not too assertive and great with coffee or tea.
Make ahead and storage
You can make this cake up to two days ahead. Just store it at room temperature under a cake dome or tightly sealed with plastic wrap. Give the cake a fresh dusting of powdered sugar before serving, as the initial dusting most likely will have absorbed into the cake.
Substituting other stone fruit?
Apricots are sometimes difficult to find at grocery stores. You can substitute a different fruit like nectarines or peaches for the apricots. More and more stores and markets have hybrid fruit like apriums, pluots and plumcots which are a cross breed of plums and apricots. These hybrids are not GMO modified fruit but rather fruit trees that have been naturally cross-bred. They are a great substitute for apricots.
Can I use frozen fruit.
I don't recommend using frozen fruit in this particular recipe, as they tend to shed liquid when they are thawed out which can lead to a soggy cake. Fresh fruit is best for this recipe.
What is almond meal and almond flour?
I use almond meal in this cake because it gives added moisture and flavor to the cake. Almond meal is just almonds with their skins on them ground to a fine powder. Almond flour is the almonds without their skin ground to a fine powder. Either will work with this recipe, though the almond meal has a slightly more bitter flavor to it (which is not very noticeable in the final product).
How do I substitute for almond meal or flour?
If you don't have either product you can take a cup of whole almonds (with or without skins) and just grind them yourself in a blender or food processor. Just pulse the machine until the almonds have been reduced to a powder. Don't overprocessing the nuts though, as they will turn into a paste which is not appropriate for this cake.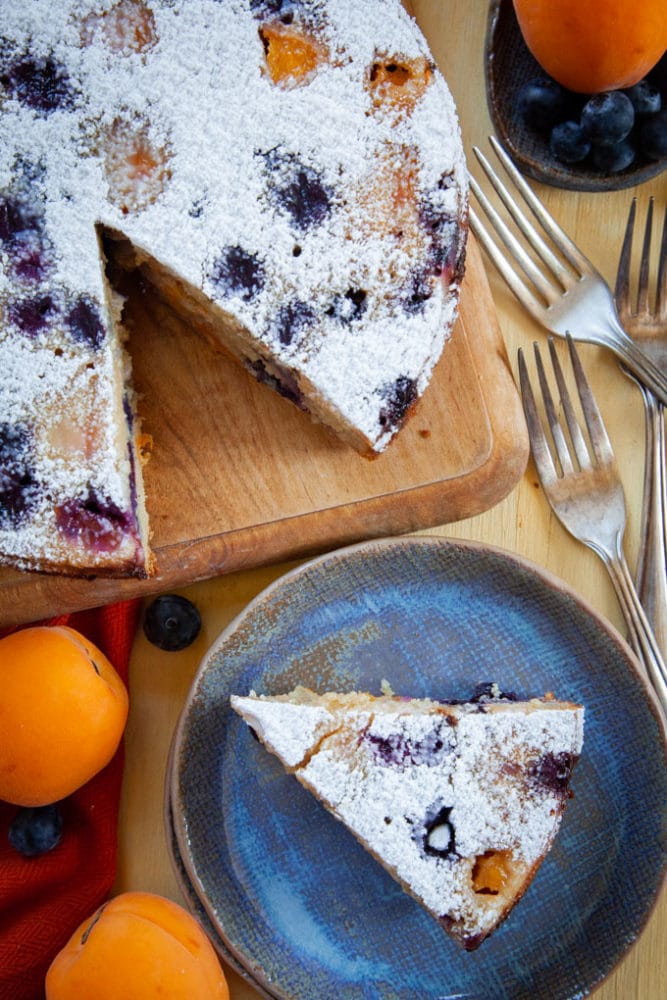 Don't have a springform pan?
Just substitute in an 8-inch round cake pan. Use a piece of parchment paper on the bottom. The spring form pan just makes it easier to remove the cake. But grease the cake pan well and invert it onto the serving platter and you should be fine!
Looking for more fresh fruit cakes?
Apricot and Blueberry Cake
This summer coffee cake is slightly sweet and nutty. I use almond meal in this cake for added moisture and flavor. Give the cake a dusting of the powdered sugar right before you serve it, as the fruit and cake is fairly moist and will absorb the sugar if you let it sit around too long.
Ingredients
Cake Batter
3/4

cup

unsalted butter

1 1/2 sticks or 170 g

3/4

cup

packed dark brown sugar

165 g

1

teaspoon

vanilla extract

1

teaspoon

baking powder

2

large eggs

1 1/4

cups

all-purpose flour

175 g

1

cup

almond flour

or almond meal 110 g

1/2

teaspoon

kosher salt

1/8

teaspoon

ground nutmeg

2

tablespoons

milk

3

medium apricots

chopped, about 7 ounces or 200 g

1 1/2

cups

blueberries

about 6 ounces or 170 g
Instructions
Preheat the oven to 350°F. Lightly spray an 8-inch springform pan with cooking oil. Place a round piece of parchment paper at the bottom of the pan. Place pan on a rimmed baking sheet or pizza pan.

Place the butter, sugar, vanilla and baking powder in the bowl of a stand mixer fitted with a paddle attachment. Cream the ingredients together on medium speed until the mixture looks light and fluffy, about 3 minutes.

Add the eggs one at a time, beating until the first egg is incorporated before adding the second one. The batter will most likely look "broken" but don't worry about it, as it will come together when you add the other dry ingredients. Scrape down the sides with a spatula.

Add the all-purpose and almond flour, salt and nutmeg to the batter and mix on low speed until the dry ingredients are absorbed. Add the milk and beat until incorporated.

Scrape down the sides with a spatula and then add the apricots and blueberries. Using a spatula, gently fold the fruit into the batter, trying not to break the berries or apricots too much.

Scrape the batter into the pan, then spread it evenly over the bottom of the pan with a spatula or butter knife. Bake in the oven for 50 to 60 minutes, or until the top is golden brown and a toothpick inserted into the middle of the pan comes out clean.

Let cool completely, remove from pan, and flip upside down onto a serving platter. Peel off the parchment paper, then dust with powdered sugar. Serve immediately.
Notes
Loosely based on a recipe from Nigel Slater's cookbook Ripe
Nutrition