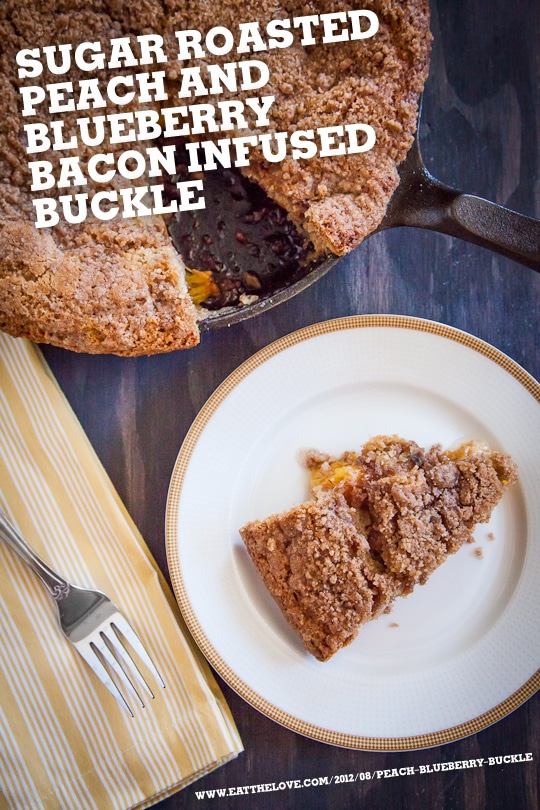 "Could I have one of those lanyards that allows me to hang my wine glass from my neck?" I politely asked the woman who was handing them out. I asked this, not because I was a complete lush, but rather because I was at the SF Chef's Grand Tasting Tent and having BOTH hands free to photograph the event would have been really handy. She turned to me and apologetically said that it was only available for people who purchased their tickets through their Visa Signature card. I offered to show her that I  owned a Visa Signature card, but apparently that wasn't enough. I walked away rejected, but really I shouldn't complain. I was there with AJ (who was doing half the photographing anyway) as "media", which meant I was working the event, though that definitely did not stop us from enjoying it as well. In fact, it was at the SF Chef's Grand Tasting Tent that I was inspired to make this Sugar Roasted Peach and Blueberry Bacon Infused Buckle, at least in a roundabout way.
SF Chefs is one of the top food events here in San Francisco that celebrates the fine dining of one of the best food cities in the nation (arguably the world). Sure I'm a little bias, as I live here in San Francisco, but for me, despite some of the limitations that San Francisco might have in the food world (don't get me started on trying to find great Korean or Thai here in SF) I think we've got some great chefs and some awesome food happening in the city. But don't take my word for, here's some photos from the event, as it's always easier to show then tell.
Of course the chefs behind the food are what makes our city so great. Fresh, seasonal, local, organic, nose-to-tail, sustainable, all the buzz words that you hear about food, that are badgered about in the food world, are a given in San Francisco. In truth, there's not much need to even talk about those things in fine dining in San Francisco, as it's assumed that the restaurant already uses those type of ingredients and build their menus based on those concepts.
The food was fantastic and I was pretty stuffed by practically my second bite. Thankfully AJ was around to sample the food. He had just rode a metric double century (125 miles) the day before so his metabolism was a little sped up. So I pretty much had him sample the food and tell me what I should taste. Of course he kept on telling me to eat pretty much everything that he ate, so my method of not eating too much apparently failed. But he couldn't help it as the food there was worth every bite.
Of course, while juggling the camera, the camera bag, the numerous plates and the forks and food, it was hard to also carry around a glass, which is why I really wanted that lanyard to hang the glass around my neck. Initially when AJ and I saw it, we thought it  looked ridiculous and made the people wearing it that they were utter drunken lushes. 15 minutes into the event changed our mind; those lanyards are genius! But it was not to be. However, despite all that we had to carry around, we still had a chance to sample some great wine, spirits and cocktails.
At the end of the event, I grabbed a San Francisco Chronicle newspaper along with a Fine Cooking magazine both of whom were sponsors of the event. And while at home, flipping through Fine Cooking, I came across a recipe for sugar roasted peaches. I immediately realized that I needed to make them and turn them into a buckle, which is an old-fashion American single layer cake with a streusel topping. I'm a sucker for a streusel topping, and it's been ages since I've made a buckle. Also, I'm a a sucker for the words "sugar roasted". Add the fact that it is roasted in bacon fat and I was sold. Thanks SF Chefs! Not only did I get a fantastic day of food and wine, I have a great new way to cook peaches.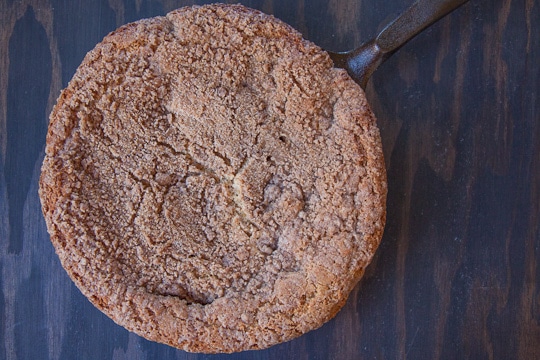 Special thanks to SF Chefs and Andrew Freeman & Co. for providing tickets to the Grand Tasting Tent. Though the tickets were provided free of charge, I was not compensated for the post above and all opinions are my own.
Sugar Roasted Peach and Blueberry Bacon Infused Buckle
By Irvin Lin
Sugar roasting the peaches before hand may seem fussy, but the smoky char that you get from cooking the peaches ahead of time makes it worth it. You can easily just sugar roast the peaches and use them to make a salsa or as an addition to a salad. Try to not get super ripe and juicy peaches as they'll fall apart when you roast them. You want them firm, but not too hard. I used rendered bacon fat to roast the peaches, but if you're a vegetarian or avoiding pork, feel free to use olive oil. Just add an additional 1/2 teaspoon of salt to the cake batter.
Also, because I felt exceedingly guilty about using bacon in my dessert, I used spelt flour (both whole and white) in this recipe. Spelt is an ancient grain, a subspecies of wheat. It does have gluten in, but some people who are allergic or intolerant to wheat can tolerate it. I like using it because it lends a slightly sweet nutty flavor to the cake. If you don't have spelt in the house and don't want to run out and get some (I can't blame you, I'm a total baking geek with too many flours in the house) feel free to substitute regular white flour and whole wheat flour in it's place.
Inspired by a recipe from Fine Cooking magazine
Ingredients
Sugar Roasted Peaches
2 slices of thick cut bacon
900 g (2 lbs or about 4) ripe firm but ripe yellow peaches
10 g (2 teaspoons) turbinado or demerara sugar (sometimes sold under the brand name Sugar-In-The-Raw)
fine sea salt and black pepper in a pepper mill
Cake Streusel
60 g (1/4 cup) turbinado or demerara sugar (see note above)
50 g (1/4 cup) white granulated sugar
55 g (6 tablespoons) whole wheat spelt flour
1/4 teaspoon fine sea salt
1/2 teaspoon ground cinnamon
1/4 teaspoon ground nutmeg
57 g (4 tablespoons) unsalted butter, refrigerator cold
Buckle Cake Batter
130 g (1 cup) whole wheat spelt flour
110 g (3/4 cup) white spelt flour
1 1/2 teaspoon baking powder
1/2 teaspoon baking soda
1/4 teaspoon fine sea salt
57 g (4 tablespoon) unsalted butter at room temperature
1 cup white granulated sugar
1 large egg
1 teaspoon vanilla extract
1/4 to 1/3 cup buttermilk
165 g (1 cup) fresh blueberries
1. Preheat the oven to 450˚F (232˚C, Gas Mark 8) and make the sugar roasted peaches by first cooking the bacon in a 10" cast iron skillet, rendering the fat over medium heat. Cook until the bacon, turning occasionally until crisp (about 5 to 7 minutes). Remove the bacon and pour the bacon fat into a heatproof glass measuring cup. You should have 1/4 cup of rendered fat, but if you don't, just add a little olive oil until you have that amount. Don't wipe up the skillet, as you want to leave a coating of the bacon fat on it.
2. Cut the peaches in half, discarding the pit, and sprinkle the cut side with demerara sugar as well as a pinch of sea salt and a crank or two of the pepper mill. Place peach halves, cut side down, into the skillet. You may be only able to fit 7 of the 8 cut peaches into the skillet – reserve the other half for another use or just eat it (which is what I did). Drizzle half the bacon fat over the peaches and turn the heat up to medium. Tear the bacon into four pieces each and sort of tuck the bacon in-between the peach halves. Cook the peaches for 5 minutes without touching them. Lift up a peach half after the five minutes and see if the cut side has started to brown. If it hasn't cook for another minute or so until it has. Then move the cast iron skillet into the oven. Cook for 10 minutes.
3. Remove from oven and flip the peaches, drizzling the rest of the bacon fat over the peaches and place back in oven for another 5 minutes. Remove from oven and pick out the bacon with tongs and save for another use (like eating it right away). Remove the peaches from the skillet (using the same tongs) and let cool on a plate while you make the cake batter. Reduce the temperature of the oven to 350˚F (176˚C, Gas Mark 4). Pour the fat and peach juices from the skillet into a glass measuring cup. You should have about 3 tablespoons.
4. While the peaches are roasting, make the cake streusel by placing the sugars, flour, salt and spices in a medium mixing bowl. Cut the butter into 1/4 inch chunks and sprinkle over the dry ingredients. Flatten the cubes of butter with your finger until all the butter has been smashed. Start rubbing and squeezing the butter together with your fingers until the ingredients start to clump together. Cover and stick in the refrigerator until ready for use.
5. Make the cake batter by placing the flours, baking powder, baking soda, and salt in a mixing bowl. Using a balloon whisk, stir the dry ingredients together until they are evenly distributed. Place the butter and sugar in the bowl of standing mixing bowl fitted with a paddle attachment. Beat for two minutes on medium speed or until the butter has been creamed and the mixture starts to look a little fluffy. Add the egg and vanilla extract and beat until incorporated. Take the liquid you have poured out of the skillet (a combination of the bacon fat and peach juice) and pour buttermilk into the measuring cup, until you have 1/2 cup of liquid. Add to the egg and butter mixture and beat to incorporate. The batter, at this point, may look broken, but don't worry it will come together when you add the dry ingredients.
6. Go back to the peaches, which should have cooled, and peel off the skin of the peach halves as much as you can. If there are bits of peach skin left, don't worry. Place them in the skillet, curved side down (cut side up). Sprinkle the blueberries over and around the peaches. Go back to the cake batter and add the dry ingredients to the wet ones. Using a large spatula, hand fold the batter together, mixing until the batter just comes together (it's okay if there are a few dry pockets, as you don't want to overwork the gluten in the batter and make the cake tough). Scrape the batter over the peaches and blueberries and spread it out evenly with a butter knife. Tap the skillet on the table a couple of times to get the batter to settle down between the peaches. Then sprinkle the cold streusel topping over the cake batter. Place on a rimmed baking sheet (to prevent spillage) and bake in the 350˚F oven for 40 to 45 minutes, or until a toothpick inserted in the middle comes out clean. Cool in the cast iron skillet and serve warm or at room temperature, with or without a scoop of vanilla ice cream.
Makes one 10 inch round buckle, serves 8 to 10 people.