This strawberry rhubarb syrup uses an optional touch of lime and ginger for extra complexity that will make sodas and cocktails taste like Springtime!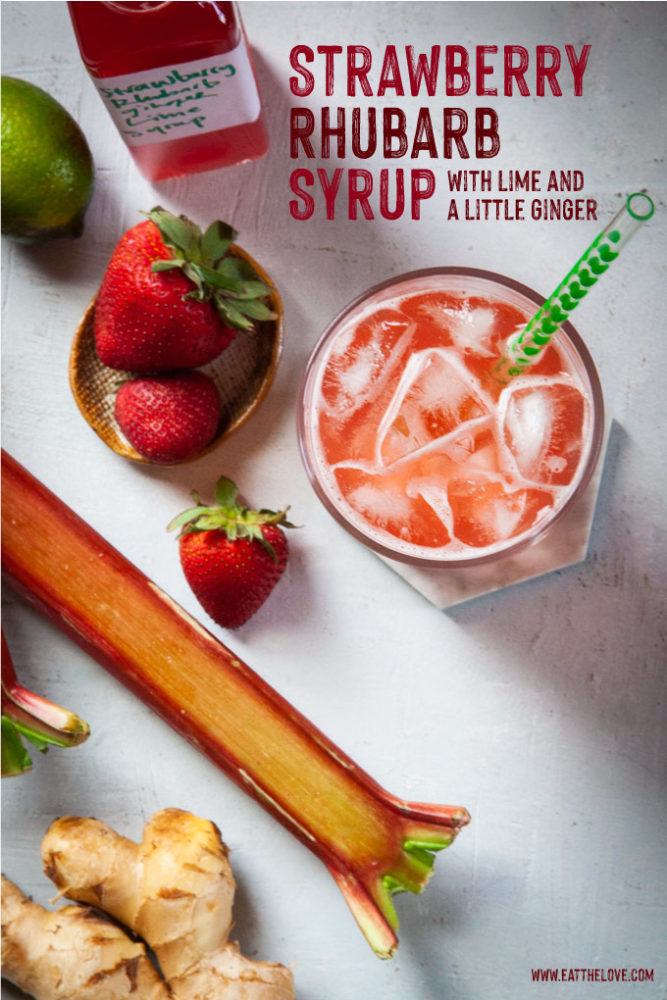 I have a habit of buying rhubarb whenever I see it at the store. LIKE EVERY TIME. It's a slightly obsession but that also means I have a LOT of rhubarb. Usually that's not a huge issue. I bake my strawberry rhubarb galette or my strawberry rhubarb buckle. Or I make a big rhubarb berry slab pie for a crowd. But sometimes I buy rhubarb without realizing I already have a bunch in my refrigerator. And I can't use it that fast! That's when I whip up this strawberry rhubarb syrup.
How do you make strawberry rhubarb soda syrup
The best part of the making rhubarb strawberry syrup is that it's SUPER easy. Chop up the rhubarb and strawberries and then throw it in a pot with sugar and water. I add a few slices of ginger and some lime zest to give a little extra dimension but those two are totally optional.
Let the mixture come to a boil, then reduce the heat to a simmer for 15 to 20 minutes then let it cool for 30 minutes. Strain, add the juice of the lime (if you're using it) and you have the syrup!
What do you use this for?
I like to mix the syrup with sparkling water to make my own homemade soda. What's nice is that you can totally control how sweet the beverage is, so if you prefer something less sweet or more sweet, it's totally up to you. It's also a great in cocktails or mocktails. Try adding a splash to vodka and soda, some syrup to a glass of sparkling rosé or make a Spring fruit-inspired gin and tonic!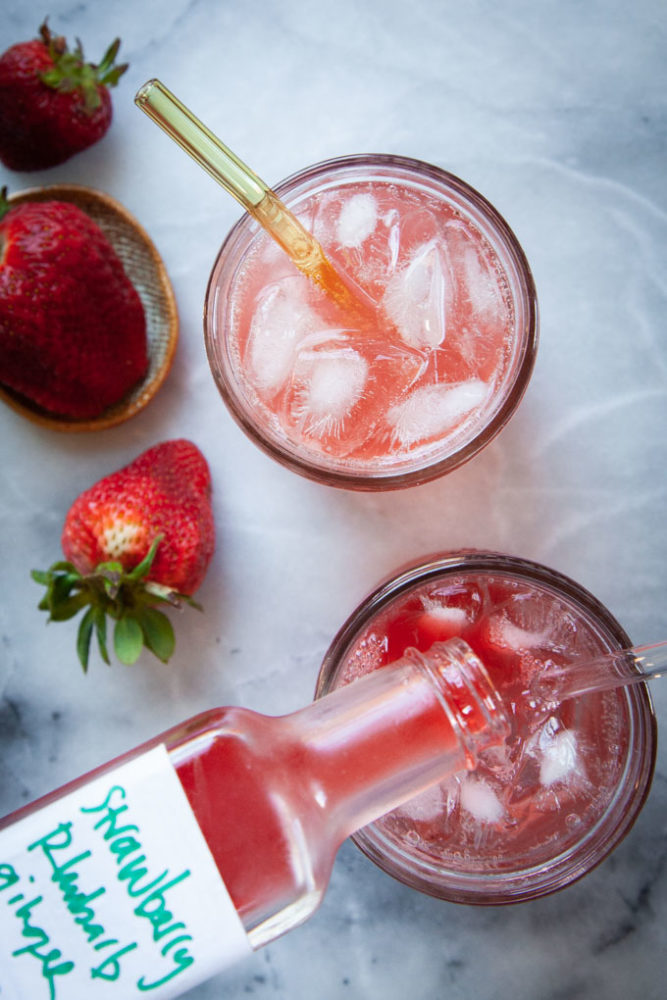 But the syrup isn't just for beverages. You can use it over pancakes, waffles, or French toast, though keep in mind the syrup is on the thin side. That said, a drizzle of it over plain Greek-style yogurt or hot cereal would be great, or a touch of it on ice cream would be pretty awesome. The punchy bright color and flavor is totally addictive.
How long does this syrup last?
Basic simple syrup lasts quite awhile in the fridge but fruit syrups like this rhubarb strawberry syrup will last about 3 weeks because it has fruit juices that can break down faster. Just store it in the fridge in a clean jar or bottle and make sure to label it with a date so you know when to use it up by.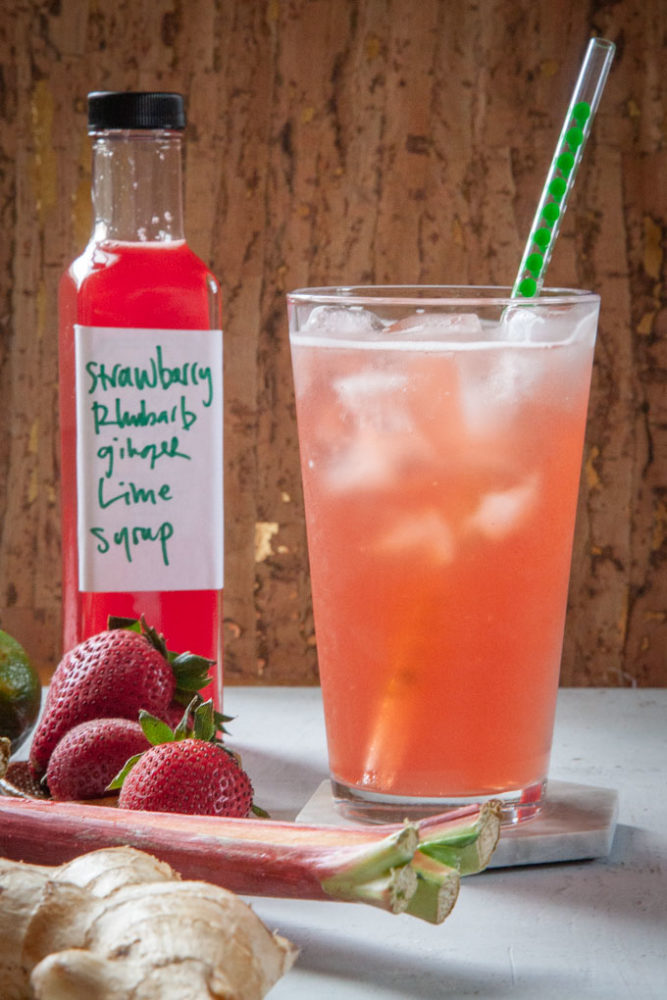 What do I do with the fruit solids?
After you've strained the liquid out, you will have what looks like fruit puree. I like to store this puree in a jar or bottle for a couple of days in the fridge and use it for all the non-beverage uses that you can use the syrup for. Add a spoonful over plain yogurt, hot cereal or ice cream, or a dollop of it on pancakes, waffles or French toast. Or you can just use it like a loose jam and spread it over toast!
If you want to store the solids longer, freeze it in a resealable freezer Ziploc bag or an ice cube tray for easy serving sizes. I add the frozen cubes of purée to my smoothies. It's pretty versatile stuff.
That said, remove the sliced ginger (it won't have cooked fully) and any large lime zests pieces. If you use small thin zest (like from a rasp grater) no need to do that! The lime zest will just blend in.
If you like this strawberry rhubarb syrup, check out these other rhubarb recipes:
Strawberry Rhubarb Syrup Recipe (with optional lime and ginger)
This easy-to-make strawberry rhubarb syrup tastes like Springtime in a bottle! It is basically a simple syrup with fruit infused in it. I added lime and ginger to give it a little complexity and dimension but feel free to leave them out if you want something a little more straightforward.
Equipment
fine mesh sieve

cheesecloth, optional but recommended
Ingredients
1

pound

strawberries

1

pound

rhubarb

1

cup

water

1

cup

white sugar

4 or 5

slices

ginger root, peeled or washed

optional

Zest from 1 lime

optional

Juice from 1 lime

optional
Instructions
Stem and cut in half the strawberries. Chop the rhubarb into 1-inch pieces. Place the fruit in medium saucepan and add the water and sugar. Bring to a boil and then lower the heat so it just simmers. Cook for 15 to 20 minutes or until the fruit has completely fallen apart. Let cool for 30 minutes in the pan for the fruit to continue to steep.

Strain the fruit solid into a bowl using a fine mesh sieve. If you don't have a fine enough sieve, lay a piece of cheesecloth inside the sieve. Push as much of the liquid through the sieve, or just let gravity do its work. If you leave the fruit to drain for awhile (like an hour or so) you'll find gravity has naturally done it's job and you'll get even more syrup.

Save the solids for another use (see section above) and store the syrup in a jar or bottle in the fridge for up to 3 weeks.
Nutrition