In times of crisis and grief, the only thing I could do was go into the kitchen and bake. This Plum and Rhubarb Cobbler is the result. (Jump directly to the recipe.)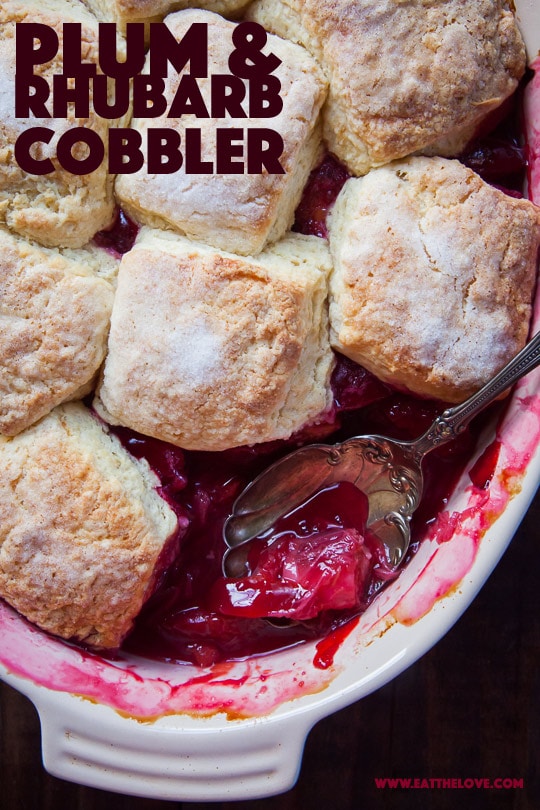 This past week has been pretty devastating. I picked up my partner AJ in L.A. on Saturday, after the AIDS Lifecycle only to wake up the next morning to a text from my friend Liz who lives in D.C. She wanted to let me know I was in her thoughts because of Orlando. I didn't have a clue what she was talking until I clumsily typed "Orlando news" in the iPhone Safari search engine. I wasn't expecting to read news of a gunman massacring 49 people and injuring 53 more in a gay bar. I couldn't comprehend the horror of it all and I just laid in bed for another hour just trying to figure out how to deal with this tragedy.
We all deal with grief differently. Some people take to social media and rant and rave about the horrors of guns and violence. Others express their grief by #praying and sending #TheirThoughts and virtual #hugs into the ether we call the internet. Many of my friends took this as the time to discuss homophobia and how society was blame for creating someone who hated himself so much that he took a semi-automatic weapon to a club to kill as many people as he could. And all of those reactions are perfectly valid. I, of course, did the exact opposite and retreated away from the computer, crawling into a personal protective shell. AJ and I were in LA, on a brief break from normal life (whatever that is), and after a week of intense personal stuff and a week of AJ cycling from San Francisco to L.A. to raise money for HIV/AIDS, we were hoping for a little relaxation. It obviously wasn't meant to be.
All this, of course, didn't mean that exactly I stayed away from social media. I just checked in less. I turned on my computer exactly once while I was down in L.A. but after browsing Facebook for 10 minutes, had to shut it down. I ended up writing a list about my thoughts on the largest mass shooting in the U.S. history on the social channel li.st via my iPhone. The stories I shared there weren't necessarily mine to share and I can only hope that the people who I talked about forgive me for writing about them. But otherwise, I was in denial, trying to process how this could have happened. How one human being could do this. I am still struggling with it.
Once I got back to San Francisco, life seem to go on, even though at random turns I was still being reminded of what happened. I couldn't go online at all without seeing an article or a friend arguing or ranting. Close friends of mine choose to take a stance on gun control, either for or against, which just drove me into a pit of depression. And finally I posted on Facebook my own story of being verbally attacked a few weeks before Orlando happened. I hadn't thought much of that specific incident (which, in retrospect, probably says something in and of itself that I have become so numb to being verbally attacked for being gay), but I felt like it was a story that needed to be shared. The response and love I received from my friends were overwhelming but it's a small bandage to cover up what has become such a terribly huge wound that is still healing.
Then, meeting AJ out for lunch on Friday, I walked up the street into the Castro (San Francisco's gay neighborhood) and saw the impromptu memorial set up in the corner of 18th and Castro Street. The name and photo of every single victim of the massacre was on display. These were brothers, sisters, husbands and fathers. These were people in love, with hopes and dreams and lives cut short, too short by one sad individual. And in different circumstances, I could have been one of them. I've been to gay bars like Pulse in Orlando. I've danced with friends, laughed the night away, chatting and being with my community, my people, the gay bar, one of the few "safe" zones that are all too rare for gays and lesbians.
Flowers, candles and posters were strewn all over the corner of the street, with chalk writing on the sidewalk and people stopping and reading and praying and just visiting with the memory of what happened. I wasn't expecting to see it (though I'm not sure why I was surprised, as there is almost always an impromptu memorial in that corner of the Castro for whomever has recently passed away, whether it is a much beloved celebrity or well loved local). Before I knew it, I had whipped out my phone and was sharing it with my Snapchat friends. Apparently I too was not immune to the allure of #oversharing on social media. And then, after filming my 10 second snaps, I took a look at the memorial. I looked at the death and the lives taken, really looked at it, not through the filter of my phone or a camera, but through my own eyes. And I broke down and cried on the streets of San Francisco. After holding it in for a week, it all came out, the ugliest of ugly cries. And after 15 minutes of me trying to pull myself together, I scurried off to meet AJ for the lunch I was late for.
I don't know what is going to happen next. Social media has led our society to fracture itself into smaller and smaller niche groups of people, all of whom who only stay friends with those who share the same beliefs. Politics have become uglier and uglier with people yelling as opposed to trying to actually have a dialogue. Facts are twisted and turned and for every seemingly sane article posted with one viewpoint, there seems to be an equally credible article refuting or championing the exact opposite viewpoint. And the death toll just seems to be growing. All we do is argue in the empty space of social media.
And, as I was ready to throw it all in, jump off of social media forever, move to the woods and try live off the grid (or a reasonable facsimile of 1992, pre-email days), my friend Dorie Greenspan posted a photo of a cookie on her Facebook wall. "If it weren't for cooking and baking, I don't know what to do – it's my refuge from nonstop, profound sad, ugly violent news." And I knew I had to go into the kitchen too. Baking isn't going to create world peace, isn't going to stop the violence and it won't change people's mind on guns, politics or how they feel about me loving another man. But it will bring me a little bit of calm in a chaotic world that we all live in. And right now what I need is a little bit of calm. Tomorrow is another day. And change could be right around the corner. I can only hope so. In the meanwhile, I'll be in my tiny little apartment, baking in my tiny little kitchen, with the knowledge that I have friends who love me and who feel the same pain that I do.
Special thanks to every single person who reached out to me personally to let me know they were thinking of AJ and me after the massacre at Pulse in Orlando. My heart goes out to every single victim, their family members, all the folks who were injured and who were there that night and the city of Orlando as well as the gay and lesbian community. If you would like to help the Pulse's survivors, family members and those who were there that night, you can donate to the Pulse Victim Funds set up by Equality Florida, the OneOrlando Fund, or the National Compassion Fund.

Plum and Rhubarb Cobbler
By Irvin Lin
This plum and rhubarb cobbler isn't difficult to make. Instead of doing simple drop biscuits, I opted for a flakier layered biscuit topping. It takes a little bit more work but trust me when I tell you the minimal effort is worth it. Besides, the folding and layering of the biscuit dough has a calming and zen-like effect on the maker, something I think we all need right about now. And once the cobbler goes in the oven, your entire home will soon smell of hope and sweet wonder. Once you take your first bite of the warm fruit bursting with tart sweet juicy flavor and the sweet buttery soft biscuit with just a hint of crunchy sugar on top, the outside virtual noise quiets to a white buzz, nearly imperceptible for a moment. Suddenly all that is important is the dessert in front of you, and for just one minute, just a singular minute, things are OK. And maybe that's all we can ask for in this day and age. One minute to be ourselves, to grieve, to hope, to truly be OK.
Ingredients
Filling
3 pounds (1360 g) red plums, sliced into 1/2-inch slices
1 pound (455 g) rhubarb, cut into 1-inch pieces
2 tablespoon chopped crystallized ginger
1 tablespoon balsamic vinegar
1 cup (200 g) white granulated sugar
6 tablespoons (50 g) tapioca starch or cornstarch
Biscuit Topping
3 cups (420 g) all-purpose flour
2 tablespoon white granulated sugar
4 teaspoon baking powder
1/2 teaspoon baking soda
1 teaspoon kosher salt
14 tablespoons (200 g) cold butter
1 1/4 cups buttermilk
To Finish
2 tablespoon melted butter
1 tablespoon white granulated sugar
Directions
1. Preheat the oven to 365ºF and coat a 9 x 13-in baking pan with cooking spray. Toss the filling ingredients together and the fruit is coated and spread evenly on the bottom of the pan. Place on a rimmed baking sheet and bake in the oven for 45 minutes uncovered.
2. While the fruit is baking, make the biscuit by placing the flour, sugar, baking powder, baking soda and salt in a large bowl. Cut the butter into 1/2-inch chunks and sprinkle it over the top of the dry ingredients. Using your fingers, smash the butter making sure to flatten all the butter into tiny pieces. Then sprinkle the buttermilk over the butter flour mixture and toss together with a spatula. The dough will still be really crumbly and dry. Dump the entire content of the bowl onto a clean surface.
3. Dust your hands with flour and pat the dough into a 8-inch square, then roll it out into a 9 x 12 inch rectangle so the rectangle is in landscape format (the longer side is facing you). Fold 1/3 of the dough over from the right to the center of the dough. Then fold 1/3 of the dough on the left over the doubled dough, making a "letter fold". The dough will be really crumbly and you might need to use a spatula or bench scraper to help you. You'll have a 9 x 4 inch rectangle.
4. Rotate the dough 90 degrees so it's landscape again and repeat the process, rolling the dough out to 9 x 12 inches, then folding like a letter. Repeat this process 4 times. Each time you fold and roll out the dough, you'll notice the dough will start to come together more and be less crumbly. Once you've done it 4 times, roll the dough out to an 8 1/2-inch square. Place the dough on a baking pan, cover with plastic wrap and place in the refrigerator until the filling is ready.
5. Once the 45 minutes is up, pull the chilled dough out of the refrigerator and trim 1/4 inch of the edges of the dough off and discard the ends. Then cut the dough into 9 even squares. Pull the baking pan with the fruit filling out of the oven and place the biscuits on top, covering the fruit. Brush the melted butter over the biscuits then sprinkle the sugar over the biscuits. Place back in the oven and bake for an additional 30-35 minutes or until the biscuits are golden brown and the filling is bubbly thick. Let cool for an hour to let the filling thicken before serving.
Makes enough for 8 people.