This savory and sweet rhubarb chutney is sophisticated and easy-to-make and is a great addition to any charcuterie and cheese plate.
Jump directly to Recipe
This post was sponsored by Safeway. I was compensated for this post and for developing the recipe. However, all opinions below are completely my own.
For me, the sign that we are FIRMLY into Spring season isn't the warmer weather or the flowers blooming. It's the appearance of rhubarb in the stores! I'm a fan of the long vibrant red stalks that are often paired with strawberries. But strawberry rhubarb isn't the only ingredient combination out there and pies aren't the only thing you can make with rhubarb. Rhubarb Ginger chutney is my new favorite thing!
A few weeks ago I went up to J Vineyard and Winery with the Safeway team to learn all about their sparkling wine making processing, eat an extraordinary 5-course meal paired with their wines, as well as learn more about Columbus Craft Meats (one of my favorite charcuteries brands) and Triscuits (which has a new line of seasoned crackers that I'm a bit obsessed with).
I teamed up with Safeway to learn more about some of the products that they sell in their stores. I've been looking forward to visiting J Vineyard and Wineries for awhile since sparkling wines one of my favorites to celebrate and enjoy. The tour did not disappoint, starting with a history of the winery that was founded in 1986 by Judy Jordan (at the age of 25!) to the current owners of E & J Gallo who took over the winery in 2015. The tour continued and showed us the entire process of how they made sparkling wine which involved some cool looking machines that turned and twisted the bottles to make sure the sparkling wine yeast continued to ferment the wine. In the old days, this process was actually done by hand!
The tour ended with a 5-course meal in the Bubble Room that continued to get better and better after each course. From a white asparagus, morel and duck egg dish (paired with pinot gris, a signature wine that they started making after they expanded beyond sparkling) to the rainbow trout (paired with Chardonnay), and lamb three ways (paired with Pinot Noir) I was pretty stuffed. But not so much that I couldn't fit in the chevre cheese course with a sparkling Brut Rosé and the final Meyer Lemon Crémeaux dessert served with a Vintage Brut sparkling wine. All in all, it was a hard day of eating and drinking!

Afterwards we went up to learn more about Columbus Craft Meats and Triscuits. I didn't think I could eat any more, and neither did the Safeway folks, which is why they had us make snack filled bento boxes-to-go with both of them. Of course, despite being full, I had to sample all the various charcuterie, including their Italian Dry Salame (with Burgundy wine and a hint of garlic) as well as zesty Calabrese with red pepper flakes that Columbus Craft Meats brought. Of course, I already buy their products to snack and make sandwiches with as it tastes like actual charcuterie and meat, not like some weird Frankenstein meat product.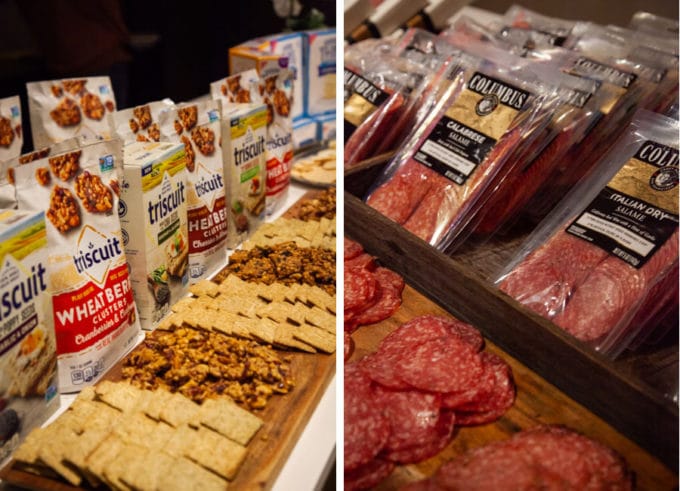 But what I didn't know much about was the new Triscuit flavors, that included my favorite, a basil and garlic cracker that had quinoa seeds woven into it. What! I swear I could eat the box of them all by themselves. And I almost did too, despite being crazy full from the lunch. I've always had a soft spot for Triscuits and their simple three ingredient crackers (wheat, oil and salt). But their new flavors like their rosemary and jalapeno cracker had chia seeds woven into them as well!

In the end, as I came up with a "goodie bag" full of products, to inspire me in the kitchen. With spring here and rhubarb appearing, I knew that I wanted to make something that would be easy to make and bring to a picnic or serve on a charcuterie platter. I tend to hibernate a bit in the wintertime, but once Spring comes around, I start thinking of picnics and entertaining! And this spicy, sweet and savory rhubarb chutney would pair well with the richness of the Columbus charcuterie and the salty crunch of the triscuit crackers. Sharp and acidic, with a mix of savory and spicy, the chutney is perfect on top of the charcuterie and salty flavorful cracker. Plus the touch of pinot noir wine that I used from J Wineries added a level of complexity that brought the chutney to the next level. Spring is here! Grab a picnic basket and throw in some J Winery bubbly, a packet of Columbus Crafted charcuterie, some Triscuits crackers, a little cheese and wine and this easy to make rhubarb chutney. It's finally time to get outside and enjoy the nice weather!
What is Chutney
Chutney is a sauce that originated in Indian and was used as a garnish or dip. The British adapted it by adding a tart fruit like green apples or rhubarb, adding sugar to mellow the tartness, as an acidic element to it, often cider vinegar. I've adapted my rhubarb chutney further, adding garlic and onion, as well as balsamic vinegar and ginger to give it a punchy kick of robust flavor. The strong combination of sweet, tart, acidic and spicy balances out and compliments charcuterie and strong cheeses, and holds up well on a charcuterie board.
How to make a Charcuterie and Cheese board
I love to entertain by making a large charcuterie and cheese board. Mix up the charcuterie, making sure to use two or three types of meat, some thicker and spicier, some more mellow in flavor. Columbus Crafted Meats offers a wide range of cured meats for you to select! Add in a selection of cheese, soft, medium and hard, as well as some that are more pungent than others. Then include a robust chutney or jam that will work well with the cheese and cured meats, along with crackers (like Triscuits, which come in a wide range of flavors) and/or bread. Finally include some fruit (dried and fresh) and salty nuts and olives to help balance it all out! Try to pick items that are easy to eat with your fingers, as opposed to something that requires you to use a utensil. Serve the board with your choice of wine (white or red) or sparkling bubbly!
Make ahead
This rhubarb chutney has both sugar and a little bit of balsamic vinegar in it, which will help preserve it. You can make and keep the chutney in the refrigerator for up to 5 days before serving it.
If you like this recipe, check out these other rhubarb recipes:
You can get all the ingredients, including J Vineyard Wines, Triscuit crackers and Columbus Craft Meats from your local Safeway store. And if you haven't had a chance, you can also get the ingredients delivered for free, with $20 off on your 1st online order when you spend $75 or more. Enter the promo code: SAVE20 at the online checkout. Offer valid through 7/31/2019.
Rhubarb Chutney
This complex flavored chutney is sophisticated but easy to make. This spicy, salty, sweet and savory sauce makes a great addition to any charcuterie and cheese platter or served on the side with a rich meat dish like pork chops or roasted pork tenderloin. Make it ahead and keep it in the refrigerator for up to 5 days.
Ingredients
1

tablespoon

olive oil

2

garlic cloves

minced

1/2

cup

chopped yellow onions

about 1/2 a medium sized one

2

tablespoons

fresh grated ginger

about a 2-inch piece

1/4

cup

dried cherries

45 g

1/4

cup

golden raisins

45 g

1/3

cup

dry pinot noir wine

like J Vineyards and Winery Pinot Noir

1/2

cup

white sugar

100 g

3

cups

chopped 1/2-inch chunk rhubarb

about 12 ounces or 3 to 4 medium sized stalks, divided

1/2

teaspoon

fresh ground pepper

1/4

cup

ground coriander

1/8

teaspoon

ground cloves

1

tablespoon

balsamic vinegar
Instructions
Place the olive oil, garlic, onions and ginger in a medium saucepan and cook over medium high heat until the onions are soft and transparent, about 5 minutes. If the ginger starts to dry out and scorch, add 2 tablespoons of water and continue to cook, adding more water if necessary.

Once the onions are cooked, add the dried cherries and golden raisins and wine and increase the heat to high. Bring to a boil and then lower the temperature so the wine is at a simmer for 1 minutes.

Increase the heat to medium and stir in the sugar, half rhubarb (1 1/2 cups), the pepper, coriander and cloves. Cook for 5 minutes or until the rhubarb has softened and is just starting to break down. Add the remaining rhubarb and cook an additional 2 to 3 minutes or until the just added rhubarb has just started to soften. Remove from heat and stir in the balsamic vinegar.

Let cool to room temperature and store in a refrigerator, covered for up to 5 days. Bring the chutney back to room temperature before serving.
Notes
This post was sponsored by Safeway. I was compensated for this post and for developing the recipe. However, all opinions below are completely my own.
Nutrition