These rhubarb and blueberry oatmeal bars are absolutely magical with the addition of cacao nibs and dried rose petals, yet they are really easy to make! (Jump directly to the recipe.)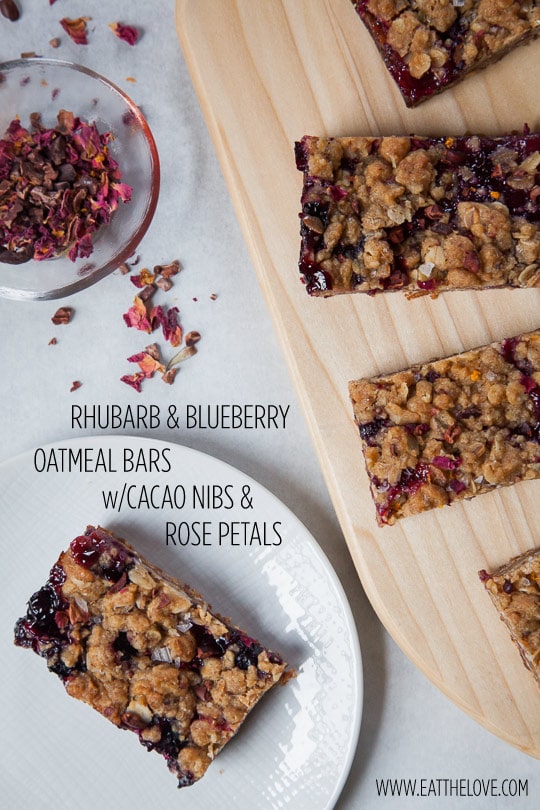 "This flavor combination is magical!" said my friend Alanna after she took a bite of my rhubarb blueberry oatmeal bar with cacao nibs and dried rose petals. I can't take all the credit for it, as my friend Lily (of Kale & Caramel) had sent me a small jar of rose and cacao nibs along with her fabulous new cookbook Kale & Caramel (<–affiliate link). I have been saving the jar to sprinkle on something special and these bars were the exactly that. The cacao nibs in the jar inspired me to add them to this fruit oatmeal bar, elevating them from pretty great to magical.
I met Lily for the first time in LA a couple of years ago. We met up for ice cream in a shop out in Los Feliz, which is nowhere close to where I usually hang out when I go to LA. But I was willing to drive across town to meet up with the woman behind Kale & Caramel. Lily showed up and proceeded to amuse us with a hilarious story about the date she was going on (or already went on?) with a Catholic priest. Hanging out next to us were Lauren Graham (of Gilmore Girls and Parenthood) and Mae Whitman (of Parenthood and Arrested Development) and I probably never felt so LA in my entire life because when I usually hang out in LA, I eat Thai food with my local friends and never see celebrities. To this day, I occasionally random turn to AJ and say "remember the time we got ice cream with Lorelei Gilmore, Bland and Lily?"
But back to these oatmeal bars. My love of rhubarb is well documented here on this blog. This Spring alone, I have made a rhubarb lemongrass cheesecake and a strawberry rhubarb Meyer lemon shaker tart. But since I had more rhubarb in the fridge, I reached for blueberries this time (a combination that I adore) and create an oatmeal bar. The cacao nibs are little bit a genius (if I do say so myself). It's a remarkable addition, one that gives an earthy chocolate nuttiness, without actually adding chocolate, nuts or sweetness. And, of course, Lily's cookbook was an absolute inspiration as well, since she's pretty much a magical creature. Go check it out immediately.
Rhubarb Blueberry Oatmeal Bars with Cacao Nibs and Dried Rose Petals
By Irvin Lin
Cacao nibs are the roasted beans of the cacao plant and are what chocolate is made from. They can be found at upscale grocery stores or health food stores or online. I used multigrain rolled cereal in these bars but regular rolled oats (don't get quick cook, use the regular or thick cut style) will work just as well. The dried rose petals are probably going to sound a bit odd. But the touch of fragrant rose to these bars just brings out the spicy complex fruity flavors of the rhubarb and blueberries even more than you would think. However if you can't source dried edible rose petals (try a health store with a bulk food section or online) feel free to skip them. The oatmeal bars will still be pretty fantastic.
Inspired by the cookbook Kale & Caramel (<–affiliate link) by Lily Diamond
Ingredients
Crust and crumb topping
1/2 cup (30 g) cacao nibs (see headnote above)
1 1/2 cups rolled oats (or multigrain rolled cereal)
1 cup (220 g) packed dark brown sugar
1/2 teaspoon kosher salt
1 1/2 cups (210 g) all-purpose flour
1 cup (225 g or 2 sticks) unsalted butter, melted
Filling
3 cups (250 g or 9 ounces) chopped rhubarb
1 cup (155 g or 1/2 pint) blueberries
1 1/2 cups (300 g) white granulated sugar
3 tablespoon tapioca starch or cornstarch
1/4 cup fresh squeezed orange juice
zest of 1 orange
Topping
1 teaspoon cacao nibs (see headnote above)
1/2 teaspoon dried edible rose petals (see headnote above)
1/2 teaspoon Maldon sea salt (or other flaky sea salt)
Directions
1. Preheat the oven to 350ºF. Spray a 9x 13 x 2-inch baking pan with cooking oil then line the bottom and sides with a piece of parchment paper.
2. Make the crust and crumb topping by first placing the cacao nibs in a heavy-duty freezer resealable bag and crushing them with a rolling pin. Empty the cacao nibs into a medium mixing bowl and add the rolled oats, brown sugar, salt and flour. Stir with a balloon whisk vigorously until the dry ingredients are well mixed together. Drizzle the melted butter over mixture while tossing together with a fork. Continue to stir together until it starts to clump together.
3. Take half the mixture and sprinkle it over the bottom of the pan. Press down with your fingers to tightly pack the crust into the bottom of the pan evenly. Place pan in the oven and bake for 20 minutes. Place the remaining mixture in the refrigerator to chill.
4. While the crust is baking, make the filling by placing the rhubarb, blueberries, sugar, tapioca starch (or cornstarch), orange juice and zest into a medium saucepan. Cook on medium heat until the rhubarb starts to break down, the blueberries start to burst, the sugar has dissolved and the liquid starts to thicken from the starch, about 5 to 10 minutes. Remove from heat and set aside until the crust is done baking.
5. Once the crust is done baking, remove from oven and pour the filling over the hot crust, spreading it out evenly over it. Take the chilled crust dough out from the refrigerator and sprinkle over the top of the filling. Place back in the oven and bake for 20 more minutes or until the filling is bubbly hot and the crumb topping starts to turn golden brown.
6. Remove from oven and let cool completely on a wire rack then refrigerate overnight to firm up. Once the bars have chilled, remove them from the pan by lifting the parchment paper straight up from the pan and moving directly to a cutting board. Sprinkle the top of the bars (before you cut them) with the topping ingredients, then cut into 24 even bars. Serve immediately or let warm up to room temperature before serving (the bars will be softer if you bring them to room temperature).
Makes 24 bars.