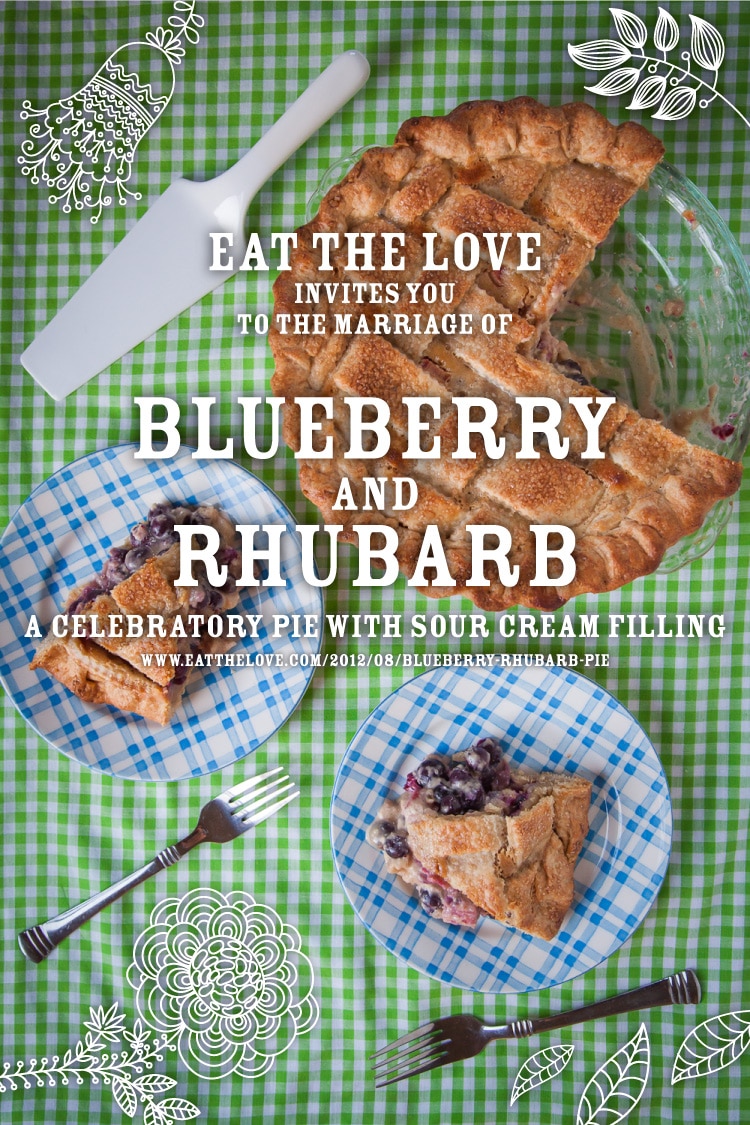 The buffet table of pies is spread out before me, a veritable selection of peach, blueberry, blackberry and apple pies. The sort of selection that makes you want to take one of each, but really you can't be that greedy as other people are behind you, waiting for their own slice. I opted for a blueberry, then changed my mind halfway to peach, only to have the woman behind the table ask me kindly if I wanted both. Relieved that I didn't have to choose, I took a slice of each and went to savor the pies. In my head, I was pleased that my friend Jenny bucked tradition and opted for a dessert table of pies for her wedding, instead of the tiered cake. The day after her wedding, I took pie inspiration (pie-spiration?) from her wedding, and decided to buck tradition as well and make a rhubarb pie with blueberry instead of the traditional strawberry. Moving further away from your average fruit pie, I added cream cheese and sour cream to filling. It turns out a Blueberry Rhubarb Sour Cream Pie is quite the marriage of flavors.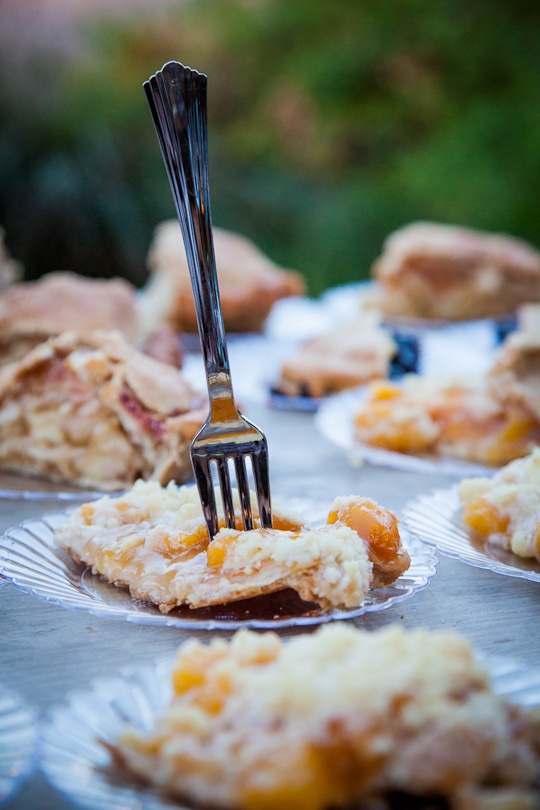 I met my friend Jenny back in art school, where I majored in Painting and she majored in Photography. Freshman year had us in 3D design class together where we had to think critically and conceptually on projects like "how to fill" a room with as minimal amounts of materials as possible. Jenny wore what amounted to half a bottom of perfume, filling the room with her not-so-subtle fragrance. I took a more direct route and herded the entire class out of the room then just stuck a piece of paper with the words "FULL" handwritten on it moments before with my always present sharpie that all art students carried with them. My professor was extremely amused by my solution (true confession, I thought this up mere minutes before it was my turn, while listening to others explain their solutions in class). This is what we learned in art school, and I'm sure there's a serious lesson somewhere in there that I have absorbed from that class, but for the life of me I can't really think of what it is.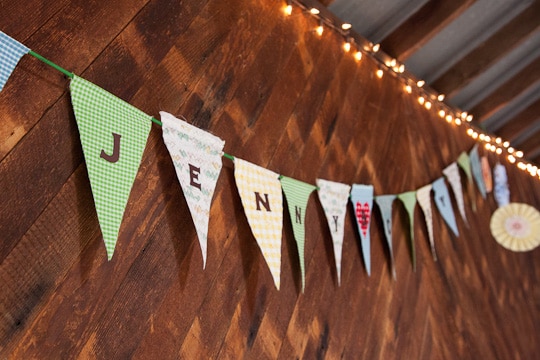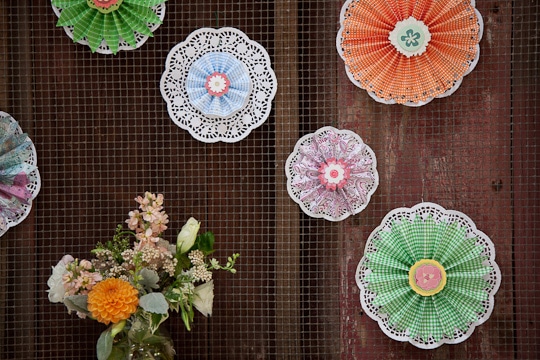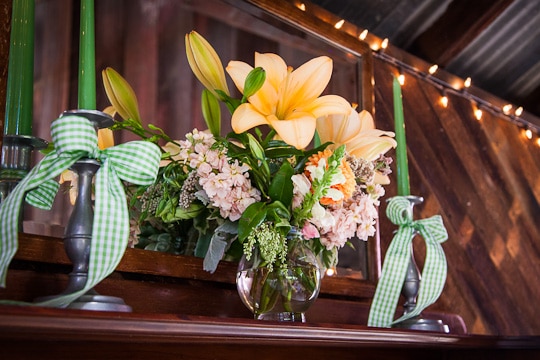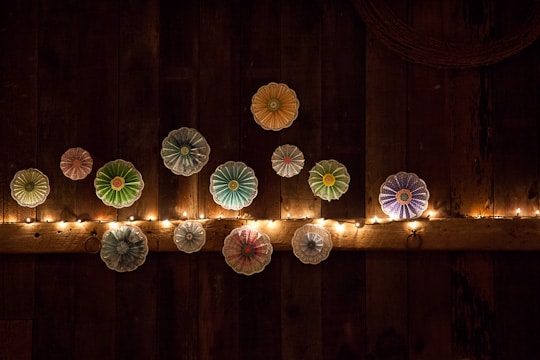 Sophomore year found Jenny and me solidifying our friendship in our second year 3D design class, where we worked together on a "Rube Goldberg" style sculpture, a machine dedicated to the then Registrar of the art school, Margo. Dubbed the Margo Machine, sadly the sculpture was a bit of a failure (or at least, it wasn't a memorable success in my mind), but that didn't stop us from having a grand ole time making it. Our friendship would continue for the next 15 years or so after we graduate, even surviving a month long stint when I couch surfed in her apartment upon moving to San Francisco.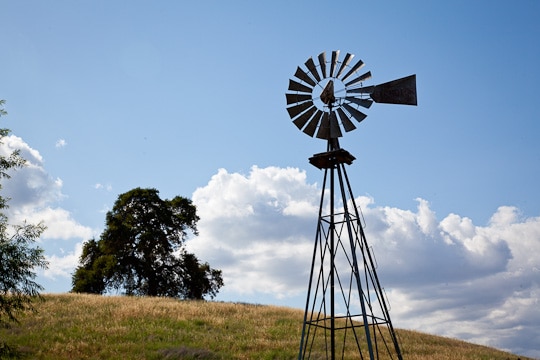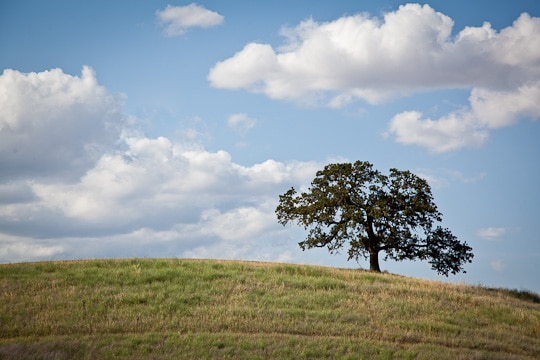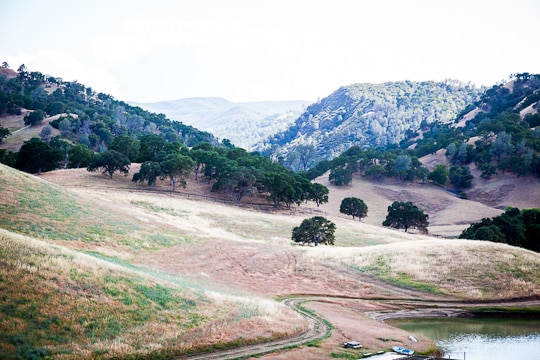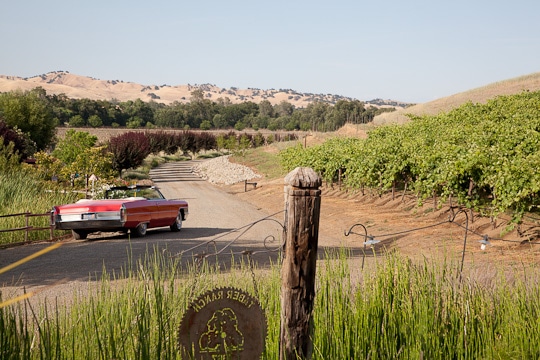 Sadly, since I've moved to California, Jenny has slowly migrated ever so slightly east of San Francisco, first to the East Bay, then to Sacramento. Thankfully though, I believe Sacramento is the farthest she will be venturing as she moved out there to be with her guy…who is now her husband. I was utterly thrilled to be invited to her wedding back in May and was equally thrilled with the invite that told me it was to be held on a farm. Dress code included summer sun dresses, festive country attire or colorful Hawaiian shirts, cuisine was to be BBQ and yes there would be a bluegrass band. This is how all weddings should be!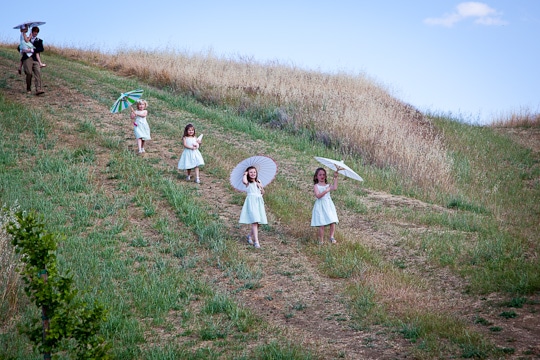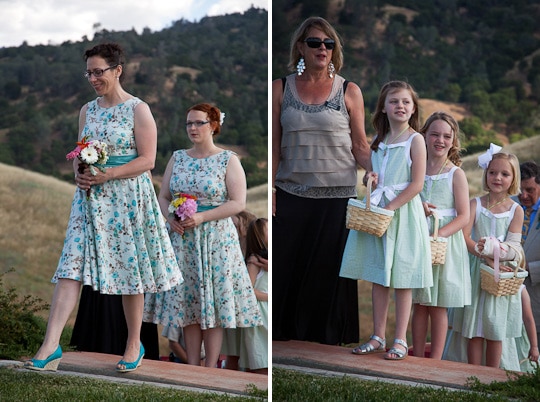 The bride was stunning of course. Jenny always was a beauty, but something about seeing her in that setting, in her traditional white wedding dress, standing out against the big blue sky and green grassy hill just made me stare in awe. I adore Jenny and her husband Cary is one lucky fellow to have landed her.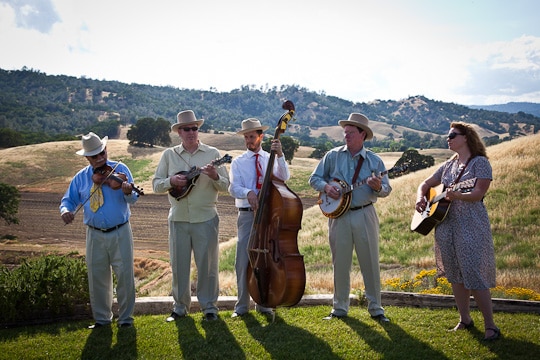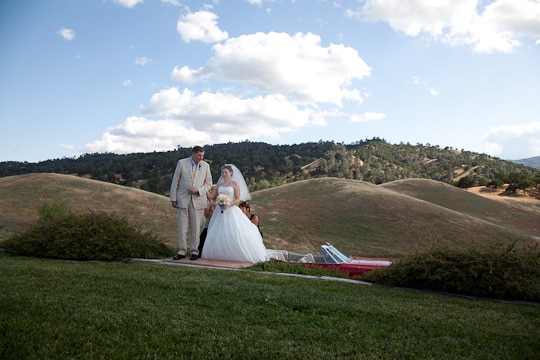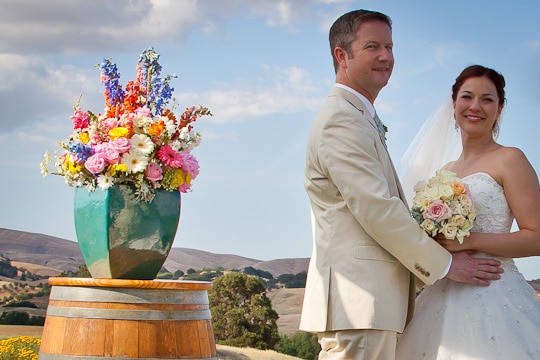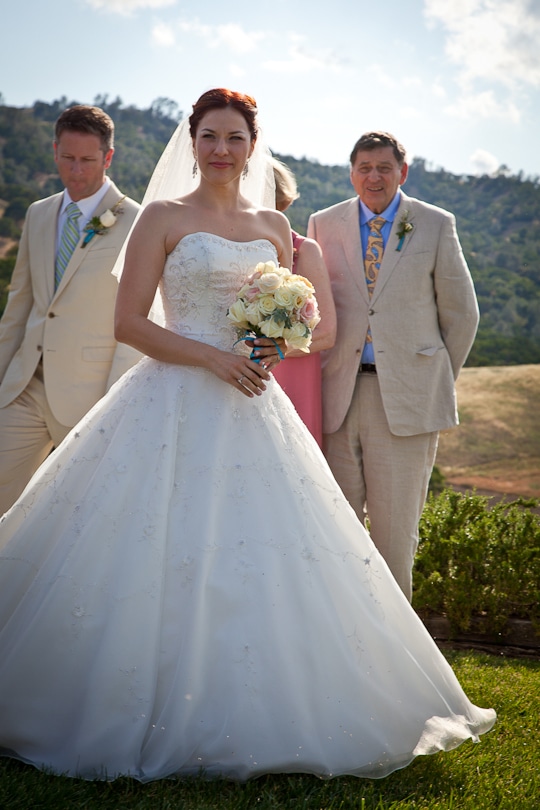 Once the vows were taken, the bluegrass band took over, playing as the guests exited the hill to go down to the reception and the family took photos. I lingered, caught up in the moment and sight of it all and took shot after shot of everything I could. We eventually were shooed down to the reception area where we were greeted with a cheese buffet. Jenny is a HUGE cheese fanatic. I was NOT complaining as I filled up my plate for AJ and me. AJ is probably even more a cheese fanatic than me, so we both dug in, happy to enjoy our pre-meal dairy extravaganza. Of course, with the wedding up on a hill, the guests leisurely walked down to the reception. The steep incline probably would be more difficult if you are in a wedding dress, but the farm had thought of this, using a vintage red convertible to chauffeur the bride and groom down to the reception area. Talk about an awesome way to present the bride and groom!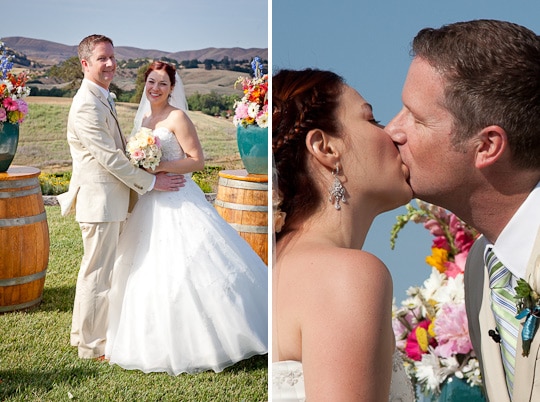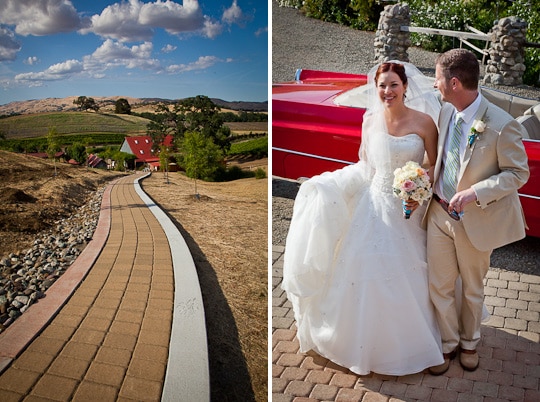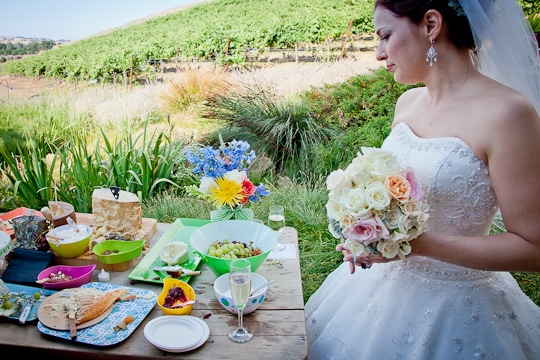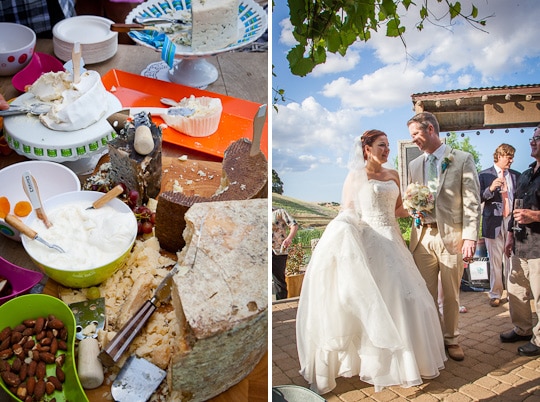 AJ and I chatted with friends, new and old, including a fellow art school alumn friend of mine, Amy, who was Jenny's best friend from school and who flew all the way out here from New York. I rarely see Amy, but through the magic of Facebook, I've been able to keep in touch with her. Amy is one of those driven artists who continued her passion for painting past art school (something I never did). She exhibits her work in galleries in New York and I have a huge amount of respect for her drive. Plus she's totally awesome and hilarious, with her wry wit and slight New Orleans drawl that belies the edge in her life perspective. She's a firecracker that Amy.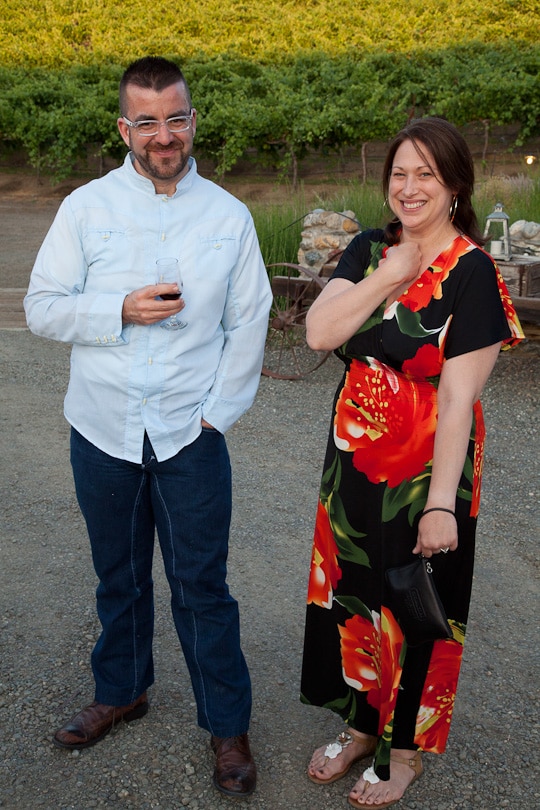 Dinner did not disappoint. BBQ, baked beans, grilled veggies and cornbread was on the menu and Jenny and her new husband Cary started off the buffet by putting on aprons and serving up some ribs to the guests! I couldn't help myself and had to Instagram a few photos of Jenny in her apron dishing up BBQ. I think my Instagram friends were immediately smitten with her. How could you not be?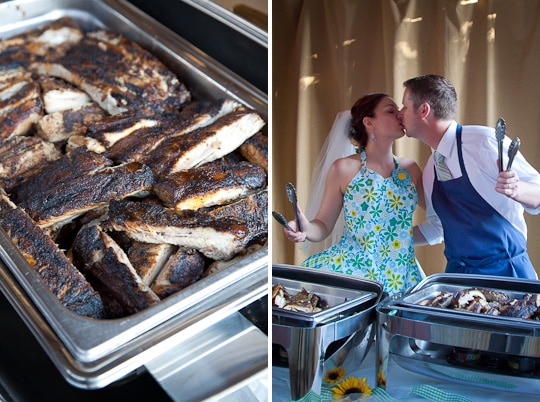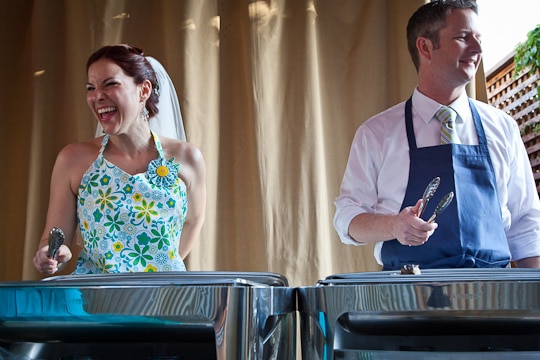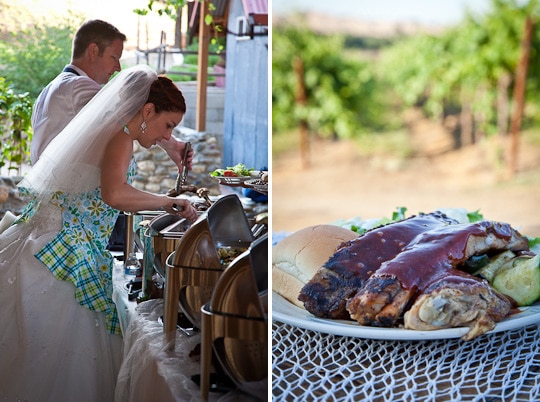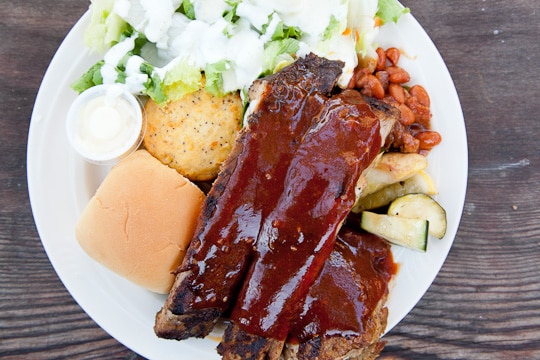 For dessert, Jenny and Cary decided to eschew the traditional wedding cake in favor of a selection of pies. PIES. Genius. We all know how much I love pie (though I do like a good slice of wedding cake too, don't get me wrong) but to have a buffet of pies to select from for dessert? Yes please. This was one of those dream weddings. Beautiful setting, beautiful people and beautiful food. I kind of went crazy with the camera but that's what you do at a wedding right? Eat, drink, sigh at the beauty of the bride and take a ton of photos. Well, that's what I do anyway.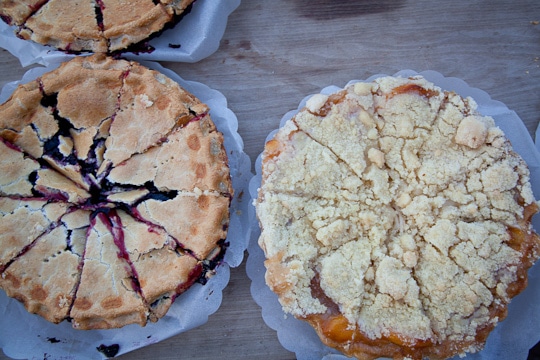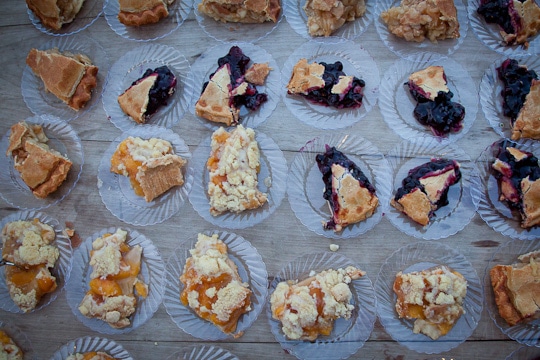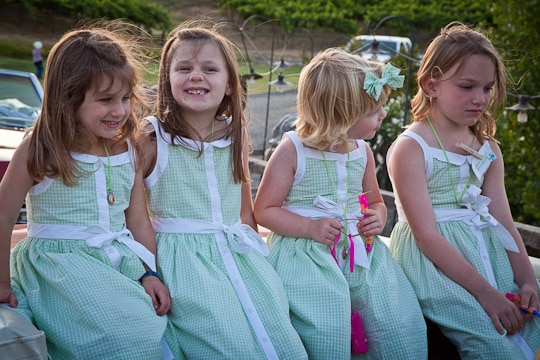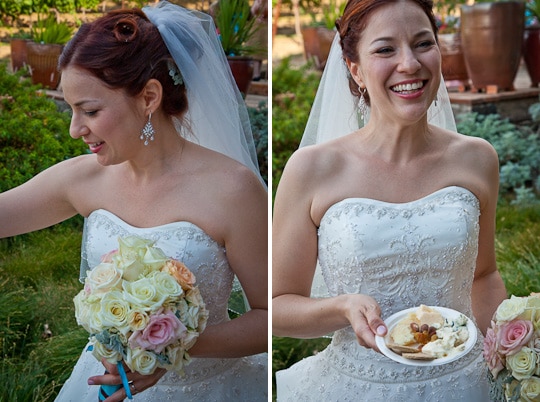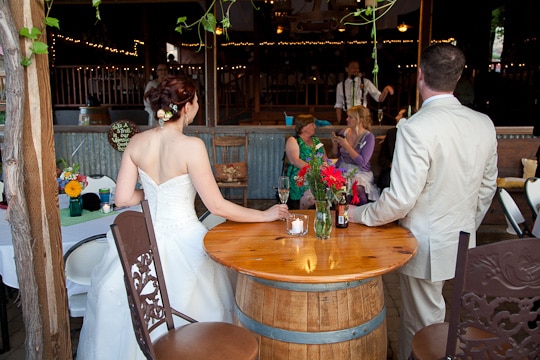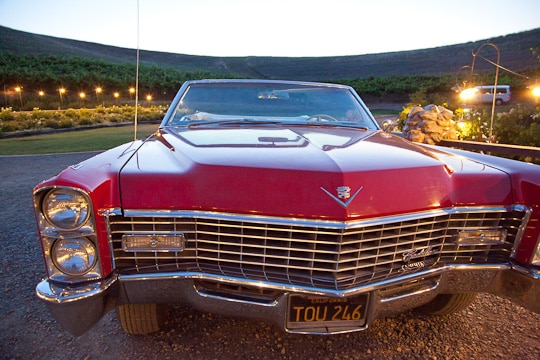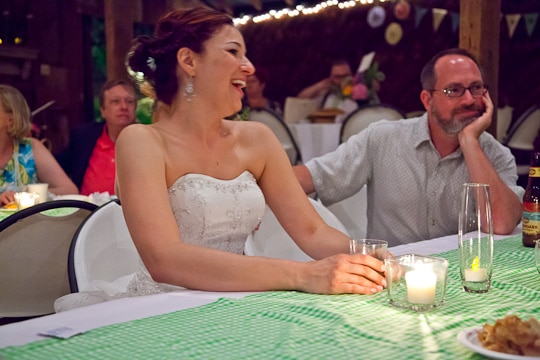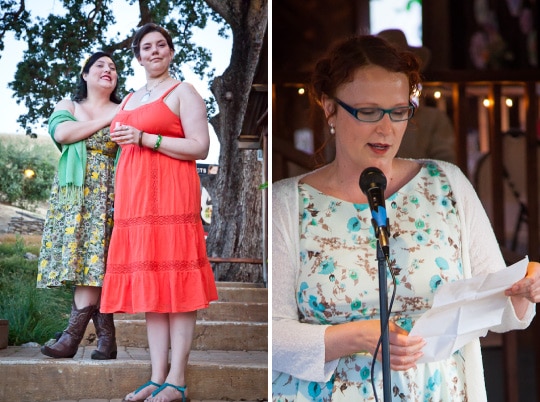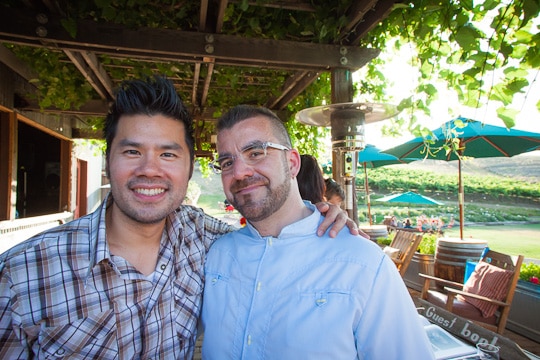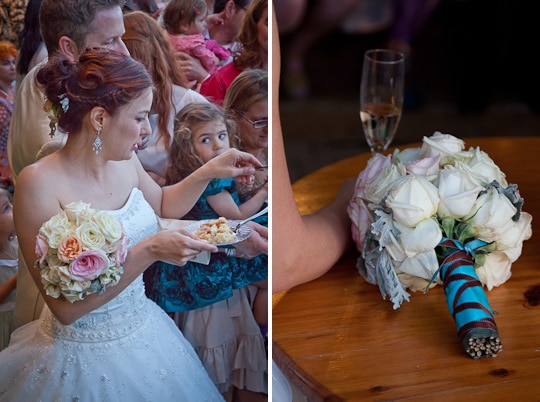 Inspired by the pie buffet, I came home from the wedding and the next day decided I need to make a pie for AJ and I. Going to the store, it was easy to reach for the blueberries, which happen to be one of my favorite summer fruit. Jenny had served a blueberry pie at her wedding and it seemed like the way to go, until I saw the bright shiny red rhubarb staring at me, daring me to make something with it on the shelf. I gave in and bought some rhubarb as well, vowing to make a blueberry rhubarb pie. I remember my friend Stephanie mentioning that she loved the combination of blueberry and rhubarb and in fact, she has a great recipe for blueberry rhubarb pie over on her blog Desserts for Breakfast. But for this pie, I wanted to add a depth and richness to the filling. So a touch of honey, some cream cheese for depth and sour cream for richness and all of sudden I had a pie worthy of the wedding I just attended. Congratulations Jenny and Cary. You guys are awesome. I wish you many more slices of cheese and pie to enjoy.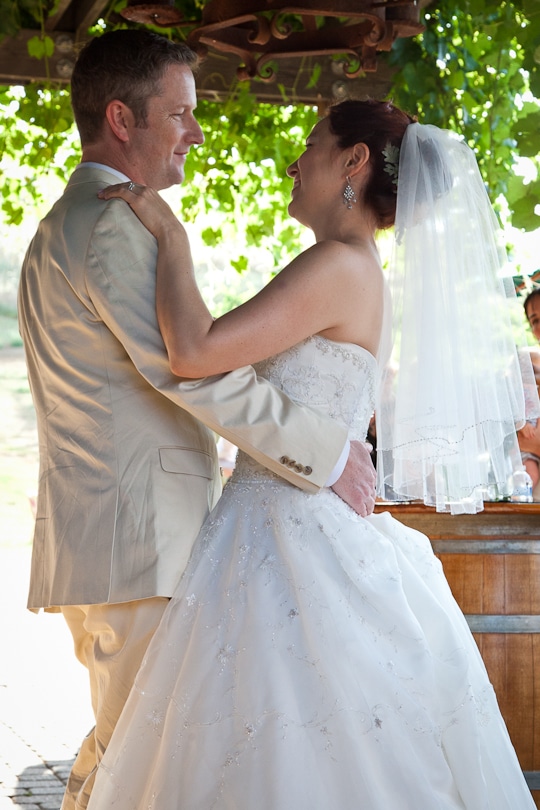 Blueberry Rhubarb Sour Cream Pie
By Irvin Lin
The tart rhubarb plays really well with the earthy blueberry flavor. The touch of honey really helps bring out the sweetness in each, but it's the cream cheese and sour cream that helps bind the entire thing together. Be sure to use full fat sour cream and cream cheese for proper richness. If you don't have tapioca starch, you can substitute cornstarch in it's place, but the fruit flavors might be a little less pronounced as cornstarch can be a bit dulling in a fruit fillings.

Ingredients
Crust
280 g (2 cups) all purpose flour
250 g (1 1/2 cup) white whole wheat flour
25 g (2 tablespoon) granulated white sugar
7 g (1 teaspoon) sea salt
300 g unsalted butter
1/2 cup water
1/2 cup gin (or vodka if you don't want to waste the good stuff)
Filling
2 large eggs
3/4 cup sour cream
1/4 cup cream cheese at room temperature
2 tablespoon honey
1/4 teaspoon sea salt
110 g (1/2 cup) dark brown sugar
40 g (1/4 cup) tapioca flour
2 teaspoon vanilla
1/2 teaspoon cinnamon
165 g (6 oz) rhubarb, about 2 medium stalks
510 g (18 oz) blueberries
1 egg yolk for pastry wash
1 to 2 tablespoons of granulated white sugar
Special Equipment
Rolling pin
9 inch deep dish pie pan
Rimmed baking sheet
Directions
1. Make the crust dough by placing the flours, sugar and salt in a large mixing bowl. Cut up the butter into 1/2 inch chunks, sprinkle over flour and toss to coat. Flatten the cubes of butter with your fingers until all the butter has been smashed. Start rubbing and squeezing the butter together with your fingers, until the ingredients start to clump together. Sprinkle the water and gin over the mixture and toss with a fork until it forms a dough. If the dough seems too wet, add a little more flour and fold it in, but the dough is meant to be moist. Split the dough in half and gather one portion together and flatten into a large 1/2 inch thick disk. Wrap tightly with plastic wrap and repeat with the rest of the dough. Place in the refrigerator for an hour or overnight.
2. Once the dough has chilled, preheat the oven to 375˚F (190˚C, Gas Mark 5). Roll out one disk of the chilled dough on a generously floured surface. The nice thing about this dough is that you can use as much flour as you need. It's very forgiving. Roll it out to 10 inch round circle and then fit it into a 9-inch deep dish pie pan. Take the second disk and repeat the process by rolling it into a 10 inch round circle. Cut the disk into 10 to 12 evenly thick strips.
3. Make the filling by placing the eggs, sour cream, cream cheese, honey, sea salt, brown sugar, tapioca flour, vanilla, and cinnamon together in a medium mixing bowl. Using a balloon whisk, beat the ingredients together, until the mixture is smooth. If there are few stubborn lumps of cream cheese left that's OK, but try to do the best you can. Cut rhubarb into 1/2 inch chunks and place in a clean mixing bowl along with the blueberries, tossing to mix. Fold into the wet ingredients, and scrape out into the pie shell.
4. Place the longest strip of the second pie dough over the filling in the center and turn the pie 90˚ and place the second longest strip perpendicular to that in the center of the pie. You should have an "X" on the pie. Turn another 90˚ and place the third and fourth strips of dough on the right and left of the center strip. Now turn another 90˚ and place two more strips of dough, lifting up the strips to "weave" the strips above and below the placed strips. Continue until you have topped the entire pie, saving the short pastry strips for the ends of the pie top. Decoratively crimp the sides of the pie, folding the ends of the top crust into the edges.
5. Put the egg yolk in a small bowl and add 1 tablespoon of water to it. Using a fork whisk the egg yolk until it foams. Then brush the top of the pie crust completely with the egg wash. Sprinkle white sugar over the top of the pie crust (I never measure, I just sort of sprinkle until there is an even coating of the sugar on top but it's usually 1 or 2 tablespoons).
6. Place the pie on a rimmed baking sheet to catch any drips and help facilitate easy removal of the pie from the oven. Bake the pie for 50 to 60 minute or until the crust deep golden brown and the filling looks set in the middle of the pie. If the pie crust edges are getting too brown (check at the 45 minute mark), put a piece of aluminum foil over the edges to prevent it from burning. Let the pie cool to room temperature to set before serving.
Makes 1 pie, serves 10 to 12 people