This miso butter green beans with corn and fried shallots is an easy side dish with the not-so-secret miso as an umami flavor booster!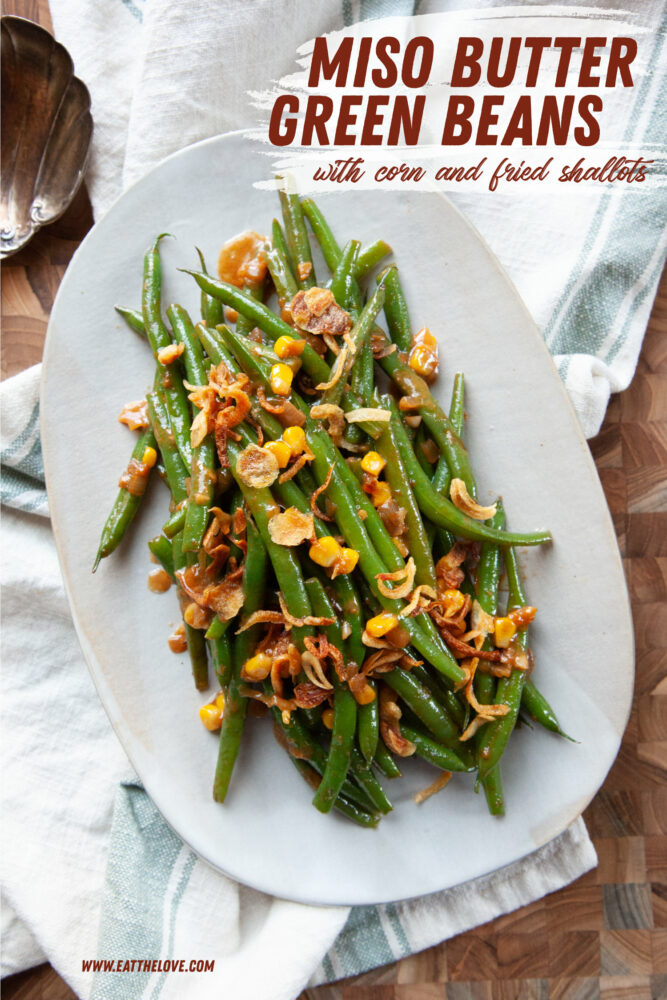 The cooler weather has me turning up the heat, grabbing a cozy sweater and baking up a storm. But dinner still have to make its way onto the table, and that means I'm making comfort food like easy chili, shepherd's pie, easy baked ziti, and Moroccan lamb tagine. But along with all those main dishes, I often want to serve a green vegetable side. And green beans are one of my quick easy dishes, with their snappy nutty flavor and their quick preparation. I've made green beans with shallots and thyme and I've roasted green beans and tossed them dried cranberries. But my current favorite way to prepare them is this miso butter glazed green beans with corn and fried shallots!
How do make miso butter glazed green beans
Making these green beans are super easy. First bring a large pot of water to boil, then blanch the green beans. Then drain and run them under cold water.
Then soften the butter and stir in the miso. This step is key, because if you just toss the miso into the pan, it runs the risk of burning and becoming acrid. Blending it with butter helps dilute and distribute the miso throughout the dish better.
Add a little oil the empty pot that you boiled the green beans in and add back the green beans, chopped garlic and shallots. Then cook until the aromatics have softened a bit. Add sake and cook until it mostly evaporates which helps cook the green beans a little more. Then add the corn and the miso butter cook until a glaze forms. Sprinkle with fried shallots and serve.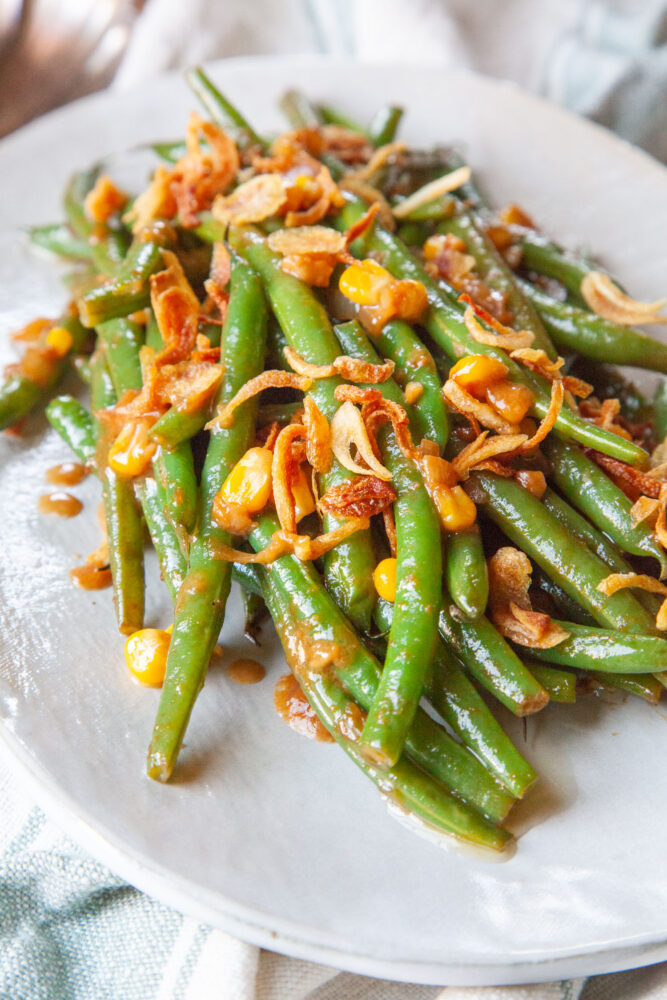 What is miso and what sort of miso should be used?
Miso is a fermented soybean paste that is common in Japanese cuisine. It is a salty paste that is packed full of savory umami flavor. Umami is the same underlying savoriness flavor you find in tomatoes, parmesan cheese and anchovies.
Miso often comes in different varieties, with the most common being white, yellow and red. Usually the darker the color, the more intense the flavor, with white being mild, yellow being medium strength, and red has the most intensity. I opt for red miso, as I like its assertive quality in this recipe, but you can use whatever miso you have. Just keep in mind the miso flavor will be more mild with white and yellow miso and if you want a stronger flavor, to increase the amount (perhaps an additional teaspoon or two). 
You can miso in Asian grocery stores, as well as upscale and well-stocked grocery stores. Look in the refrigerated section, where you might find tofu.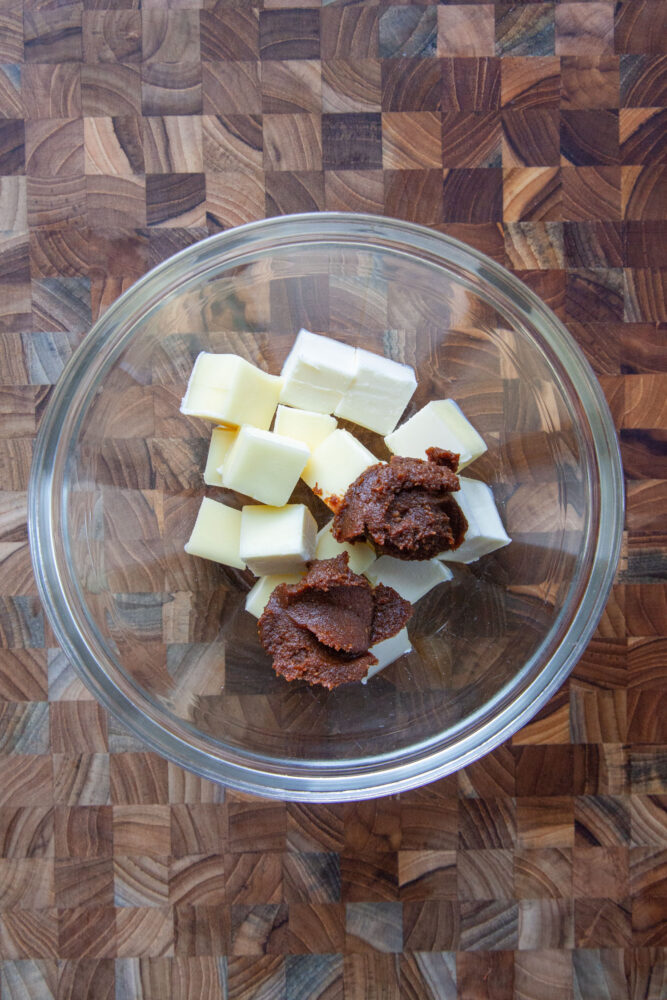 Can you skip the sake?
If you don't have sake, you can use soju (a Korean rice wine), Chinese rice wine, sherry, vermouth or white wine in its place, though each of those have a slightly different flavor profile, and the resulting dish will taste slightly different.
Though the alcohol will burn off in the cooking, if you don't like cooking with alcohol, you can easily swap out chicken broth, vegetable broth or just plain water in place of the sake. Again, keep in mind that resulting dish will taste slightly different.
Can you make this ahead?
These green beans are best eaten right when they are done but if you want to prep and make the dish ahead of time, you can store them in the refrigerator and then rewarm them using the microwave or on the stovetop. Be sure to sprinkle the fried shallots on top right before serving them though. If you add them and then store the dish, the shallots will lose their crispness.
These green beans will keep in the fridge up to 2 days.
If you like this green bean recipe, check out these other vegetable side dishes
Miso Butter Glazed Green Beans with Corn and Fried Shallots
This easy-to-make green bean side uses umami-rich miso mixed with butter and a splash of sake to bring out the earthy nuttiness of green beans. Add a little bit of sweet corn and the crunch of the fried shallots, to make it a quick, excellent side dish for the holidays or really any time of year!
Ingredients
1 1/2

pounds

green beans

trimmed, 680 g

1/2

cup

unsalted butter

softened

2

tablespoons

red miso

see note above info on different miso

2

tablespoon

olive oil

2

tablespoons

chopped shallots

about 2 medium

1

tablespoon

chopped garlic cloves

about 3 medium

1/2

cup

sake

see note above for how to substitute sake

1

cup

corn kernels

freshly cooked, frozen or canned

Salt and pepper to taste
Instructions
Bring a large pot of salty water to a boil. The water should taste like ocean or sea water, so salt aggressively. Once the water is boiling, add the trimmed green beans and cook for 60 to 90 seconds. The green beans should turn bright green. Immediately drain and run under cold water from the faucet until the green beans are no longer hot (warm is still ok).

Combine the softened butter and miso together to form a paste.

Add the oil to the large pot you used to boil the green beans, then add back the green beans, chopped shallots and garlic. There's no need to clean the pot. Just make sure you drained all the water out of it.

Cook the vegetables for 1 minutes on medium heat, stirring constantly, then add the sake. Cook until most of the sake has evaporated, about 1 to 2 minutes.

Add the corn and the miso butter. Cook until the butter has melted and a glaze has formed. Taste and add additional salt and pepper to your taste.

Move to a serving bowl or plate, sprinkle with the fried shallots. Serve immediately.
Nutrition
Calories:
305
kcal
|
Carbohydrates:
18.5
g
|
Protein:
4
g
|
Fat:
22.8
g
|
Saturated Fat:
11.9
g
|
Cholesterol:
41
mg
|
Sodium:
358
mg
|
Potassium:
345
mg
|
Fiber:
4.9
g
|
Sugar:
2.8
g
|
Calcium:
55
mg
|
Iron:
2
mg