These Garlic and Leek Mashed Potatoes are incredibly easy to make, with real garlic, aromatic leeks sauted in butter and sour cream!
Jump to Recipe
I can't believe it's November, which means Thanksgiving is right around the corner. From Thanksgiving, it's a quick slide into Christmas, New Years and 2019. Which basically sends me into a spiral of panic that the year has slipped by. I think I still write 2017 on my checks. Actually 2016. Wait. Does anyone actually write checks anymore? Maybe I haven't actually written a check since 2016. That probably a better explanation.
Regardless, Thanksgiving is my absolutely favorite time of year. It's an excuse to make and eat copious amounts of food. My partner AJ and I have a hard and fast rule that we ALWAYS make Thanksgiving dinner, no matter what the situation is. We came up with the rule after a disastrous Thanksgiving early in our relationship, one that had us being invited to a dinner by a friend to someone we didn't know's dinner party. Then, on the day of Thanksgivings, being uninvited because said friend misunderstood his initial invitation was only for him. This lead us to eating some sort of sad fast food sandwich on the floor of my studio apartment.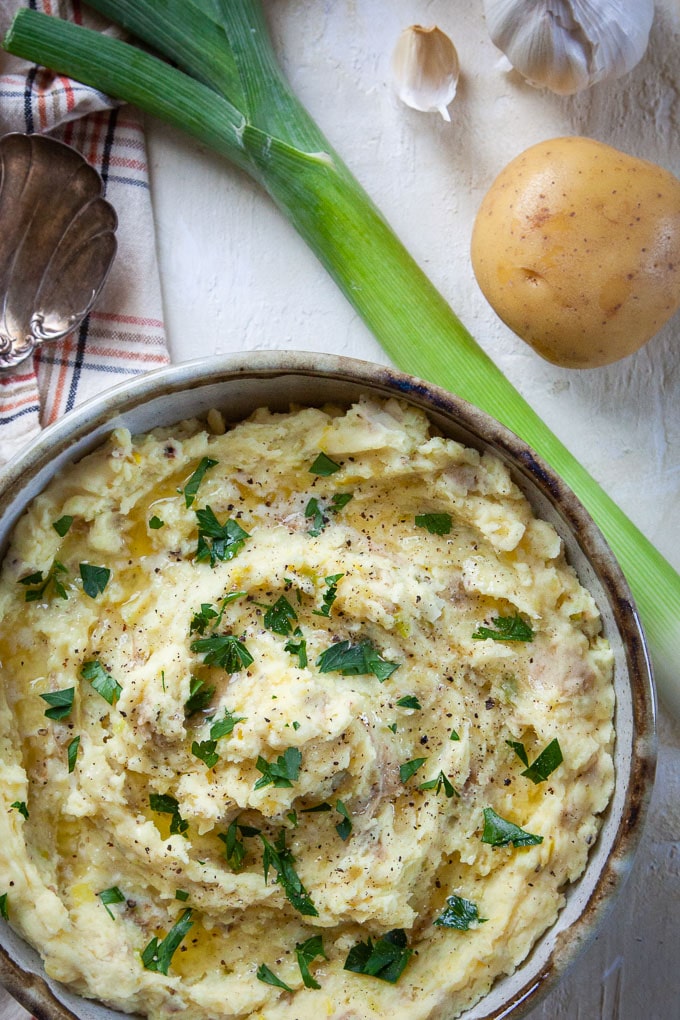 So yeah, Thanksgiving is now our meal to host. We've made dinner just for the two of us. We've made dinner for a party of 20. We've done dinner in our tiny one-bedroom apartment (trying to cram 11 people into our living room is…challenging). We've even hosted dinner in Los Angeles at a friend's house, where we visited many moons ago over the long weekend. But we always make dinner.
And one dish that is a constant in that dinner is mashed potatoes. It's not the sexiest dish on the table. But it's a classic for a reason. And my new current favorite version has me sautéing leeks with butter before adding them to the garlic infused mashed potatoes. I can't wait to make these again for Thanksgiving, or really for any meal. They're that good.
Garlic and Leek Mashed Potatoes
These creamy mashed potatoes use real fresh garlic, sauteed leeks in butter and sour cream for a rich side dish. The use of yellow potatoes, with their thin skin, means you don't need to peel them, saving time. But if you want creamier mashed spuds, feel free to peel the potatoes and use a little more cream in the recipe!
Ingredients
3

pounds

yellow flesh potatoes

like Yukon Gold

8

medium cloves garlic

peeled

4

teaspoon

kosher salt

divided

1/2

cup

unsalted butter

115 g or 1 stick

1

large leek

or 2 small leeks

1/2

cup

sour cream

3/4

cup

heavy cream

additional cream if you like your potatoes more loose

1

teaspoon

fresh ground pepper

Additional salt and pepper to taste

3

tablespoons

melted butter

Parsley

chopped for garnish
Instructions
Clean and chop your potatoes into 1-inch chunks. If you like your mashed potatoes skinless, you can peel your potatoes beforehand but I find yellow flesh potatoes have a pretty thin skin, so I don't bother to do that. Place the potatoes and the garlic cloves in a large stockpot and fill with water, so it covers the potatoes by 1-inch. Add 3 teaspoons of salt to the water and bring to a boil. Once boiling, lower heat to let the water simmer, and cook potatoes for 10 to 15 minutes, or until a fork pierces the potatoes easily.

While the potatoes cook, clean the leek by slicing it lengthwise and fanning them out under running water to remove the dirt and sand. Chop the white part and 1-inch of the green part of the leek. Add them to a pan with the butter and turn the heat to medium high. Cook the leeks until they soften and start to a look a little translucent, about 3 to 5 minutes. Remove from heat.

Once the potatoes are done, drain them in a colander, then place them back into the hot pan they cooked in.

Add the leeks (with all the melted butter), sour cream, heavy cream along with the remaining 1 teaspoon salt and pepper. Mash the potatoes with a potato masher and add more cream, salt and pepper to your own taste.

Scoop into a large serving bowl, drizzle with the melted butter and garnish with chopped parsley.
Nutrition