This fast and easy baked ziti is made in one skillet on the stove top, then quickly baked in hot oven, making it taste like you spent all day on it!
I'm constantly trying to figure out how to make dinner fast, after working all day. I don't have a day job in the traditional sense. But my freelancing and working at the ceramic studio means inconsistent hours and often limited time to whip up a meal. My partner and I do carry out a little too often, so my new best friends are stovetop pasta dish recipes like my cheeseburger pasta; my bacon, mushroom, and peas pasta; or my bacon mac and cheese. And now I've worked this stovetop easy baked ziti recipe into my weekly rotation!
What is stovetop easy baked ziti?
Stovetop baked ziti sounds like an oxymoron but trust me on this one! You make the entire dish in one skillet (even the pasta!) all on the stovetop, then pop the pan into a screaming hot oven for a few minutes to "bake" the cheese into the pasta. Super easy clean up without sacrificing any flavor!
How do you make this skillet baked ziti?
First you brown the sausage in a large oven-proof pan. Once it's cooked you add in the garlic and onions. Once softened and fragrant, you add the tomatoes and spices and let it reduce to a thick sauce.
Once the sauce has thickened, you add in the pasta, water and a little bit of red wine. The pasta cooks in the pan, absorbing some of the flavor and releasing starch to help thicken the sauce even more. Then you stir in cottage cheese curds, top with diced mozzarella and bake in a hot oven for 10 minutes until the cheese is melted! Fast and easy baked ziti.
What makes this recipe different from other recipes?
There are myriad of recipes out there for stovetop ziti and sausage pasta skillet. But this recipe uses four sources of tomatoes, including canned whole tomatoes, tomato sauce, tomato paste as well as fresh tomatoes, to create a rich tomato sauce that you just can't achieve with a single tomato ingredient. The fresh tomatoes are key in giving this sauce a brightness that you can't get with the canned tomatoes. In addition, the red wine adds a depth and elusive sophistication to the sauce.
Because you use 4 types of tomatoes along with the red wine, the recipe does take about 5 to 10 minutes longer than other recipes, but the resulting dish tastes like you've spent significantly longer cooking in the kitchen with minimal effort!
Can I make this ahead of time?
This dish tastes even better the next day because the spices have time to fully marry with the tomato sauce. That said, keep in mind that the pasta continues to absorb liquid even after the dish has cooled, so your pasta won't be as firm as if you would make it fresh.
To prevent this, you can make the sauce first, and refrigerate it. Once you are ready to make the dish, just warm up the sauce until it is simmering, then continue the recipe with the pasta, water and wine.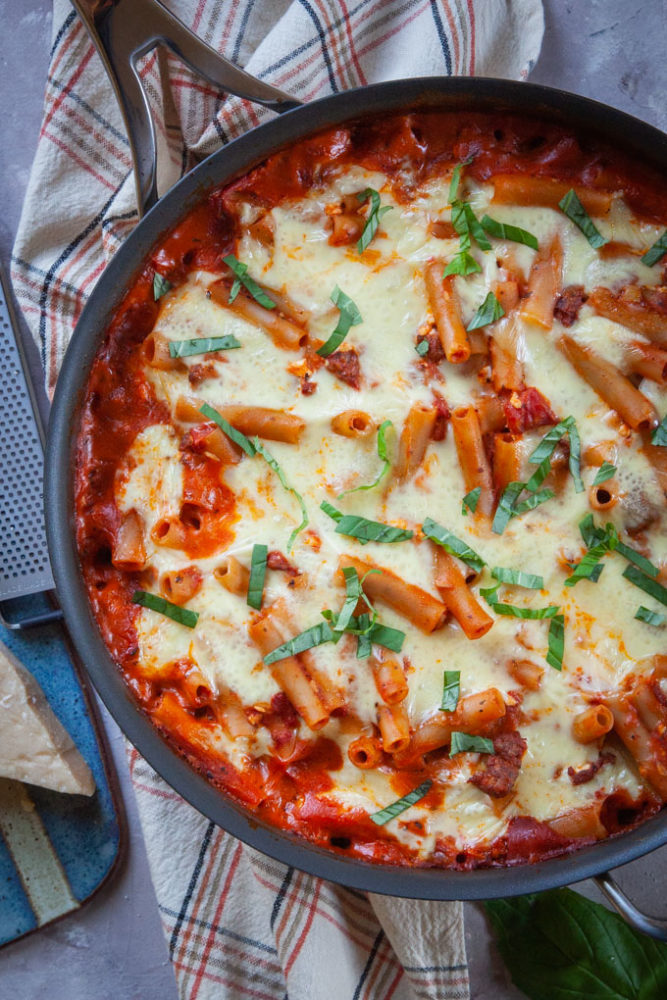 How do you store and warm up leftovers?
You can store leftovers in the fridge for up to 3 days. Just warm up leftovers in the microwave, cooking for 30 second bursts, and stirring the pasta between cook time. You can also warm up the leftovers on the stovetop, stirring occasionally until heated through, or in the oven at 400°F for about 30 minutes or until the top is bubbling hot.
Keep in mind the pasta will be softer because it will continue to absorb liquid as it sits in the fridge.
If you like this easy baked ziti, try these other Italian-American inspired dishes:
Stovetop Easy Baked Ziti
This easy baked ziti is made in one skillet on the stovetop, then moved to the oven for a quick bake, which melts the cheese. It's the perfect weeknight meal that tastes like you've spent all day cooking. The addition of the fresh tomatoes adds a vibrancy that you can't get with just canned tomatoes. Don't skip the cook time when reducing the tomato sauce though. If you don't reduce it until it's thick (it only takes 10 minutes) your resulting pasta will be soggy and the sauce too thin.
Equipment
Oven-proof 12-inch skillet or sauté pan
Ingredients
3/4

pound

hot Italian sausage

mild if sensitive to heat

6

cloves

garlic

minced, about 3 tablespoons

1

small red or yellow onion

chopped, about 3/4 cup

1/2

pound

tomatoes

chopped, about 1 1/4 cups

14 1/2

ounces

diced canned tomatoes

8

ounces

canned tomato sauce

6

ounces

tomato paste

2

teaspoon

dried basil

1

teaspoon

dried oregano

1

teaspoon

chili flakes

optional

3

cups

water

1/2

cup

red wine

16

ounces

ziti noodles

or other tube pasta like penne or rigatoni

16

ounces

cottage cheese

1/2

cup

grated Parmesan cheese

8

ounces

mozzarella

cubed into 1/2 inch-pieces

1

tablespoon

chopped fresh basil for garnish

optional
Instructions
Place the sausage in a large 12-inch wide oven-proof saute pan that is at least 2-inches deep. Cook on high heat, breaking up the sausage with a wooden spoon. Once the sausage has browned completely on all sides, add the garlic and red onions. Cook for 2 to 3 minutes or until the onions start to soften and turn a bit translucent.

Add the chopped fresh tomato, canned chopped tomato, tomato sauce and tomato paste. Bring to a boil, then lower heat to a simmer and cook, stirring occasionally.

Simmer for 10 minutes. You want the sauce to thicken into pasta sauce in the end. While the sauce is reducing, preheat the oven to 450°F.

Add the water and the red wine to the pan along with the pasta. Stir together and cook over medium heat uncovered, stirring frequently, until the pasta is firm and not QUITE cooked through. You want it firmer than al dente. Nibble on a pasta piece to check. You want it to be able to bite into it, but still be too firm to serve (the pasta will continue to cook in the oven). This usually take anywhere from 8 to 15 minutes depending on the pasta.

Stir in the cottage cheese and the parmesan cheese.

Sprinkle the cubed mozzarella over the top of the pan. Place in the oven and bake for 10 to 15 minutes or until the mozzarella cheese has melted.

Sprinkle top with chopped basil leaves if using, and serve warm.
Nutrition