This curry roasted cauliflower side dish is an easy and comforting side dishes made with easy ingredients found in most pantries! (Jump directly to the recipe.)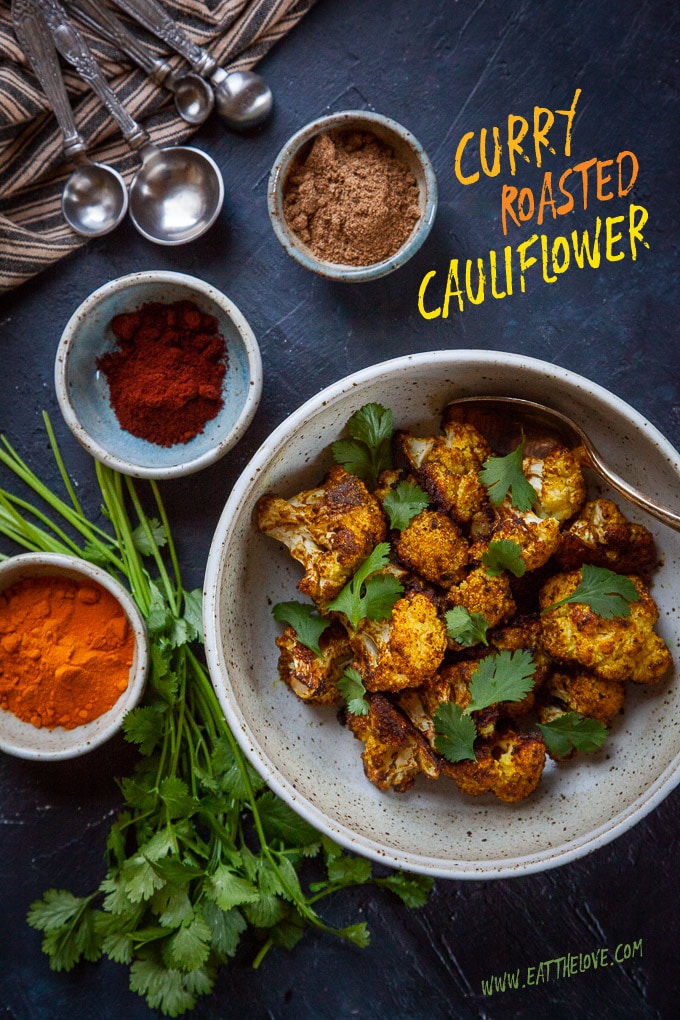 Cauliflower is having a bit of a moment isn't it? Or did I miss the trend? I can't keep up anymore. But for a time period I felt like cauliflower was everywhere. From "pizza crust" to "rice", it was the carb substitute of choice. Somehow the cruciferous vegetable became the go-to ingredients in the same way that kale was new leafy "it" green a few years ago. And though I think it's wonderful that folks have "discovered" the lowly cauliflower, I've been a fan all along.
My mom used to make cauliflower and broccoli growing up. It was usually a quick stir-fry, one that made a frequent appearance on our dinner table. The cauliflower back then never masqueraded as something else. There was no broken bits of white vegetable to replace rice (we're an Asian household, we always had actual rice on the table) and definitely no ersatz pizza crust. Instead we had cauliflower broken down into whole florets pieces, barely seasoned with salt and pepper and quickly cooked in a wok.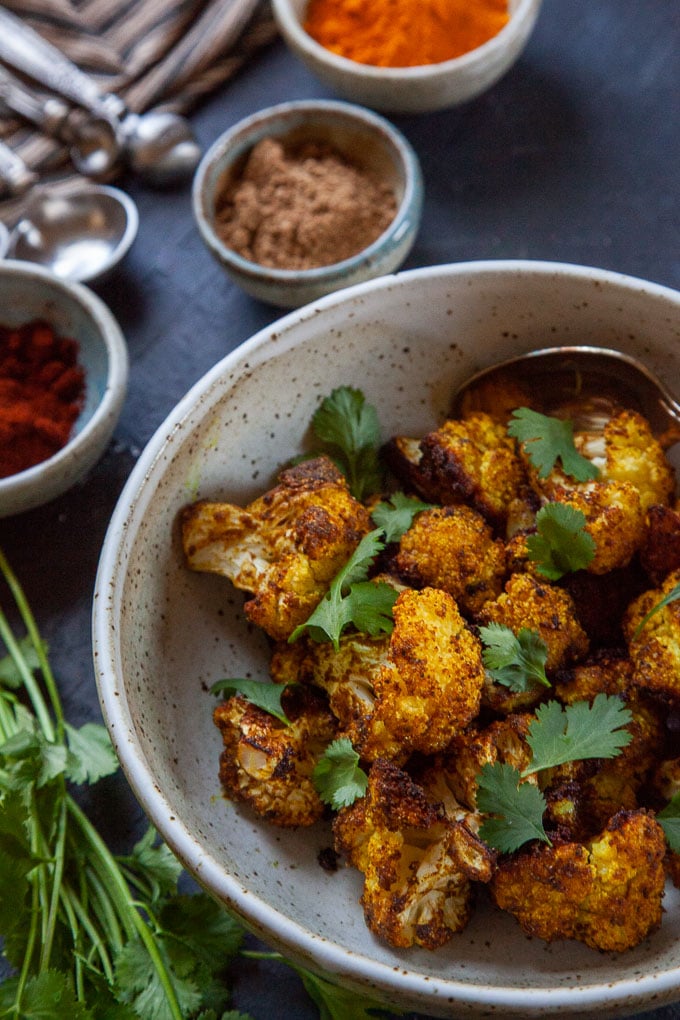 These days I don't judge folks who use it to replace their carbs. It's not a choice I would make for myself, but I would never tell folks what they should eat. It's their life and their bodies, and more importantly, no one ever changed their eating habits when a completely stranger tells them to eat differently. At least no one I know.
But I do wish some folks would just trying some cauliflower as a straight up vegetable. It's mild in flavor, absorbing the seasonings that is put on it. And when it's paired with curry-based seasonings like cumin, coriander and turmeric, it shines as an excellent side dish. Roasting it in the oven brings a nice smoky char to the vegetable and means the majority of work is done by the oven, leaving you time to do something else. And less work is always trendy.
Curry Roasted Cauliflower
This easy vegetable side dish can be prepped in less than 10 minutes active time and on the table in 30 minutes later. I use coconut oil, which adds a subtle coconut flavor to the dish but feel free to substitute extra virgin olive oil if you don't have any coconut oil in the pantry.
Ingredients
1

large cauliflower

about 2 to 2 1/2 pounds

3

tablespoons

extra virgin coconut oil

or olive oil

1

teaspoon

ground cumin

1

teaspoon

ground coriander

1/2

teaspoon

ground cardamom

1/2

teaspoon

ground turmeric

1/2

teaspoon

paprika

1/2

teaspoon

fresh ground pepper

1/2

teaspoon

kosher salt
To finish
Cilantro leaves for garnish

optional
Instructions
Preheat the oven to 425°F. Lightly spray a rimmed baking sheet with cooking oil.

Break the cauliflower down into florets and smaller stems and place in a large bowl. Save the leaves for another purpose (the leaves are edible and can be used just like cabbage).

Place the coconut oil in a microwave safe bowl. Cook on high in the microwave, in 10 second burst, until liquid.

Add the spices to the oil and stir to combine.

Drizzle spiced oil over the cauliflower florets and toss to coat. Pour onto pan and arrange in a single layer.

Roast in the oven for 30 minutes or until the cauliflower is tender and easily pierced with a fork. Garnish with cilantro leaves and serve immediately.
Nutrition