This quick and easy roasted carrots is packed with flavor because of the za'atar spice blend and a drizzle of pomegranate molasses and seeds.
These carrots are a great and easy side dish to go along with something like my Lamb Tagine, Mediterranean Meatballs or Spiced Lamb and Beef Kebabs. Since the carrots are cooked under the broiler, they cook fast, with a slight smoky char to them. Regular orange carrots are great, but to make the dish extra special, look for rainbow carrots, which are available at farmers markets and upscale grocery stores.
How do you make roasted carrots?
Though it's easy to roast carrots in the oven, this recipe has the carrots roasted under a broiler, functioning almost like grilling the carrots. Broiling the carrots chars them slightly, giving a slight smokiness and heightens the sweetness to the carrot. The direct heat of the broiler also means the carrots are done in about 10 minutes!
To broil the carrots, slice the carrots lengthwise so they cook faster, and then toss them with olive oil, za'atar, salt and pepper. Broil for 8 to 10 minutes, turning or tossing the carrots halfway.
Once done, drizzle with pomegranate molasses and sprinkle with fresh pomegranate seeds before serving.
What are rainbow carrots?
This recipe can be made with regular orange carrots but look beautiful when made with rainbow carrots. Carrots actually comes in a variety of colors beyond orange, and they all taste like carrots. Different colored carrots do have slightly different flavor profiles though! You can find rainbow carrots at farmers markets and upscale grocery stores.
Orange carrots: Orange carrots are the most common carrots that folks are familiar with. They are sweet, earthy and crunchy.
Purple carrots: These carrots are more earthy and savory in flavor. They tend to be a little less sweet flavor than orange carrots. Some variety of purple carrots have a beautiful orange or yellow center, while some purple carrots are dark all the way through. The purple carrots with the dark center occasionally to have a hint of pepperiness to them.
White carrots: These carrots are less earthy and more sweet. White carrots tend to be crunchier and crisper than other carrots.
Yellow/Golden carrots: These carrots are mild in flavor and are sweet with a little less earthiness than orange carrots.
Red carrots: These carrots are similar to orange carrots in flavor, but their red color comes from lycopene, which is the heathy antioxidant found in tomatoes.
What is za'atar and can you substitute?
Za'atar is a specific culinary herb similar to oregano, thyme, marjoram and savory. But most folks are familiar with za'atar as a Mediterranean and Middle Eastern spice blend mix of dried za'atar or another more familiar green herb like thyme or oregano, as well as other spices like sesame seeds, and sumac.
The za'atar that I use in this recipe is the more commonly found spice blend mix that can be bought at upscale grocery stores and online. There are hundreds of recipes and variations of how to make your own za'atar online.
But if you don't have za'atar and can't find it, feel free to substitute 1/2 teaspoon dried oregano, 1/2 teaspoon dried thyme, 1/4 teaspoon sesame seeds, and 1/4 teaspoon dried sumac or lemon zest in place of the za'atar in recipe.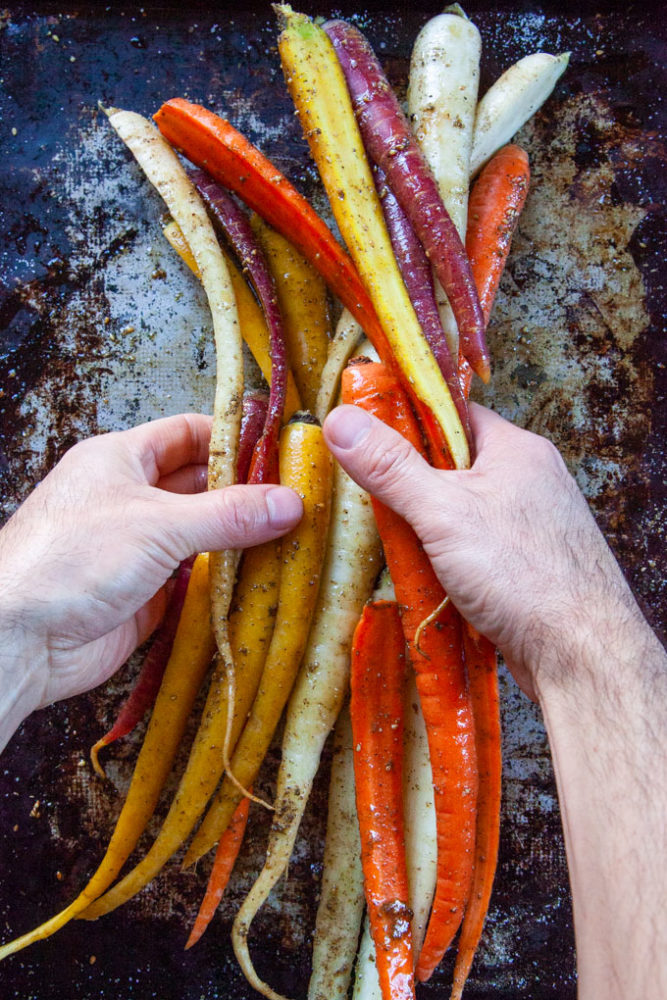 What is Pomegranate molasses and can you substitute?
Pomegranate molasses is a syrup made from the juice of the pomegranate fruit. The juice is reduced to a thick dark red syrup and is both sweet and tart. It can be found in well-stock grocery stores, Mediterranean and Middle Eastern grocery stores and online.
If you don't have access to pomegranate molasses do not substitute regular molasses for it! Regular molasses is too bitter and aggressive in flavor for this recipe.
Though it will change the flavor profile of the recipe, you can try substituting aged balsamic vinegar in this recipe or use 2 teaspoons of honey mixed with 1 teaspoon of lemon juice instead of the pomegranate molasses and just skip the pomegranate seeds. The dish flavor will shift but it will still be delicious.
Can you make this ahead?
Yes! Though this recipe is easy and fast to make, you can also make it ahead of time. Toss the carrots with the oil and spices and roast them as directed. Let the carrots cool and store them in an air tight container for up to 2 days in the refrigerator. Do not drizzle with the pomegranate molasses or pomegranate seeds before storing them.
To serve, warm them up in the microwave or in an oven or toaster oven at 350°F for about 10 to 15 minutes. Drizzle with the pomegranate molasses and pomegranate seeds right before serving.
If you like these roasted carrots, check out these other roasted vegetable side dishes:
Roasted Carrots with Za'atar, Pomegranate Seeds and Molasses
This quick and easy side dish is a beautiful addition to any meal and packed with flavor. If you can find rainbow carrots, a variety of heirloom carrots often found in well-stocked grocery stores or farmers markets, use them to give this a stunning presentation. Otherwise, regular orange carrots are equally tasty in this recipe.
Ingredients
1 1/2

pounds

carrots

rainbow preferred

3

tablespoon

olive oil

1 1/2

teaspoons

za'atar spice blend

see note above

1 1/2

teaspoons

kosher salt

1/2

teaspoon

fresh ground black pepper

1

tablespoon

pomegranate molasses

see note above

2

tablespoon

pomegranate seeds
Instructions
Turn the broiler on in your oven. Remove the greens if they are still attached to the carrots. Scrub the carrots clean under water, but don't bother peeling them. Split the carrots in half lengthwise (or quarter if necessary) so all the carrots are equal thickness. Place the carrots on a rimmed baking sheet.

Drizzle the carrots with the olive oil, then sprinkle with the za'atar spice blend, salt and pepper.

Toss carrots with your hands until they are all coated evenly with the carrots and spices.

Place the carrots under the broiler and roast for 8 to 10 minutes, carefully turning the carrots halfway through the cooking to make sure the carrots are charred on both sides.

Once the carrots are charred and roasted, move to a serving plate. Drizzle the pomegranate molasses over the carrots and sprinkle the pomegranate seeds over the carrots before serving.
Nutrition