This Roasted Green Beans recipe has dried cranberries and sliced almonds. It's a super tasty, easy and fast side dish that anyone can make! (Jump directly to the recipe.)
"Can you make sure to get a vegetable for dinner?" asked AJ. This request seemed unusual coming from him, as he's usually a fairly meat-centric sort of person but lately it seems like we've been eat a LOT of heavy meat dishes. AJ's metabolism has slowed down a lot since his bike accident and that means he can't be eating fried chicken non-stop. So when he asked me about a vegetable I knew what he meant. A quick run to the grocery store and I found myself picking up a large bag of green beans. Honestly, oven roasted green beans pretty much make themselves. A toss in oil, salt and pepper and all of sudden I've was wondering why I hadn't made these before.
I'm not sure why it never occurred to me to roast green beans. I feel like there's been a huge shift with vegetables and roasting in that past 5 or 10 years. It used to be that you boiled or steamed them. Or, if you lived in an Asian household, you wok-stir fried them. But suddenly every vegetable is getting the hot oven roasting treatment. And I'm not complaining. I love the dark caramelized edges of roasted broccoli and ease of throwing Brussels sprouts in a hot oven. I love the dramatic brown color against white cauliflower florets. But green beans was one that I hadn't really thought of until I came across a simple recipe for green beans somewhere buried in a list of other recipes for side dishes. The lightbulb went off and I knew I had to make them next time I had the opportunity.
It's funny how you get in a rut sometimes with food. Growing up I loved green beans and I even have a pretty popular recipe for a re-interpreted paleo and vegan version of the Thanksgiving classic Green Bean Casserole. But other than that, I don't really think to get green beans for dinner. I'm glad I got out of that rut though, because these green beans are not only easy and fast but might tasty as well. So the next time AJ asks me for a vegetable, I know what I'm going to make….

Roasted Green Beans
By Irvin Lin
Roasting green beans concentrates the flavor of the beans slightly but make sure not to over roast them. If you do, they get chewy and dehydrated. This recipe is insanely easy and fast. The handful of bright tart sweet dried cranberries and the crunch of the sliced almonds really rounds out this side dish.
Ingredients
1 1/2 pounds fresh green beans
3 tablespoon extra virgin olive oil
1/2 teaspoon kosher salt
1/2 teaspoon fresh ground pepper
1/4 cup sliced almonds
1/4 cup dried cranberries
Directions
1. Preheat the oven to 425˚F. Rinse off the green beans then cut or snap off the ends of the green beans.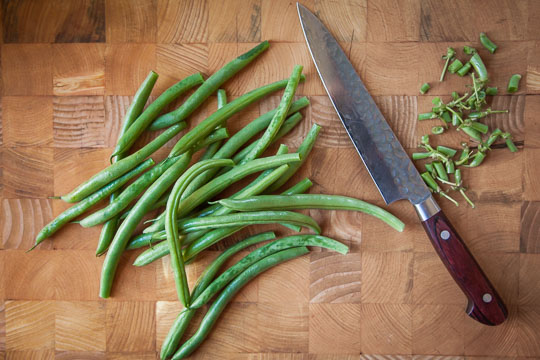 2. Place green beans in a large bowl and drizzle with the olive oil. Add the salt and pepper and toss together to coat. Pour the coated green beans into a rimmed baking sheet and spread them into an even single layer. Place in oven to roast for 15 minutes.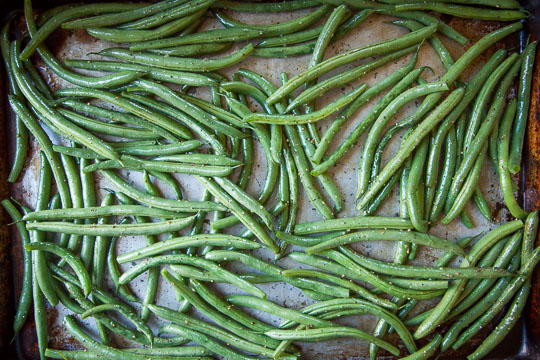 3. Once the 15 minutes are up, pull the pan out and sprinkle the almonds and cranberries over the green beans and place back in oven for 5 more minutes. Remove from oven and add any additional salt and pepper to taste.
Makes enough for 4 to 6 people as a side dish.
If you like these roasted green beans, checkout my paleo, vegan friendly green bean casserole.
And check out some of these other green bean recipes from around the web:
Use Real Butter's Chinese Dry Cooked String Beans
Simply Recipes' Sriracha Orange Glazed Green Beans
She Wears Many Hats' Garlic Lemon Green Bean Recipe
101 Cookbook's Pomelo Green Beans
Steamy Kitchen's Green Beans with Shiitake Mushroom Stir Fry