This easy-to-make green shakshuka recipe is packed with leafy greens, as well as green and black ripe olives, and feta cheese.
This post was sponsored by California Grown. I was compensated for this post and developing this recipe. However, all opinions below are my own.
If you've followed my blog at all, you know I absolutely love olives. They're one of my secret ingredients that I try to sneak into a lot of dishes because the salty briny flavor gives dishes extra punch. The earthy, umami-packed flavor works well in my olive tomato hand pies, a quick chop makes an excellent herb dressing for asparagus, and olives are fantastic paired with charred, smokey eggplant. So, when California Grown asked me to partner together in October, which is California Farmer and Farmworker Month, I was excited to bring you my take on a green shakshuka, a leafy green version of the classic shakshuka dish, made with green and black California ripe olives.
What is shakshuka?
Shakshuka, occasionally spelled shakshouka or chakchouka, is a Northwestern African egg dish, with multiple countries like Tunisia, Turkey, and Morocco laying claim to its origins. Its popularity has spread throughout the Mediterranean and across the world and is also closely associated with Israeli cuisine.
It's a popular breakfast or brunch dish that is typically made with a tomato base, cooked with spices, vegetables, cheese and occasionally meat. Once the base is made, eggs are cracked and poached in the sauce, and then served.
Similar dishes to shakshuka include menemen, a Turkish dish that uses scrambled eggs instead of poached eggs, eggs-in-purgatory which is a similar egg poached in tomato Italian dish with Italian spices, and Huevos rancheros which is a Mexican dish with eggs and tomato salsa.
Shakshuka is a very versatile dish. I've even made a pretzel shakshuka dish! Green shakshuka is a version of the more common tomato-based shakshuka, using green leafy vegetables as a base. 
How do you make green shakshuka?
Green shakshuka is an easy-to-make dish that uses leafy green vegetables, cooked down into a stew, as a base for the eggs. First toast some cumin seeds and then crush them in a mortar and pestle. You can skip this step and just use ground cumin if you'd like, though the spice flavor won't be quite as assertive or robust.
Cook chopped garlic, leeks and chard stems in a large pan, then wilt down chard leaves and spinach. Add in green and black ripe olives, along with feta cheese, fresh herbs like oregano and flat-leaf parsley and Aleppo pepper. Once everything stews down, make a "well" in five spots in the pan and crack eggs into them. Cover and cook until the eggs are done to your liking. Season with salt and pepper to taste and serve with toasted bread.
What do you serve with shakshuka?
I like to serve the green shakshuka with toasted crusty bread to help "sop up" any egg yolk. But you can eat the shakshuka all by itself, or with toasted pita bread or crackers. I also sometimes serve my green shakshuka with lime wedges, as the acidity really helps amp up the flavor of the greens. You can also serve it with a light salad or a side of hummus, falafel or more olives if you'd like.
How to customize this recipe:
Like traditional tomato-based shakshuka, green shakshuka is very versatile, allowing you to make it your own. Here's a few suggestions to play around with
Different greens: I use a mix of chard and spinach in my green shakshuka. The chard has a little more substance, while the spinach wilts down and creates a silky background. But feel free to swap out the greens with kale, collard, arugula, beet greens or a box of baby mixed greens if you'd like. I recommend using 1 pound of greens for this dish, which sounds like a lot, but it reduces down when wilted. Keep in mind that some greens (like collard or kale) might not shed as much water when cooked, while spinach and beet greens will shed more water. If you're using greens that don't produce as much liquid when cooked, compensate by adding 1/4 cup of water or vegetable stock to the pan to help cook the eggs.
Different alliums: I use leeks and garlic for my aromatic vegetables but feel free to use a yellow or red onion or shallots instead, or in addition to the leeks and garlic.
Add vegetables: I don't add a lot of vegetables to my green shakshuka, as I want the leafy greens and the olives to shine. But feel free to customize by adding in other vegetables like cubed zucchini, shaved brussels sprouts, sliced asparagus, green or yellow bell peppers, or artichoke hearts to this dish. Make sure to add the vegetables in with the garlic and alliums as they need more time to cook. You can even sprinkle some avocado to the top of the dish after it's cooked for a little buttery green richness.
Give it more umami: Umami that allusive "meaty" flavor that Parmesan cheese, tomatoes, olives, and mushrooms have. You can add sauteed mushrooms to this dish to punch up the umami, along with more olives. Or, if you'd like, add some cooked sausage like merguez or chorizo to the dish.
Add acidity: If you find the dish is lacking a bit of complexity, I might suggest trying to add a little lime or lemon juice to the dish. The acidity is a nice addition to the leaf green and briny olives.
Different cheeses:  I use feta cheese in this recipe but feel free to swap it out with a crumbly cheese cotija, a rich cheese like dollops of ricotta or hard cheese like parmesan.
Swap out spices: I used toasted and ground cumin seeds in this recipe along with Aleppo pepper, but you can play around with spices, using toasted and ground coriander, caraway seeds, and red pepper flakes. If you want to amp up the spicy heat, you can add cayenne to the dish, slice up and saute some serrano or jalapeno peppers to the vegetables, or add a few spoonfuls of harissa sauce.
Swap out herbs:  This recipe uses fresh oregano and flat-leaf parsley as the herb, but you can easily swap or add other fresh herbs to this dish. Try fresh dill, cilantro, or thyme as a substitute or replacement. I always recommend using fresh herbs though, as green shakshuka cooks quickly and dry herbs work better in stews and longer cooked dishes.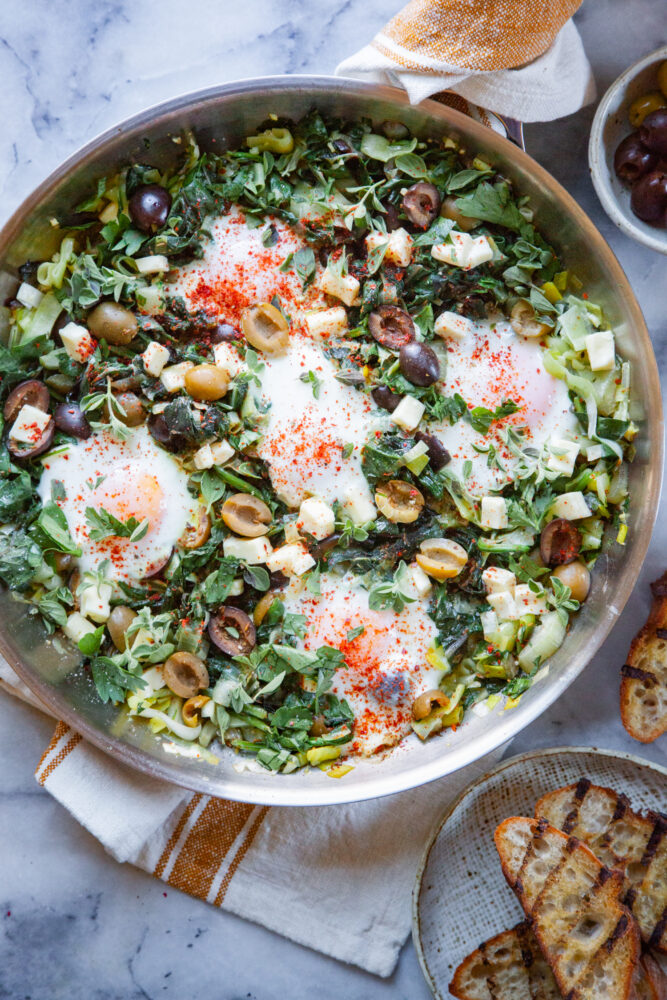 If you like this green shakshuka recipe, check out these other vegetable forward dishes:
Green Shakshuka with California Ripe Olives
This leafy green version of the traditional shakshuka skips the tomatoes and uses Swiss chard and spinach as a base. I added in black and green ripe olives, along with feta cheese and some spices like cumin and Aleppo pepper. But I have a section above on how to customize this shakshuka and make it your own! Feel free to play around with it, as it's a very versatile dish.
Ingredients
1

teaspoon

cumin seeds

or 1 teaspoon ground cumin

1/2

pound

Swiss chard

3

tablespoon

olive oil

1

large leek

cleaned and sliced into half moons

5

large garlic cloves

chopped

1/2

pound

spinach

1

tablespoon

oregano leaves

or 1 teaspoon dried oregano

3

tablespoon

chopped flat-leaf parsley

sometimes called Italian parsley

1/2

cup

California ripe black olives

sliced in half

1/2

cup

California ripe green olives

sliced in half

1/2

cup

feta cheese

diced or crumbled

5

large eggs

1/4

teaspoon

Aleppo peppers

or more if desired (sub red pepper flakes if you want)

Salt and pepper to taste
To serve
Slices

of toast

optional

Lime wedges

optional
Instructions
If using, toast the cumin seeds by placing them in a large 12-inch skillet and heating it, shaking or stirring the seeds until they are fragrant and have darkened slightly, about 1 minutes on medium heat.

Pour the cumin seeds into a mortar and pestle and then lightly crush them. If you don't have a mortar and pestle, let the cumin seeds cool, then place them in a freezer Ziploc bag and crush them with a rolling pin.

Trim and remove the Swiss chard stems from the leaves. Cut the stems into 1/2-inch pieces. Slice the chard leaves into 1-inch ribbons.

Place the oil, sliced leeks, garlic cloves and chopped chard stems into the 12-inch skillet used to toast the cumin. Cook on medium heat, stirring frequently, until the leeks have softened, about 3 minutes. Do not let the garlic brown or caramelize.

Add the chard leaves, spinach, oregano leaves, and 2 tablespoons of the chopped parsley, along with the crushed cumin. If all the chard and spinach doesn't fit, cook it in batches, adding half the greens, and then adding the other half after the first batch has wilted down. Continue to cook until all the greens have wilted down.

Sprinkle the black olives, green olives and feta cheese over the top of the greens, then make a well in 5 different spots in the greens.

Crack an egg into each well. Cover with a lid and let cook on medium low heat for 3 to 5 minutes, or until the eggs are cooked to your liking.

Remove and sprinkle with remaining parsley, Aleppo pepper (or red pepper flakes), salt and pepper to taste. Serve with slices of toast and lime wedges if you'd like.
Notes
This post was sponsored by 
California Grown
. I was compensated for this post and developing this recipe. However, all opinions below are my own.
Nutrition
Calories:
318
kcal
|
Carbohydrates:
13.1
g
|
Protein:
14.3
g
|
Fat:
25
g
|
Saturated Fat:
6.8
g
|
Cholesterol:
249
mg
|
Sodium:
1054
mg
|
Potassium:
731
mg
|
Fiber:
4.4
g
|
Sugar:
3.1
g
|
Calcium:
288
mg
|
Iron:
7
mg