This easy Shakshuka with feta recipe has a rich tomato based sauce dish with soft cooked eggs nestled in it, making it perfect for breakfast or brunch!
Jump to Recipe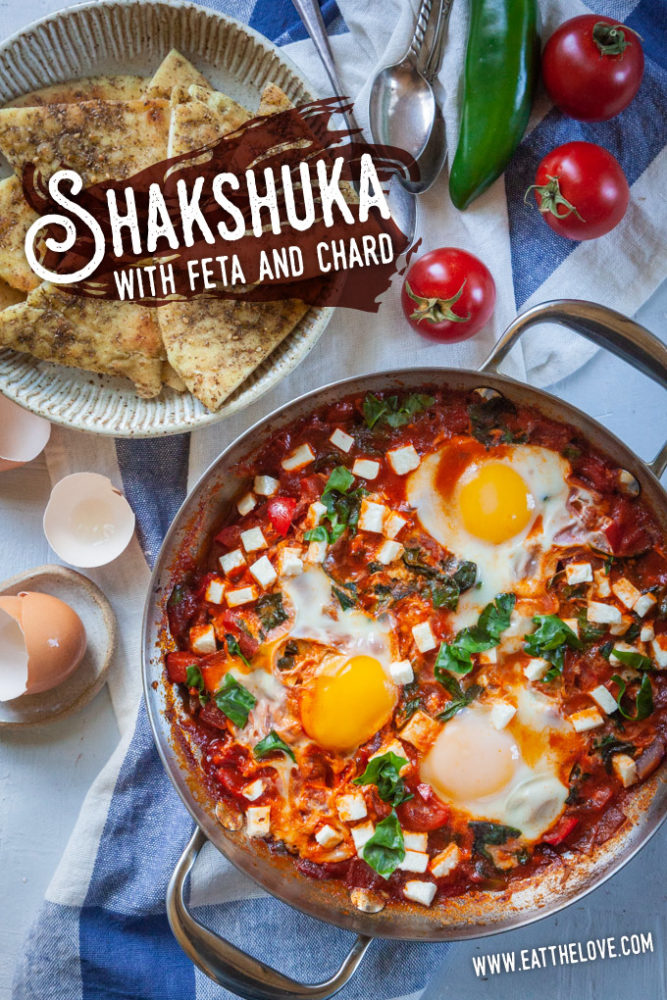 I'll be the first to admit that I live in a food bubble. San Francisco is one of those food obsessed cities and I happen to also work in the world of food. Which means I often take for granted that everyone knows certain dishes, especially when it comes to breakfast and brunch. I make bacon and chives pancakes on a whim. I make sweet potato savory waffles just because. And vegetarian breakfast tacos are a staple here at home. So I took for granted that everyone knew what shakshuka was! It wasn't until a friend of mine asked me one day what this "Shakira" dish was on a brunch menu that's I realized not everyone deals with food like I do!
What is shakshuka?
Shakshuka, sometimes spelled shakshouka, originated out of Tunisian and North African. It's most often served for breakfast or brunch. However, because it's so easy to make and has become so popular, you can find it on the menu all day in some restaurants.
The dish is a rich, spicy tomato-based stew with eggs cracked and cooked in it. It's similar to the Italian dish Eggs in Purgatory, with a more Mediterranean spice slant, and less Italian. And though tomato-based versions of it are the most common, it's a seasonal thing served in the summer and early fall. That said, I make my shakshuka with canned tomatoes, so I'm not reliant on fresh seasonal tomatoes and can have it all year round.
Shakshuka has become even more popular outside of north Africa into the Mediterranean area. Because tomatoes are fairly easy to grow in that region all year round, and eggs are an easy and cheap source of protein, shakshuka has become quite popular everywhere from Morocco to Israel. And restaurants by Chefs like Yotam Ottelenghi's Nopi and Michael Solomon of Zahav have had versions of shakshuka on their menu at different restaurants of theirs for while.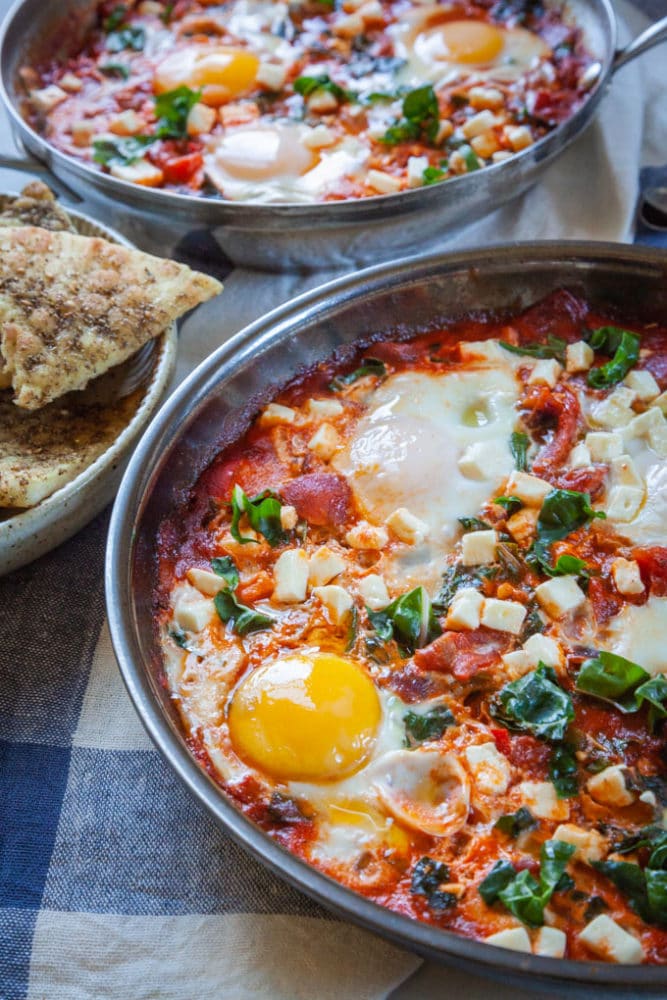 How do you make Shakshuka with feta?
Shakshuka is a peasant food, often made for a large crowd or family and is super easy to make! Saute aromatics like chopped onions, garlic, red bell pepper, jalapeno, and chard stems. Add the tomatoes, and cook until the sauce has reduced and is thick. Add the chard leaves to wilt, then crack eggs in the dish and add the feta. Cover and cook!
How do you pronounce Shakshuka?
Despite how my friend pronounced it, shakshuka is not pronounced like the Columbia pop singer. I've heard shakshuka pronounced a myriad of ways, including "shake-shoe-kay", "shock-shoe-kay" and "shack-shoe-kah". I personally pronounce it the last way, "shack-shoe-kah."
What do you serve with Shakshuka?
Traditionally Shakshuka is served communally in the pan and is a meal all by itself. But here are some of my favorite things to serve with it if you want to get a little more fancy:
Warm crusty bread, to sop up any remaining tomato sauce
Or maybe challah, which is a soft egg rich bread
Toasted pita bread, I like to brush my pita bread with olive oil and sprinkle za'atar or dukkah blend over it, then bake it for a little bit in the toaster oven until crisp
Labneh, which is strained savory salted yogurt or Greek-style yogurt, which helps cut the acidity of the tomato.
A light salad, to help round out the meal.
What's in Shakshuka?
At its core, shakshuka is a quick meal and made with just:
tomatoes
peppers, including sweet red bell peppers and/or jalapenos or serrano peppers
yellow onions
eggs
spices like cumin, caraway, paprika, salt and pepper
What's in this version of shakshuka?
Because shakshuka traditionally is just tomatoes, peppers, onions and eggs, it's a fairly blank slate for near infinite adaptations. My version has:
garlic
red onion instead of yellow onions for added sweetness
Swiss chard
Feta cheese
a touch of honey, to help cut the acidity of the tomatoes
Tomato paste to help boost the tomato flavor
Ground coriander seeds, which adds a touch of earthy citrus notes
What else can you add to shakshuka?
The sky is the limit! Feel free to add your own riff on the dish. Some suggestions might be:
Merguez sausage, a northern African lamb sausage, just saute loose sausage with the onions in the beginning
Spanish (or Mexican) chorizo would also be great. Mexican chorizo needs to be cooked like the merguez sausage but Spanish chorizo can be cut up and just added.
Chickpeas, otherwise known as garbanzo beans, which are a great additional source of protein
Spinach, lacinato kale, radish or beet greens
Chopped parsley or cilantro leaves to garnish at the end
Black or green olives
Aleppo peppers or red chili flakes to up to spice factor
Can you make ahead?
Shakshuka tastes best right after you make it! And it comes together pretty fast.
But if you want to make the tomato sauce ahead of time you can totally do that. In fact, the spices in the sauce will intensify and become more complex overnight. Just make the tomato sauce (without the greens), let it cool and store it in the fridge. When you're ready to make the dish, just warm it up in the pan until it's hot, wilt the chard greens in the sauce, then crack the eggs in it and cook as directed.
Can you freeze it?
Again, you don't want to freeze the final dish, because the cooked eggs don't thaw out properly. But you can definitely freeze the tomato sauce ahead of time. Once thawed, the tomato sauce might be more watery, so you will want to cook the sauce longer to drive off the extra moisture. Then crack the eggs in it and cook as directed.
What pan should you use for shakshuka?
I don't recommend using aluminum or plain cast iron skillets for shakshuka. The acidity of the tomatoes will etch into the metal and you'll be serving up a tinny tasting dish.
Instead, pick a stainless steel, enamel coated, or non-stick pan. You can easily divide the dish into smaller pans if you want to serve them individually or make it in one big pan for a communal dish. I picked two medium dishes, perfect for two couples to share.
If you like this Shakshuka recipe, check out these other great egg recipes:
Shakshuka with Feta and Swiss Chard
This eggs in tomatoes dish is a quick and easy vegetarian meal that satisfies nearly everyone. I use canned tomatoes because they are available all year round. If you want to use fresh tomatoes, just chop them up and simmer them longer to break them down. Feel free to adjust the cooking time at the end to get your eggs more runny or more firm to your taste.
Ingredients
2

tablespoons

olive oil

3

Swiss chard leaves

1

medium red onion

chopped (can substitute yellow onion)

1

red bell pepper

chopped

3

cloves

garlic

chopped

1

jalapeno

chopped (seeds and inner membrane removed if you don't like spice)

1 1/2

teaspoon

kosher salt

1

teaspoon

fresh ground black pepper

1

teaspoon

sweet paprika

3/4

teaspoon

cumin

1/2

teaspoon

coriander

1/2

teaspoon

crushed caraway seeds

28

ounces

canned whole tomatoes

or 2 pounds chopped fresh tomatoes

2

tablespoons

tomato paste

2

teaspoon

honey

4 to 6

eggs

how many is up to you!

1/2

cup

feta cheese

cubed or broken up into crumbs
Instructions
Place the olive oil in a large 12-inch wide pan.

Remove the thick stems from the inside of the chard leaves. Chop the green leaves and set aside. Chop the stems and place them in the pan with the chopped onions, red bell pepper, garlic and jalapeno. Cook over medium heat until the onions have softened and started to turn translucent.

Add the salt, pepper and spices to the pan. Continue to cook for 30 seconds, then add the tomatoes, tomato paste, and honey. If using canned tomatoes smash the tomatoes with a mashed potato masher or just break them up with a wooden spoon.

Cook, stirring frequently, until the tomato sauce has thickened, about 5 to 10 minutes with canned tomatoes, or 15 to 20 minutes for fresh tomatoes.

Once the tomato sauce is thick (like pasta sauce), stir in the chopped chard leaves and cook for an additional minute until they start to wilt. Crack the eggs in the tomato sauce, then sprinkle the feta cheese around the eggs. Reduce the heat so the tomato sauce is just simmering, then cover. Cook for 3 to 5 minutes or until the egg whites have set but the egg yolks are still jiggly or to however you like your eggs done.

Serve with toasted bread or pita.
Notes
You can divide this recipe in half and make the dish in an 8 to 9-inch pan. Or make the entire recipe and split the ingredients into two 8 or 9 inch pans.
Nutrition