This twice-cooked eggplant and olive dish is super easy to make but looks and tastes incredibly sophisticated. The secret is California ripe olives! (Jump directly to the recipe.)
This post was sponsored by the California Olive Committee. I was compensated for this post and for developing the recipe. However all opinions below are completely my own and not endorsed by the California Olive Committee. To learn more about California ripe olives, follow along with the hashtag #CalRipeOlives
Is it possible to be both simultaneously lazy AND an overachiever? If so, I fit that mold exactly. Take for instance the collaborative cooking challenge I did with a few of my fellow food bloggers up in Napa at the Culinary Institute of America (CIA) for the California Olive Committee event. We were given 90 minutes and free range (<-pun intended) of their commercial kitchen along with what seemed like every single available produce in season to play with in the kitchen. And lots of olives. Lots and lots of California ripe olives. And while other teams decided to make one or two dishes and end a little earlier to photograph and hang out, we ended up making three dishes: a potato and olive au gratin, a salad with olive and orange vinaigrette and a twice-cooked eggplant and olive warm salad. Over-achiever much? But here's the thing, the twice-cooked eggplant and olive dish that I decided to make on a whim (without even consulting my teammates on) was one of the easiest dishes to make prepare – which is why I picked it to make. See: lazy AND overachieving all in one.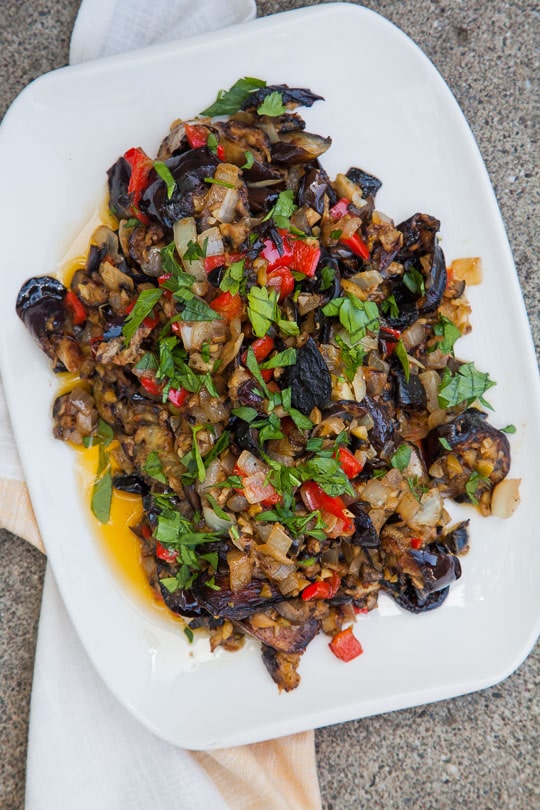 I was up in Napa hanging out with a great group of food bloggers at the Culinary Institute of America (CIA). The California Olive Committee had brought us up to learn about California ripe olives as well as play with them in the kitchen facilities of CIA. One thing I love about California ripe olives (other than the fact that the farms and packaging companies are family owned and they taste so great) is their versatility. Adding California ripe olives pretty much improves anything you are making.
Elise of Simply Recipes had helped organize the event. She had also developed some pretty awesome recipes using olives, including a pork tenderloin with olive tapenade and even a dessert using candied olives! But it was the smoked olives that really impressed everyone. Smoky and rich, with a meaty texture, the smoked olives (which Elise and Chef Paul Irving from CIA showed us how to do on the stovetop) were pretty amazing and would be a great option for vegetarian or vegan folks who are looking to add a salty umami meaty-style flavored ingredient to their arsenal.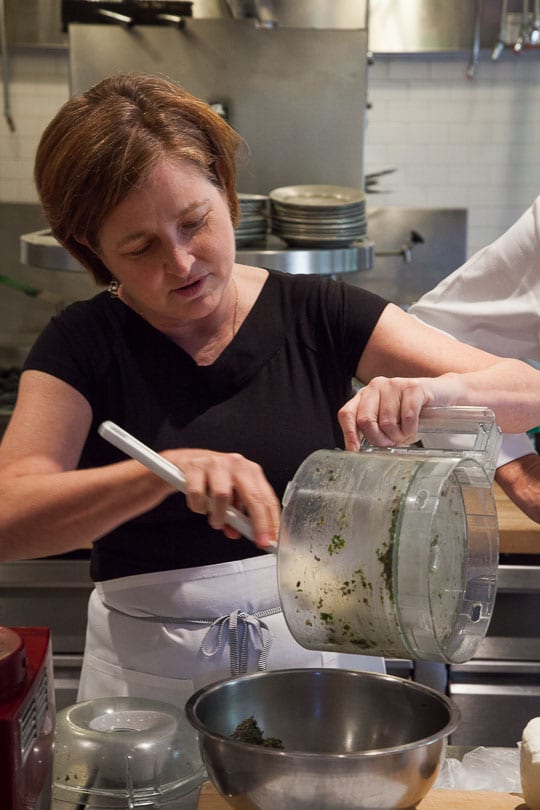 But the most fun part of the event had us bloggers split into random teams of four to play in the kitchen with both olives and a huge range of ingredients. We had an hour and a half to make whatever we wanted, and though it wasn't a competition, we decided we were in it to win it! And that meant coming up with three different dishes featuring olives (including the twice-cooked eggplant and olive dish which, as I said, I just went rogue and made without even consulting the rest of the team). And though everyone's recipes were pretty spectacular, I'm totally bias biased. Clearly our dishes were the best! And unlike the other teams, we used all 90 minutes to make our three dishes. I think we might have been the only dishes that folks went back for second samples!
In the end I had a number of folks ask me about the twice-cooked eggplant and olive dish. It's a super easy dish with very few ingredients required. In other words, even if you are a lazy cook or an overachieving kitchen chef (or both), this is the perfect dish for you.
Twice-Cooked Eggplant and Olives
By Irvin Lin
The secret to this dish is to cook the eggplant until it is nearly black. You'll wonder if you've ruined the eggplant but it will be fine and the nearly charred eggplant takes on an earthy, nearly chocolatey depth of flavor. The addition of the sliced olives in the end adds a salty compliment to the eggplant so don't over season the dish. Add the olives first, cook, then taste and season with extra salt to the level you want.
Ingredients
2 to 3 medium-sized eggplants (about 2 1/2 pounds)
10 to 12 tablespoons extra virgin olive oil, divided
1 large red bell pepper (6 to 8 ounces), chopped
1 medium yellow onion, chopped
1/2 teaspoon kosher salt
1/2 teaspoon fresh ground black pepper
3.8 ounce can of sliced California ripe black olives
3 to 4 tablespoons fresh squeezed lemon juice or sherry vinegar
salt and pepper to taste
1 tablespoon chopped parsley
Directions
1. Slice the eggplant into 1/2-inch thick pieces. Heat 2 tablespoons of olive oil on a large skillet and then place eggplant rounds in the hot oil. Cook until the eggplant side starts to turn black, drizzling more oil over the eggplant as the skillet starts to look dry. The eggplant will soak up the oil a lot! Flip the eggplant over and cook the other side the same.
2. Remove eggplant to a heatproof bowl and repeat with the remaining eggplant slices (no need to clean it). Once all the eggplant has been cooked and removed from the skillet, drizzle two more tablespoons of oil into the pan (again no need to clean it) and heat until shimmery hot. Add the red bell peppers, onions, salt and pepper. Cook until the onions start to look translucent. Add the eggplant and cook, breaking up the eggplant with a spatula or a pair of tongs. Once the eggplant is broken down, add the olives and cook until heated.
3. Remove from heat and sprinkle 3 tablespoons of lemon juice or sherry vinegar over the dish and taste. Add additional lemon juice or vinegar if needed, then season with more salt and pepper to taste. Plate on a serving dish and sprinkle with chopped parsley. Serve warm.
Makes enough for 6 people.