These Brussels Sprouts and Hazelnuts tossed with Sesame Honey Glaze and a touch of vermouth is an easy side dish, perfect for pretty much any meal. (Jump directly to the recipe.)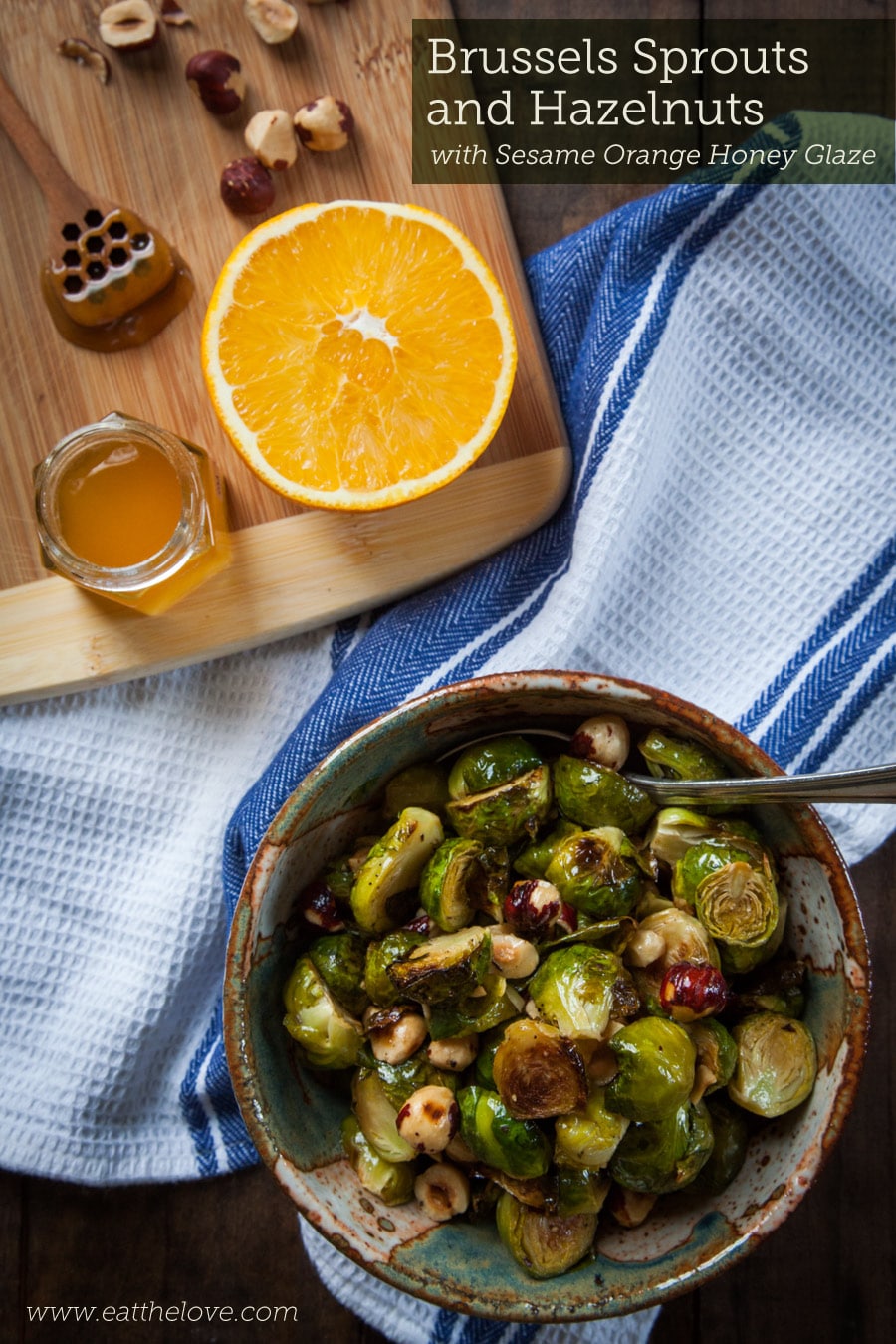 2017 came and went in a big blur to me. A lot of it was…not so good. But there were highlights. A friend of mine gave birth. Another friend is now pregnant. Friends got married. Some got engaged. Heck, I got engage earlier in 2017. And even though the general state of the country that I live in is alarming to me, somehow I have not lost hope. I adore my friends. I absolutely love my family. And I'm slowly realizing that there is good in the world as well as bad. I refuse to give up and as I get older I realize that I tired of being tired. I want more than just surviving. I want to thrive.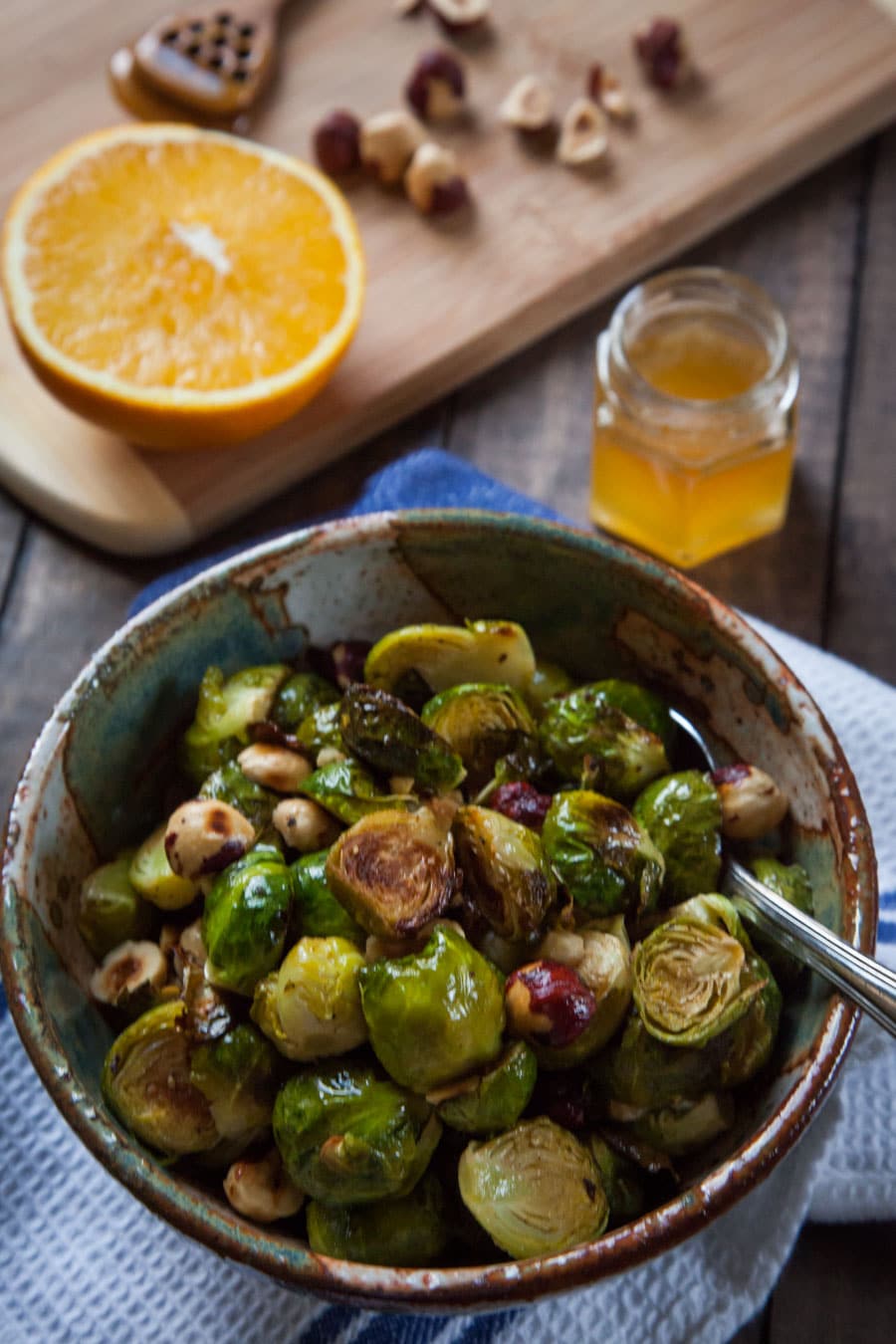 I've been taking a long look at some of my own habits and what gets me up in the morning. I still love working in the kitchen. I found a renewed interest in baking, cooking and taking photos. And after a glorious and grueling experience writing and promoting my cookbook, I've fallen back in love with writing as well. And beyond that, what started out as a mild hobby in ceramics have exploded into a full fledge obsession. My next semester at the community college where I take ceramics is my last semester and I'm already plotting where I can go from there and who I can learn from. I might (maybe, possibly, no promises but I'm considering it, just don't hold me to it) even start selling a few pieces of ceramics I have made. (Yeah, that bowl you see the Brussels in? I made it this semester).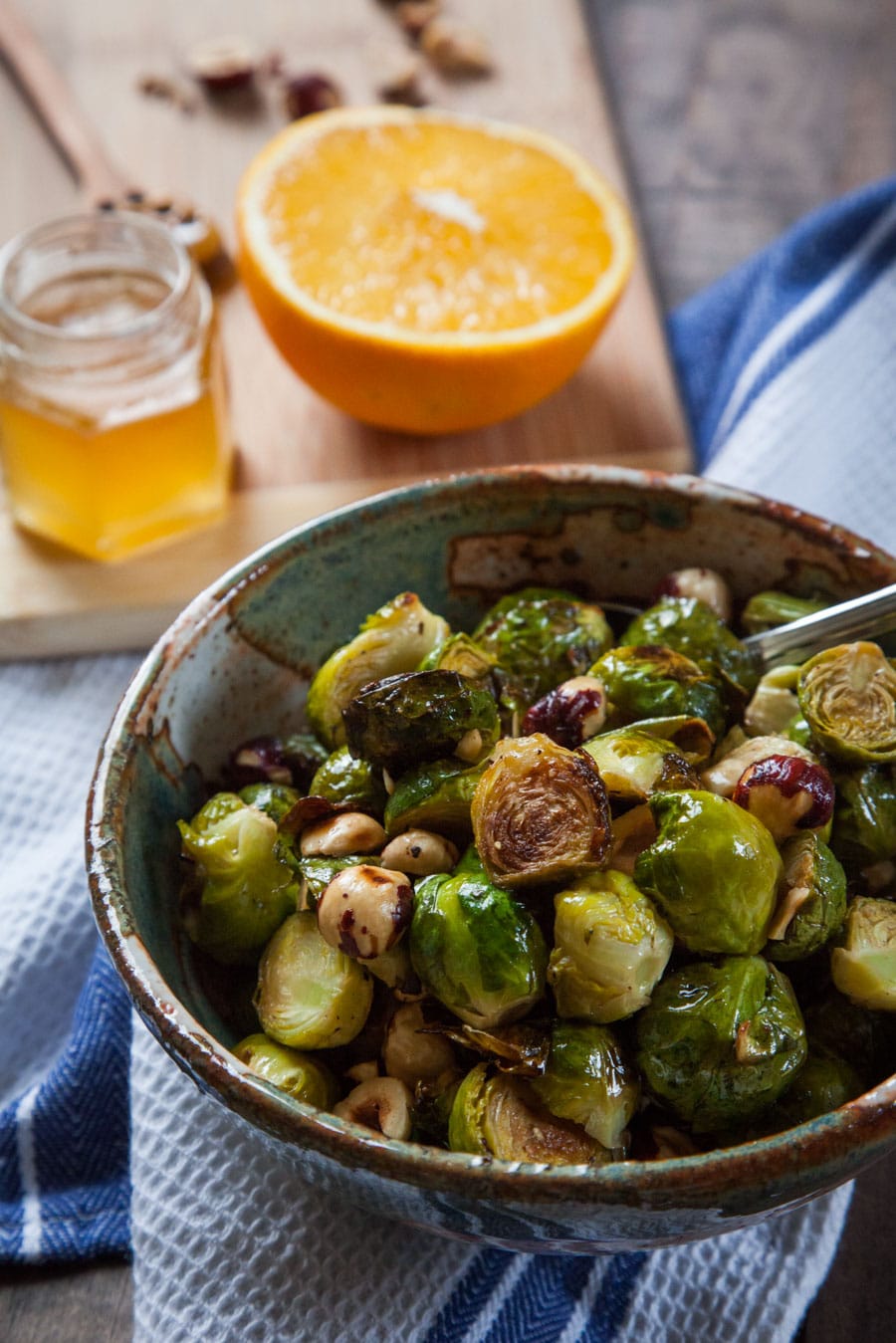 And then there's my collection of cookbooks. I finally got around to buying a couple of bookcases which was life changing. And it also meant that I could actually access my cookbooks easily. Previously it was a HUGE EVENT for me to dig a cookbook out from under the tower of books to just look at it properly. I've found myself turning to my collection and making food out them, not just looking at them once and having them getting lost in the stacks. Which is how I ended up looking at Heidi Swanson's book Near and Far for inspiration.
I've long admired Heidi and have been lucky to have met her a few times. She's just as beautiful in person as she is on her blog and in her writing. And of course, she has impeccable taste. So when I stumbled across her recipe for Brussels sprouts and walnuts I knew I had to make a riff on it. My version is probably as far a stretch from her version as possible, subbing out pretty much ever ingredient other than the Brussels but there's no way that my Brussels Sprouts and Hazelnut side dish would exist without her for inspiration.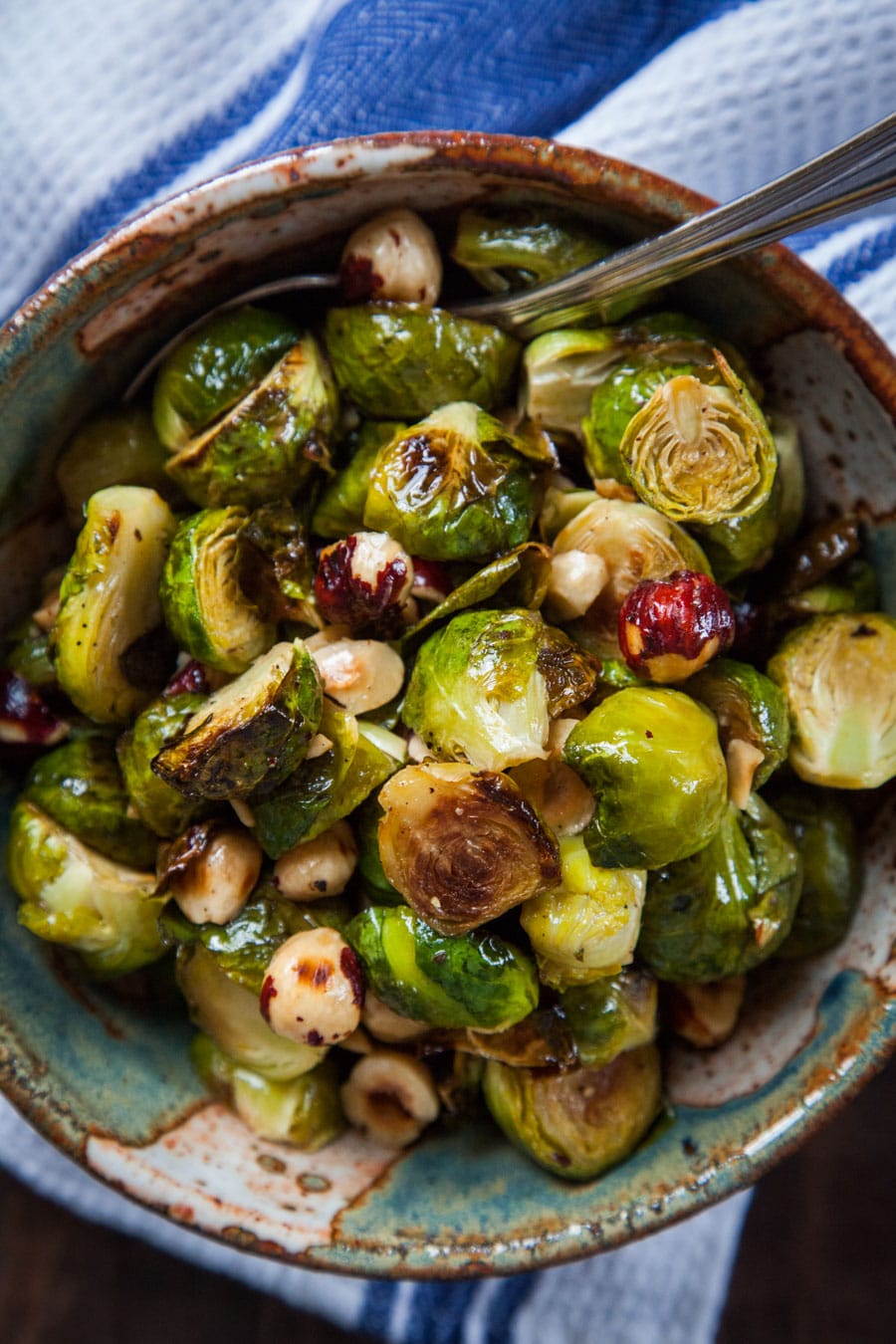 So in 2018, I'm going to look for inspiration. In words. In food. In photography and ceramics and art. I'm going to look at the books I have, at my friends and loved ones and from strangers. I'm going to keep an open eye out for little things that I might have overlooked. And I'm going to pay more attention to big things, instead of dismissing them or acting as if I'm better than the latest trend. I can't wait to see where 2018 leads me. Happy 2018 everyone!


Brussels Sprouts and Hazelnuts in a Sesame Orange Honey Glaze
These Brussels Sprouts have toasted hazelnuts tossed in, heightening the nutty crunch of these greens. While the Brussels toast in the oven, you toast the hazelnuts and prep the glaze, then combine them all together right before serving, making these some of the best Brussels! The glaze has a toasted sesame oil, a touch of vermouth, orange juice and honey for sweetness and mustard and apple cider for a touch of acidity to balance it all out.
Ingredients
Brussel Sprouts and Hazelnuts
2

pounds

Brussel Sprouts

910 grams

1

tablespoon

olive oil

1/2

teaspoon

kosher salt

1/2

teaspoon

black pepper

1

cup

hazelnuts

140 g
Glaze
2

tablespoon

toasted sesame oil

1

tablespoon

vermouth

or dry sherry

1

tablespoon

fresh squeezed orange juice

1

teaspoon

soy sauce

1

teaspoon

Dijon mustard

1/2

teaspoon

apple cider vinegar

or lemon juice

1/2

teaspoon

honey
Instructions
Preheat the oven to 425°F. Trim the Brussel sprouts and halve them (quarter them if they are large). Toss with olive oil, salt and pepper in a large bowl.

Spread on a large rimmed pan until an even layer. Roast in the oven for 25 to 30 minutes or until tender and one side is caramelized and browned.


While the Brussels are roasting, place the hazelnut in a pan and heat on the stovetop for a couple of minutes, until they start to smell fragrant and get a little toasty. Remove from heat and pour into a kitchen towel and rub the dark skin off of the nuts. If some skin remains, that's ok. Chop the nuts in half.


Make the glaze by combining all the ingredients together. Once the Brussels sprouts are cooked, scoop them into a heat proof serving bowl, add the hazelnuts, then toss with the glaze. Serve immediately
Notes
Inspired by a recipe from Heidi Swanson's Near and Far cookbook
Nutrition