This cauliflower risotto is a take on classic risotto but made with low-carb, keto-diet friendly cauliflower rice and roasted wild mushrooms.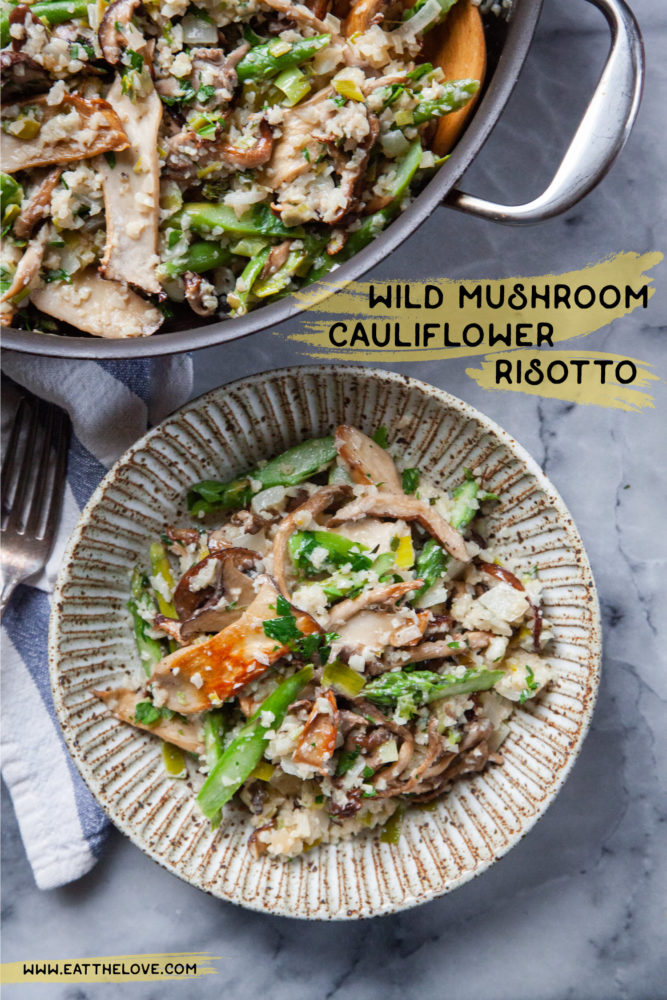 This post was sponsored by California Grown. I was compensated for this post and developing this recipe. However, all opinions below are my own.
I feel like I don't say this enough. But I love making risotto and I love eating risotto! I've shared a recipe for bacon and asparagus risotto. I've made fried risotto balls, otherwise known as arancini. And I even incidentally mentioned how I made risotto using leftover tidbits from my fridge for an article about cooking at the beginning of the pandemic. So, I was excited to have risotto for dinner when I went on a press trip for California Grown last month, using some of the wild mushrooms farmed at Far West Fungi. The risotto was as fantastic as I expected it to be. And it inspired me to make this cauliflower rice risotto, a recipe I've been tinkering with for awhile, trying to perfect it for a friend of mine who is on a keto vegetarian diet.
The California Grown folks invited me out to the visit some farms down near Monterey, and it was so great to hang out with fellow food bloggers. Especially after two years of basically being a hermit and not seeing anyone at all. Even more fun? Learning where all my produce is grown!
Ocean Mist Farms showed us how they grew artichokes (did you know that the artichoke is a flower? I had no idea!). Lakeside Organic Gardens, one of the largest organic growers in the US had us visiting their Romaine lettuce fields and we watched a machine literally vacuum up bugs and pests. And Far West Fungi showed up their shipping container farms, filled with almost alien looking mushrooms grown out of sterilized wood dust. It was an utterly fascinating trip, one that will keep on inspiring me in the kitchen.

Those mushrooms though! It's what inspired this recipe the most. I adore mushrooms and have bought from Far West Fungi often. And my husband, who teaches chemistry at a community college, actually taught one of the family members who own Far West Fungi! Such an amazing coincidence. And that particular farm tour, along with the risotto we had for dinner after the farm tour, was what inspired me to make this roasted mushroom risotto using cauliflower rice.
What is cauliflower rice?
Cauliflower rice was originally invented by Los Angeles Chef Benjamin Ford back in 1998 for his restaurant Chadwick. Chef Ford initially called it cauliflower cous cous, but regardless of what it's called, it became wildly popular around 2012 with the popularity of keto and paleo diets.
Cauliflower rice is basically cauliflower that has been broken down into small rice-sized bits often with a food processor. Nowadays you can buy cauliflower rice already processed into small rice size bits in a bag at well-stocked grocery stores. But it is also super easy to make. Just cut up half a medium head of cauliflower into florets, then place them in the bowl of a food processor. Process the cauliflower in bursts, until the floret has been broken down into small bits about the size of rice or cous cous. Repeat with the remaining half of cauliflower.
If you do not have a food processor, you can still make cauliflower rice. Cut the cauliflower into florets and then grate the cauliflower through the large hole of a box grater to make small bits.
How do you make roasted mushrooms?
One of my favorite tricks with using mushrooms in large quantities is roasting them! Roasting not only intensifies the flavor of the mushroom, but also allows you to drain off some of the liquid from the mushroom (which has a lot of moisture) in the process.
This liquid is packed full of savory umami and will add even more depth and flavor to the risotto dish as well as any dish you need to use mushrooms in.
To roast the mushrooms, first line a large baking sheet with aluminum foil (for easy clean up) and preheat the oven to 375°F. Slice the mushrooms and toss with olive oil, salt and pepper. Place them on the pan (it will be crowded but don't worry about that). Roast for 15 minutes, then remove from the oven and pour off as much of the liquid as you can into a measuring cup. You should have about 1/2 cup of liquid.
Then place the pan back in the oven and roast for another 20 to 30 minutes, or until the mushrooms have browned but are still tender. 
How do you create the creaminess in cauliflower risotto?
Unlike traditional risotto made with a starchy rice like Arborio or Carnaroli, there's no starch in the cauliflower to produce a thick and creamy dish. So, you need to compensate for this with additional ingredients.
I use a touch of heavy cream, as well as a generous amount of fresh grated Parmesan to add creaminess to the dish. If you are avoiding dairy or are looking for a vegan option, try using a non-dairy milk (like oat or soy), and vegan Parmesan-style cheese instead. 
How do you store leftovers?
If you have leftovers, you can store them in the refrigerator, in an airtight container. Wild mushroom cauliflower risotto will keep for up to 3 days in the fridge.
If you like this mushroom cauliflower risotto, check out some of these other vegetable recipes using California Grown produce:
And try some of these desserts using California Grown produce:
Cauliflower Risotto with Wild Mushrooms
This wild mushroom cauliflower risotto uses cauliflower that has been broken down into small bits and is commonly called cauliflower rice. It is low carb, vegetarian and keto-diet friendly. You can buy the cauliflower rice already processed and bagged or you can make it yourself (see my section above on how to make cauliflower rice). I also use a mix of mushrooms for this recipe. This includes common Cremini (brown mushrooms), as well as more exotic King Trumpets, Yellow Oysters, Tree Oysters, and Maitake mushrooms. Feel free to use whatever mix of mushrooms you can find or like. Just try to slice or cut them into similar sizes so they all cook at the same time in the oven.
Ingredients
Roasted Mushrooms
2

pounds

mushrooms

mixed (see headnote above)

1/4

cup

olive oil

1/2

teaspoon

salt

1/2

teaspoon

pepper
Cauliflower Risotto
1

medium leek

cleaned and white and light green parts sliced

1

medium onion

chopped

4

medium cloves of garlic

minced

1

pound

asparagus

cut into 1-inch spieces

1

pound

cauliflower rice

1/2 head of cauliflower broken down into rice, about 4 cups

2

tablespoons

olive oil

4

tablespoons

unsalted butter

1/2 stick, divided

1/4

cup

vermouth or white wine

1/2

cup

mushroom broth from roasted mushrooms

1

tablespoon

fresh thyme leaves

1/2

cup

heavy cream
To finish
1/2

cup

fresh grated Parmesan cheese

about 1 3/4 to 2 ounces

2

tablespoons

fresh chopped parsley leaves

Salt and pepper to taste
Instructions
Roast the mushrooms by first preheating the oven to 375°F. Line a rimmed baking sheet with aluminum foil. Slice, cut or break up the mushrooms into roughly the same size. Place in a bowl, drizzle the oil over the mushrooms, sprinkle salt and pepper, then tossing to coat.

Pour mushrooms into the baking sheet and spread evenly. The baking sheet will be crowded and there will be some mushrooms overlapping. Do the best you can and don't worry about it, as the mushrooms will shrink dramatically. Then place in the oven for 15 minutes.

Once the mushrooms have roasted for 15 minutes, remove from the oven and carefully drain the liquid in the pan into a glass measuring cup. You should have about 1/2 cup of liquid. Rearrange the mushrooms back into an even layer (they should be less crowded now) and place back the oven for 25 to 30 minutes more or until the mushrooms are tender but not crispy. Let rest on the pan until ready to use.

While the mushrooms are roasting, prep and cook the cauliflower risotto. Slice the leek lengthwise and clean out any sand. Then slice the white and light green parts of leek into 1/4-inch pieces, reserving the dark green parts for another use (I save them up in the freezer, then use it for stock). Chop the onion and mince the garlic. Break down the cauliflower into cauliflower rice if necessary, by cutting it into florets and using a food processor, pulsing the pieces into rice-sized bits. Cut the asparagus into 1-inch pieces.

Heat the olive oil and 2 tablespoons butter in a very large skillet or sauté pan until melted. Add the chopped leek, onion, and garlic, cooking on medium low heat for about 3 to 5 minutes or until the onions are soft and translucent but not brown. Add the remaining 2 tablespoons of butter and the cauliflower rice, cooking for an additional 2 to 3 minutes to soften it.

Once the cauliflower rice starts to soften, add the vermouth or white wine and cook until it has evaporated. Add the mushroom broth from the roasted mushrooms, along with the asparagus pieces and the fresh thyme leaves. Cover and cook for about 3 to 4 minutes.

Uncover the pan, add the cream and increase the heat to bring the cream to a simmer (but not boil). Cook for 5 minutes, stirring constantly, until the cream has reduced. Stir in the roasted mushrooms, cheese and parsley. Add salt and pepper to taste.
Notes
This recipe is sponsored by California Grown. I was compensated for this post and developing this recipe. However, all opinions below are my own.
Nutrition
Calories:
346
kcal
|
Carbohydrates:
17.7
g
|
Protein:
11.5
g
|
Fat:
27.9
g
|
Saturated Fat:
10.4
g
|
Cholesterol:
40
mg
|
Sodium:
366
mg
|
Potassium:
947
mg
|
Fiber:
6
g
|
Sugar:
7.2
g
|
Calcium:
144
mg
|
Iron:
7
mg