This roasted asparagus with olive and herb dressing is an easy and delicious vegetable side dish that takes less than 20 minutes start to finish!
It's been cold and rainy here in San Francisco. Though the days continue to get longer (thank you daylight savings!) my brain thinks that Spring has finally arrived even as I huddle under a blanket with the heat turned on. Sure, I'm not over in the east coast, being pummeled with a nor'easter snowy storms. But this is San Francisco. I've grown soft and like most San Franciscans. If the weather drops below 68°F, we all start complaining about it, wrapped under our scarves and mitten. Yeah, we're ridiculous. I get that.
But even though the weather seems wintery, I'm starting to notice spring produce popping up at the grocery store. Spring garlic, rhubarb and asparagus are all looking fat and juicy, full of promise, even if the weather outside is dreary, that Spring is really around the corner. I went crazy and bought my first batch of rhubarb of the season along with a few pints of early strawberries. I had grandiose plans to bake up a batch of something with the classic strawberry-rhubarb combo but then I went and ate all the strawberries. Because that's what I do when you put berries in front of me, I eat them with abandon.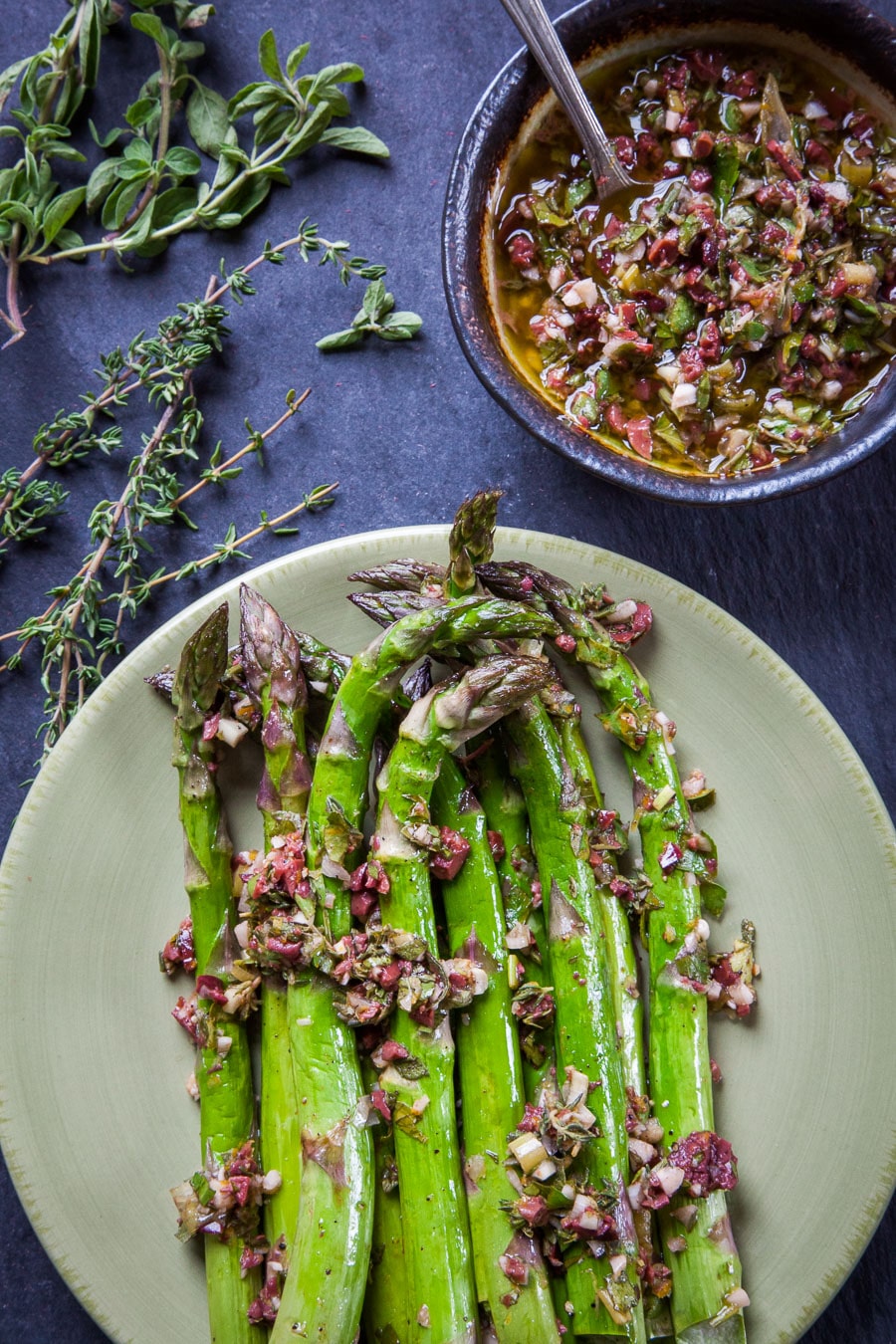 Of course, I probably could have done something just with the rhubarb. But I saved it for later and decided I needed to roast some asparagus instead. With the global economy the way that it is, I can get asparagus pretty much year round. But spring asparagus, with it's tender and fat stems, are in a class their own. I usually just roast it with salt and pepper, tossed in olive oil (fast in high heat oven for about 10 minutes) but this time I decided to gild the lily. A quickly prepped chopped olive and herb dressing and all of sudden I don't care about the rain. I just want more spring vegetables and fruit. I'm ready. Bring it on!
Roasted Asparagus with Olive and Herb Dressing
This quick herb dressing can be made in the same amount of time it takes to roast the asparagus and it's pretty versatile. Use it to dress other green vegetables (like steamed green beans or sugar snap peas) or spoon it over toasted bread like a tapenade. I recommend Kalatata or a flavorful green olives like Manzanilla instead of the regular canned black olives, for their firm texture and punchy flavor. Try to find the fattest asparagus you can find, as the inner center is the most tender and in the spring time you don't need to peel the outside. If you use skinny asparagus, adjust the roasting time accordingly to make sure you don't overcook the asparagus.
Ingredients
Roasted Asparagus
1 1/2

pounds

fat asparagus

see head note above

1 1/2

tablespoon

olive oil

1/2

teaspoon

kosher salt

1/2

teaspoon

fresh ground pepper
Olive and Herb Dressing
1

regular lemon

4

garlic cloves

minced or forced through a press

1/3

cup

olives

see headnote above, minced or chopped fine

3

green onions

finely chopped

1/4

cup

chopped fresh parsley

1

teaspoon

chopped fresh thyme leaves

1

teaspoon

chopped fresh oregano leaves

3

tablespoons

extra virgin olive oil

1/2

teaspoon

kosher salt or more to taste

1/2

teaspoon

fresh ground pepper or more to tast
Instructions
Preheat the oven to 450°F. Snap the ends off of the asparagus with your fingers. It should naturally snap off at the woody part, leaving the tender part to roast. Place the asparagus on a rimmed baking sheet and drizzle the olive oil over it. Sprinkle the salt and pepper over asparagus, then using your hands, toss the asparagus to coat. Roast the asparagus in the oven for 10 to 12 minutes (if the asparagus is fat) or 8 to 10 minutes if the asparagus is skinny. You want the asparagus to be tender crisp and bright in color still.

While the asparagus is roasting prep the dressing by zesting the lemon into a medium sized bowl, then juicing it and adding it to the zest. Add the garlic to the lemon juice and toss. Add the remaining ingredients then stir to combine. Taste and adjust salt and pepper if needed, keeping in mind that the asparagus will have salt and pepper on it from the roasting.

Once the asparagus is done roasting, transfer them to a serving plate while still hot. Spoon half the dressing over the asparagus and serve with the remaining dressing.
Nutrition