This pretzel shakshuka is basically the classic Mediterranean spicy stewed tomato and egg dish baked up in a soft pretzel crust!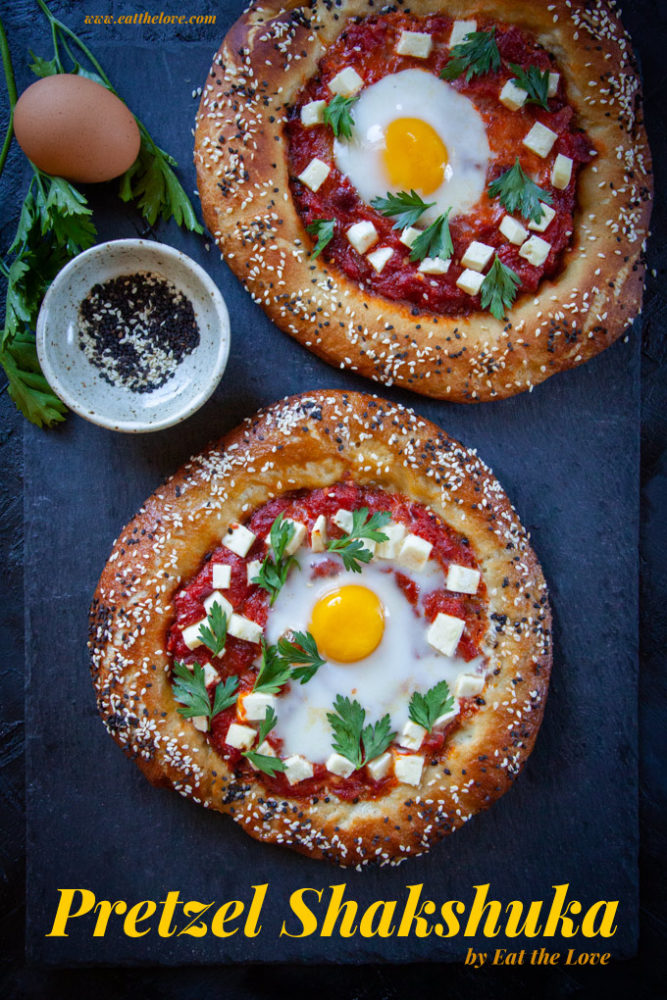 I'm on a mission to pretzel-ify everything. I've made homemade soft pretzels, beer pretzel twists and pretzel buns. I love pretzels in pretty much any shape or form! But I realized it was time for me to start expanding beyond the soft pretzel bread and see what else I can "pretzel-ify". That led me down the road of making pretzel shakshuka!
What is pretzel shakshuka?
Pretzel shakshuka is exactly what it sounds like. It's shakshuka, a spicy Mediterranean-based tomato-based dish with eggs cooked in it, baked into a soft pretzel crust instead of a pan.
How do you make pretzel shakshuka
To make pretzel shakshuka you need to be make a dough, similar to my pretzel bun dough. It has a fairly large amount of olive oil, more than the average pizza dough crust. Once the dough has risen, you press out the dough into a "pizza-crust" round shape. Then pretzel-ify it by boiling it in large wide pan filled with baking soda water! If you don't have a wide enough pan, you can also boil it using a roasting pan placed over the stovetop burners.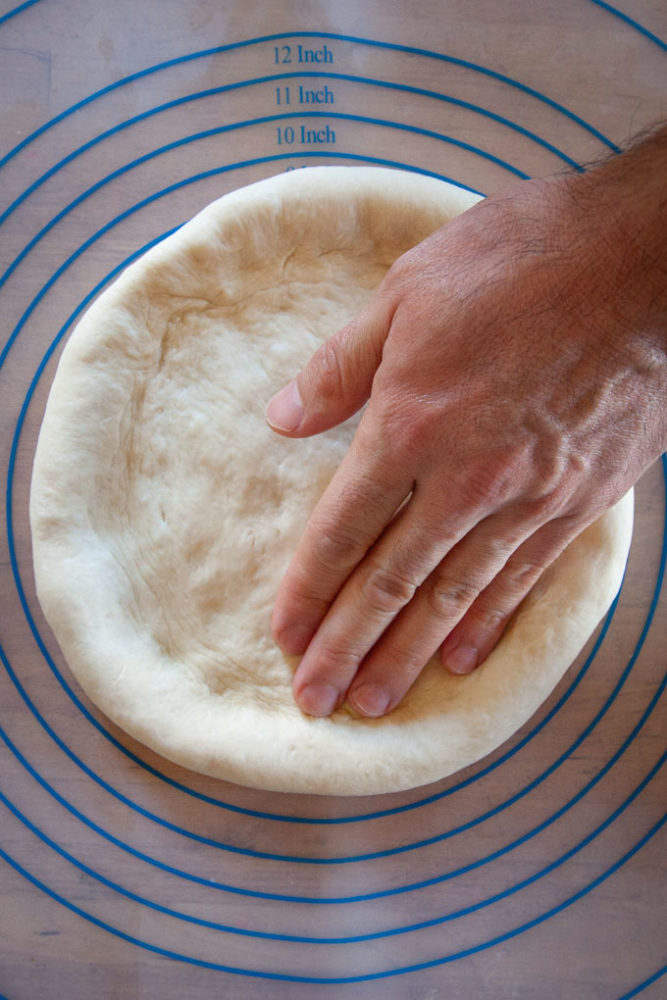 Once the dough is boiled in the baking soda water, move the dough to a silicon baking pad or piece of parchment paper that has been generously sprayed with cooking oil. Top the dough with the shakshuka sauce that you simmered while the dough was rising. Then add the feta and egg. Move to a super hot pizza stone or baking steel in the oven and bake!
Once baked, sprinkle with some parsley leaves and grind some fresh pepper over the egg. Serve while hot!
How is pretzel shakshuka different than a pizza?
This pretzel shakshuka is pretty similar to a pizza. It has a crust and a tomato sauce. There's even some cheese (in the form of feta) sprinkled on it. But there are a few key differences!
Instead of using a basic Italian herb pizza sauce, the tomato sauce is a spicy Mediterranean tomato-based sauce that uses jarred harissa sauce and a jalapeno. This is a quick and easy version of the tomato sauce that is used in shakshuka.
In addition, the crust is a softer crust, with a higher ratio of olive oil in it, closer to my pretzel bun dough. The dough is then boiled in a baking soda solution to give a pretzel flavor before heavily topped with the tomato sauce and then the egg.
What is harissa?
Harissa is a North African chili paste that you can find at upscale grocery stores, specialty stores like Trader Joe's and online. It's made primarily of roasted red bell peppers as well as chili peppers, and spices and herbs like garlic, coriander, caraway and cumin. It's a versatile condiment that can be added eggs, soup, stew, fish and meat dishes.
You can also find harissa spice blends in specialty stores, well stocked grocery stores and online. This is a dry spice blend of various ingredients that would go into harissa. If you have that spice blend, you can use that in this recipe instead of the harissa paste.
What special equipment do you need to make it?
I usually don't like to share recipes that require special equipment. But there's a few items that make this pretzel shakshuka easier in the kitchen. I've given work arounds and substitutes below for the special equipment if you don't have them.
Stand mixer with a dough hook attachment. You can also knead the dough by hand.
Large wide pan to make the baking soda solution. You can also place a roasting pan on the stovetop and use that to boil the crust.
Baking steel or pizza stone. If you don't have one, you can use a heavy rimmed baking sheet or a cookie sheet.
Pizza peel, which is a large wooden paddle with a handle that is used to move a pizza to and from the oven. You use the back of a baking sheet or a cookie sheet.
Silicon baking pad, often called a silpat. You can use parchment paper instead, but you must liberally grease the paper by spraying it with cooking oil or brushing it with cooking oil. Otherwise the boiled wet dough will stick to the paper after baking.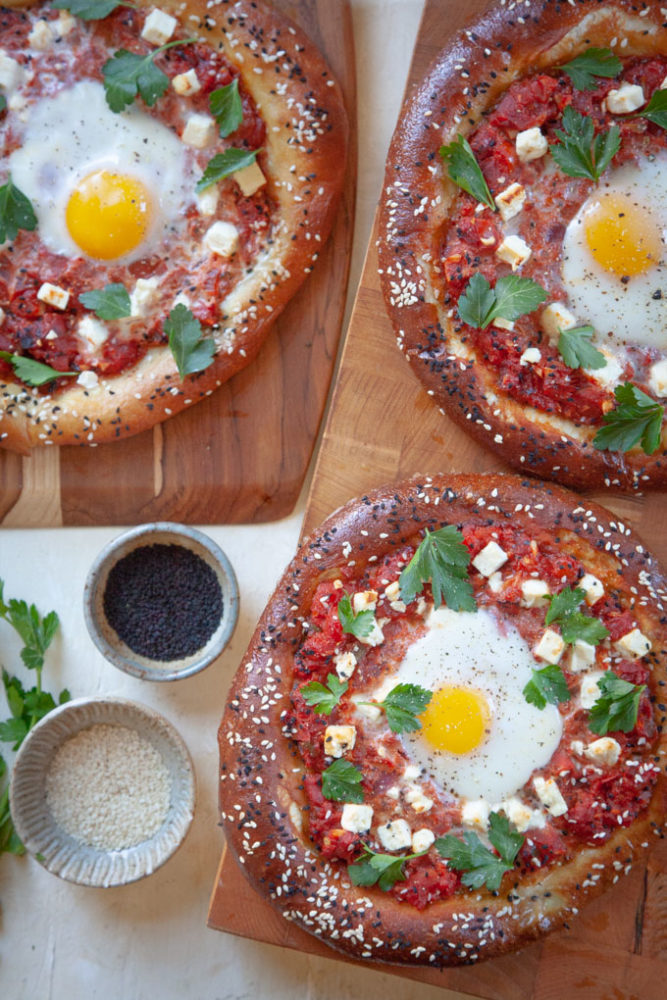 Can I make this ahead?
You can make the dough ahead of time. Just make the dough and then place it in a bowl, covered with plastic wrap, in the refrigerator. The dough will keep up to 48 hours in the refrigerator. When you're ready to use, take it out, and let it warm to room temperature and rise until double in size. Proceed with the recipe.
Once baked however, the pretzel shakshuka doesn't really keep very well. The egg will start to set. I suggest eating sharing each pretzel shakshuka as it comes out of the oven immediately!
If you like this pretzel shakshuka, check out these other brunch dishes:
Pretzel Shakshuka
This pretzel shakshuka has the classic Mediterranean spicy tomato based stew with an egg in it baked into a crust like a soft pretzel! Break the work up into two days by making the dough and tomato sauce on one day, and then boiling, assembling and baking them off the next day! This is the sort of brunch dish that will impress all your guests.
Ingredients
Dough
1 1/2

cups

warm water

90 to 100°F

1

tablespoon

honey

2 1/4

teaspoons

active dry yeast

7 g or 1 package

4

cups

bread flour

640 g

1/4

cup

olive oil

60 g

2

teaspoon

kosher salt
Boiling
10

cups

water

2/3

cup

baking soda
Tomato Sauce
2

tablespoon

olive oil

6

medium cloves garlic

chopped

1

small red or yellow onion chopped

about 3/4 cup

1

jalapeno

chopped (remove seeds and membrane if sensitive to heat)

28

ounce

diced or whole canned tomatoes

2

tablespoon

harissa paste

or 1 teaspoon harrisa spice blend

2

tablespoon

tomato paste

1

tablespoon

honey

1

teaspoon

kosher salt
To finish
4

large eggs

2/3

cup

cubed or crumbled feta

1

large egg yolk

1

tablespoon

water

1

tablespoon

parsley leaves

white sesame seeds

nigella seeds or black sesame seeds

optional (see note after recipe)
Instructions
Make the dough by first stirring the warm water and honey together in the bowl of a stand mixer fitted with a dough hook. Sprinkle the yeast over the top of the liquid and stir with a fork to dissolve. Let sit for 5 minutes to proof. The top of the liquid should be foamy. If it isn't, discard and start over with fresh yeast.

Once the yeast has proofed, add flour, olive oil and salt to the liquid. On low speed, stir with the dough hook until the liquid has absorbed all the dry ingredients. Increase the speed to medium and knead the dough for 5 minutes or until the dough is smooth, elastic and pulls away cleanly from the side of the bowl.

If you don't have a stand mixer or want to knead the dough by hand, combine all the ingredients in a bowl with a wooden spoon until a shaggy dough forms. Then knead the dough on a floured surface until smooth and elastic, about 7 minutes.

Pull the dough off the hook and out of the bowl. Spray a bowl with cooking oil. Stretch the dough into a ball, gathering the rough edges of the dough into one side and then place in the bowl, with the rough edges down. Cover with plastic wrap and let sit to rise in a warm place until the dough has doubled, about 50 to 60 minutes.

While the dough has doubled, make the tomato sauce by placing the olive oil, garlic, onion, and jalapeno in a large skillet or saute pan. Cook on medium heat until the onions start to soften and the garlic smells fragrant, about 3 minutes. Add the tomatoes, harissa, tomato paste, honey and salt. If you using whole tomatoes, crush them with a wooden spoon or a potato masher.

Heat on high until the sauce is boiling, then lower heat to a simmer. Simmer uncovered, stirring occasionally, until the tomato sauce is thick, about 15 to 20 minutes if you are using diced tomatoes, 30 to 35 minutes if you are using whole tomatoes. You want the sauce to be somewhere between spaghetti and pizza sauce in thickness.

Place a baking steel, pizza stone or heavy baking sheet in the oven and preheat it to 475°F.

Once the dough has risen and the tomato sauce has thickened, Place the water and the baking soda in a large pot, stir to help dissolve the baking soda, then heat on high until boiling.

On a clean surface, divide the dough into 4 parts. Cover three of the dough rounds with plastic wrap. Push the fourth dough into a round flatten disk with your fingers, about 6 to 8 inches wide (it'll expand when you boil and bake it). Indent and flatten the center of one the disk, making sure the rim around the edge of the dough is thick, like a pizza crust.

Once the water has boiled, place the dough in the water, and let it boil for 1 minute. Occasionally, gently push the dough down in the water with a large spatula to help immerse and boil the entire surface of the dough.

Once the minute is up, remove the dough with two spatulas carefully, and place on a silicon baking sheet or a piece of parchment paper that has been sprayed with cooking oil. Do not use parchment paper that has not been oiled. The wet dough will stick to it!

Spread 1/4 of the tomato sauce into the center of the dough, making a slight indention in the center. Crack an egg in the middle of the tomato sauce and sprinkle the feta cheese around the egg.

Beat the egg and water together to form a wash. Brush the edge of the dough with the egg wash, then sprinkle with sesame seeds and nigella seeds if using.

Move the entire silicon sheet or parchment paper (with the pretzel shakshuka on it) into the oven, on top of the baking steel, pizza stone, baking sheet. Bake in the oven for 11 to 12 minutes, or until the edge of the pretzel shakshuka looks dark brown like a pretzel and the whites of the egg are set, but the yolk is still jiggly.

Remove from the oven, then repeat with the remaining three other dough rounds. Sprinkle each pretzel shakshuka with parsley leaves before serving, crack some fresh pepper over the egg and serve immediately.
Notes
The black seeds you see on the edge of the pretzel shakshuka are nigella seeds, which are sometimes hard to find. They have an herby, almost oregano flavor with a bit of onion allium thrown in. You can find them online or at specialty stores. If you can't find them (though I highly recommend tracking them down as they are wonderful) you can either substitute black sesame seeds for them or just omit them.