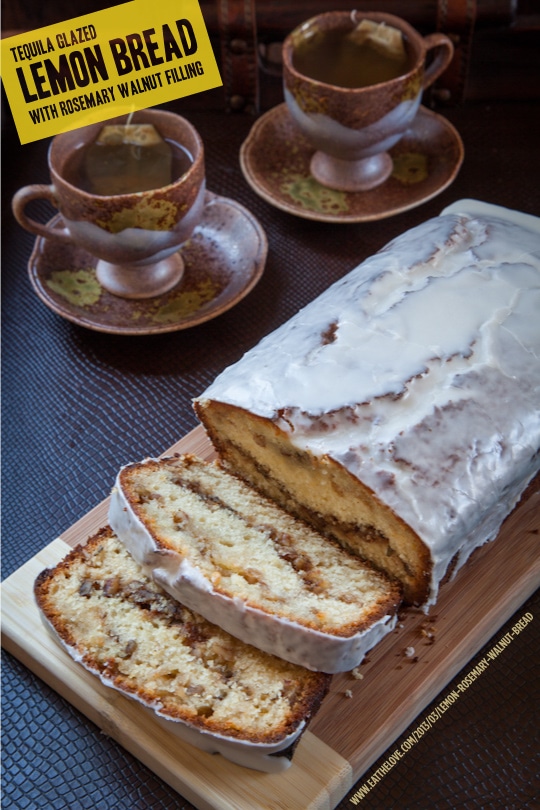 It smelled pretty fantastic in the oven, but it was when I cut into it that I knew it was going to be everything I thought it was going to be. In fact, once I had taken a bite of the Tequila Glazed Lemon Bread with Rosemary Walnut Filling, I whipped out my iPhone, took a shot of it and immediately texted it to my friend Sabrina. Sabrina writes the blog The Tomato Tart and doesn't really have a sweet tooth. But what she DOES love is both citrus (which this has) as well as baked goods that walk the fine line between savory and sweet. This quick bread totally screamed her name.
It had been awhile since I had baked a quick bread (a batter-based bread that is risen with baking powder and/or baking soda and not yeast) on the recommendation of someone else. I was knee deep in a photoshoot for BevMo! photographing my umptheenth cocktail for their Spring cocktail booklet (which should be in the stores any day now, look for it!). My table was laden with bottles of booze and Kris, the social media director who was art directing the shoot told me that her absolutely favorite thing to bake and eat was the Simply Recipe's Lemon Bread. I knew I had to investigate after such high recommendations.
Of course, after the shoot, Kris generously left me a couple of bottles to play with and I decided I need to use some of it with the lemon bread. I had some fresh rosemary leftover from a dinner I had made with AJ and I pretty much have an arsenal of nuts at my disposal as I stock up every time I go to my local co-op that has a ridiculous huge bulk food section. The recipe pretty much made itself.
I could totally understand why Kris said this was her favorite thing to make and eat. Moist, extra lemony, with a kick of tequila warmth and a slight savory undertone because of the rosemary, this is the sort of savory sweet bread that I could eat for breakfast, for coffee or tea or just nibble on any time of day. Even AJ, who isn't super fond of citrus desserts (he's a chocolate & caramel type of guy), found himself eating a slice or two with his coffee. As for Sabrina, she totally ended up making a version of her own lemon bread, completely gluten free. Bounce on over to her site to check it out.
Special thanks to my friend Kris at BevMo! who generously let me keep a bottle of slightly used Tres Generaciones Plata tequila to use in this recipe (and you know, take tiny sips from while baking).
Tequila Glazed Lemon Bread with Rosemary Walnut Filling
By Irvin Lin
This quick batter bread, fancied up a bit with rosemary and walnut filling is extra moist due to the double glazing. First a glaze of lemon honey soaks into the bread to make is extra lemony and then a thicker tequila glaze keeps the bread moist, sweet and gives just a nice touch of tequila warmth to each bite. If you don't want to use alcohol, feel free to substitute milk for the tequila for the second glaze.
Adapted from Simply Recipes.
Ingredients
Rosemary walnut filling
2 tablespoon finely minced fresh rosemary
1/4 cup (50 g) white granulated sugar
1 tablespoon dark brown sugar
1/2 teaspoon cinnamon
1/2 cup (70 g) chopped walnuts
Bread batter
1/2 cup + 2 tablespoons (142 g or 1 1/4 stick) unsalted butter at room temperature
1 cup (200 g) white granulated sugar
1/4 cup honey (orange blossom if you have it)
3 large eggs at room temperature
2 tablespoons lemon zest (from 2 lemons)
1/2 cup whole milk
1/4 cup freshly squeezed lemon juice
2 1/2 cups (350 g) all purpose flour
1 teaspoon baking powder
1/4 teaspoon baking soda
1/2 teaspoon cardamom
1/2 teaspoon salt
Glaze #1
1/4 cup freshly squeezed lemon juice
1/3 cup (75 g) white granulated sugar
1 tablespoon honey (orange blossom if you have it)
Glaze #2
1 cup (130 g) confectioners' (powdered) sugar
2-3 tablespoons silver tequila
Instructions
1. Preheat the oven to 350˚F. Butter and flour a 5 x 9 inch loaf pan. Make the rosemary walnut filling first by stirring all the ingredients together in a small bowl. Place aside.
2. Place the butter in the bowl of a standing mixer fitted with a paddle attachment. Beat the butter on medium speed until fluffy, about a minute. Add the sugar, honey and lemon zest to the butter and beat for an additional minute or until it the ingredients are incorporated thoroughly. Add the eggs, one a time, scraping down the sides between additions, making sure the batter incorporates the eggs completely before adding the next egg. Add the milk and lemon juice and beat to the batter and beat to incorporate. The batter might look curdled or broken, but don't worry, it'll come together when you add the additional ingredients.
3. Place the flour, baking powder, baking soda, cardamom and salt in a large mixing bowl. Using a balloon whisk, vigorously stir to distribute the dry ingredients together. Add to the wet batter and beat until just incorporated and smooth.
4. Spoon 1/3 of the bread batter into the pan and spread out evenly in the pan. Sprinkle 1/2 of the rosemary walnut filling over the batter (try not to get let it touch the side of the pan). Spoon 1/3 of the bread batter over the filling and sprinkle the remaining 1/2 of the rosemary walnut filling over that batter. Scrape the remaining bread batter over the filling and smooth out. Bake in the oven for 1 hour to 1 hour 10 minutes or until a skewer inserted in the middle of the loaf comes out clean.
5. About 10 minutes before the bread is done, prepare glaze #1 by heating all the ingredients together until the sugar has dissolved. Once the bread is done, remove from the oven and poke holes all over the top of the bread (while it is still in the pan) to help the glaze penetrate and spoon glaze over the still hot bread. Let the glaze soak in before you continue to use up the remaining glaze. Let the bread cool in the pan for about 10 minutes before removing from the pan and letting cool to room temperature on a wire rack.
6. Once cool, prepare glaze #2 by first sifting the confectioners' sugar into a small bowl and stirring in 2 tablespoons of tequila. If the glaze seems too thick (you want that delicate balance of a glaze that is thick enough to cling to the bread, but thin enough to run a bit on the bread) stir in an additional teaspoon of the tequila, adding more tequila to get the right consistency. Spoon over the cooled bread, allowing some of the glaze to dribble down the sides of the bread. Let the glaze cool and firm up, then slice and serve.
Makes 1 loaf.