Looking for a chocolate cookie recipe? Check out this Nutella Chocolate Cookie recipe w/regular, gluten free & easy versions! (Jump directly to the recipe.)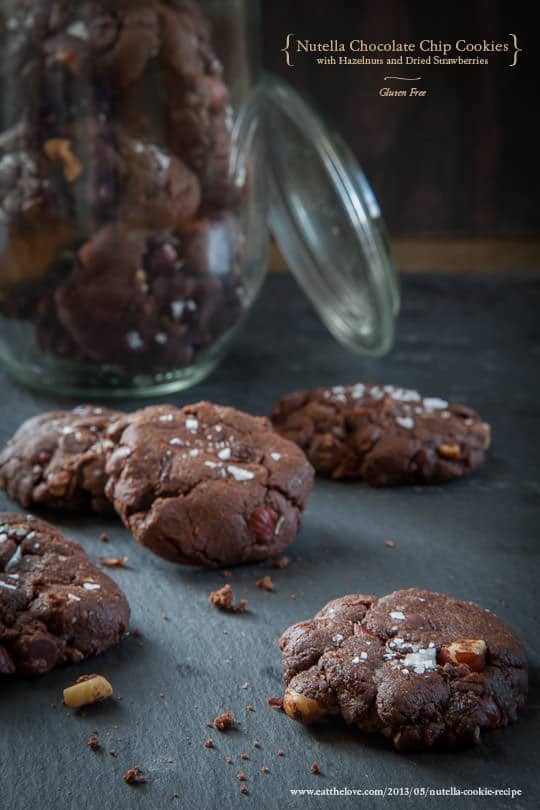 "Wait. Are those the cookies that I can't stop eating?" asked AJ as I put a second batch in the oven. I had baked Gluten Free Chocolate Cookies with Nutella, Chocolate Chips, Hazelnuts and Dried Strawberries a few days ago right after my friend Shauna of the fabulous Gluten Free Girl and the Chef had pinged me to tell me about her new cookbook, Gluten Free Girl Everyday that was coming out. She sent along a list of the desserts that were in her book, and one of them, a chocolate chip and hazelnut cookie resonated with me. I didn't bother asking for the actual recipe, as I knew immediately what sort of twist I wanted to give them. Into the kitchen I went and into the cookie jar went AJ's hands.
Of course, the first thing I did when I started building the recipe was pull out all my flours to see what I had on hand and what would work with the flavors of chocolate, hazelnut, and strawberries. And when I say all my flours, I mean ALL my bags of flours, of which I have WAY. TOO. MANY. So many that once I developed my recipe I took a look at it and thought to myself "Whoa. This kind of goes against the concept of Shauna's book. She wrote a book for busy people who want easy and every day recipes. Not one that requires a trip to four different ethnic and natural food grocery stores to get a million different flours." As fabulous as the recipe turned out, I knew I had to rework it.
Luckily I had an excuse to bake more (not that I really need an excuse to bake more cookies). The San Francisco Food Blogger Bake Sale was around the corner and I wanted to bake something gluten free for it. So back into the kitchen I went, with some premixed Cup4Cup flour that I had gotten as a review sample and whipped up another batch. Soon the kitchen was filled with the smell of Nutella goodness and soft chocolate hazelnut cookies were coming out of the oven. AJ was in heaven, and I basically had to stop him from eating too many as THESE WERE FOR KIDS damnit!
The bake sale was awesome. We had gorgeous weather and my co-hosts, Ariel of Cake Sharing and Sabrina of The Tomato Tart rocked the table. Fellow food bloggers stopped by to drop off goods, help work the tables or just say hello. Anchored at the corner of Noe Valley, outside the fabulous Omnivore Books (have you been there? A bookstore dedicated to only to cookbooks. It's ridiculously cool) and the Noe Valley Pet Company (so many dogs walked by! Half the time we were bent over petting as opposed to selling our wares) we were also lucky to have both Top Chef star Fabio Viviani show up to sign his new book Fabio's Italian Kitchen (photographed by the fabulous Matt Armendariz who also has a food blog) as well as the Food Network Chopped Judge Maneet Chauhan show up with a film crew to sign her book Flavors of My World! I got to hang out with fellow food bloggers all day long and raise money for Share our Strength and awesome nonprofit dedicated to eliminating childhood hunger in the US. All told, we raised over $500. You really can't call that a bad day!
And yeah, my gluten free cookies were a hit as well. I made fourteen bags and everyone of them sold (well, actually we sold out of everything, having to close down 30 minutes early!) In fact, we had one satisfied little girl come back to the table just to tell us that she loved my cookies. They are that good. Not "good for gluten free" but just straight up good. AJ couldn't stop eating them, and this is a man who loves his gluten filled baked goods. But there's something about Nutella that makes even those who proclaim to not like baked goods, weak in the knees and the whole gluten free thing is a complete side note. Of course, AJ has no issues with gluten free or gluten full. He just knows a good cookie when he eats one. And he ate four of these in a row.
Special thanks to Cup4Cup for providing me with some samples of their gluten free flour mix to play with in the kitchen. Even though I received their product for free, I was not monetarily compensated for this post and all opinions stated are my own.

Gluten Free Chocolate Cookies

with Nutella, Chocolate Chips, Hazelnuts and Dried Strawberries

By Irvin Lin

Shauna of Gluten Free Girl and the Chef inspired me with her new cookbook Gluten Free Girl Everyday to develop this recipe easier than I normally would have. The whole concept behind her book is easy recipes that can be made for busy people who still love to make food. For me, the idea of baking gluten free isn't just because I want to avoid gluten (I have no issues with it) but rather I love both the challenge and the idea that the flours themselves add nutrition and flavor to the final product. But trying to stay true to her cookbook theme, I developed this recipe two ways, and so I am giving you the everyday easy version as well as how to do it with all the specialty flours (the Eat the Love "complex" version, if you will).

The everyday easy version uses the commercially available >Cup4Cup gluten free flour blend. You can get Cup4Cup at upscale grocery stores like Whole Foods and specialty food stores like . If you like, you can also substitute another commercially available gluten free flour blend, such as Bob's Red Mill Gluten Free All Purpose Baking Flour or King Arthur Flour gluten-free multi-purpose flour. Just be sure to add a binder to the recipe as well as Cup4Cup has xanthan gum already added to it, while most other gf flour blends don't. The second recipe is the one where I custom blend my own flours. I personally like them better for their earthy complexity and maltiness. It's also a bonus that the whole grains flours are more nutritious. That said, AJ says he prefers the easy version because they taste more cookie sweet-like (though that didn't stop him from scarfing down two of the Eat the Love version in a row and telling me he only "slightly" prefers the others). Then he ate another one after I told him that I used whole grains because that made him feel like he was eating "better for you" cookies. He's pretty good at self-justification.

And if you have no issue with gluten at all, just make the everyday easy recipe, and substitute the exact same amount of all-purpose wheat flour for Cup4Cup!

Inspired by a recipe by Shauna James Ahern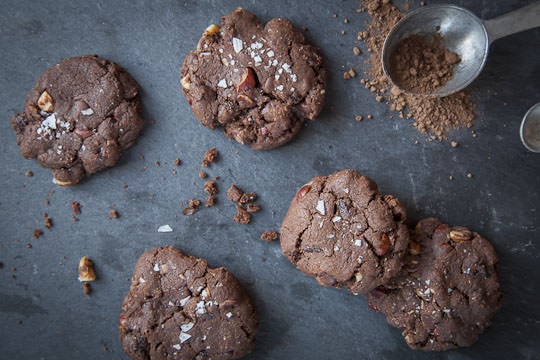 Everyday easy version
Ingredients
1 cup (5 oz or 140 g) dried strawberries (you can use dried cherries if you can't find dried strawberries)
1 teaspoon balsamic vinegar
2 teaspoon hot water (from tap is ok)
2 1/2 cups (350 g) Cup4Cup gluten free flour (or another commercially available gluten free flour mix w/1 teaspoon of binder like xanthan gum, guar gum, flax meal or milled chia seed)
1/2 cup (70 g) almond flour or meal (or the same amount of almonds, crushed to powder in a food processor or blender)
1 cup (100 g) cocoa powder
1 1/4 teaspoon baking soda
1 1/2 teaspoon baking powder
1/2 teaspoon sea salt
3/4 cup (170 g or 1 1/2 sticks) unsalted butter, at room temperature
1 cup (220 g) dark brown sugar
1 cup (200 g) white granulated sugar
1/2 cup (160 g) Nutella spread
2 large eggs
2 teaspoon vanilla
1 1/2 cups (270 g) dark chocolate chip
1 cup (140 g) hazelnuts, chopped
1 tablespoon Maldon sea salt, Cypress flake salt or some other chunky or flaky finishing sea salt
Directions
1. Preheat the oven to 350˚F. Line a baking sheet with a silpat or parchment paper. If the dried strawberries are big, chop them into chocolate chip size pieces. Place in small bowl and sprinkle the balsamic vinegar and hot water over them. Toss to coat and set aside while you make the rest of the dough. Occasionally come back to them, while you are making the dough and toss them again. By the time you are ready to add them, most of the liquid should be absorbed.
2. Place the gluten free flour mix (and binder if you need it), almond flour, cocoa powder, baking soda, baking soda and salt in a large bowl. Stir vigorously with a balloon whisk until all ingredients are evenly distributed and uniform in color. Place the butter and both sugars in the bowl of stand mixer and beat on medium speed until it looks creamy (about a minute or two, depending on how soft your butter is). Add the Nutella and beat to incorporate. Beat the eggs and vanilla extract together until they are uniform in color and you can't see any egg whites. With the mixer turned on medium, slowly drizzle the eggs into the dough until incorporated.
3. Scrape down the sides of the bowl and add 1/2 the dry ingredients, slowly "pulsing" the mixer by turning it on and off, so the dry ingredients don't fly up all over the place. Once it starts to mix in, increase the speed to medium and beat until incorporated completely. Add the rest of the dry ingredients and repeat.
4. Add the dry strawberries, chocolate chips and chopped hazelnuts and mix on slow speed to incorporate throughout the dough. Scoop out heaping tablespoons and roll into balls. Place on baking sheet and pinch a little finishing salt in your fingers and press it into each cookie dough round (slightly smushing the dough round). Bake in the oven for 10 minutes, then let cool on baking sheet for 10 minutes before moving to a wire rack to cool completely.
Makes 48 cookies.
Eat the Love "complex" version
Replace the gluten free flour mix, almond flour and cocoa powder with the following flours:
1/2 cup + 2 tablespoons (100 g) sweet rice flour
1/4 cup + 2 tablespoons (70 g) teff flour
1/4 cup + 1 tablespoon (50 g) white rice flour, superfine
1/4 cup (50 g) buckwheat flour
1/4 cup (40 g) mesquite flour
1/4 cup (35 g) cornstarch
1/2 cup (70 g) hazelnut flour or meal (or the same amount of hazelnuts crushed to a powder in a food processor or blender)
1/2 cup (50 g) cocoa powder
1/2 cup (50 g) carob powder
Then add 1 teaspoon (5 g) chia seeds, milled or ground in a spice/coffee blender to the eggs and vanilla. Beat together and add to the cookie dough just as you would the eggs in step 2. Proceed with remaining instructions as written.