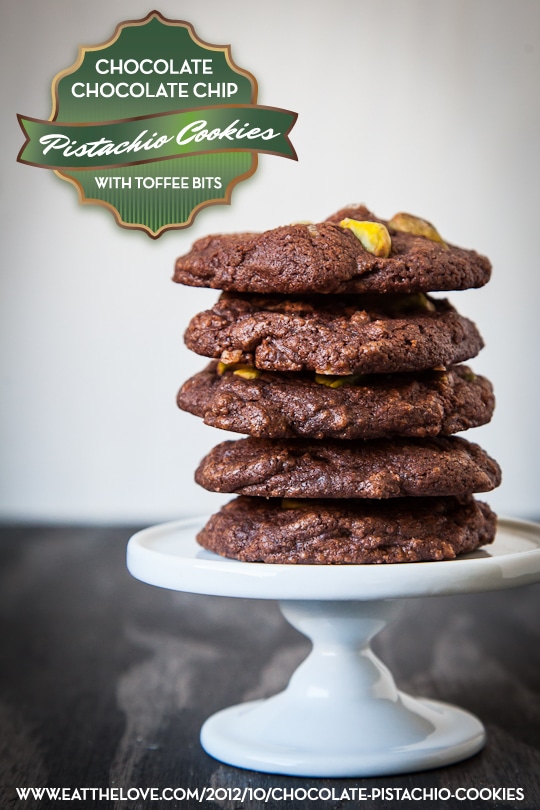 The text on my iPhone read "Brian says that he'll marry you instead now. Home wrecker! You and your chocolately wiles." I couldn't be more amused or more pleased. Not because I was wrecking a home (who do you think I am?!?), but because the Chocolate Chocolate Chip Pistachio Cookies with Toffee Bits photo I had just taken with my ancient iPhone 3G (I really need to upgrade) and had texted to Garrett, of the blog Vanilla and Garlic, would cause such a reaction. Garrett was marrying his partner Brian in a couple of days and he had asked if I could bring something sweet to share with the guests at the wedding. I immediately said yes, but then went into a slight panic state, something apparently I do whenever Garrett asks me something. Of course, there was the slight pressure of this being his wedding (very important day). I also knew that numerous food bloggers were going to be there (they can be such a judgmental bunch). I didn't want to disappoint them, or more importantly let down the happy couple. Thankfully the cookies I came up with seemed satisfactory for the event.
Garrett has invited AJ and me to their wedding a few months previously. It was going to be a low-key affair, small and intimate, with close friends and family. We were honored to be invited and share in their special day. Garrett and Brian did everything they could to make it as fantastic as possible. From having it at an estate in Northern California near Sacramento (so gorgeous!) to the hilarious and touching ceremony in which the only reading during the ceremony was a piece by Neil Gaiman about UFO invasions and zombies, to watching the beautiful couple that were so in love, commit to each other in front of everyone that loved them and cared about them. The day seemed magical and never ending and filled with love and humor. In truth, it was the exact sort of wedding I expected from the man behind the lovely blog Vanilla and Garlic.
Of course, with it being a food blogger's wedding, there was food. Loads of food. Huge piles of food. More food than could feed an army (which is appropriate, as Brian is in the military – see how I worked that into this post?). The food was amazing, perfect, brilliant, delicious, whatever other heaps of superlatives that food bloggers overuse to describe their food. But even as all those other food bloggers talk about how much their own dishes on their blogs are amazing, perfect for summer/fall/winter/spring, how this dish is deliciously yummy and that dish is mouthwateringly fantastic, the food at this wedding, the one that is made with love, served with love, at the wedding of Garrett and Brian, really was all that. There was tacos served by the awesome taco truck, salsa made by friends, tamales made by our host, a cheese course designed with love, a wedding cake made my Garrett's former Pastry Chef mentor and 65 jars of jams made by Garrett and Brian for the guests to take home. Oh yes, there was more than enough food!
Maybe the food that we ate was so magnificent because of the people we were with; this fabulous group of friends who came to see Garrett and Brian get married. The celebration of two people in love is always a joyous event but seeing Garrett and Brian look at each other throughout the day, a private moment made public, made the day even more magical.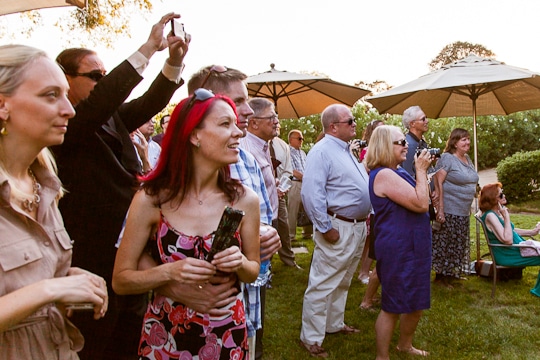 Or maybe it was because of all the wine and beer we drank. Alcohol always is a social lubricant, and as the evening progressed, we all ate ourselves silly after the ceremony, drank ourselves happy and danced until our feet ached. Oh yes, there was much dancing that occurred, and thankfully our new friend Guy, picked up AJ's camera and shot a few actions shots. AJ and I stayed as late as we could, before finally tearing ourselves away, driving back to San Francisco afterwards.
In the end, I looked back at the wedding and realize Garrett and Brian are awesome together. No cookie will ever come between them; especially now that I've given them this recipe to make it at home. Congratulations Garrett and Brian. I can't think of a more amazing, perfect for each other, delicious couple than you two.
Chocolate Chocolate Chip Pistachio Cookies with Toffee Bits
By Irvin Lin
These cookies, made for Garrett and Brian's wedding, are insanely addictive. AJ immediately ate four of them after I baked them and then proceeded to eat many more at the wedding. In fact, even though he hates to have baked goods in the house (because he'll eat them) AJ actually took a bunch home because he couldn't resist eating more of them. They didn't last long in our household. But don't take his word on how good they are. A number of guests (including a few food bloggers) came up to me out of the blue and said they loved them. You know how persnickety food bloggers can be. But the real compliment was from Garrett and Brian. Apparently they took the leftover cookies on their honeymoon and munched on them all throughout. That's probably the best compliment I could ever get. But then, I did name my blog Eat the Love for a reason…
This recipe does call for a few hard to find ingredients, including Dutch process cocoa powder and mesquite flour. If you don't have Dutch processed cocoa, just use regular natural cocoa powder and add a pinch more baking soda (about 1/8 teaspoon more) to offset the acidity of the cocoa powder. More difficult to find is the mesquite flour, which adds a nice earthy depth to the cookies. You can substitute in 1/4 cup (40 g) all purpose flour for the mesquite flour, but if you can find mesquite flour, I highly recommend it as it really does add to the cookies.
Ingredients
2 1/4 cups flour (315 g) all purpose flour
1/4 cup (40 g) mesquite flour
1/2 cup (65 g) Dutch Processed Cocoa Powder
1 teaspoon baking soda
1/2 teaspoon sea salt (plus more for sprinkling on top)
1 cup (2 sticks or 226 g) unsalted butter
1 cup (220 g) dark brown sugar
3/4 (150 g) granulated white sugar
2 large eggs
2 teaspoons vanilla extract
1 teaspoon almond extract
1 1/2 cups (9 oz or 250 g) chocolate chips or chopped dark chocolate
1 cup (150 g) toffee bits
1 cup (140 g) shelled roasted pistachios (try to get unsalted, but if you can only find salted, omit the sea salt)
Directions
1. Preheat the oven to 350˚F and line a baking sheet with parchment paper or Silpat. Place the flours, cocoa powder, baking soda and salt in a medium sized bowl. With a balloon whisk vigorously stir the dry ingredients until evenly distributed and uniform in color.
2. Place the butter and sugars in the bowl of a stand mixer fitted with a paddle attachment. Cream together on medium high speed until the butter looks fluffy, about 2 minutes. Add the eggs, one at a time, incorporating the first egg at medium speed before adding the second. Add the vanilla extract and almond extract and beat on medium until incorporated.
3. Add about 1/3 of the dry ingredients to the butter and beat on slow speed at first (increasing the speed to medium) to incorporate. Repeat two more times, incorporated 1/3 of the ingredients each time. Add the chocolate chips, toffee bits and about half of the pistachios to the batter and stir on slow speed to incorporate into cookie dough.
4. Spoon heaping tablespoons of the cookie dough on the baking sheet about 1 1/2 inches apart and then press 2 or 3 pistachios into the dough (you can skip this step and just mix ALL the pistachios into the dough, but if you press the nuts on top of the dough, it makes the cookies look pretty). Sprinkle a touch (a light pinch) of sea salt over each cookie and then bake in the oven for about 13-15 minutes, or until the cookies start to set on the edges. Don't overbake, the cookie will seem soft in the middle at first but will firm up when cool. Let cool on the baking sheet for about five or ten minutes before moving to a wire rack to cool further.
Makes about 48 cookies.