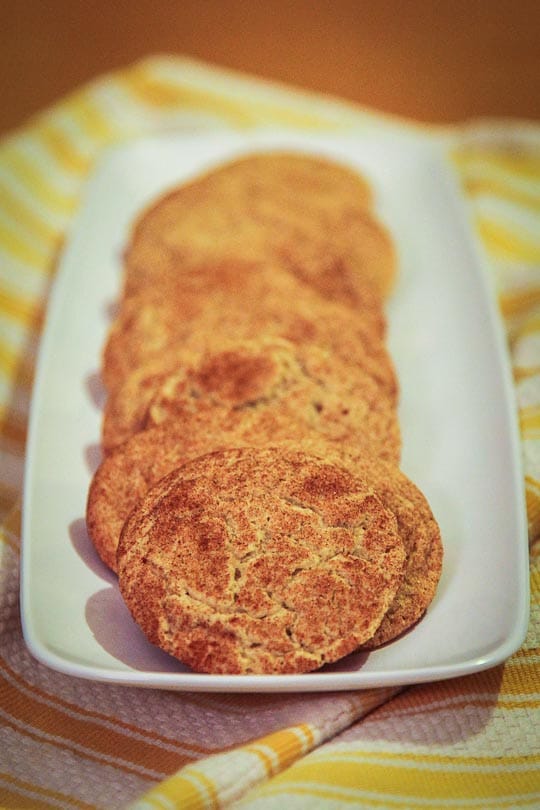 A couple of weeks ago, Shauna over at Gluten Free Girl sent out a tweet asking her followers what their first thing they ever cooked was. It morphed into a mass blog posting event (if you haven't read her post, go there now, and then scroll down to her list of other bloggers who wrote about their first food making experience) with some fantastic reading of everyone's walk down memory lane. I posted about my snickerdoodles and how I feel in love with the magic of backing in response, but I felt slightly guilty about it because I wanted to make the snickerdoodles the way they were, AND make a version of them gluten free – not only because Shauna inspired the post, but I figured there would be a few readers asking for it, bouncing over here from her site.

And, of course, there were! Kirstenlife asked me in the comments if I had made a Gluten Free version, and of course, I said I hadn't but I had planned to and that I will…and then life got in the way.
Let's talk a moment about the ridiculousness of my life right now, shall we?
When Shauna posted that question, I  immediately thought back to the snickerdoodles and how they were they were the introduction to a lifelong love affair with sugar and butter. She had tweeted on a Thursday and requested everyone to post on Monday about the subject but the problem was I was insanely busy and told her I would try, but I was taking Friday off to drive down to LA to pick up AJ after his momentous amazing inspiring bike ride from San Francisco to Los Angeles.
I always meet up with AJ each year at the end of the ride in LA, and this time, I decided (well, we decided) that we would not only go down there and spend a few days there, but also help host a party at our friend Rita and Damon's house. So I frantically baked some snickerdoodles for the post, made some chocolate chip cookie batter to bake down there (that's a post for another time), baked some dried golden fruit oatmeal cookies scented with grains of paradise (that's a post for another time), bake up some mini cream cheese crust pop tarts filled with strawberry rhubarb curd (that's a post for another time), and baked a few pies (strawberry rhubarb ginger with almond crumb topping, peach & blackberry – that's a post for another time) and generally helped throw a fabulous gathering at our friend Rita and Damon's brand new condo.
I also helped to break in their double oven (oh man, I SO want two ovens in my house) one of which is a convection oven (OH MAN, I WANT A CONVECTION OVEN!). Since moving in, they had never used the bottom oven – so I took full advantage of that, as well explained to them what a convection oven was and why it was awesome.
Though some people weren't able to come to the party (including a dear friend who apparently decided to inconveniently have a baby instead of hanging with us – the gall!), it was fantastic to see most of our Los Angeles friends, including one who had just recently moved back from the east coast and one who's weekend plans were put on hold because his daughter came down with a fever (I hope she's feeling better!).
And still, in the back of my mind I wanted to create a version of the snickerdoodles gluten free. But it would just have to wait.
And wait it did. I came back, baked a trial version of the snickerdoodles and they flopped miserable, spreading flat and flavorless. That's when it dawned on me, that I've made gluten free cakes, gluten free brownies, gluten free cookie bars and pies. BUT I've never made a gluten free cookie.
WHAT?!?
So I tried again. The second time was a little better, but the cookies tasted decent, but didn't have the trademark crinkly top, and when they cooled they crisped up. Which is fine if you like crispy cookies, but I'm not a fan.
I like my cookies – especially snickerdoodles, soft and chewy. And I hadn't achieved that yet. But I was onto something. I knew I was.
And then a few fires had to be put out at work, which meant staying late. And I needed, JUST NEEDED to finish up that monster post about the Meals on Wheels Gala, which was about a month behind. Go read it (or better yet, just scroll down and look at the pictures) and you'll see what I mean when I say MONSTER post.
Then the weekend rolled around. AJ and I spent the day at the Farmer's Market buying berries so that I could bake four pies for a pie contest that I had foolhardily entered at the last minute. I've always wanted to enter a pie baking contest. But I'm too lazy to actually drive to a county fair to enter. But this one was in the city, so no excuses.
I ended up winning first place for one of the pies. And another blue ribbon for the other pie. But that's a post for another time.
On top of that, the day of the contest, we had already promised a friend that we would babysit their adorable child. Luckily the baby was utterly adorable so it wasn't a burden.
But it's all good. It's not as if there's anything else going on in my life. Like, more fires to put out at work (hi fire, nice to meet you. Oh that major packaging project, the one for the giant national chain restaurant, the one that I saw everyone else doing research on but I wasn't invited to any of the meetings, nor did I do any research for it because I wasn't suppose to be working on it. The one that is due in a couple of weeks and was put on the backburner because there were more pressing projects? Oh now I have to help LEAD the project? And the deadline is this week for? Thanks for the heads up on that one).
And I still wanted to bake a batch of snickerdoodles gluten free. One that had the crinkly top. One that melted in your mouth with hints of sweet cinnamon and sugar. The one that makes AJ ask me with a shy grin "um. can you get me a glass of milk to go with that?"
Yep. Those.
Instead I went to a sneak peak preview of an amazing restaurant. Met some fantastic fabulous ridiculously awesome people who I want to be best friends with now.
But that's a post for another time.
And tonight. TONIGHT was the night. I was suppose to do other work. Catch up on email. Send some thank you notes out. Bake some muffins to use up the blackberries/olallieberries/tayberries that are on the edge of going bad in the fridge. Make some lemonade with the lemons that I have with the zest peeled off because I only needed the zest for the pies, not the juice.
BUT TONIGHT. I made gluten free snickerdoodles.
And when I handed AJ a plate with a single cookie on it, he took a bite, looked up at me with his doe eyes and sheepishly said "Um. Will you pour me a small glass of milk?" and then batted his eyes in that adorable way that he does.
That's when I knew. These were the gluten free snickerdoodles that I've been wanting to make all this time. Gluten free but reminiscent of the very first thing I ever made. One foot in the past, one foot in the present.
Whilst baking, I listened to a hodgepodge of music but mostly I listened to Macy Gray's newest release The Sellout
. It's a good return to form, reminiscent of her first album. One foot in the past, one foot in the present, just like these cookies.
Gluten Free Snickerdoodles
By Irvin Lin
If you're looking for a straightforward gluten free snickerdoodle recipe, this is it. Nostalgic, full of cinnamon and melt-in-your-mouth texture, this cookie has it all! You won't be able to tell the difference between these and traditional gluten full snickerdoodles. Just remember to bring the butter to room temperature if you want to the cookies to spread thinner in the oven. If you like them a bit thicker, use colder butter.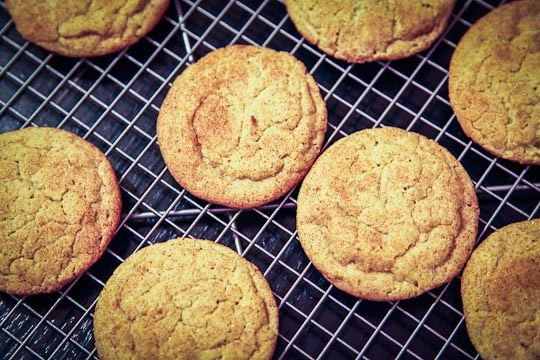 Ingredients
Cookie Dough
1/2 cup (115 g or 1 stick) unsalted butter
1/2 cup (110 g) trans-free shortening
1 1/2 cup (300 g) granulated white sugar
2 large eggs
1 large egg yolk
2 teaspoon vanilla extract
2 teaspoon cream of tartar
1 teaspoon baking soda
1/2 teaspoon kosher salt
1 teaspoon xanthan gum
1 cup (130 g) sweet sorghum flour
1 cup (155 g) superfine white rice flour
1 cup (130 g) millet flour
1/2 cup (65 g) tapioca flour (sometimes called tapioca starch)
To coat the cookies
1 tablespoon ground cinnamon
3 tablespoon granulated white sugar
Directions
1. Preheat the oven to 350˚F. Line a baking sheet or cookie sheet with silpats or parchment paper. Take the butter out of the refrigerator and cut it into 1/2" chunks. Put the chunks into a mixing bowl of a standing mixer fitted with the paddle attachment. Put the shortening in the bowl with the butter and turn on the mixer to medium, beating them together until they are well blended. Add the sugar, and continue to beat until light and fluffy.
2. Add the eggs, one at a time beating after each addition and scraping down the sides with a spatula. Add the egg yolk and beat again. Add the vanilla and beat again. Add the cream of tartar, baking soda, salt and xanthan gum into the butter mixture and beat well. Add the flours and beat to incorporate until smooth.
3. Combine the cinnamon and granulated white sugar for the coating together in a shallow bowl. Roll 1 tablespoon amounts of dough into 1" balls into the sugar/cinnamon mixture. Place on the baking sheets about 2" apart. Bake for 12 minutes of until the tops of the cookies start to crack a little. Try not to over bake them, but don't underbake them either. You want them them to crack on top, but not to look to dark brown. Let them cool on the pan for 3 minutes and then move them to a rack to cool.
Makes 48 cookies.