You won't regret making these rich, earthy chocolate cookies made with rye flour and a dash of rye whiskey for a subtle smokey kick. (Jump directly to the recipe.)
"Mom! Why do you always have to add alcohol to everything?" asked the daughter of my friend (who shall remain nameless). Said friend had just gotten ahold of a copy of Tartine Book No. 3, a cookbook focusing on baking with whole grains and the first recipe she made out of it was the Salted Chocolate Rye Cookies. My friend's daughter apparently had pegged her mom as a lush. After explaining to her daughter that she was NOT baking with booze but with rye flour, her daughter proceeded to eat several handfuls of the cookies. I, of course, immediately went home after she told me that story and developed a rye cookie recipe that DID use rye whiskey in it. Because even though I am not a lush, I like to pretend to be one, especially when it comes to baked goods.
I was lucky to have a spare bottle of gently used rye whiskey lying around the house for me to use from a photo shoot. Since I rarely drink and AJ is more of a martinin or wine person, I've been looking for an excuse to play with the whiskey in the kitchen. Thankfully the smokey rye whiskey works beautifully with chocolate and rye flour.
So when the holidays start to get a little too hectic or your crazy in-laws are driving you mad, these cookies are a pretty good solution. They look like regular chocolate cookies but the rye whiskey gives it a nice little kick. Of course you can always just make yourself a Manhattan but I'm going to say that these cookies are a little more subtle way of dealing with the holidays. Because who wouldn't love a holiday cookie with a secret dash of whiskey in it?
Salted Chocolate Double Rye Cookies
By Irvin Lin
Rye is a grain and flour that is most often associated with pumpernickel and dense dark rye bread. You can find the flour at upscale grocery stores like Whole Foods or health food stores (look in the bulk bin, if you're lucky they might have it there so you can buy a smaller amount to play with at home). It's earthy rich flavor works really well with chocolate, which is probably why Chad Robertson of Tartine initially paired it with dark chocolate to make his cookies. I loved using it in my version, with rye whiskey, which lends not only a slight boozy kick but also an allusive subtle smokiness to the rich, fudgy, soft and dense cookie.
Inspired by a recipe from Tartine Book No. 3 by Chad Robertson.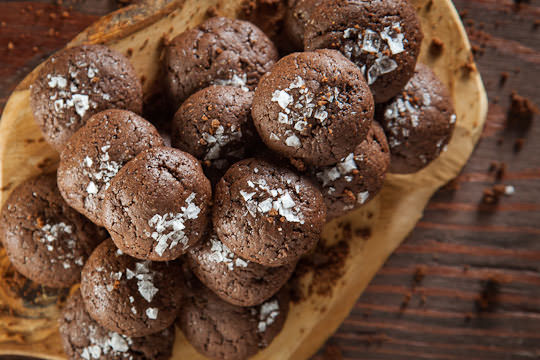 Ingredients
8 oz (225 g) dark chocolate, preferably about 60% cacao
3 tablespoons (45 g) unsalted butter
3 tablespoons rye whiskey or bourbon
2 large eggs
1/2 cup (110 g) dark brown sugar
1/2 teaspoon baking powder
1/2 teaspoon sea salt
1 cup (135 g) rye flour
1/2 teaspoon finishing salt (preferably something flaky like Maldon or Cypress Flake Salt)
Directions
1. Chop the chocolate into 1/2-inch chunks and place in a microwave safe bowl. Add the butter and microwave for 30 seconds. Stir and microwave in 30 seconds increments, stirring between each cook time until chocolate is melted and smooth. Scrape buttery chocolate into the bowl of a stand mixer fitted with a paddle attachment. Add the rye whiskey and mix on slow speed until incorporated.
2. Add the eggs, one at a time, beating to incorporate before adding the next egg. Add the dark sugar and beat to incorporate. Add the baking powder and salt and beat to incorporate. Add the rye flour and beat to incorporate. You may need to scrape down the sides of the bowl between additions of any ingredient to fully incorporate all of them. The batter will seem really soft, more like a cake batter than a cookie batter. It's suppose to be that way, don't add more flour.
3. Place the bowl with the cookie batter in it, in the fridge and let it chill for 1 hour. About 10 minutes before the batter is done chilling, preheat the oven to 350˚F and line a baking sheet with parchment paper or silpat. Scoop out 1 tablespoon of the cookie dough and roll into a ball. Sprinkle a touch of finishing salt over the cookie dough and bake in the oven for 10 minutes, or until the top of the cookies look dry and have started to crack. Let the cookies rest on the baking sheet for 5 minute before moving to a wire rack to cool completely.
Makes 32 cookies.
If you like these chocolate double rye cookies, try these other recipes that use rye from around the web.
Girl vs. Dough's Braided Rye Bread
Naturally Ella's Rye Waffles with Blackberry Sauce
Food for my Family's Rye and Blueberry Breakfast Tarts
Food Doodle's Mini Strawberry Rhubarb Galettes with Whole Grain Rye Crust
101 Cookbook's Swedish Rye Cookies