These old fashioned butterscotch cookies with triple chocolate chips and butterscotch chips are sure to please pretty much anyone with a sweet tooth! (Jump directly to the recipe.)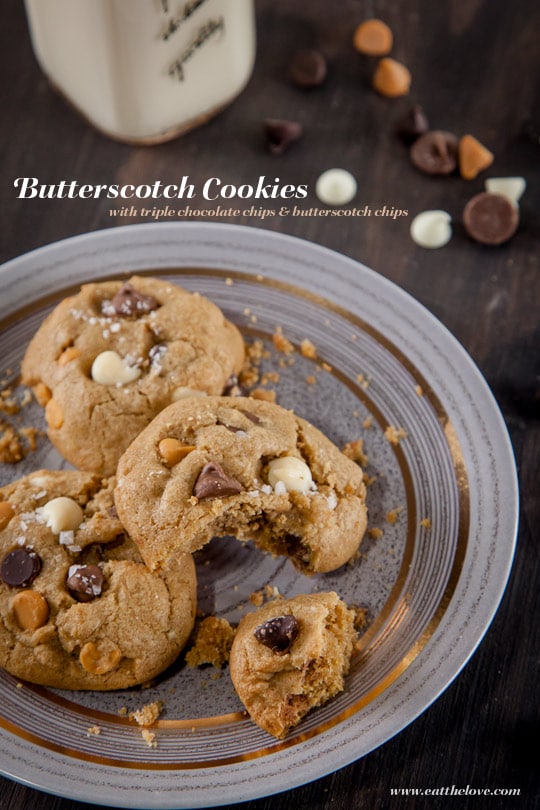 "These are the best cookies I've ever had." said my friend Megan, who (if I have to be honest) is prone to exaggeration and superlatives. But when someone tells you that, you have to think the cookie is at least pretty decent. Especially when that cookie is these old fashioned butterscotch cookies with triple chocolate chips in them.

Now, anyone that has followed this blog for a period of time knows that I absolutely love combining unusual combinations of flavors, using oddball ingredients and in general playing around in the kitchen. But these cookies, these sweet morsels of baked goodness, are not that. In fact, these cookies are probably the most straightforward crowd-pleasing cookies I've ever made.
Now don't get me wrong, I'm not turning my back on my sophisticated palate. I adore reaching for my Seville oranges, or semolina flour. I love cooking down my pumpkin with a bay leaf and I will continue to caramelize my white chocolate. But I'm not above pandering to the masses and when I say the masses I basically mean my friends like Megan and my partner AJ who also happens to be my live-in taste tester. The fact that I had to tell him to stop eating them because I hadn't taken photos of them yet seems to be a pretty good indication of how good they are.
And good is probably underselling these butterscotch cookies. Triple chocolate chips along with butterscotch chips in a butterscotch dough mean each bite gets you some sort of chocolate AND a double blast of butterscotch. The little touch of salt on top tempers the sweetness and adds a nice counterpart to the cookie. Make these tonight and trust me when I say they won't last long in the household. Especially when you have friends like AJ and Megan around.

Butterscotch Cookies with Triple Chocolate Chips
By Irvin Lin
Most butterscotch cookies are made with butterscotch chips, but I like making an old fashioned butterscotch cookie dough (a combination of browned butter and brown sugar) as well as punching up the butterscotch flavor with some butterscotch chips. Of course, the addition of white, milk and dark chocolate chips just takes these cookies over the top. Don't forget the sprinkle of a tiny bit of flaky sea salt over the cookie. I use Maldon sea salt but if you don't have fancy flaky salt, just use some fine grain sea salt (just don't use regular iodized table salt, it's way too harsh for the recipe, better to just leave it out than use it). The salt tempers the sweetness and adds a nice counterpoint to the cookie. Plus it makes the cookie looks a little fancy schmancy.
Ingredients
12 tablespoons (170 g or 1 1/2 sticks) unsalted butter at room temperature
2 cups (440 g) dark brown sugar
1 tablespoon vanilla extract
2 large eggs
1/2 teaspoon sea salt
1 1/2 teaspoon baking soda
1 1/4 teaspoon baking powder
2 cups (280 g) all-purpose flour
1 cup (150 g) white whole wheat flour (or just substitute all-purpose if you don't have any)
1/2 cup (95 g) butterscotch chocolate chips
1/2 cup (95 g) white chocolate chips
1/2 cup (95 g) milk chocolate chips
1/2 cup (95 g) dark chocolate chips
1/2 teaspoon flaky finishing salt (see headnote above)
Directions
1. Preheat the oven to 350˚F. Line a baking sheet with parchment paper or a silpat. Place the butter in a medium sized skillet and cook over medium heat until melts, stirring with a heatproof spatula. Continue to cook until the butterfat starts to brown and turn the heat off, continuing to stir until all the butterfat has browned. Pour the butter (and the brown bits, using a spatula to scrape them all out) into the bowl of stand mixer fitted with a paddle attachment.
2. Add the brown sugar to the browned butter and beat on medium speed for 1-2 minutes or until the bottom of the bowl feels warm but no longer hot. Add the vanilla extract and beat for another 15 seconds to incorporate. Add the eggs, one at time, beating between additions to incorporate before adding the next one. Add the salt, baking soda and baking powder and beat to incorporate.
3. Add both flours and beat to incorporate, first on slow speed and then turning the speed up to medium as the flour is worked in. Add all the chips at once, and stir at slow speed until the chips are evenly distributed. Scoop out heaping tablespoons of the dough and roll into 1-inch balls. Sprinkle the top of each dough with a touch of the flaky finishing salt. Bake in the oven for 12-14 minutes or until the sides of the cookie start to turn deeper brown than the center of the cookie. Let rest on the baking sheet for 5 minutes before moving the cookie to a wire rack to cool completely.
Makes 42 cookies.
If you like butterscotch, check out my other butterscotch recipes:
Gluten Free Triple Layer Ombre Cake with Dark Chocolate, Butterscotch and Vanilla Bean Layers
Pear and Dried Cherries Butterscotch Muffins
Gluten Free Double Butterscotch Apple Pie
And check out these awesome butterscotch desserts from around the web:
Simply Recipes' Butterscotch Cookies
Sweet Treats' Oatmeal Butterscotch Bars with Brown Sugar Glaze
Overtime Cook's Streusel Swirled Butterscotch Bundt Cake
I Am Baker's Butterscotch Peanut Butter Cake
Shugary Sweet's Butterscotch Kit Kat Brownies