This zippy spicy apple and berry cobbler is an updated twist on a classic comfort dessert. (Jump directly to the recipe.)
I'm partnering with Safeway to create recipes using Safeway O Organics ingredients. Even though I was compensated for this post and all travel, hotel and meals were provided by Safeway, the opinions stated above are my own. During the "Organic for All™" event in Chicago I was able to play with a wide selection of O Organics product. Please check your local Albertsons family store to see what's available in your area. I get all my O Organics products at Safeway but if you are outside the SF Bay Area you can get O Organics products at Albertson Companies, including Albertsons, ACME Markets, Vons, Jewel-Osco, Shaw's, Tom Thumb, Randalls, Pavilions and Star Market.
"Whoa. Is this recipe on your blog?" asked my new friend Kellie of The Suburban Soapbox. We were in Chicago for a short whirlwind 24 hours for the #OrganicForAll event hosted by Safeway. The day was flying by fast, with an overnight oats breakfast that had all the bloggers climbing on chairs to photograph the food. A cooking demo by Annessa Chumley, RD, showed us easy and fast ways to use O Organics® ingredients and then we all found ourselves in the commercial kitchen at Kendall College for a chance to play with the Safeway O Organics ingredients. It was like cutthroat kitchen with folks grabbing ingredients and trying to work within the deadline! I saw people reaching for pasta like their life depended on it and don't get me started on the fight over the black pepper! I decided to bake something as most folks seemed to be doing savory dishes. The end result, a spicy apple and berry cobbler with fresh mint was definitely something I wanted to replicate at home.
The previous night we had dinner prepared for us at a local restaurant using the O Organics ingredients. I filled my plate with creamy tomato sauce over pasta, burger sliders and kale salad. With the inspiration of our berry cobbler dessert in the back of my mind, I needed to work fast, as I only had 1 hour to accomplish a respectable cobbler.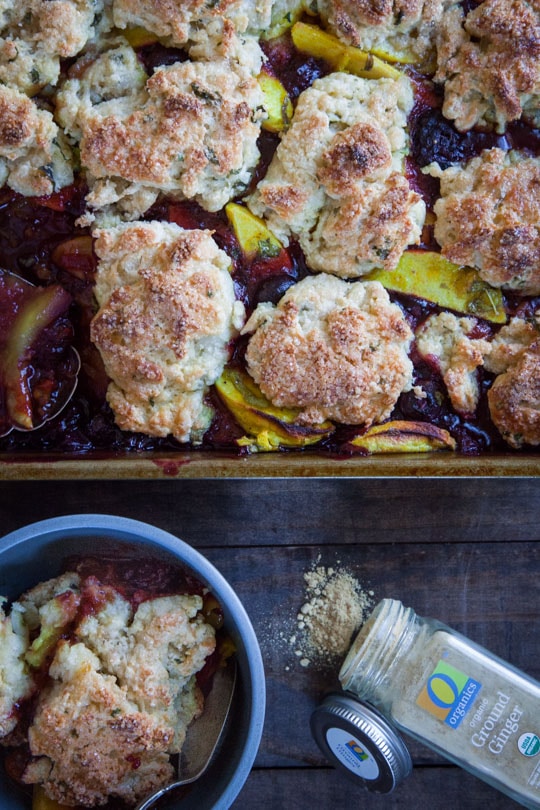 The issue with working under pressure like this was that I didn't have a chance to take notes for the recipe or even snap a photo of the food being made in the kitchen. Which is too bad because there were some really awesome cooking and baking happening. Throw 30 food bloggers in a commercial kitchen with a plethora of ingredients and magic happens! All the bloggers were having a blast using the ingredients and coming up with some great dishes. Just bounce over to Instagram or Twitter and follow the hashtag #OrganicforAll to see some of the creations like berry muffins, strawberry salsa, blackberry pizza or a giant skillet cookie.
In the end the cobbler took a little longer to bake (I got the prep done within 45 minutes but it needed a little longer to bake in the oven). Thankfully lunch happened right after our kitchen extravaganza so it wasn't a big deal if my cobbler took a little longer to finish up. Every time I went to check on the cobbler, the chef instructor would tell me it that it just smelled amazing. When I finally pulled it out of the oven and brought it up to the lunch room, my tablemates loved how it looked and a few bloggers sampled it. Kellie rushed over to taste it and then raved about how much she loved it. She really wanted the recipe so I told her I'd try to post about it. I hope you all like it as much as she did.
Spicy Apple and Berry Cobbler with Fresh Mint
By Irvin Lin
The combination of ginger, turmeric, black pepper and fresh mint really gives a wintery spicy kick to this cobbler filling that is packed full of flavor. It's an unusual combination that sounds odd but it really works well with the apple and the berries. Fruit is inconsistent in its water content. Sometimes berries and apples are big and juicy and sometimes they are less so. The nice thing about cobblers is you don't have to worry about the filling being thick or thin (unlike a pie which needs to be sliced). Feel free to use frozen berries in place of fresh ones, just be forewarned they tend to be a little watery so your cobbler filling will be a little more loose.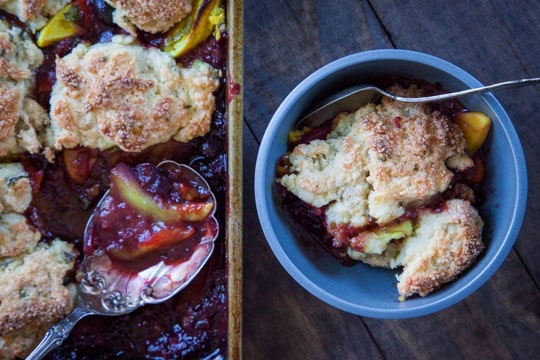 Ingredients
Fruit filling
4 Granny Smith apples
3 Jonagold or Gala apples
1 pint blueberries
1 pint blackberries
1 lime
1 1/2 teaspoon ground ginger
1/2 teaspoon ground turmeric
1/2 teaspoon fresh black pepper
1/2 teaspoon kosher salt
1 tablespoon chopped fresh mint
3/4 cup (150 g) O Organics white granulated sugar
1/4 cup (35 g) O Organics all-purpose flour
Cobbler Biscuit
2 1/2 cups (350 g) O Organics all-purpose flour
2 teaspoon baking powder
1/2 teaspoon kosher salt
1/2 cup (115 g or 1 stick) O Organics unsalted butter, cold
2 tablespoons chopped fresh mint
1 1/2 cups Greek-style yogurt
To finish
1 large egg yolk
1 1/2 tablespoons O Organic turbinado sugar
Directions
1. Preheat the oven to 375ºF. Lightly grease a 9 x 13 inch pan with cooking spray.
2. Peel, core and slice 3 of the Granny Smith apples into 8 slices per apple. Peel, core and slice the 4th Granny Smith apple and then grate it, using the large hole of a box grater. Place in a large mixing bowl.
3. Peel, core and slice the Jonagold or Gala apples into 8 slices per apple and add to the mixing bowl. Add the berries.
4. Zest the lime over the apples then add the lime juice to the bowl as well. Add the ginger, turmeric, black pepper, salt and mint to the bowl. Add the sugar and flour. Gently toss together with a large spatula to coat the fruit. Pour in the baking dish.
5. Place the pan in the oven and bake for 15 minute. Meanwhile make the cobbler biscuit by place the flour, baking powder and salt in a clean medium sized bowl. Cut the butter into 1/2-inch chunks and sprinkle over the dry ingredients. Using your fingers, toss the butter in the dry ingredients then smash it flat, until you have slivers of butter about the size of peas. Add the mint and yogurt to the bowl and toss together with a fork until a dough starts to form. Massage with your hands to get the dough to form.
6. Pull the pan out of the oven and drop the biscuit dough over the filling. Beat the egg yolk with 1 tablespoon of water and brush over the biscuit dough. Sprinkle the turbinado sugar over the cobbler biscuits then return the cobbler to the oven. Bake for an additional 30 to 40 minutes or until the top of the cobbler is golden brown and the filling is bubbling. Serve warm or with a scoop of vanilla ice cream.
Make 8-12 servings.