This easy to make apple and fig cobbler is a special treat for the holidays with a dash of brandy in the filling and the addition of eggnog drop biscuits! (Jump directly to the recipe.)
I don't want to be a Grinch or anything but Christmas is around the corner and I am NOT ready for it. We don't have a tree. I haven't baked a single cookie. And I'm pretty sure that everyone I know is going to be getting one of my ugly homemade ceramic bowls or mug that I've been cranking out in the ceramic studio for Christmas. Shopping done! Let's move on to the New Year!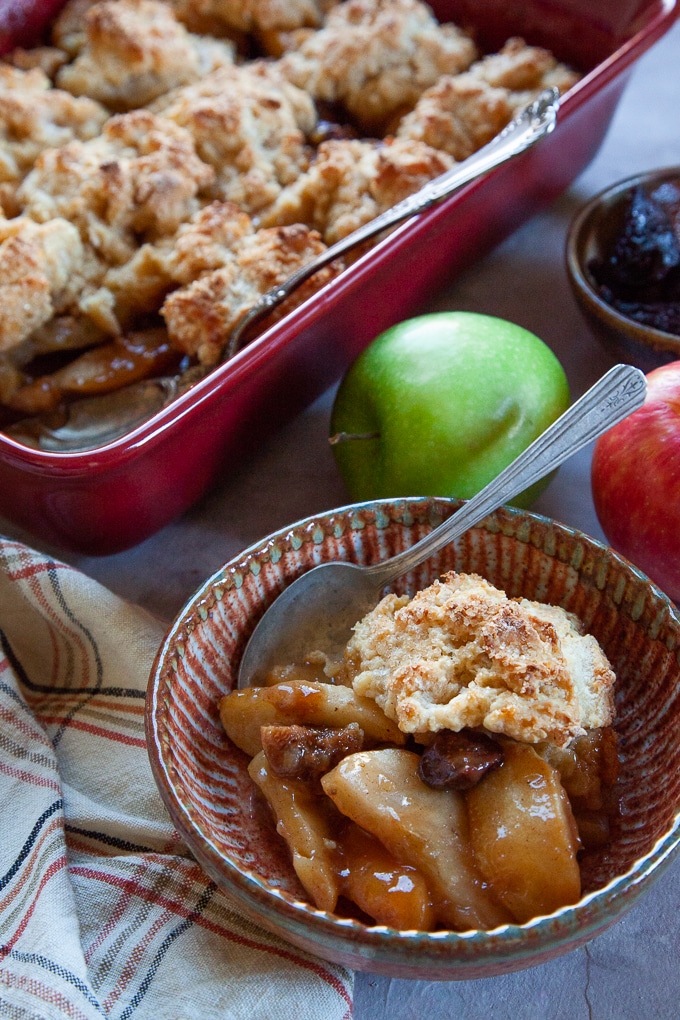 I jest. Ever since I made those gingerbread cupcake with the cranberry sauce filling, I've been feeling the pull of Christmas. I have a ton of work to do since the community college ceramic studio I've been working at is wrapping up their semester. And, of course, I have some crazy deadline and work projects due soon. And let's not get into my upcoming travel plans for the holidays that are happening WAY. TOO. FAST.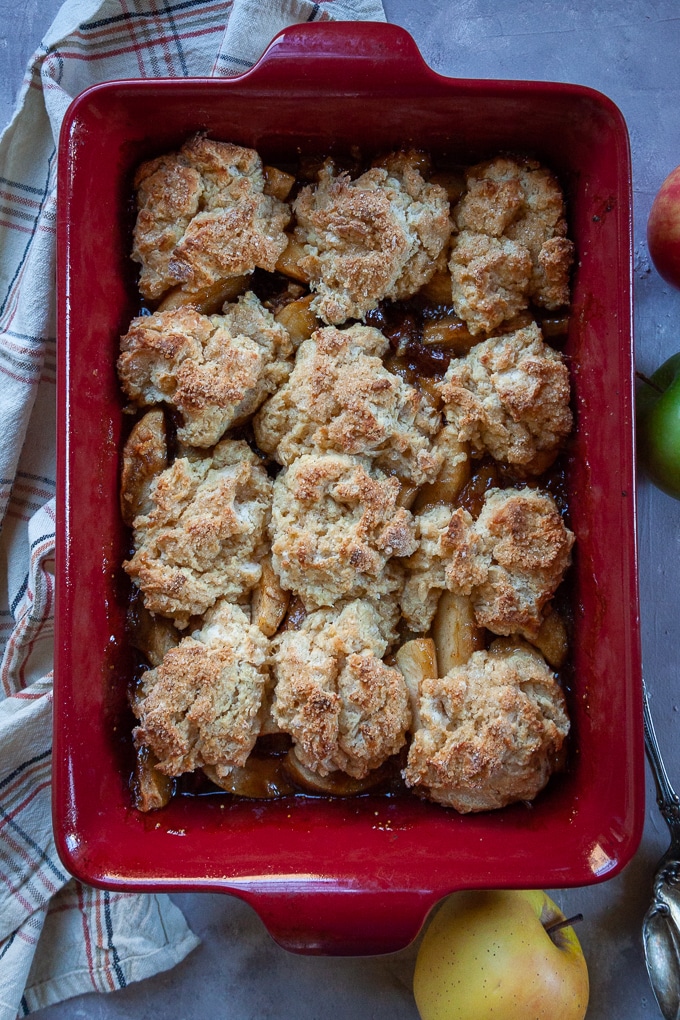 But even with all the insanity that comes with the holiday season, I was able to take a little bit of time out to whip up this apple and fig eggnog cobbler. It's pure Christmas comfort food, with warm cinnamon and nutmeg spices as well as a dash of brandy in the filling. It's also a great way to use up any eggnog that might be lingering in the back of your fridge, or a good excuse to maybe buy the larger carton of eggnog at the store. And though I'm sure Santa appreciates a plate of cookies, perhaps a warm serving of this cobbler will inspire him to leave something extra nice under the Christmas tree.
Apple and Fig Cobbler with Eggnog Biscuits
This apple and fig cobbler has eggnog biscuits on top as well as a dose of brandy in the filling. If you are avoiding alcohol, feel free to substitute the brandy for orange juice or omit the liquid completely and reduce the tapioca starch/cornstarch to 3 tablespoons. Any store-bought eggnog will work for the cobbler biscuits, but if you don't have eggnog, you can either make your own or substitute the same amount of buttermilk or regular half and half in its place.
Ingredients
Filling
4

pounds

apples

mixed varieties

1/2

cup

dried figs

chopped coarsely

3/4

cup

dark brown sugar

165 g

4

tablespoons

tapioca starch or cornstarch

1/4

cup

brandy or dark rum

see headnote above

1

teaspoon

ground cinnamon

3/4

teaspoon

ground nutmeg

1/2

teaspoon

kosher salt
Cobbler biscuits
2 1/4

cups

all-purpose flour

1/4

cup

white sugar

50 g

2

tablespoons

baking powder

1/2

teaspoon

ground nutmeg

1/2

teaspoon

kosher salt

6

tablespoons

cold unsalted butter

3/4

cup

eggnog

store bought
To assemble
2

tablespoons

turbinado sugar

or white sugar
Instructions
Preheat the oven to 375°F.

Peel the apples and set aside 1 apple. Core and slice remaining apple into 8 pieces and place in a large bowl. Core the remaining apple, then grate apple into bowl using the large hole of a box grater.

Add the remaining filling ingredients to the bowl and mix with a large spatula to combine.

Lightly spray a 9 x 12 baking pan with cooking oil. Pour filling into prepared baking pan and spread evenly in the pan. Bake uncovered in the oven for 30 minutes.

While the filling is baking, make the biscuits by combining the flour, sugar, baking powder, nutmeg, and salt in a large clean bowl. Stir vigorously with a balloon whisk until combined and uniform in color. Cut the butter into 1/2-inch chunks and sprinkle over the dry ingredients. Using your fingers, smash the butter into small flat pieces, about the size of peas.

Drizzle the eggnog over the biscuit ingredients and toss with a fork until a dough forms. Place in the refrigerator until the filling has finished baking for its 30 minutes.

Once the filling bake time is up, remove the pan from the oven. Stir the hot filling with a spatula. Using spoons, drop balls of dough over the hot filling to make a cobbled top. Leave a little bit a of space around each ball of dough as the biscuits will expand as they bake. Sprinkle the top of the biscuits with the turbinado sugar or white sugar.

Move the pan back into the oven and bake for an additional 30 to 40 minutes or until the filling is bubbling in the center of the pan and the biscuits are golden brown.
Nutrition