These fun to make (and eat) Pumpkin Butter "Pop-Tarts" are the perfect Autumnal treat for breakfast or just a snack! (Jump directly to the recipe.)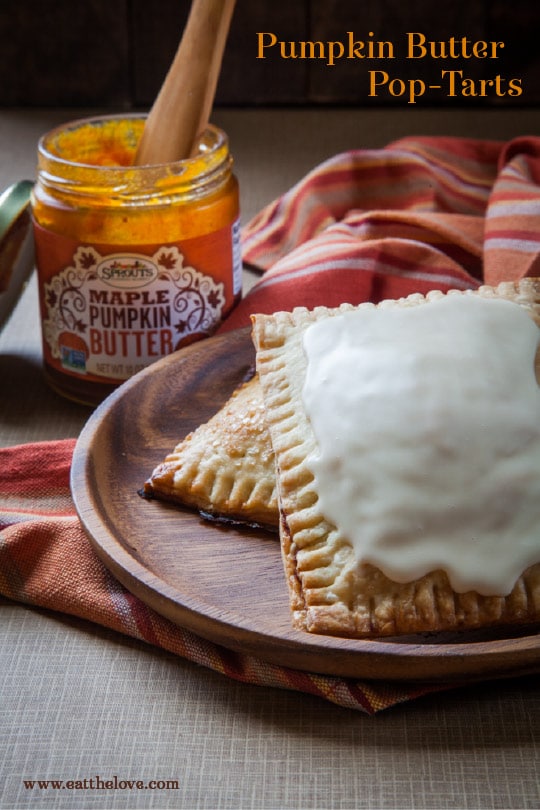 I'm partnering with Sprouts Farmers Market to create recipes like these Maple Pumpkin Butter Pop-Tarts using Sprouts products. I was compensated for this post but all opinions above are my own.
I'm not ready for Fall. Mostly because it has been unreasonably cold here in San Francisco all Summer long and I want that sort of over-the-top oppressive heat that feels like a blanket you can't crawl out from under. It sounds strange, but I never had the change to experience it this summer, not once, not even in our road trip (which, I guess, makes sense as we eventually drove up to Canada and then took a cruise to Alaska, the exact opposite direction of where a hot muggy summer day would be).
But still. Even though Summer is clearly over, with my partner AJ and I home from our road trip and settled back in and returning to our every day routine, I'm still in slight denial. But I can't put off the Fall anymore, especially when I see the explosion of pumpkin and pumpkin spice everything, everywhere. So with that in mind, I headed into the kitchen and decided to embrace it. The result, Maple Pumpkin Butter Pop-Tarts, pretty much is the first of many Fall baked goods I see myself whipping up.
The thing about pop-tarts is that I kind of hated them growing up. I know others loved them so much but I found them really bland and overly sweet. A one-dimensional treats that certainly appealed to my sense of childhood nostalgia. But once I took a bite of them, it would be definitely disappoint. These homemade version are a whole different experience though! The flaky crust, a vanilla icing and a non-traditional filling bursting with autumnal flavor does not disappoint. These are the pop-tarts that I always wanted when I was a kid. And with a single bite, I accepted that Fall was here. And somehow, I'm OK with that. Especially if it involves more Fall baking and more pumpkin butter pop-tarts.
Pumpkin Butter Pop-Tarts
By Irvin Lin
These autumnal pastry treats are filled with Sprouts Brand maple pumpkin butter making them pretty easy to whip up! The pastry dough does need an hour in the fridge to chill before baking, so be sure to plan accordingly. If you plan on storing these in the fridge for future eating (they keep for 2 to 3 days in an airtight container) use a toaster oven to warm them and be aware the heat may melt the icing so place a baking sheet underneath. Because of that, an actual toaster is not recommended for warming. All that said, if you're feeling lazy, just skip the icing part and brush the pastries with the leftover egg wash, then sprinkle with them sugar before baking. Even easier!
Ingredients
Pastry dough
2 1/2 cups (350 g) all-purpose flour
1 tablespoon white granulated sugar
1/2 teaspoon kosher salt
1/2 cup (115 g or 1 stick) cold unsalted butter
1/2 cup (100 g) vegetable shortening
6 to 8 tablespoon ice cold water
To assemble
6 tablespoons Sprouts Brand Maple Pumpkin Butter
1 large egg yolk
Frosting
1 1/2 cups (170 g) powdered sugar, sifted
1 tsp vanilla extract
1 1/2 to 3 tablespoon whole milk
Directions
1. Place the flour, sugar and salt in a large mixing bowl. Vigorously stir the dry ingredients together. Cut the butter and shortening into 1/2-inch cubes. Use your fingers to smash the butter and shortening into small flat flakes. Continue to smash and blend the fat into the dry ingredients until the ingredients have the texture of coarse cornmeal with some pea-sized chunks.
2. Drizzle 6 tablespoons of cold water into the dry ingredient while you toss it with a fork. Then massage the mixture with your hands until a dough forms. If the dough seems too dry or the ingredients aren't gathering together, add the additional water, 1 tablespoon at a time, until a dough forms. Scrape the dough onto a piece of plastic wrap. Flatten into a 1-inch thick disk. Wrap well with plastic wrap and refrigerate for 1 hour or overnight.
3. Line two baking sheets with parchment paper or silicon baking mats. Divide the dough in half and roll half the dough on a floured surface until it forms a rough 12 x 11 inch rectangle. Trim the edges of the dough with a sharp knife or pizza cutter so it forms a 10 1/2 x 10 inch rectangle.
4. Cut the dough into 6 equal rectangles, 5 x 3 1/2 inches. Place 1 tablespoon of pumpkin butter in the middle of 3 of the rectangles then spread the pumpkin butter over the rectangle, making sure leave a 1/2-inch edge untouched around the rectangle.
5. Beat the egg yolk with 1 tablespoon of cold water. Brush the egg wash over the edges of all the rectangles. Place one of the naked dough rectangles over a rectangle with the pumpkin butter. Use a fork to crimp and seal the pastry around the edges then move to a baking sheet. Repeat with the remaining dough and pumpkin butter.
6.Use a fork and prick the top of the pastry to create air holes. Place the baking pans in the refrigerator for 15 minutes to chill. While the pastries are chilling, preheat the oven to 375ºF.
7.If you aren't using the frosting, brush the top of the pastry shell with the leftover egg wash and sprinkle with sugar. If you are using the frosting, skip this step. Bake the pastries in the oven for 23-27 minutes or until the top of the pastries are golden brown and start to puff up. Let cool completely on baking sheets.
8. Once the pop-tarts have cooled, make the frosting by stirring the powdered sugar with the vanilla and 1 1/2 tablespoons of milk. You want the frosting to be the viscosity and consistency of Elmer's glue. If you need to thin the frosting, add additional milk by the 1/2 teaspoon. Err on the thick side if you can though. Using a pastry brush, frost the cooled pastries on top. Let sit for an hour to set before serving.
Makes 6 pop-tarts.