These Irish meatballs, made with a mix of lamb and pork, use Irish country ketchup and Irish whiskey for an easy and tasty appetizer, great for parties!
Jump to recipe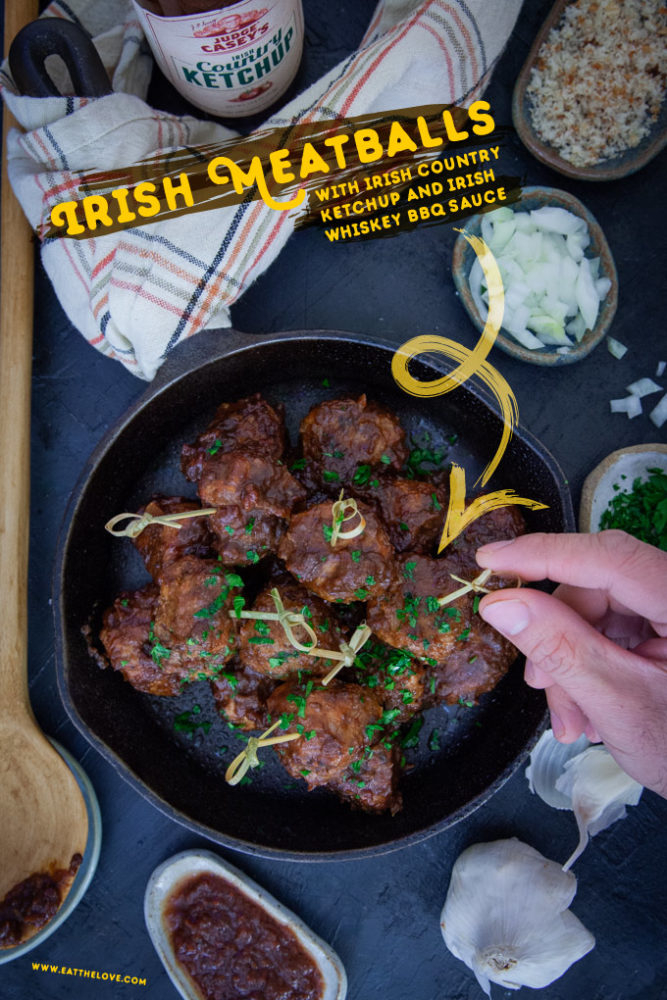 This post was sponsored by Judge Casey Irish Ketchup. I was compensated for this post and for developing the recipe. However, all opinions below are completely my own.
My partner AJ and I are obsessed with meatballs. From spaghetti and meatballs to Mediterranean meatballs to Swedish meatballs, we love them all! So when the folks at Judge Casey approached me with their Irish country ketchup, I immediately came up with the idea of Irish meatballs using their country ketchup. Their tangy tomato-based sauce has just right acidity and sweetness to use as a base sauce for perfect meaty lamb and pork balls. Add a healthy splash of Irish whiskey and you got Irish lamb meatballs simmering in a whiskey BBQ sauce!
How do you make Irish meatballs?
Making Irish meatballs is easy. Preheat an oven to 425°F. Place some bread crumbs and a splash of milk in a large bowl. Then cook some finely chopped onions and garlic in a large sauté pan or skillet. Once soft, add them to the bowl with moist bread crumbs along with some ground lamb and ground pork. Beat an egg with some salt and pepper and add to the mix along with chopped parsley. Then form the meatballs!
In the same pan that you sauteed the onions (you don't even need to clean it out), you quickly brown the meatballs so they get some dark brown color on the outside. No need to cook them completely, the browning is to add flavor! Then place them on a rimmed baking sheet and bake in the oven for 15 minutes.
While the meatballs are cooking through, you combine the Irish country ketchup, Irish whiskey, some brown sugar, a touch of molasses and a little bit of water. Simmer until the flavors combined and the sauce has thickened a bit. Then add the cooked meatballs to the sauce, and simmer some more, so the meatballs can absorb some of the sauce flavor. Done!
What's the best way to form the meatballs?
A lot of folks recommend using a small ice cream scoop but I just use my hands! I do suggest placing a small bowl of water next to the bowl of meatball mixture, and the pan where you are placing the formed meatballs. Whenever the meatballs start to stick to your hands, just dip your hands in the water. The water will act as a lubricant between you and the mixture, and the meatballs will form easily without sticking to your fingers or palm.
Can I substitute the lamb for beef?
Yes! If you have visited my site before, you'll notice I have a particular love of lamb, like my spiced lamb and beef kebabs recipe, my shepherd's pie with ground lamb and my recent Moroccan lamb tagine with prunes. But I get that some folks just don't care for lamb.
You can easily substitute 1 pound of ground beef, ground buffalo or ground veal for the lamb. I recommend an 80% lean / 20% fat mix or 85% lean / 15% fat combo for the ground meat. Anything more lean than that and the meatballs start to get dry and tough.
What is Judge Casey's Irish country ketchup?
Irish country ketchup is a condiment, much like regular ketchup, but more robust in flavor! It's a little more chunky and has an acidic tangy complexity that is similar to barbecue sauce (but not as sweet). Some of the ingredients listed on the label that you won't find in regular ketchup include raisin paste, sun-dried tomatoes and ground mustard seeds.
What if I can't find Judge Casey's Irish Country Ketchup at my store?
Judge Casey's Irish Country Ketchup is pretty easy to find here in San Francisco and some stores around California. It's slowly becoming more available across the US. But if you can't find it at the store, you can order it online. Or ask your grocery store manager to start carrying it!
But if you want to make this recipe with the ingredients you have on hand, you can substitute the same amount of Irish country ketchup with regular plain ketchup and increase the brown sugar to 3 tablespoons. You should also add about 2 to 3 tablespoons of apple cider vinegar to increase the acidity, as well as some extra spices of your choice to taste. Any spice you might use in BBQ sauce will work.
Here are a few spices you might want to add: (I don't recommend more than 2 to 3 teaspoons total of all spices combined)
garlic powder, 1 to 2 teaspoons
onion powder, 1 to 2 teaspoons
smoked paprika, 1 to 2 teaspoons
ground mustard, 1/2 to 1 teaspoons
cumin, 1/2 to 1 teaspoons
coriander, 1/2 to 2 teaspoons
Keep in mind that making substitutions above will result in a different flavor than the original recipe! What I love about Judge Casey's Irish Country Ketchup is the flavor and acidity is packed into the bottle already, making this an easy recipe.
What else can I use Irish country ketchup for?
Irish country ketchup can be used as a side condiment for nearly everything you might use regular ketchup for! Serve them with my crispy oven-roasted potatoes, with scrambled eggs or on top of cheeseburger or sandwich. You can also try dipping my fried mac and cheese bites, my panisse (chickpea fries) or potato croquettes in them! The sky's the limit with this sauce.
Can I substitute the Irish whiskey for bourbon or something non-alcoholic?
Sure you can! Substitute Irish whiskey for bourbon or American whisky. Just use the same amount of bourbon or whisky in its place.
Most of the alcohol does burn off when you simmer the barbecue sauce. But if you are adverse to cooking with alcohol or want to make this recipe more kid-friendly, you can substitute apple juice or apple cider for the Irish whiskey.
If you like this easy appetizer recipe, check out some of my other appetizer recipes that are great for large parties and gatherings:
Irish Meatballs with Whisky BBQ Sauce
This easy Irish lamb meatball recipe uses Irish country ketchup and Irish Whiskey in the sauce. The entire dish can be made in less than an hour! Perfect for parties and gatherings. You can find Irish country ketchup at specialty stores and online. However, if you can't find Irish country ketchup, you can substitute regular ketchup, along with some spices. See the section above on making substitutions.
Ingredients
Meatball mixture
1/2

cup

bread crumbs

1/4

cup

milk

any percentage

2

tablespoons

olive oil

1

cup

finely chopped yellow onion

about 1/2 large onion

4

cloves

minced garlic

1

pound

ground lamb

1

pound

ground pork

1

large egg

1

teaspoon

kosher salt

1/2

teaspoon

ground pepper

1

tablespoon

chopped parsley leaves
Instructions
Preheat an oven to 425°F.

Place the bread crumb in a large bowl and then drizzle the milk over it. Pour the olive oil in a large skillet or saute pan and then add the onions and garlic. Cook over medium high heat, until the onions soften. About 4 to 5 minutes. Pour the onions and garlic into the bowl with the moist bread crumbs and set the pan aside (don't clean it).

Crack the egg into a separate smaller bowl and beat in the salt and pepper. Don't skip this step! The salt actually helps break down the egg, so it's more fluid and liquidy. This, in turn, means the egg will incorporate easier into the mixture.

Add the lamb and pork to the bowl. Add the beaten egg and the parsley to the bowl, then start working the mixture together with a wooden spoon or your hands (I prefer my hands as I can make sure the mixture is more thoroughly mixed). Massage the mixture together, but not too roughly. You want it thoroughly mixed but not overly mixed, as that will lead to tough meatballs.

Once the mixture is homogenous, clean your hands. Get a large rimmed baking sheet and set a medium sized bowl next to it and the bowl of meatball mixture. Dip your hands into the water to moisten it, then start forming the meatballs. You want your meatballs about 1 1/2 inches wide, about the size of golf balls. Don't pack the meatballs tightly into a ball. Just loosely shape them. Place each formed meatball on the baking sheet. Dip your hands into the water periodically if the mixture starts sticking to your hands too much.

Once all the meatballs are formed, place the pan you cooked the onions in back on the stove and turn the heat to high. Place some of the meatballs in the skillet, making sure not to crowd them too much. Cook on high heat, turning as they brown, until the meatballs have browned all the way around. Don't worry if they aren't cooked completely through. Just brown the sides.

Repeat with the remaining meatballs, cooking is batches as necessary. Move all browned meatballs back onto the rimmed baking sheet. Again, don't clean the pan. And don't worry that it had raw meat on it initially. You are going to be baking the meatballs in the pan.

Once the meatballs are all browned, placed the pan of browned meatballs in the oven and let it bake for 12-15 minutes, or until the internal temperature of the meatball is 165°F.

While the meatballs are baking, make the sauce in the same pan that you browned the meatballs. Empty the bottle of Irish country ketchup into the pan and then add the water to the bottle and swish it around. Then pour it into the pan as well. Stir in the remaining ingredients and bring the entire sauce to a boil. Reduce the heat, and simmer the sauce, stirring occasionally, until the meatballs are done baking.

Once the meatballs are done, place the into the pan with the sauce, and stir to coat. Continue to cook the sauce with the meatballs in it for an additional 5 to 10 minutes, stirring occasionally to make sure the meatballs are coated completely. If the sauce thickens too much, add a tablespoon of water or two to the pan. Serve warm.
Notes
You can easily double this recipe for a large party or crowd.
This post was sponsored by Judge Casey Irish Ketchup. I was sponsored for this post and for developing the recipe. However, all opinions below are completely my own.
Nutrition