These Mediterranean meatballs are a lamb meatball made with Tunisian spices. They are easy enough to make for a quick tasty weeknight meal! (Jump directly to the recipe.)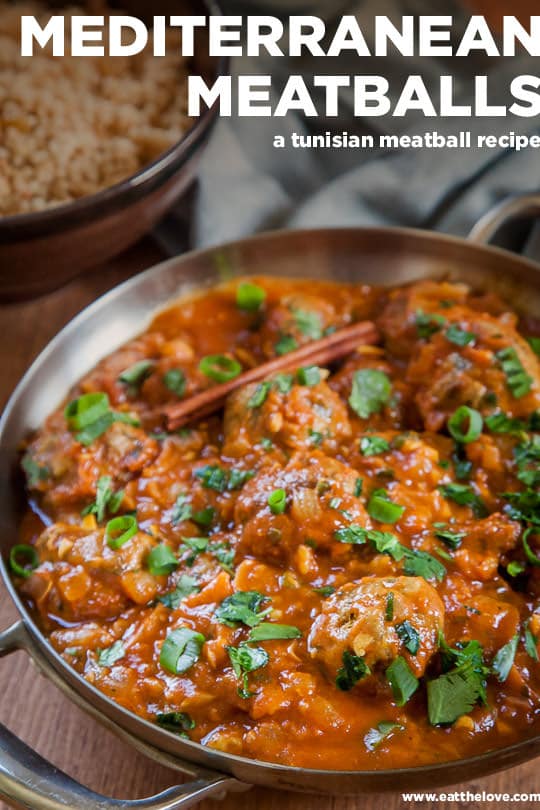 "What do you think about me making Mediterranean meatballs for dinner?" I asked my partner AJ. He looked at me as if I had just grown a second head and with wide eyes replied back "I'd think that would be awesome." His expression clearly showing that I didn't even need to ask that question. Meatballs are pretty much good anytime here in this household and AJ apparently was incredulous that I couldn't remember that. I had discovered this lamb meatball recipe using Tunisian spices from the cookbook One Good Dish by David Tanis and it's quickly become a staple in our household.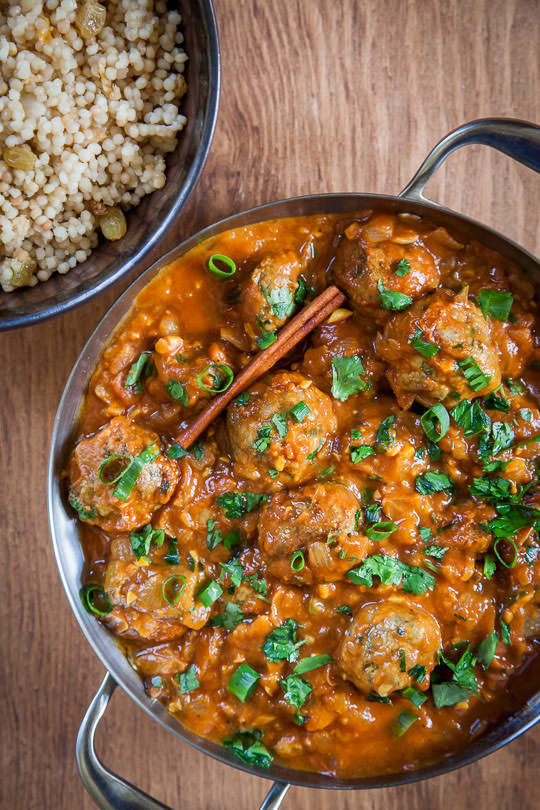 I've been cooking a lot more at home. Partly because I desperately needed a break from all the sugar, butter and flour that I've been going through developing recipes for my cookbook. Partly because I realize that my towering stack of cookbooks that are accumulating on top of my desk are just gathering dust (as well as dangerously teetering on collapse onto my computer). It was time for me to start actually using them and not just collect them. I've been a fan of David Tanis since picking up his book The Heart of an Artichoke a few years ago and his latest small unassuming book is a collection of one dish meals that are easy to make and packed full of flavor.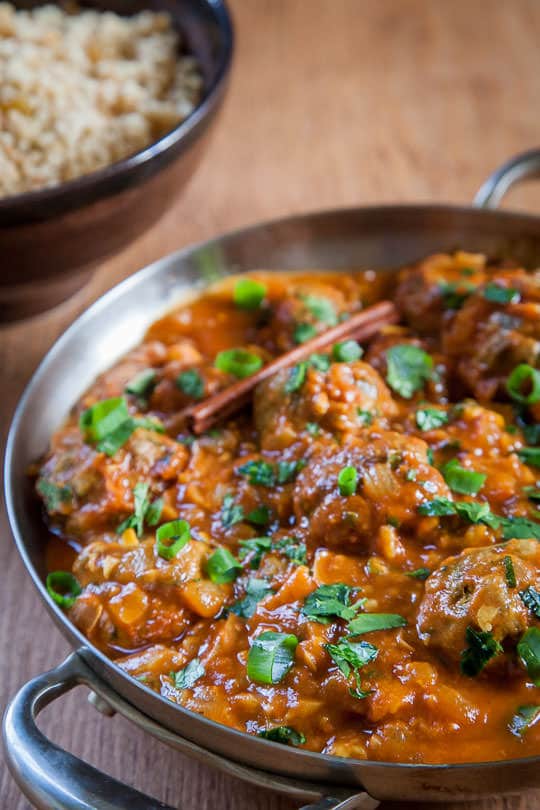 His Tunisian meatball recipe made with ground lamb is pretty straightforward, despite the dauntingly long ingredient list. Luckily most of the ingredients can be found in a well-stocked pantry (such as mine, where my obsession with cookbooks is only rivaled by my obsession with herbs and spices). The few spices you don't have can be found fairly easily at most grocery stores. The result, a punchy Mediterranean meatball meal served over Israel cous cous with golden raisins is a meal that you can make in about an hour. No wonder AJ thought my questions as ridiculous. Of course he wanted them for dinner. Why wouldn't he?

Mediterranean Meatballs, a lamb meatball recipe with Tunisian spices
By Irvin Lin
Don't be scared off by the long ingredient list in this recipe. Most of the spices are fairly common and can be found in a well-stocked kitchen pantry. The few ingredients you might not have are pretty easy to get at a grocery store. Best of all, this recipe can be made in under an hour and still taste like you slaved for hours in the kitchen.
Adapted from David Tanis' One Good Dish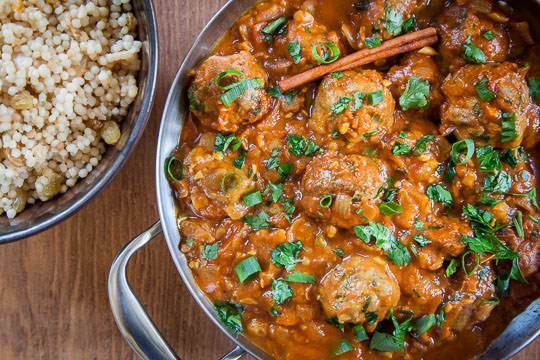 Ingredients
Meatballs
2 cups fresh cubed crusty whole wheat bread (or whatever you have on hand)
1 cup milk (whole or whatever you have on hand)
1 lb ground lamb (or ground beef if you aren't a fan of lamb)
1/2 lb ground beef
1 large egg
6 medium garlic cloves, minced
1 1/2 teaspoon kosher salt
1 teaspoon black pepper
1 tablespoon smoked paprika
1 1/2 teaspoon ground ginger
1 1/2 teaspoon ground tumeric
1 teaspoon ground cumin
1/2 teaspoon cayenne pepper
1/2 teaspoon ground cloves
1/2 teaspoon ground coriander
1/4 teaspoon grated nutmeg
4 tablespoons chopped Italian parsley, divided
4 tablespoons chopped cilantro, divided
4 tablespoons chopped scallions (green onions), divided
1/4 cup all-purpose flour
1/4 cup olive oil
Sauce
3 tablespoons olive oil
2 medium-sized yellow onion, chopped
6 medium garlic cloves, minced
6 oz tomato paste
2 1-inch cinnamon sticks
pinch of saffron, crumbled in your fingers
4 1/2 cups chicken broth
salt and pepper to taste
Couscous
2 cups Israel couscous
1/2 cup golden raisins
2 tablespoon olive oil
salt and pepper to taste
Directions
1. Preheat the oven to 350˚F. Place the cubed bread onto a baking sheet and toast in the oven for 10-15 minutes or until the bread has dried out but not browned. While the bread is toasting make the sauce.
2. Place the oil in a large wide skillet or pot and heat until shimmering. Reduce heat to medium and add the onions and cook until the onions start to soften, about 5 minutes. Once they start to soften, add the garlic, tomato paste, cinnamon sticks and saffron. Stir and cook for about a minute, then season generously with salt and pepper. Add the broth, stir to incorporate, cook on medium high heat until boiling. The sauce will look thin. Lower heat to a simmer and then cover while you make the meatballs, stirring occasionally.
3. Once the bread is toasted, remove from oven and let cool for 5 minutes. Move bread to a large bowl and drizzle milk over bread, tossing and mixing until the milk is absorbed. Add both meats, egg, garlic, salt and pepper and spices to bread. Add 3 tablespoons of the parsley, cilantro and scallions, reserving the 1 tablespoon each for garnish at tend. Using your hands mix and massage the mixture until all the ingredients are evenly distributed. Roll the mixture into golf ball size meatballs then toss half the balls in the flour to coat. In a large pan, add the oil and heat until shimmering then pan fry half the meatballs, turning until they are brown on all sides, about 2 minutes per side. They don't need to be completely cooked through, just brown. Move the browned meatballs to the simmering sauce, and repeat with the remaining meat, first forming the balls, then coating in flour and frying, then moving to the sauce. Increase the heat to medium and simmer the balls for 20-25 minutes or until the meatballs are tender and cooked through. Taste the sauce and adjust the salt, pepper and cayenne for heat if you want.
4. While the meatballs are simmering, make the couscous as directed by the package. While the couscous and meatballs are cooking, pour boiling water over the raisins and let soak to plump up. Once the cous cous is done, drizzle the olive oil over it and then drain the raisins and add them as well. Stir together and season with salt and pepper to taste. Once the meatballs are done, spoon the couscous into bowls and cover with meatballs and sauce. Sprinkle parsley, cilantro and scallions over the top and serve immediately.
Makes enough for 4-6 servings.
If you like this Mediterranean meatball recipe, check out some of these other meatball recipes from around the web:
Orangette's Falafel Spiced Lamb Meatballs
What's Gaby Cooking's Chicken Parmesan Meatballs
Foodie Crush's Mexican Turkey Meatballs with Avocado Smash
Gimme Some Oven's Saucy Asian Meatballs
Skinny Taste's Turkey Meatball Spinach Tortellini Soup