In the cooler weather, I'm craving comfort food like this Swedish Meatballs Stroganoff, which is a mashup of Swedish Meatballs and Beef Stroganoff. (Jump directly to the recipe.)
Though January usually means "healthier" for most folks, the weather often doesn't cooperate. I want to be eating salads and smoothies (both of which I love) but the cold weather also means I crave comfort food. San Francisco rarely gets super cold – not Midwest cold which is where I grew up. But I've been here long enough (about 20 years) that I've grown soft. Any dip below 60°F and I grab the scarf and gloves. I've become one of THOSE people.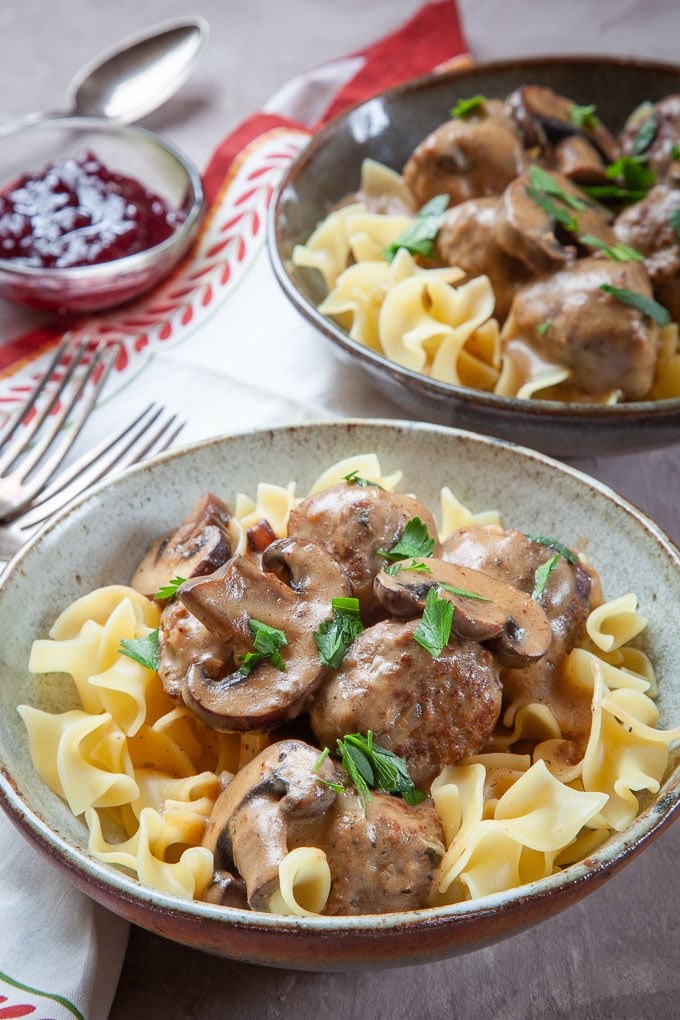 Right now I've been craving this mash up of Swedish Meatballs and Beef Stroganoff. I call it Swedish Meatballs Stroganoff, which is a bit of a misnomer, as the mashup has nothing to do with Sweden nor is it a true stroganoff which is a Russian dish that uses sour cream to finish the dish. Being of Asian descent, I feel perfectly comfortable mashing up two dishes that uses meatballs as the protein base, with an addition of mushrooms and some mustard to give the dish kick. Oh yeah and I used Greek-style yogurt instead of a sour cream because I am a monster! (also I didn't have any sour cream in the house but plenty of Greek-style yogurt).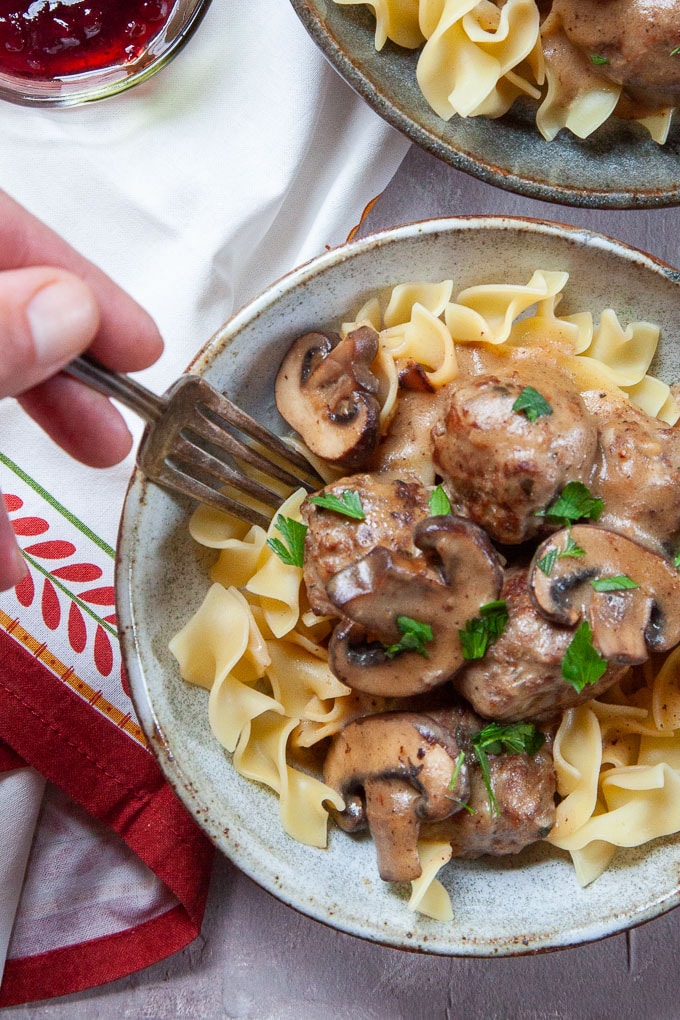 Of course, Swedish meatballs are often served with lingonberry sauce, a sauce similar to cranberry sauce. Which means this dish is probably more appropriate for the holiday season. But since I finally took down my Christmas tree and the holiday decorations this past week, I can make this and pretend that the holidays are still lingering around. It's not the longest I've left our holiday decorations up (the Christmas tree wasn't even completely dry and desiccated!) but it was likely longer than most folks. I'm still adjust to the new year, which is sad as February is right around the corner. But with this dish, I can take comfort that I can tackle all that 2019 throws at me. Bring it new year!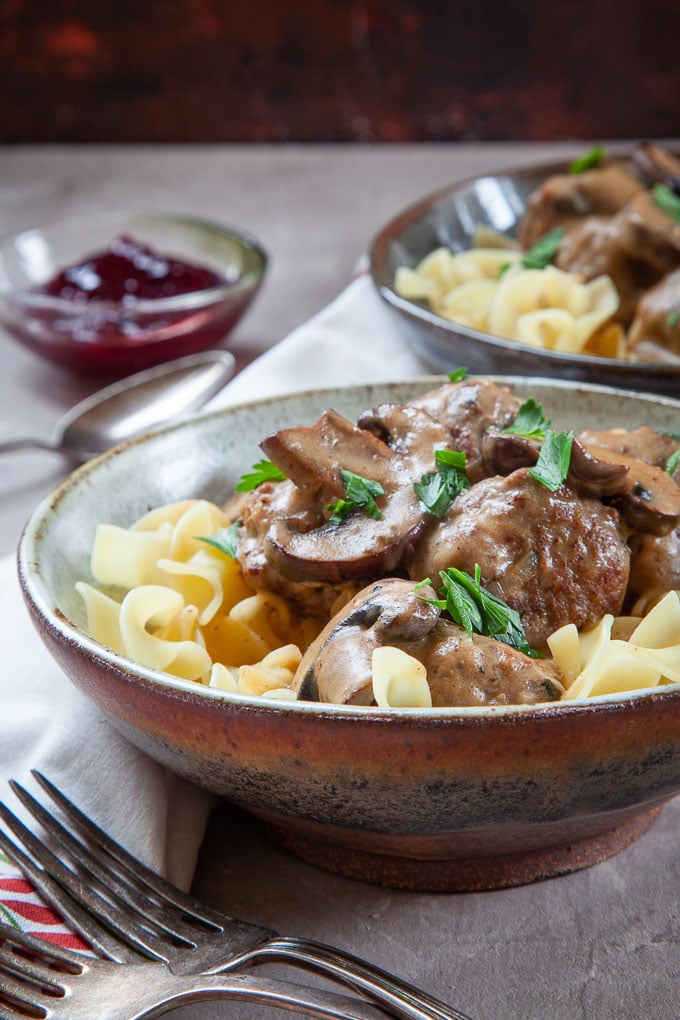 Swedish Meatballs Stroganoff (a mashup of Swedish Meatballs and Beef Stroganoff)
This dish is a combination of Swedish Meatballs and Beef Stroganoff, with a rich creamy gravy made with sour cream and a touch of mustard for kick. The addition of soy sauce to the cooking of the mushrooms seems unorthodox, but it acts as a seasoning as well as punches up the umami of the mushrooms. I like to serve the dish over egg noodles, but feel free to serve them over rice, potatoes or another starch of your choice. If you can't source Lingonberry sauce (I stock up on it when I'm at Ikea but you can find it at well-stocked grocery stores) you can substitute cranberry sauce or raspberry jam in its place.
Ingredients
meatballs
3

ounces

fresh bread crumbs

1/2

cup

milk

1 1/4

pounds

ground beef

3/4

pound

ground pork

1

cup

minced onions

1 medium onion

3

medium garlic cloves

minced

2

tablespoons

chopped Italian parsley leaves

4

teaspoons

kosher salt

1/2

teaspoon

black pepper

fresh ground

1/4

teaspoon

ground allspice

1/4

teaspoon

ground nutmeg

2

large eggs

2

tablespoons

olive oil
Mushrooms
1

tablespoon

olive oil

1

pound

cremini brown mushrooms

sliced

1

tablespoon

soy sauce
Gravy
5

tablespoons

butter

6

tablespoons

all-purpose flour

3 1/2

cups

chicken stock

3

tablespoons

Dijon mustard

1

tablespoon

Worcestershire sauce

1/3

cup

Greek-style yogurt

(or sour cream)

1/2

teaspoon

apple cider vinegar
To serve
1

pound

egg noodles, cooked

(or another starch of your choice)

Lingonberry sauce

see headnote above

Additional chopped parsley for garnish
Instructions
Make the meatballs by placing the bread crumbs and milk in a large bowl. Stir until the milk is absorbed. Add the beef, pork, onions, garlic, parsley, salt, pepper, spices and eggs to the bowl. Stir the ingredients together with a wooden spoon or your hands, until the ingredients are all incorporated and evenly distributed.

Lightly wet your hands and form 1-inch meatballs from the mixture, placing them on a baking sheet or plate, you should have about 40 to 45 meatballs.

Heat 1 tablespoon of oil in a large skillet and fry half the meatballs on medium heat until they are golden brown all over, about 2 to 3 minutes per side. Don't worry if the meatballs aren't completely cooked. They will cook more in the gravy later.

Move the cooked meatballs to a heatproof bowl and cover with foil. Don't worry about cleaning the pan and repeat the process with the remaining oil and meatballs.

Once the meatballs have all browned and moved to the bowl, do not clean the pan, just leave the drippings in the pan. Cook the mushrooms by adding the additional tablespoon of oil, then the mushrooms. Cook until the mushrooms are almost cooked through, about 8 to 10 minutes. About a minute before they are done, drizzle them with soy sauce and continue to cook until the liquid has been absorbed. Move the mushrooms to the bowl, and again do not clean the pan.

Make the gravy by adding the butter and flour to the pan and cooking them on medium heat, stirring constantly with a whisk, until the flour has dissolved and starts to brown slightly.

Add the chicken stock and continue cook until the stock has thickened. Stir in the mustard and Worcestershire sauce, then stir in the sour cream and apple cider vinegar.

Add the meatballs and the mushrooms, along with any liquid in the bowl. Lower heat until the gravy is at a simmer. Cover and cook for an additional 15 minutes.

Serve the meatballs and gravy over egg noodles or the starch of your choice. Garnish with chopped parsley and serve with lingonberry sauce on the side.
Nutrition