Panisse are chickpea fries made from chickpea (garbanzo bean) flour. They're incredibly easy to make and a super tasty alternative to regular fries! (Jump directly to the recipe.)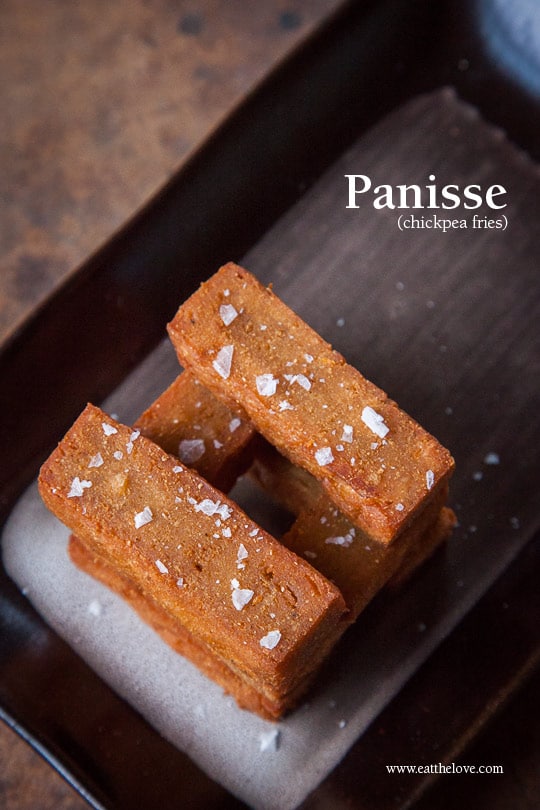 "Wait, the hashtag is #LovePulses? That sounds kind of…dirty." Said my friend Annie as she took a bite of my panisse fries that I had just brought over to her house. Then she rolled her eyes in a rather "dirty" way and exclaimed that the panisse fries were just fantastic. I was highly amused.
Ever since I ate at a local restaurant called Frances a couple blocks away I've been relatively obsessed with panisse, chickpea fries. Though a lot of people rave about their bacon beignets (which, truth be told, are pretty fantastic) I thought their panisse fries were stellar. And though they aren't at all difficult to make, it's been on my "to-do" recipes list along with so many other "to-do" recipes and I've just never gotten around to making them. That is, until I went up the CIA (the Culinary Institute of America, not the spy one) for a weekend intensive on pulses. What are pulses you ask? Good question! I hadn't a clue either until that weekend.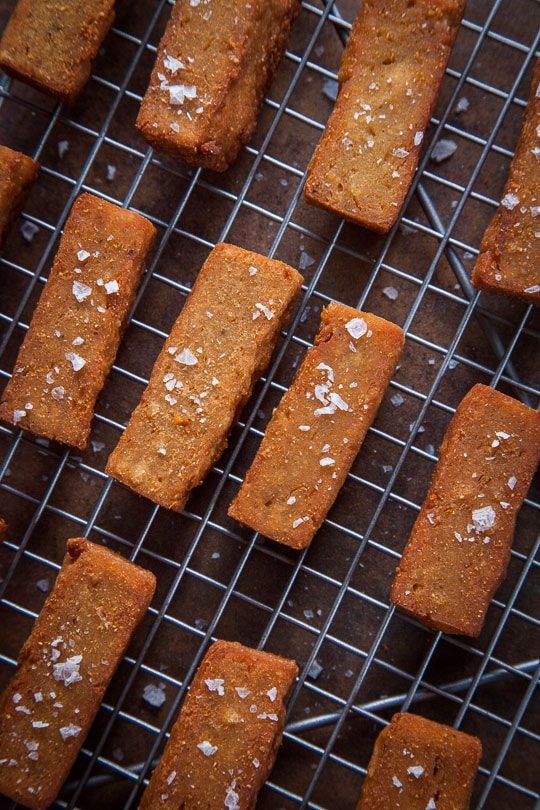 Pulses are basically dry beans and peas. Across the world, most people know the word "pulses" refers to dry chickpeas, kidney beans, lima beans, lentils and black-eyed peas, as well as many other dry beans. It's basically legumes or beans but one of the signature aspects of pulses is they are low in fat (this excludes peanuts and soybeans which have a high oil content) and they are harvested dry (this excludes fresh peas and green beans). But strangely here in the US (and in Britain) the word "pulses" isn't well known.
This might change however, as the U.N. has declared 2016 the "Year of the Pulses." This may mean very little to you but in 2013 the U.N. declared it the "Year of Quinoa" and look how popular that South American grain crop has become. During the weekend intensive, I learned how to incorporate black beans into my sourdough bread, how to use lentils in my Thai chicken larb to help stretch out the protein, and how to make a chickpea water meringue foam for a passion fruit tart. More importantly (to me) I got to play in the CIA professional kitchen and hang out with fellow bloggers, journalist and farmers, which was as fun as it sounds!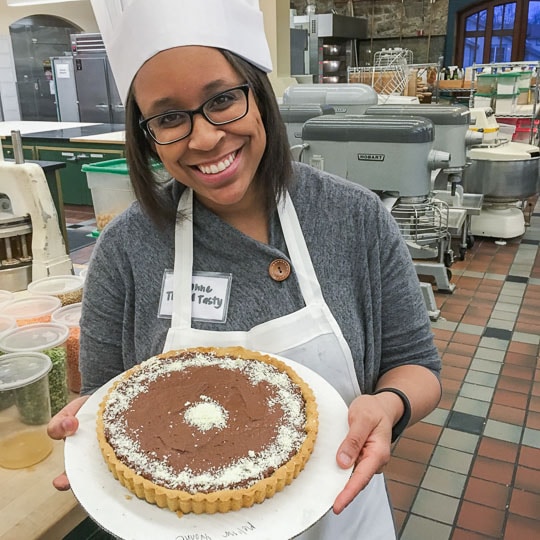 Since then, I've been on the pulses bandwagon. Though my partner AJ and I do eat our fair share of beans (we almost always have a batch of hummus in the fridge as an easy snack), I've been looking at pulses in a different way. And these panisse chickpea fries finally moved to the top of my to-do list. In fact, I've made them a few times, always tinkering a bit with the recipe. Finally I landed on a savory version of these fries that I just adore. Think of these like French fries, but more filling and higher in protein. Sure you have to deep fry them, but you only need to eat two or three of them to feel satisfied. And they freeze and heat up well in the oven/toaster oven!
Special thanks for American Pulse Association, USA Dry Pea & Lentil Council and The Culinary Institute of America for bringing me to Napa CA to experience a weekend intensive trip on Pulses. Even though my trip and accommodations were provided, I was not paid for this post and all opinions above are my own.
Panisse aka Chickpea Fries
By Irvin Lin
My partner likened these to fried hummus sticks but I think they are closer to savory French fries. I season them a lot with spices and garlic but if you want something a little more plain, feel free to omit the spices and reduce the garlic to 2 cloves. Serve them with a side of spicy aioli or ketchup or enjoy them along all by themselves. To give the panisse fries a little bit more savory flavor, I use chicken stock, but if you want to keep these vegetarian/vegan friendly feel free to use vegetable stock or just plain water. This recipe isn't to difficult but keep in mind that first you make the panisse batter then you have to let it chill for an hour in the freezer so plan ahead. If you want, you can make the panisse batter a day ahead and let it chill overnight in the refrigerator. Chickpea flour can be found at upscale grocery stores or online or at ethnic grocery stores. It is sometimes called Besan or Gram flour.
Recipe adapted from a Culinary Institute of America recipe.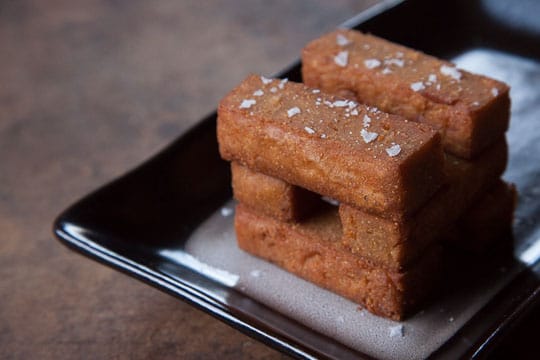 Ingredients
2 1/4 cups (285 g) chickpea flour (sometimes called Besan or Gram flour)
6 medium cloves garlic
2 teaspoon kosher salt
1 teaspoon ground cumin
1/2 teaspoon ground coriander
1/2 teaspoon fresh ground black pepper
1/4 teaspoon cayenne pepper
zest and juice from 1 Meyer or regular Lemon
2 1/2 cups (585 ml or 20 fl oz) chicken or vegetable stock (or water, see headnote above)
Oil to deep fry
Directions
1. Spray an 8 x 8 inch baking pan with cooking oil. Place the chickpea flour in a large bowl. Grate the garlic cloves using a Microplane handheld grater/zester or press them through a garlic press and add it to the flour. You can also mince it very fine but try to mince it super fine then smash the garlic into a paste with the side of the knife. You basically want a garlic puree and not chunky garlic. Add the salt, cumin, coriander, black pepper, cayenne and the zest from the lemon. Stir together with a whisk until all the ingredients are evenly distributed.
2. Add the chicken stock to the dry ingredients and whisk together until all the liquid is absorbed and there are no lumps or dry spots. Scrape into a large saucepan and cook on medium heat, stirring constantly with a wooden spoon, making sure to scrape the sides and bottom of the pan. Cook until the mixture thickens, about 10 minutes or so.
3. Immediately scrape the mixture into the prepared baking pan and pat down smooth. Place a piece of plastic wrap directly over the top of the mixture. Put in the freezer for 30 minutes to cool or place in the fridge for 1 hour (or overnight).
4. Once the mixture is cooled, unmold onto a cutting board (it should come out in one single piece). Cut into 2 1/2 x 3/4-inch batons. Pour enough oil to come up about 2-inches in a large sauté pan. Heat the oil to 350ºF. Place a batch of the panisse fries into the oil and fry for about 2 minutes on each side or until they are golden brown. Sprinkle with salt and serve immediately.
Makes about 35 to 40 pieces, enough for 4 to 6 people for appetizers.
If you like these Panisse (chickpea fries) recipe, checkout my recipe from Hummus from scratch.
And checkout these other recipes from around the web that use chickpea flour:
Brokeass Gourmet's Chickpea Flour Flatbread
An Edible Mosaic's Smoky Roasted Cauliflower Soup with Herbed Chickpea Dumplings
My Man's Belly's Crispy Chickpea Flour Fish with Fresh Fruit Salsa
The Year in Food's Savory Chickpea Pancakes with Smoky Roasted Carrots
The Sophisticated Gourmet's Onion Pakoras (Fritters)