Potato Croquettes are deep fried mashed potatoes balls and are the perfect way to use leftovers. They're basically just like adult tater tots, only better! (Jump directly to the recipe.)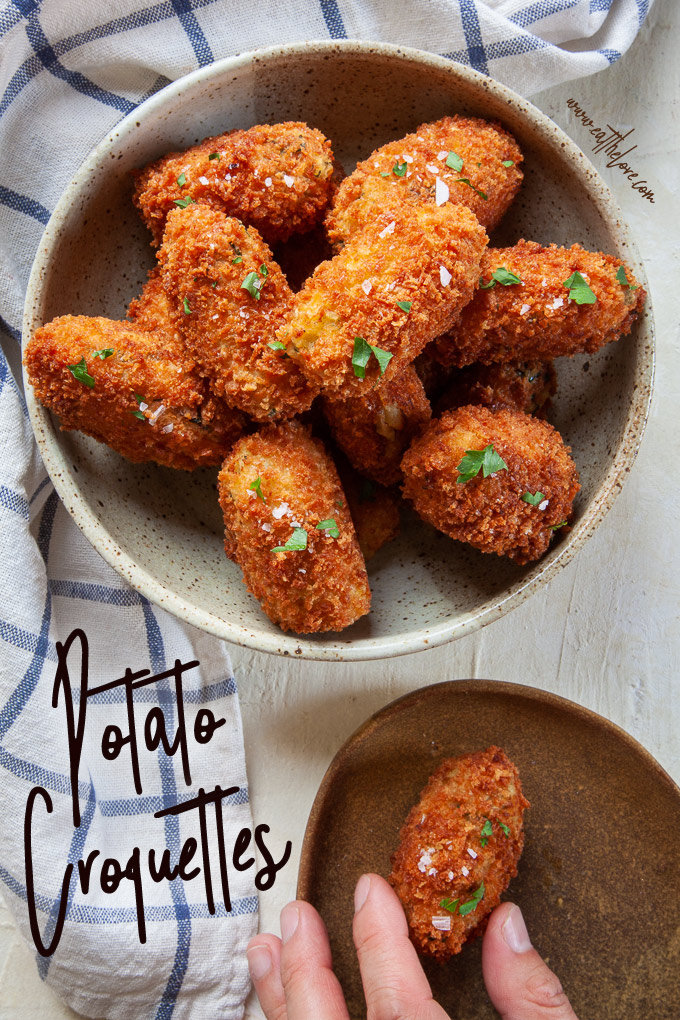 I adore Thanksgiving and all that comes with it. My partner AJ and I go all out and make everything we can for it but with all those dishes, also comes a ton of leftovers. And though we certainly enjoy duplicate Thanksgiving leftover meals the following few days, repetitive meals of the same thing do wear us down.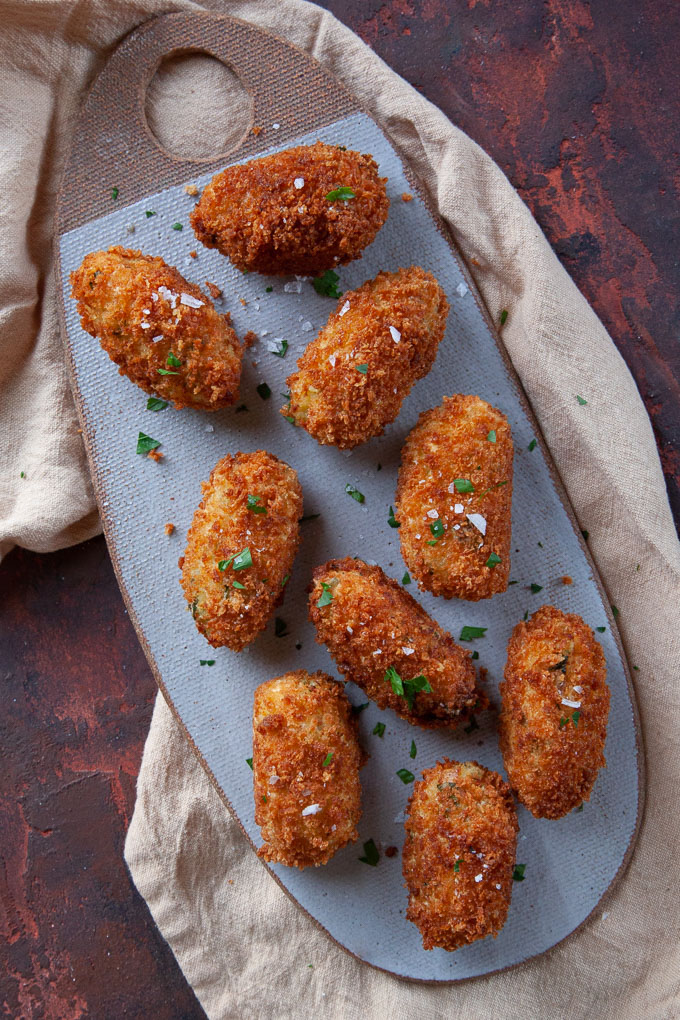 Worse still, is when we have varying different amounts of dishes, meaning we end up with a bunch of side with no turkey (not the worse thing). Or worse, a ton of mashed potatoes without gravy (no gravy – definitely the worse thing). GRAVY is everything to me, so the lack of gravy is pretty much the worse-case scenario for me. I've been known to actually make a second batch of gravy for myself just for the meal. JUST FOR MYSELF.
Thankfully, getting creative in the kitchen means I can repurpose all those extra mashed potatoes (which I inevitably have more of than other leftovers) into potato croquettes. If you've never made potato croquettes before, it's one of the easiest and most fun things to do. Think of them as adult tater tots, a coated and fried mashed potato that even the most jaded weary done-with-Thanksgiving grinch can get behind. One taste of these and you might actually consider making extra mashed potatoes for them.
Potato Croquettes
These are a great way to repurpose and use leftover mashed potatoes. You can use any leftover mashed potatoes that you have or you can even make mashed potatoes just for these croquettes. Just make sure the potatoes are chilled ahead of time, as the cold mashed potatoes hold their shape better, making it easier to coat and fry them.
Ingredients
2

cups

cold mashed potatoes

(I like to use this recipe)

2

tablespoons

chopped Italian parsley

1/2

cup

shredded cheddar cheese

57 g

1/2

cup

all-purpose flour

70 g

1

large egg

1/4

teaspoon

kosher salt

1 1/2

cups

panko bread crumbs

115 g

Oil for frying

Flaky salt and fresh ground pepper to taste
Instructions
Place the mashed potatoes, parsley and cheese in a large bowl and mix together. Place a rimmed baking sheet or large plate on the table.

Scoop up some of the mashed potatoes mixture (roughly 3 to 4 tablespoons) and roll a 1-inch by 2 1/2-inch oval football shape. Beat the egg and salt together in a medium bowl. Place the flour in another bowl and the panko bread crumbs in a third bowl.

Roll one of the balls in the flour to coat. Then dunk and roll in the beaten egg. Let any excess egg drip off.

The roll the croquette in the bread crumbs until coated. Place on the baking sheet/plate and repeat with the remaining mashed potato mixture.

Once all the mashed potatoes are coated, pour enough frying oil in a medium sized skillet for it to be 1/2-inch deep. Heat the oil until it reaches 350°F or until a pinch of panko crumbs sizzles and immediately turns brown when dropped in.

Carefully place a batch of croquettes in the hot oil, making sure not to crowd the pan too much. Fry for 45 to 60 seconds on one side, until it starts to get golden brown, then turn the croquette 1/3 the way over, and fry for an additional 45 to 60 second, repeating a third time until the entire croquette is golden brown.

Move the fried croquettes to a wire rack placed over a rimmed baking sheet or a plate lined with paper towels. Repeat with the remaining croquettes, waiting for the oil to reheat to the hot temperature between batches.

Sprinkle salt, pepper and parsley to garnish and serve while hot.
Nutrition