These spiced lamb and beef kebabs have a complex flavor that comes from a wide range of spices that can be found at most grocery stores! (Jump directly to the recipe.)
Like all popular things, I am often late to the party. It took me years to finally get around to watching Games of Thrones. I only recently started making avocado toast at home. And though it came out last year to much critical acclaim, I finally got my hands on my friend Nik Sharma's book Season.
Nik had told me about his book a few years ago, in a car ride at a food event in Chicago. We were both heading to the airport to fly back to the San Francisco bay area (he lives in Oakland, I live in San Francisco). Along the way, we chatted about writing cookbooks and how the landscape of food writing and blogging has drastically changed since we both started.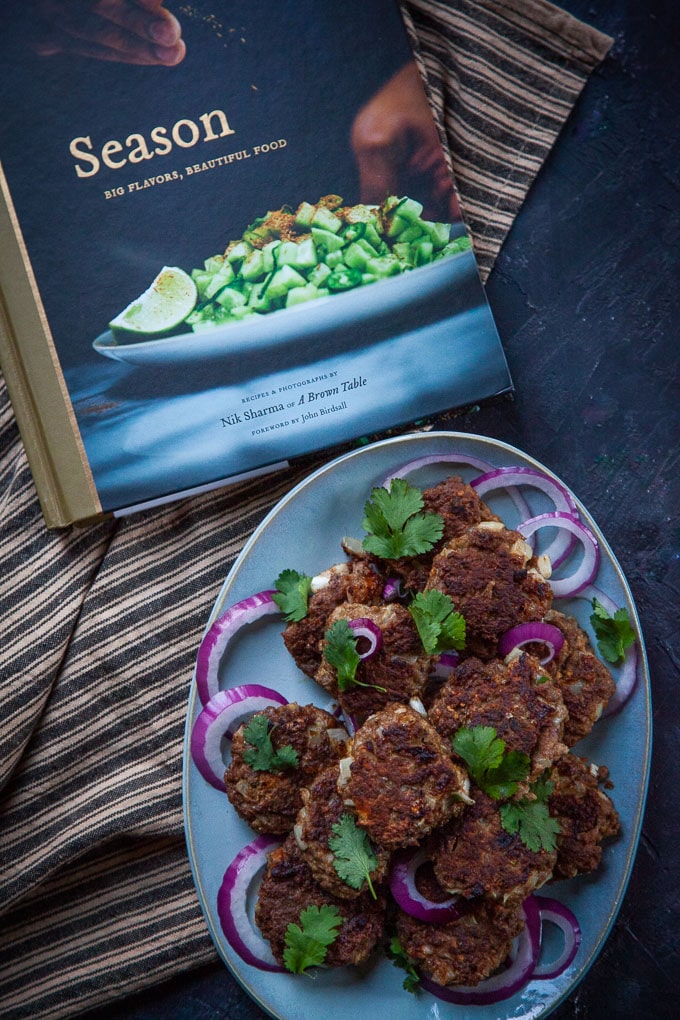 Since then, Nik has forged a remarkable food career, making beautiful signature images and never compromising his vision. He has a weekly column in the San Francisco Chronicle now. And his debut cookbook Season has made numerous "best of" lists for 2018. I loved watching him grow into the food writer and photographer that he has become, and Season is a beautiful example of his voice and work.
I've been meaning to write about his book for ages, but I've been preoccupied with so many other things in my life (like catching up on 7 years of Game of Thrones). But the first thing I knew I wanted to make from his book was his Spiced Beef Kebabs. Though I altered the recipe a bit, adding ground lamb and adjusting some of the spices to my own palate, his recipe didn't disappoint. This one will be going into my rotation of recipes that I'll be making often.
What spices are in the spiced kebabs?
The ingredient list seems rather long but most of the dried herbs and spices, like coriander, cayenne, sage and dill are already in your pantry or easily available at the grocery. The one that might be the most difficult to source is dried mint! It's a popular ingredient in South Asian cuisine so you can find it at an Asian grocery store. However if you don't have an Asian market near you, just walk one or two aisles over from the spices in your store and pick up a box of mint tea! Just turn the box over and check to make sure there aren't any other herbs or tea mixed in. If the ingredients for tea just say "mint" or "dried mint" then it's perfect for this recipe. There's about 2 teaspoons of dried mint in most tea bags, so half a tea bag works for this recipe.
How spicy are these kebabs?
The recipe calls for 2 fresh Thai chilis and 1/2 teaspoon of cayenne so there's a bit of kick but it's not so hot that it feels like you ate the sun! If you like heat, increase the cayenne to 1 teaspoon and/or add an extra Thai chili. But if you are spice averse, reduce or omit the cayenne, and substitute 1 Serrano or half a Jalapeño pepper in place of the Thai chilis. You can even just omit the peppers completely! That said, most of the heat resides in the membrane and seeds inside the the peppers. So cutting that out of the peppers will remove most of the heat.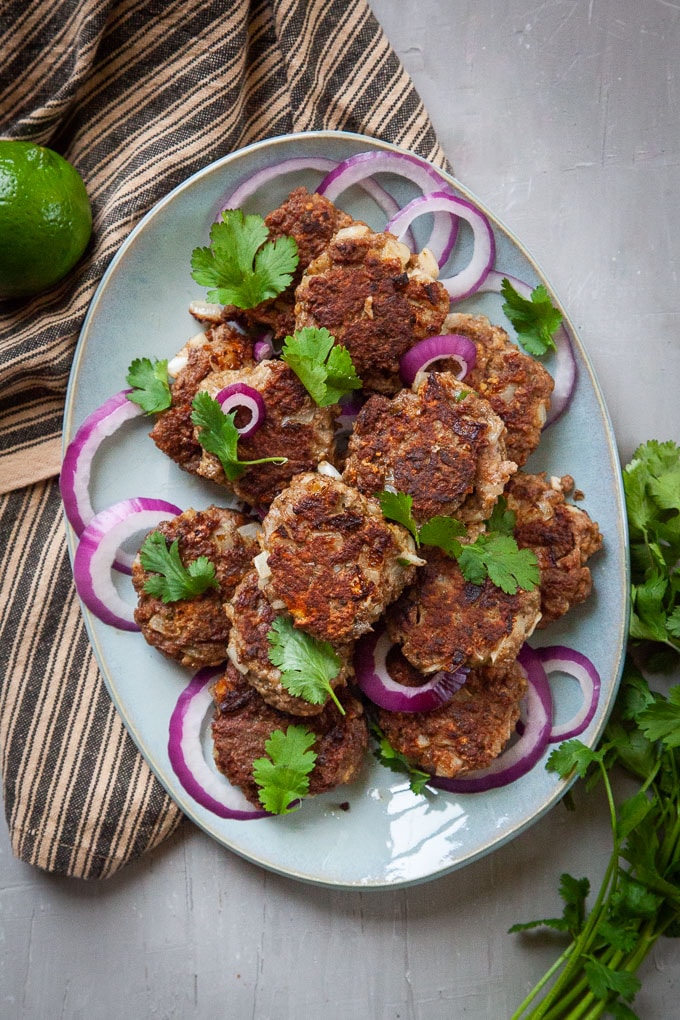 What is Chickpea Flour
Chickpea flour or Garbanzo bean flour is dried chickpeas/garbanzo beans that have been ground into a powder. It's the main ingredient in falafel, and can be found at middle eastern and Indian grocery stores. It's also sometimes labeled as gram or besan flour. Nowadays, you can also find it in well-stock grocery stores. Look for it in the baking aisle, or in the section where you might find gluten-free and whole grain flours. It adds an earthy nutty flavor to these kebabs and helps binds the kebabs together.
Make ahead
Yes! You can make these ahead of time. Just cook and fry them like directed, and then let them cool and store them covered in the fridge. Warm them up in a toaster oven for 10 minutes at 350°F. Or make the patties ahead of time, keep them wrapped in the fridge, then pan fry them before serving, directly from the fridge. The raw mixture should keep up to 24 hours covered in the refrigerator. Just fry them as a medium low temperature for an extra couple of minutes to make sure they are fully cooked all the way through.
If you like this ground lamb recipe, check out my Mediterranean Meatballs made with Tunisian Spices!


Spiced Beef and Lamb Kebabs
These kebabs have a bit of kick with the addition of the cayenne and Thai chili in them. Nik's recipe calls for 1 pound of beef, but I did a mix of lamb and beef because I like the flavor that ground lamb adds to the recipe. Feel free to use 1 pound of ground beef if you prefer. These kebabs are great appetizers or can be served as a main course with a vegetables over a starch of your choice. They are panfried by themselves, not on a skewer on the stovetop in a skillet.
Though the ingredient list seems long, most the spices are probably in your pantry already. The few that aren't including the chickpea/garbanzo bean flour (sometimes called gram flour or besan flour), can be found at online, at an ethnic grocery store (try one that sells Asian and/or Middle Eastern groceries) or at a well-stocked grocery store (look for it near other gluten free and whole grain flours). Fresh Thai chilis can also be found at Asian grocery stores, but you can substitute 2 small serrano pepper in place of the Thai chilis though it won't be quite as spicy nor will it have the same sort of "fruity" flavor that Thai chilis have.
Finally, Nik's original recipe calls for dried mint which is surprisingly hard to find in most grocery stores. If you can't source dried mint, pick up a box of mint tea (flip over the box and make sure the ingredients are JUST mint, and not a blend of other herbs or teas) and use that in place of the dried mint. I used peppermint tea for this recipe, but because you only use 1 teaspoon (roughly half a tea bag) and it blends with all the other spices, any mint will do.
Ingredients
1/2

pound

ground beef

15% fat recommended

1/2

pound

ground lamb

1

cup

diced yellow onions (about 1 small onion)

1/2

cup

chickpea/garbanzo bean flour

see headnote above

1

large egg

2

fresh Thai chilis, minced

see headnote above

2

medium garlic cloves, minced

1-

inch

piece of ginger, peeled and grated

1

tablespoon

lime juice

Zest of 1/2 lime

1

teaspoon

ground coriander

1

teaspoon

dried mint (about 1/2 bag of mint tea)

see headnote above

1/2

teaspoon

cayenne pepper

1/2

teaspoon

ground cinnamon

1/2

teaspoon

ground sage

1/2

teaspoon

dried dill

1/2

teaspoon

kosher salt

2

tablespoons

olive oil
To garnish
1

tablespoons

cilantro leaves

Thinly sliced red onions
Instructions
Place all the ingredients for the kebab except for the olive oil in large bowl. Mix first with a wooden spoon until the ingredients are all evenly distributed.

Dampen your hands and then form 1 1/2-inch wide patties that are 1/2-inch thick with the mixture. You should have about 14 or 15 patties once you are done.

Heat the olive oil in a large skillet and cook half the kebabs over medium heat for about 3 to 4 minutes, or until the side of the kebab is a deep golden brown and a crust has formed. Flip the kebab over and continue to cook until the kebab is cooked through.

Serve the kebabs with cilantro leaves and thinly sliced red onions.
Notes
Adapted from Nik Sharma's book Season.
Nutrition