These easy and fast candied spiced pecans are fantastic all on their own or perfect added to a salad or a roasted vegetable. (Jump directly to the recipe.)
"I think we need to take this jar of spiced pecans to my parents" said my partner AJ as he took another handful of the nuts. I had a made a batch of the candied spiced pecans and he was going to town on them. I looked surprised at him when he mentioned he wanted to give them away and he clarified his thinking. "I love these. TOO much! We need to them out of the house. Otherwise I will just continue to eat them." Totally makes sense to me!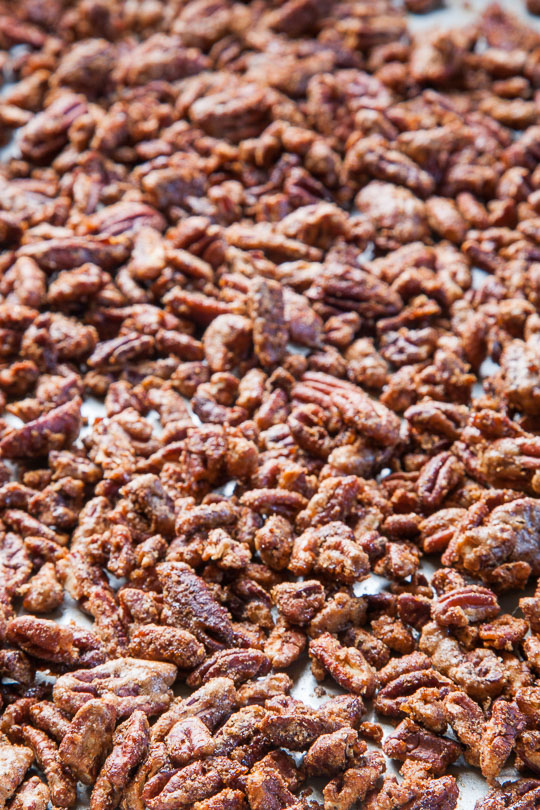 We were heading to Chicago for a short vacation trip. I was speaking on a keynote panel at BlogHer Food and we decided to drive over to Chicago the day after the conference to meet up with AJ's mom and dad. We hadn't seen them in nearly a year. Usually we see them twice a year, once during the summertime and once at Christmas. But this past summer we missed our trip to the Midwest because of AJ's accident. That meant we haven't seen them for awhile. We met them in-between, in Lafayette, Indiana and along with lunch, gave them the spiced pecans.
Of course it was great to see them. We had lunch then moved to a hip little coffee shop (which apparently are now become ubiquitous across the nation, which is strangely comforting). We caught up and talked about how much we missed seeing them this past summer. They said they were impressed with how much AJ has healed and recovered (though AJ lamented that it wasn't fast enough) and before we knew it, we were heading back into Chicago. It was short, too short, but we'll see them in a couple of months for Christmas. And in the meanwhile, they have a jar of spiced pecans to enjoy, which we carried over all the way from San Francisco.

Spiced Pecans
By Irvin Lin
Candied spiced pecans are super easy to make. You can use them in salads, or toss them with a roasted vegetable like Brussels sprouts or green beans. Or use them as a topping in a pie or crisp. They are also a great way to use egg whites if you happen to have a surplus of them, which I always do. Feel free to substitute the spices for whatever you happen to have or like. But I really love the addition of coriander, a spice most people associate with savory food. It works really well with the pecans and the other warm wintry spices.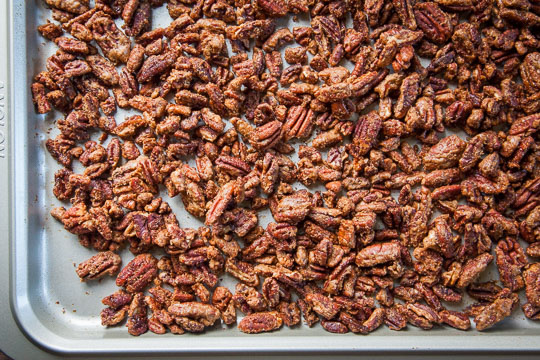 Ingredients
1 large egg white
1/4 cup (50 g) white granulated sugar
1/4 cup (55 g) packed dark brown sugar
1 teaspoon cinnamon
1/2 teaspoon coriander
1/2 teaspoon fresh ground black pepper
1/4 teaspoon fresh grated nutmeg
3/4 teaspoon kosher salt
4 cups (460 g) pecans
Directions
1. Preheat the oven to 300ºF.
2. Beat the egg white, both sugars, cinnamon, coriander, pepper, nutmeg and salt together in a small bowl until well blended and slightly frothy.
3. Place the pecans in a large bowl and pour the egg white mixture over the pecans. Stir until the pecans are completely coated evenly. Pour the pecans onto a rimmed baking sheet and spread the pecans so they are distributed in a single layer on the baking sheet.
4. Bake in the oven for 20 to 30 minutes or until the coating starts to look dry and the pecans smell a bit fragrant and start to darken just a bit. Let cook on the baking sheet then break apart and store in an airtight container.
Makes 4 cups of spiced pecans.