Tender, chewy and moist, this lemon-scented thick and bouncy crumpet recipe is easy to make and worlds better than any store bought crumpet.
Jump to Recipe | Jump to Recipe Notes
My partner AJ and I live very different lives, though obviously there are major overlaps. We're lucky that we both love road trips, traveling to new places, camping and hiking. We can both tolerate skipping a night or two of showering (though I draw the line at 3 days, he can probably go one more day longer if pushed). And we both hate mosquitoes (though, in all honesty, who likes them?). But we also drastically diverge in some of our interest. For instance, this past weekend, AJ decided to do the Mount Tam Double Century bicycle ride. This ride happens to include 200 miles of cycling, all in one day, with 15,000 feet of climbing. Yes, that's fifteen THOUSAND feet of climbing with a bike – about half the height of Mount Everest (which is roughly 29,000 feet high). What did I do? I stayed at home and learned how to make crumpets – a lemon scented crumpet recipe to be exact. Because I'm wacky and badass that way.
AJ's love of cycling borders on the ridiculous. People often ask me if I go cycling with him or if I have any desire to go cycling with him. I usually answer with an emphatic NO. I mean, AJ thinks nothing of going out and cycling a 100 miles in a day. I don't even like driving 100 miles in a day. And that's just me sitting in a seat, pushing a gas pedal with my foot. The idea of pedaling under my own power, sounds less than appealing.
Of course, when we were on our roadtrip, my friend Jen of the fabulous blog Use Real Butter somehow conned me into renting a mountain bike so we could go biking in Crested Butte, Colorado. And, to be honest, I had a blast on it. AJ was even more thrilled about it. Though he didn't really ride with us (he went off with Jen's husband Jeremy who is much more of a mountain biker) the few times that we met up had him taking constant pictures of me on the bike, a novel experience for him.
Of course, that 12-mile bike ride in Crested Butte immediately got AJ scheming and thinking about getting me to go for longer rides with him. He's been talking about doing a cross-country bike trip for awhile and apparently my little bike ride seemed to be the jumping off point for me to join him in his insane trip across this great nation, all 3000 miles of it. I love the logic of how he thinks. In the meanwhile, I'll just stick to baking crumpets and the like at home, while he goes on his 200 mile ride. We'll see if I jump back on a bike anytime soon.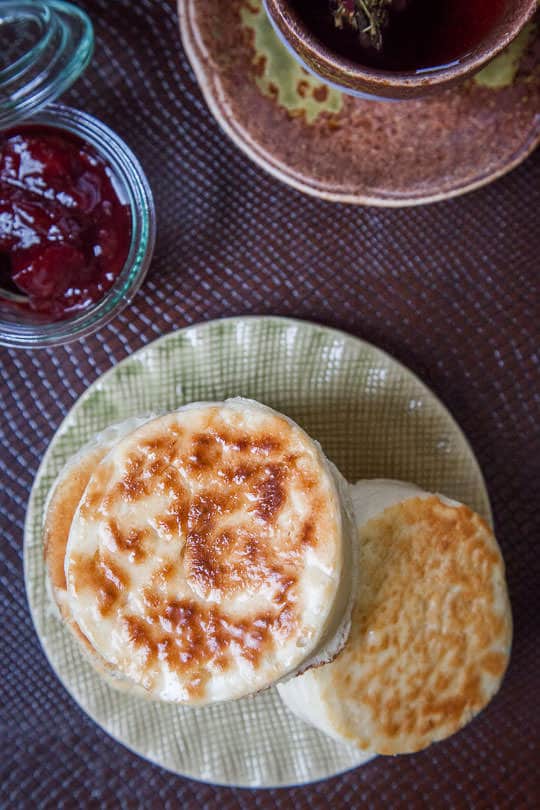 What is a Crumpet
Crumpets sound like something you only have with tea, in a stuffy room filled with doilies surrounded by people speaking Queen's English! But I became slightly obsessed with them with a trip to Seattle years ago, when I was told to get them at a specialty shop in Pike's Place.
A crumpet is yeasted griddle cake that is somewhere between the yeasty bread-like English muffin and and a buttery American pancake. They are bouncy and full of holes, which make them great for soaking up butter and jam. Though traditionally British, they can be found here in the United States as well.
Crumpet vs English Muffin
Though they both are British in origin and cooked on the stovetop in a griddle or large pan, a crumpet is made with a batter, similar to a pancake batter (like the one I used for my bacon and chives pancakes) or a waffle batter (like the one I use for my best Belgian waffle), while the English muffin is more of a dough.
The resulting product is pretty different as well. Crumpets have the bounce of a light and fluffy pancake, though more doughy and yeasty. The English muffin is more like a bread roll, crumbly and dry.
I personally do not like the store bought English muffin, as they are too dry and always taste stale to me. But homemade English muffins are a different story. If you've never had a homemade English muffin, you must try it, as they are amazing. My recipe, based on the famous Model Bakery English muffin are just fantastic.
Storing Crumpets
You can store a crumpet at room temperature for up to 3 days in an airtight container or resealable ziplock bag. But I personally like to freeze them to keep them fresh.
How do you freeze and warm up crumpets?
Just pop the crumpets in a freezer ziplock bag and then freeze them. To defrost, you can leave them out on the counter for 15 to 20 minutes to thaw out.
To warm them up, you can just toast them in the toaster oven or in a wide slotted toaster (the kind designed for bagels). Toast them at room temperature or while they are frozen, allow for an extra minute or two if they are not thawed to let them properly toast and brown.
What should I serve crumpets with?
My favorite way to serve crumpets is with a lot of butter and jam or preserves. My favorite preserves include strawberry plum jam, plum jam with lavender and blood orange strawberry marmalade and triple berry curd. But feel free to serve them with your favorite jam, homemade or store-bought!
If you like this crumpet recipe, check out these other breakfast savory baked good recipes:
Updated October 22, 2019: I have updated this recipe formatting and cleaned up a bit of this blog post, but the recipe is the same from the original August 11, 2014 publication.
CRUMPET RECIPE (WITH OPTIONAL LEMON FLAVORING)
Similar to an English muffin, the crumpet is a yeasty griddle cake that has more chew to it and isn't quite as dry or craggily as the English muffin. In fact, for me, a good crumpet should be moist and chewy and full of holes so the butter and jam can soak into it. These particular homemade crumpets aren't full of holes, but that's probably because I don't have the patience to cook them properly (traditionally you don't flip them when you cook them which produces more holes). That's OK. I also cut them in half (something most British people adamantly are against) to put the jam on two halves. Call me a terrible bastard American, I've given instructions on how to create a crumpet with lots of holes in it, but feel free to bastardize your crumpet like I have and flip away.
Equipment
3" round cookie cutting rings
Ingredients
Batter
2

cups

bread flour

320 g

1

cup

all-purpose flour

140 g

1

teaspoon

baking powder

1

teaspoon

kosher salt

zest from 1 lemon

optional

2

cups

whole milk

1

cup

water

1

tablespoon

honey

2 1/4

teaspoon

active yeast

1 package or 7 g
Instructions
Place the flours, baking powder, salt and lemon zest (if usinin a large bowl. Using a balloon whisk vigorously stir the dry ingredients together until the ingredients are evenly distributed.

Place the milk, water and honey in a small pan and heat until lukewarm but not hot. Dissolve the yeast in the liquid then pour into the dry ingredients. Mix together with a large spatula or wooden spoon until the mixture forms the consistency of thick pancake batter. It might be lumpy still, that's OCover with plastic wrap and let sit for 1 hour.

Once the batter is ready, heat a large griddle pan or skillet on low heat. Place a little butter on the pan and wipe the surface down with a paper towel, distributing a very thin layer of butter on the heated surface. Grease the inside of the cookie cutter rings with more butter. Place the rings on the heated pan and fill each ring with about 1/4 cup of batter. Let cook for 4-5 minutes or until the bottom is golden brown. Flip the rings with the crumpets in it and cook for another 3-4 minutes or until the second side is golden brown. Remove from heat to a wire rack and let cool until you can remove the crumpet from the ring. Repeat with the remaining batter.
Notes
For more traditional crumpets, turn the heat to the lowest setting possible and cook the crumpets for as long as you can on one side without flipping them. This will result in holey crumpets, but you run the risk of burning one side and it takes longer because you have the heat so low. I'm just a lazy American so I flip the crumpets.
Nutrition
If you're looking for something to serve with this crumpet recipe, try these various recipes from around the web:
David Lebovitz' Improved Lemon Curd
The Culinary Life's Clotted Cream, Stovetop Method
The Year in Food's Orange Marmalade
Love and Olive Oil's Chocolate Raspberry Jam
Recipe Girl's Blueberry Refrigerator Jam