This is quite possibly the Best Belgian Waffle Recipe, featuring a yeasted batter and the addition of thick cut bacon! (Jump directly to the recipe.)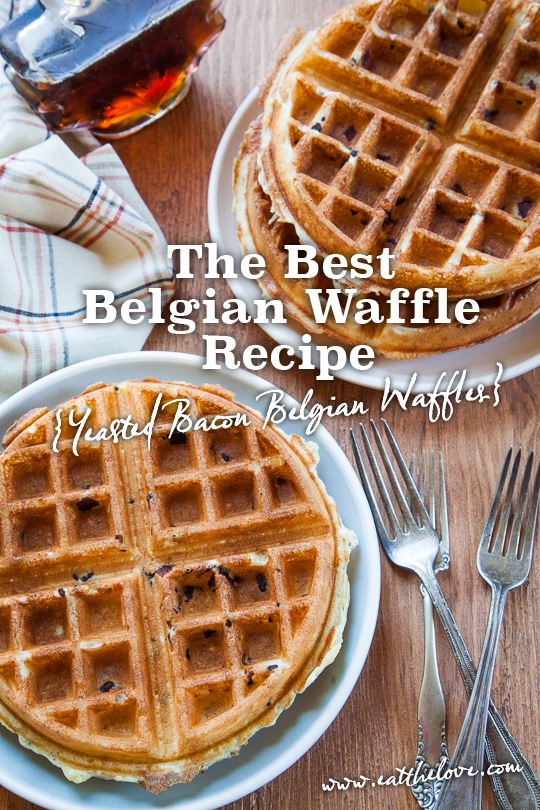 I've mentioned before that I'm quite the maximalist when it comes to food. It's one of those affections of mine, where every time I make a recipe, I try to figure out how to tinker with it or how to make it just a little more complex. It kind of drives my partner AJ crazy but I can't help it. I just like to layer on flavors and textures into my food. So when I woke on a Saturday morning with an intense craving for waffles (something that hasn't happened in awhile in this house), I decided to make the Best Belgian Waffles, a moniker I do not use lightly. (Jump directly to the recipe.)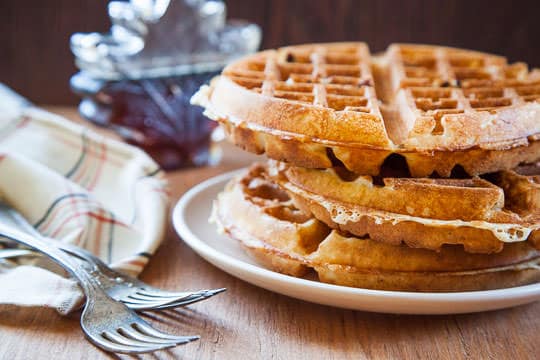 So here's the thing. You don't get to call a recipe the Best Belgian Waffles, unless they are really good. I mean drop dead, completely awesome, can't stop eating them good. I've made a lot of Belgian waffle recipes before and it wasn't until I made this one that I decided these deserve that label. This waffle has everything that a waffle should have. It has a deep flavor courtesy of the yeast in it. It has a crisp crunchy outside thanks to the use of fine ground Semolina flour (otherwise known as Durum flour). And it has bacon in it. Not because it needs it but because I happen to have some homemade cured bacon in the house.
And yes, I am completely aware that adding bacon to a Belgian waffle is probably gilding the lily. I was actually just discussing with my friend Nancy on Facebook how bacon has become such an insanely trendy thing. But sometimes it just makes sense. And when you add them to an already excellent Belgian waffle recipe…well you get the Best Belgian waffle ever. Trust me on this one folks. It's worthy of the title.
Best Belgian Waffle Recipe (Yeasted Belgian Waffles with Bacon)
By Irvin Lin
There's a yeasted waffle recipe by Marion Cunningham that the internet has pretty declared the standard that all yeasted waffle recipes should be compared to. And it really is fantastic. I've totally made it. BUT the problem is Marion Cunningham's waffle recipe is the batter is thinner and much more suitable for a regular waffle iron and not a Belgian waffle iron. This recipe, however is designed for Belgian waffle makers, with a thicker batter created by the addition of Durum flour which is finely ground Semolina flour. If you can't find Durum flour, try using the same amount of rice flour instead, or if you can't find that, just add the same amount all-purpose flour. It's the Durum flour or rice flour that helps to create a super crisp waffle exterior with a tender inside so if you use all-purpose know that it won't get super crisp on the outside (though it'll still taste great). And if you have your act together and have prepped ahead of time, make the yeast waffle batter the night before and leave it out on the counter. The overnight fermentation really does improve the flavor. But don't fret if you forgot. Make the batter first thing, then go shower or do some dishes. Come back in a hour and the batter will be puffy and ready to use and it'll still taste better than any other waffle you've made before.
One note about the bacon, try to get the thickest cut of bacon that you can find (I cure my own bacon because I'm ridiculous that way). Usually the best place to find thick cut bacon is in the butcher counter at a grocery store, where it's thicker than the pre-packaged stuff.
Adapted from Marion Cunningham's The Breakfast Book.
Ingredients
1 1/2 cups whole milk
2 1/4 teaspoons (7 g or 1 package) active yeast
2 cups (280 g) all-purpose flour
1/2 cup (90 g) Durum aka fine semolina or rice flour
1 tablespoon dark brown sugar
1 teaspoon salt
1/2 cup (115 g or 1 stick) unsalted butter, melted
2 eggs
1/2 teaspoon baking soda
5 slices thick cut bacon
Butter and maple syrup for serving
Directions
1. Heat the milk in a pot on the stove until it's warm to the touch. Pour the warm milk in a large bowl and sprinkle the yeast over it. Stir with a whisk until the yeast dissolves and let sit for 5 minutes. Add both flours, brown sugar, salt and melted butter into the yeasty milk and stir until incorporated. Cover with plastic wrap and let sit for a minimum of 1 hour or up to 8 hours (overnight) on the counter.
2. While the waffle batter is rising, cook the bacon until it's done but not super crisp (it'll cook more in the waffle). Chop the bacon into small 1/2-inch bits. Reserve the bacon. Once the batter has risen, preheat the oven to 200˚F. Heat the Belgian waffle iron and brush it with the bacon grease.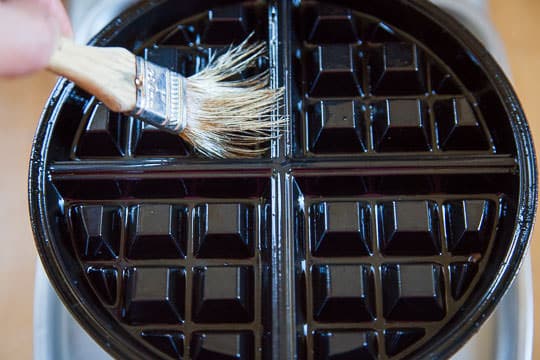 3. Add the eggs and baking soda to the waffle batter and mix together to incorporate with a balloon whisk. It'll deflate but don't worry about that. Pour the recommended amount of batter onto the iron then sprinkle about 1 heaping tablespoon of bacon bits over the batter in the iron. Close and cook the waffle as you normally would. Once the waffle is done, move it to a wire rack placed on a baking sheet and place in the oven to keep warm. Repeat with the remaining batter and bacon.
4. Serve waffles with butter and maple syrup.
Makes 6 waffles or more depending on your iron size.
If you like this Belgian waffles recipe, check out some of my other waffle recipes:
Chocolate Waffles with Vanilla Swirl
Quinoa Goat Milk Belgian Waffles with Double Cherry Maple Syrup
And check out these other awesome Belgian waffles from around the web:
Desserts for Breakfast's Orange Cinnamon Belgian Waffles with Dark Chocolate Hot Fudge
5 Second Rule's Lemon Ricotta Waffles
This Week for Dinner's Liege's Belgian Waffles
Ezra Poundcake's Chai Waffles with Vanilla Whipped Cream
Shutterbean's Buckwheat Belgian Waffles