Post updated:
It's time for the bialy, the cousin to the bagel, to get some glory. This easy bialy recipe, with a secret baking tip, will impress your jaded NY friends!
Jump to Recipe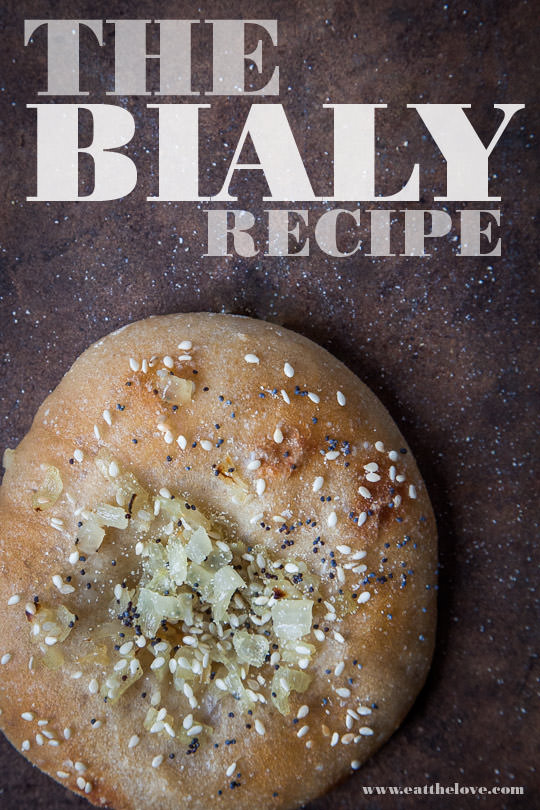 True confession time, though I absolutely adore making chewy yeasted pretzel buns, crumpets, and English muffins, but I've never made a bialy before making this recipe. The under-appreciated sibling to the ubiquitious bagel, I was unaware of it's existence until I came across an article on Bon Appetit's site praising it as the new King of Carbs in their article on Restaurant trends of 2014. I'm not one to jump on trends but once I started digging into what they were, I was sold. I needed to get ahold of one, or better yet make one myself. Turns out they're easier to make than bagels because you don't need to boil them ahead of time, and when filled with onions and seeds, just as good (if not slightly better, depending on your point of view). So it look like my bialy recipe is now going to be in regular rotation here in our home!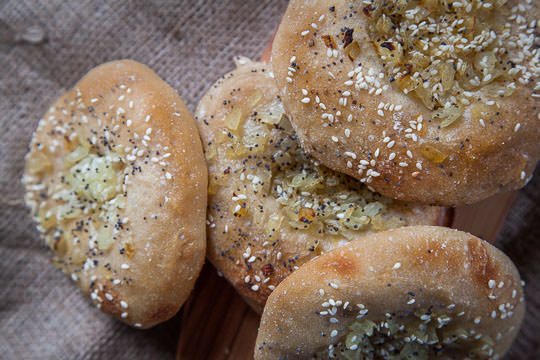 What's the difference between a bialy and bagel?
If you never had a bialy, or aren't familiar with them, most bialys look and are described as a bagel but without the familiar hole in the middle, instead a depression filled with onions. Of course hardcore bialy fans will disagree and say they are nothing like the bagel, which are boiled and have a shiny crust and dense crumb. My friend Pat claims that as a purist the bialy only has onions and nothing else, but all the recipes I found online, also had poppy seeds and a few sesame seeds as well. I'm a maximalist when it comes to food so I made sure to load mine up with lots of onions, sesame seeds and poppy seeds as well as a generous sprinkling of salt. I may or may not have added a dash of ground black pepper – but don't tell anyone, as that's OBVIOUSLY stepping over the line there.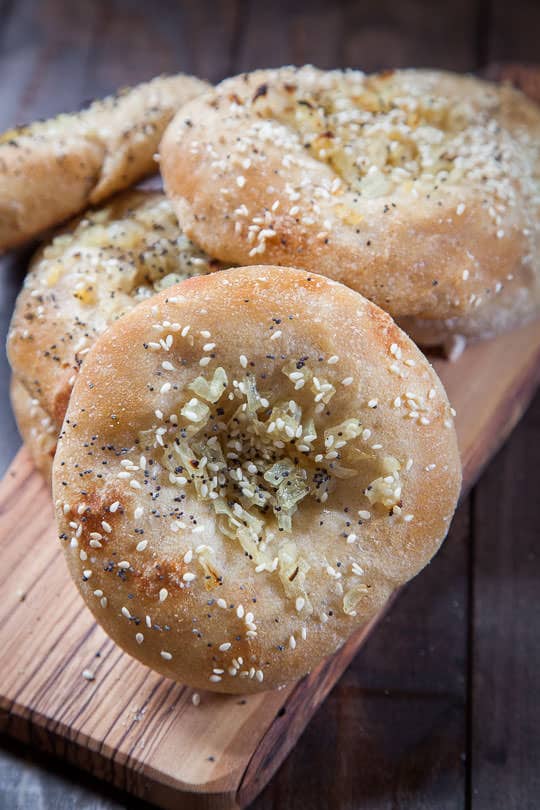 Once my partner AJ Instagrammed & Facebooked the resulting bialys, our friends seemed to approve. My brother-in-law specifically stated "they look pretty good" which is high praise coming from a native New Yorker. Pat quibbled about the seeds but otherwise was jealous of them. And David, author of the book The Culture of Tough Jews exclaimed that he loved them! Well actually he wrote that he loved bialys but I'm going to go with it and say he loved mine. Excuse me while I go have another…
Bialy Recipe
The neglected bialy is getting it's heyday recently with appearances in places outside their usual NYC residence like San Francisco's Wise Son's Deli as well as showing up on articles about new restaurant food trends. But a bialy isn't just a bagel with some onions thrown into it, it's a delicious creature all it's own. With a center depression (but no hole) and a direct bake in the oven (without boiling them first like you do with bagels), bialys make a great savory breakfast or pretty much any time of day snack option. Traditionalists will probably quibble with the poppy and sesame seeds and be slightly horrified that I add a dash of black pepper as well. Feel free to use whole wheat or white whole wheat flour instead of all-purpose flour to give the bialy a little more bite of flavor, but these will be awesome with just plain all-purpose.
One more thing about my recipe, traditional bialys are made in commercial kitchens where ovens can be cranked really high. The resulting steam released and trapped in the commercial ovens helps to form a crust. Chef Elizabeth Falkner actually prefers to make hers with a wood-fired oven which can get even higher in temperature. Being a mere mortal at home with my cheap-o oven that came with my rental apartment, I resorted to a simple home baking trick. Take a metal 9 x 13 inch baking pan (the sort you make brownies in) and turn it upside down and place a brick, cast iron skillet or heavy oven-proof pot on top. The weight of the brick or skillet traps the steam from the dough inside the pan, which in turn makes for a great chewy crust. It's a similar trick to using the Dutch oven to make artisan bread (which is what inspired me to come up with this method). However if you find the baking pan and brick too fussy, you can just skip it, but I think it really does make a difference in the final product. We're talking bakery style bialy results folks with this method! To make this recipe you need to create a poolish starter the day before you make the bialys. Keep this in mind when planning.
Ingredients
Poolish Starter
1/2

cup

all-purpose flour

70 g

1/3

cup

water

room temperature

1/4

teaspoon

active yeast

not fast acting
Bialy Dough
1/2

teaspoon

active yeast

not fast acting

1/4

cup

warm water

between 105°-110°F

3

cups

bread flour

480 g

2

cups

all-purpose flour

280 g (you can also substitute the same amount whole wheat or white whole wheat flour if you'd like)

2

cups

water

room temperature

1

tablespoon

kosher salt

Diamond brand preferred, if using other brand, use 1/2 tablespoon
Filling
2

tablespoons

olive oil

extra virgin

1

medium onion, finely chopped

about 1 cup

2

tablespoons

poppy seeds

optional

2

tablespoons

sesame seeds

optional

additional salt and pepper

to taste
To Bake
cornmeal, semolina flour or extra all-purpose flour

to dust bottom of pan
Instructions
Make the poolish starter by mixing all three of those ingredients together in medium bowl. Cover with plastic wrap and let sit at room temperature overnight (anywhere from 8 – 24 hours).

Make the bialy dough by dissolving the yeast and warm water in a bowl or glass measuring cup. Stir and let set until it starts to foam (about 5 minutes). While the yeast proofs, place both flours in the bowl of a stand mixer fitted with the dough hook. Stir the two ingredients together for a minute to blend. Add the room temperature water, the proofed yeast water and all of the poolish starter to the flour and turn the mixer on to low. Stir until all the ingredients start to form a dough. Turn the mixer up to medium high and knead the dough for 5 minutes. Add the salt and knead for 1 more minute to incorporate.

Remove the bowl from the mixer and cover it with plastic wrap. At this point you can either let it sit at room temperature for 2 hours to rise, or you can refrigerate the dough overnight for a slow rise. Line three 13 x 18 baking pans with parchment paper and dust with cornmeal, semolina flour or all-purpose flour. Once the dough has risen (either method) remove it from the bowl and roll it out into a log on a clean floured surface. Using well-floured hands, pinch off an 85 g (3 oz) piece of dough, roughly the size of a large tangerine (think large golf ball or small baseball). Flatten the piece of dough and pinch the center of the disk so the middle has a depression. Place on the baking sheet and continue with the remaining dough, five or six to a sheet.

Once you've formed all the bialys, cover the dough with plastic wrap and let rise for an hour at room temperature. In the meanwhile, place the olive oil in a medium pan and heat the oil until it starts to shimmer. Add the onions and cook until they soften and they turn golden. Remove from heat and let cool. Once the bialys have risen, preheat the oven to 450˚F. Remove the plastic wrap and spoon roughly 1 tablespoon of onions into the middle of each bialy. Sprinkle each bialy with a pinch of kosher salt as well as poppy and sesame seeds if using. Sprinkle each with a pinch of fresh ground pepper as well if using. Move the bialys close to the center of the pan and to each other.

Place the 9 x 13 baking pan upside down over the bialys, covering them completely and then put a heavy brick, cast iron skillet or heavy oven proof pot on top of the pan.

Place in the oven and bake for 15 minutes. Remove from the oven and remove the brick and 9 x 13 baking pan. Place the bialys back in the oven and bake an additional 5-8 minutes or until the edges of the bialys turn golden brown. Let cool for 5 to 10 minutes before moving bialys to the wire cooling rack. Repeat with the remaining uncooked bialys. Eat immediately or within a day. Freeze any remaining bialys as they don't keep well at room temperature past the first day.
Nutrition