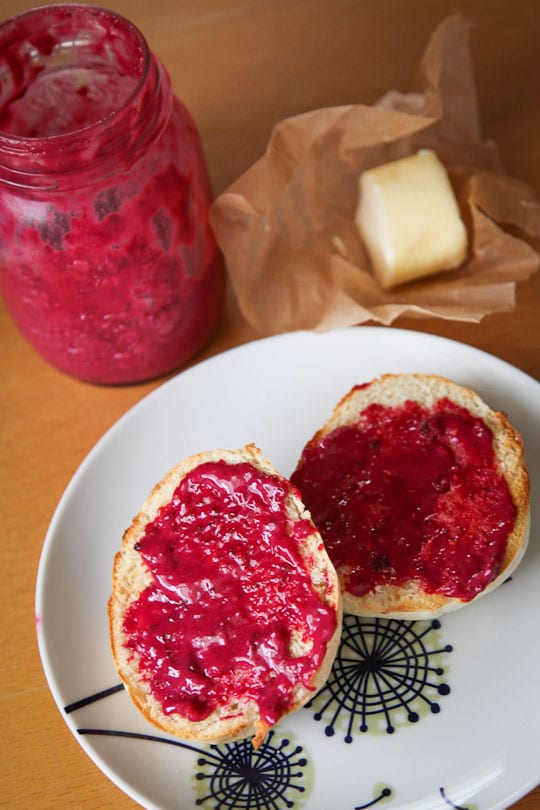 I'm inherently a lazy person. Or that's what I constantly tell myself, as I run around from food event to food event, baking 20 pies, or making cakes, running off to a dinner party, or going to get ice cream with drag queens, after baking three different types of petit fours because I wasn't happy with the first two. But when it comes to make my own jams preserves, or say a Triple Berry Curd that I am making for the Jam It Salon hosted by 18 Reasons and Karen Solomon, I'm pretty content with making them on the fly, for consumption, and not for canning. Basically because I'm too lazy to sterilize and can the preserves, which is sad, as I've been told that it's not that hard. The idea of eating my own homemade preserves in the wintertime is very Little House on the Prairie
appealing, but oh to have to boil all those cans in water.
*sigh*
Now I realize that a REALLY lazy person would just buy a can of Smuckers
and be done with it, but the reality is homemade preserves, jams, jellies and the like are pretty darn easy to make and WAY more tasty than the grocery store stuff (the grocery store versions, way too sweet for my palate). It's the canning that's kind of a pain in the butt, in my eyes. Of course, I've never done it. So maybe it's would be an easy thing to do. In fact, I recently ran out and bought a dozen jars in a fit of ambition, thinking to myself, "Hey! You own three books (yes three book, true story) on making jams and preserves. Maybe you should actually can some of that awesome summer fruit!" Said jars are currently up above my fridge still shrinkwrapped, untouched. Ahem.
Now Sean over at Hedonia and Punk Domestics would totally disagree. He thinks canning is crazy easy and has even offered to show me the ways of the can. But when I recently went to 18 Reason's Jam It Salon (I kept on referring to it as the Jam Session to all my non-food friends and they kept on asking if there was going to be hacky sack, patchouli and a drum circle there, so I finally corrected myself) I found myself talking to Karen Solomon, author of Jam it, Pickle it, Cure it
(a book that I picked up at the local San Francisco Costco of all places. You know you've arrived if you're book is being sold at Costco!).
I had brought a jar of Triple Berry Curd with me. Karen swooned over the unctuous mouthfeel and bright creamy flavor and amazing magenta color. She leaned over after she tasted it asked me how you would can it. I replied back that you wouldn't. Though the British have been canning curd forever, the current wisdom is that you really shouldn't because it has dairy and egg in it. Bad things can grow in it, no matter how you sterilize it. So everyone (well everyone I can find on the internet) tells you to not can it, and instead just make small batches and enjoy it. Some even suggest freezing it. I haven't experimented with that yet. My freezer is too full of stock and ice cream for me to fit yet another item into it.
Then I leaned over conspiratorially and said "Well, and I'm just too lazy to actually can my jams and preserves." I expect a gasp of shock or an exclamation of how it's NOT. DIFFICULT. AT. ALL. ANYONE could do it! What I did not expect was an automatic reply back of "Meh. Don't bother. Just make the jam and enjoy it."
WHAT?!?
This is the woman who wrote a book on jams and preserves and who was co-hosting this very event where people brought their own homemade preserves, pickles and sauces! She was telling me not to bother to can either? I love her!

Why do you need 12 jars of the same preserves in the pantry she said to me? You don't. Just make one and enjoy it! No one needs a pantry full of jams and pickles.
Why hadn't I thought of it in those terms? Such a common sense approach to preserves and jams! I'm falling in love with preserve making even more so.
The rest of the Jam It Salon was pretty awesome. I got to sample some pretty nifty food crafted items. Like pickled green walnuts. They taste like soft, briny olives, but with a starchy texture like a cooked peanut. There were a couple of raspberry items there including a tart/sweet raspberry nectarine sauce by Emily at Foodzie. Foodzie, by the way, is an awesome website, dubbed the "etsy for the food craft set." Small artisan food producers selling their wares directly to the consumer. Genius.
Emily told me that she was going to be a judge for the preserves division in the Good Food Awards coming up. If you take a peek at the other judges in that category, you'll see she's in excellent company, with Emily Luchetti, James Beard award winning pastry chef for Farallon and Water Bar as one of the judges and Ruth Reichl, former editor of the now sadly defunct Gourmet magazine as another. If you happen to make your own artisan crafted food, you should enter!
Karen, herself had brought some raspberry jam as well as some homemade chocolate and a perky fizzy strawberry black pepper soda that had some attitude. There was a wonderful apricot preserves there and a myriad of pickled items, including pickled carrots, jalepeños en escabeche, pickled beets, pickled grapes and pickled peaches with goat cheese (which created an odd, but not unpleasant sweet-savory flavor).
Someone brought a japanese style kimchi (kimuchi) which I loved. And there were two Georgian sauces (Georgian as in the country, not the U. S. state). Tkemali, which is a cherry plum sauce often used like ketchup in Georgia and makvali, which is a tart blackberry sauce that works well with roast chicken. Both were pretty amazing, and way more savory than I expected them to be, with the fruit base.
The crowd seemed to really enjoy the sauces, pickles and jams. Most everyone who tasted my Triple Berry Curd complimented me on, asking me questions on how to make it and what exactly it was (No, not all curd is lemon curd. Yes, it's easy to make. No, it does not have cheese in it, as it's not that type of curd. Yes, you can make it with any type of berry you want). Once I busted out the recipe cards that I had printed out, people seem to light up as well. Why didn't other people bring recipe cards? I guess they don't that far ahead.
No one else seemed to have brought a curd either. I was actually trying to figure out whether I should bring the Triple Berry Curd or a Kiwi White Raspberry Lemon Marmalade, and though a couple people had actually tweeted to me telling me I should bring the marmalade, 18 Reasons direct messaged me begging and pleading to me that I bring the Triple Berry Curd (I believe the phrase used was "please oh please!"). As they were hosting the event AND were actually going to be there (as opposed to the people who tweeted from across the country) I figured I should go with that.
The curd, by the way, is pretty awesome on toast, a bagel, or my favorite breakfast starch of the moment, homemade or local artisan English muffins (NOT the dry flavorless cragged English muffins you get at the grocery store. I really detest those). There was some leftover from the event so I was able to use it for breakfast for the rest of the week and then it also saved me when I made my petit fours for the Daring Baker's Challenge and the first couple of attempts at petit fours were disastrously ugly!
In the end, I realize that the term "lazy" is clearly relative. Sure I may not have it in me to can 60 lbs of fruit so AJ and I can survive through the harsh winter months. But this is the modern era. I can just walk down the street and pick up some artisan jam at the local organic grocer. Or better yet, just shoot over a tweet to Sean at Hedonia. He'll probably have a jar or two in his cupboard that he can spare….
Whilst making the curd, I listened to Rose Melberg's Homemade Ship
. Her simple, plaintive voice seemed a nice counterpoint to the bright cheery colors and flavors that the Triple Berry Curd has.