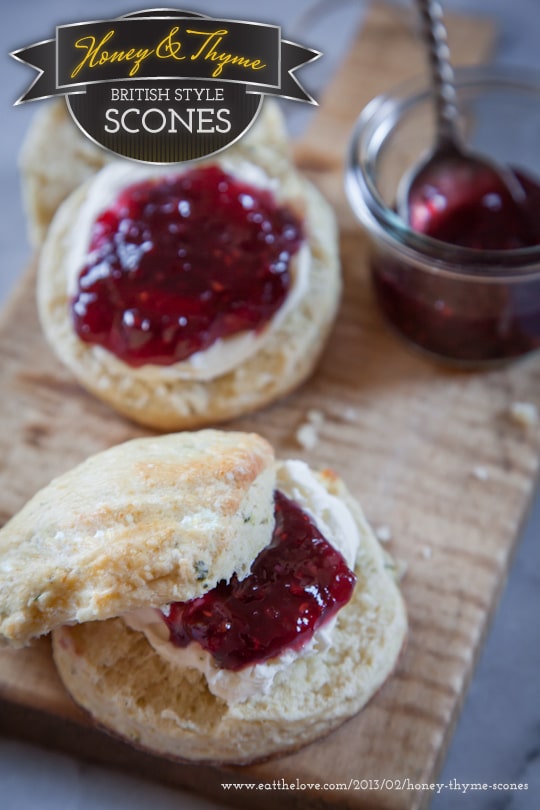 There's a subplot in a Sex and the City episode where Samantha sneaks into the New York Soho House, an exclusive member's only club, with a stolen membership car to gain access to their pool. Obviously things don't end well in that episode for Samantha but I was rather oblivious to the exclusivity of the club until my childhood friend Maria explained to me what the club was, as we sat around drinking fresh mint and fresh ginger tea in the soft leather seats. Maria, a fashion designer, happened to be a member of the club and had invited me there to catch up while I was in New York. A lot has changed since we both fled the Midwest (her to London to study fashion, me to San Francisco) including Maria accent. So it took me a moment to get what she was talking about when she leaned in and asked me if I knew how to make cream for scones. The cream she was referring to was clotted cream and it's actually pretty easy to make and I told her so. She seemed a bit incredulous, but it did get me thinking about British style scones, leading me to want to share with you my recipe for Honey & Thyme British Style Scones.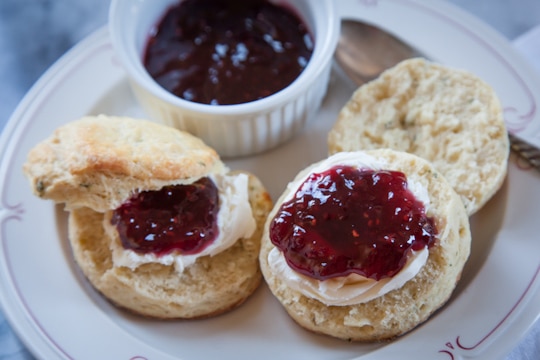 The difference between British scones and American scones are fairly superficial at first glance, but one of the absolute main differences is that American scones tend to be triangular shaped, or cut into wedges. The British scone is almost always circular or (on a rare occasion) rectangular. They look like American biscuits (which is totally confusing as British biscuits are American cookies or crackers. I know, it gives me a headache too). The American scones invariably are sweet, speckled with dried fruit and I certainly have a soft spot for them (check out my recipe for Earl Grey Cherry Scones with White Chocolate Glaze) but the British scone is significantly less sweet. An accompanying baked good to afternoon tea, the British scone seems to be there strictly as a vehicle for the clotted cream that my friend Maria so loves, as well as fruit jam, lemon curd or marmalade.
Now, being the typical American, there is no way that I can say my recipe for British scones is authentic. Certainly adding the honey and thyme to the recipe isn't on the up-and-up. As I said before, a proper British scone is strictly there as a supporting role in afternoon tea. But it's hard for me to not tinker with a recipe and you'll find that this one isn't nearly as heavy or sweet as the American scones encrusted with sugar on top that you'll find at the ubiquitous coffee chains. Just cut them with a round biscuit cutter and they could almost pass for British, or at least I tell myself that. Either way, their a superb afternoon treat, with a cup of tea and a marathon session of Downton Abbey. As for the clotted cream, most people just buy it (if they can find it on the shelves), but, as I told Maria, it's super easy to make and tastes loads better than the jarred stuff. Bounce over to my friend Stephanie's site The Culinary Life to check out her stove top recipe for clotted cream which I use as I don't own a crock pot and my cheap ass oven runs too hot to allow me to use the oven method.
Honey and Thyme British Style Scones
By Irvin Lin
After extensive research (okay, I googled a lot of recipes and looked at a few cookbooks) I discovered a few things about the British style scone. First off, they aren't wedges, they are usually round. Secondly they tend to be significantly less sweet than the American counterpart. And third off, most recipes I found didn't use egg in the batter except for an egg wash (though there were a few exceptions). I cut the difference and used one egg, instead of two, because I like a richer baked good. If you want to be more austere and authentic, skip the egg, leave out the thyme and substitute two tablespoons of sugar for the honey. You'll be much closer to a traditional British scone.
Specially thanks to Dan Lepard (British baking guru) for the tip on baking the scones in a roasting pan instead of a baking sheet. The resulting scones are moister because a flat baking sheet encourages evaporation.
Ingredients
1 cup (140 g) all purpose flour
1 cup (155 g) bread flour
1 teaspoon cream of tartar
1/2 teaspoon baking soda
1/2 teapsoon kosher or fine sea salt
1/4 cup (60 g or 1/2 stick) unsalted butter, cold
1/2 cup well shaken buttermilk
2 tablespoon honey
1 tablespoon fresh thyme leaves, finely chopped
1 large egg
1 large egg yolk + 1 tablespoon water
Directions
1. Preheat an oven to 425˚F (220˚C or Gas mark 7). Lightly spray a large roasting pan with cooking oil and place a piece of parchment paper down inside the bottom of it.
2. Place the flours, cream of tartar, baking soda and salt in a large mixing bowl. Cut the butter into 1/2 inch chunks and sprinkle over the dry ingredients. Using your fingers work the butter into the dry ingredients until the butter is broken up into small bits, and the mixture starts to look like cornmeal. The more chunky you leave the butter, the more the resulting baked good will be like a flaky biscuit, so you want the butter fairly small to give a tight scone crumb.
3. Measure out the buttermilk into a glass measuring cup and add the honey, thyme and egg to it. Using a fork, mix together until the honey had dissolved into the buttermilk and the egg is incorporated. Drizzle the wet ingredients into the dry ingredients, using a large spatula to fold in. Continue to work the ingredients gently until all the wet ingredients are incorporated.
4. Pat or roll the dough out to roughly a 1 inch thick and, using a  21/2 or 3 inch round biscuit cutter, cut out circles of dough. Do not twist but instead just press down to cut the dough. Place scone rounds in the lined roasting pan. Continue to cut all the dough, gathering the dough scraps together and rerolling to use them all up. You should have about 6 to 8 scones. Beat the egg yolk and the water together until frothy. Brush over the scones.
5. Bake in the oven for 12 to 14 minutes or until the scones start to look golden brown on top. Remove from oven and let sit in the roasting pan for a few minutes before removing them and letting them cool on a wire rack. Serve with clotted cream, butter, jam or marmalade.
Makes 6-8 scones.