This recipe for authentic Bavarian Pretzels uses a lye solution, resulting in the traditional Germany pretzel, called laugenbrezel.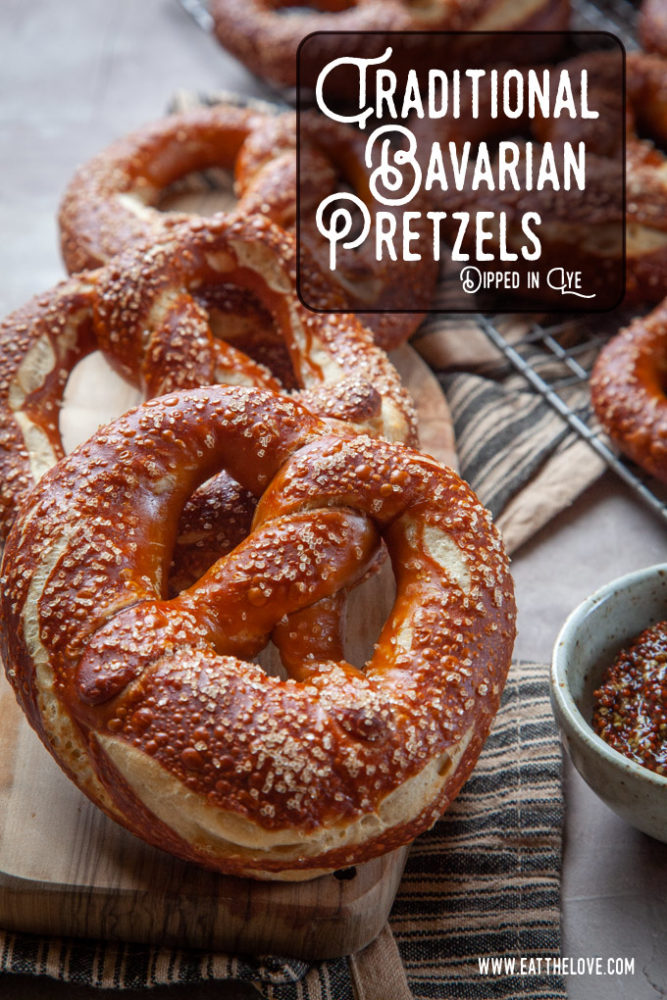 These authentic Bavarian pretzels are different than their American counterpart soft pretzels because they are dipped in a more traditional lye mixture. In fact, the German name for these pretzels laugenbrezel literally translates to "lye pretzels."
These pretzels are shaped in a more traditional Bavarian-style with a rounded belly and thinner arm. If you want Swabian-style pretzels, (Swabia being a specific region of Bavaria) roll out the "arms" of the pretzel super skinny. They will bake up crispy, a nice foil to the soft and plump belly.
What are Bavarian or German-style pretzels?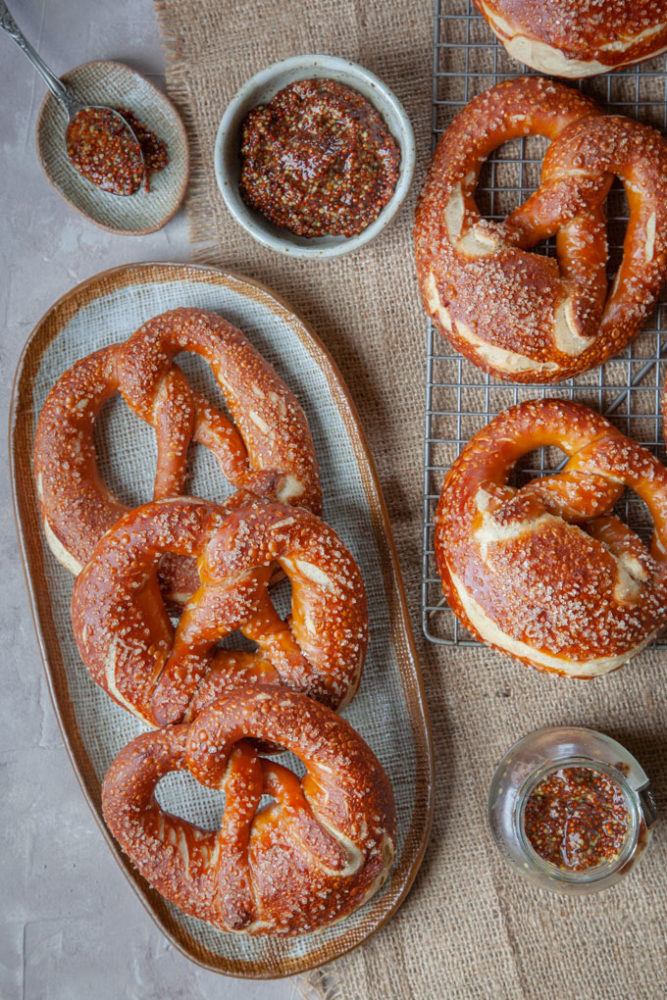 You can find large pretzels all over Germany though they are particularly popular in Southern German, an area called Bavaria. The salty snack are a ubiquitous snack at the annual Munich Oktoberfest, but they are available all-year round in pubs and restaurants across Germany.
They were imported to the United States with the German immigrants (the Pennsylvania Dutch population) which explains why the most popular U.S. pretzel companies (Snyders of Hanover and Rold Gold) have Pennsylvania roots.
Unlike American soft pretzel, which are nice and plump, German-style pretzel dough is a slightly leaner dough with less butter in it. The Bavarian pretzel dough first starts out with a pre-ferment, which allows for the yeast to get a kick start and give the pretzel more flavor and dimension. Think sourdough but not quite as robust, nor without the need to make a sourdough starter.
German-style pretzels are also rolled with a fat belly and thin arms. The belly is slashed with a knife and splits open as it bakes.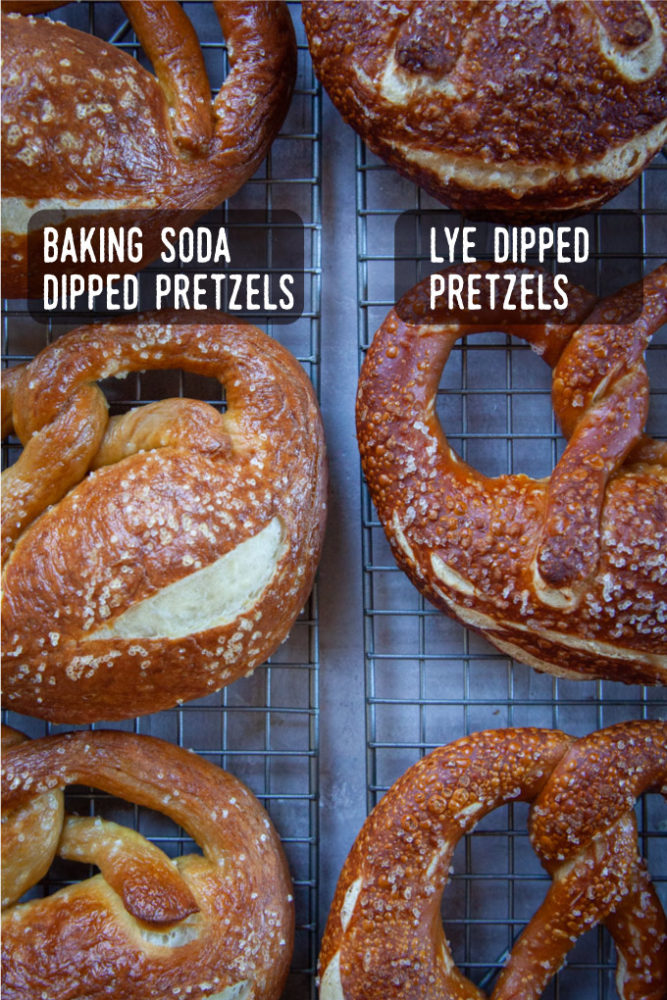 Finally, and most importantly, German-style pretzels, are dipped in a lye solution, while American soft pretzels usually rely on an easier baking soda dip. Both baking soda and lye are alkaline solutions that caramelize and create the signature bitter crust on pretzels. However, food grade lye is significantly more alkaline than baking soda. The hard caramelized crust you get from dipping the pretzel in lye isn't achievable with just baking soda. In fact, as I mentioned right off in the beginning, the German word for pretzels are laugenbrezel which literally translated to "lye pretzels." If you aren't using lye as a dipping solution, you aren't making authentic German pretzels!
How do you make Bavarian pretzels?
Bavarian pretzels start with a pre-ferment dough, which is a small amount of yeast mixed in flour and water. This mixture is set aside for a long period of time (3 hours or overnight in the refrigerator). This pre-ferment gives the dough and pretzel extra complex flavor.
Once the pre-ferment is ready, the dough is made with barley malt syrup, water, more yeast, flour, butter and salt. The pre-fermented is added, and the entire dough is kneaded until it is smooth and elastic.
The dough is left to rise, then divided and formed into a pretzel shape by first rolling out a long rope, then making a U shape, and bring the arms of the U across each other, then twisting again, then brought back down to the belly, forming a pretzel shape.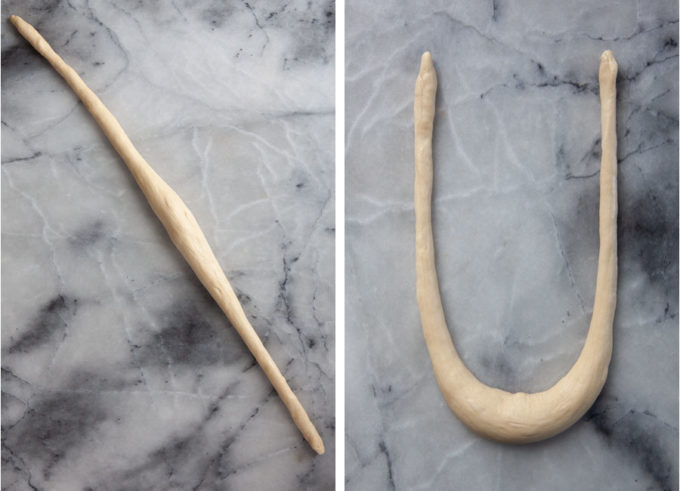 Once all the pretzels are formed, they are chilled in the fridge or freezer. This makes them easier to handle. Once cold, they are dipped in a lye solution, sprinkled with salt, sliced open in the belly with a sharp knife or razor, and baked.
Can I use a different pretzel dough?
Yes! If the pre-ferment dough and the additions of barley malt syrup and diastatic malt seems too fussy and time-intensive, or if you have a sourdough starter you can make this pretzel with that dough. Just follow the dough instructions for my soft rye pretzels, my sourdough pretzels, my pretzels buns, or my beer twist pretzels and use the instructions below for dipping in lye. Keep in mind the dough will not taste quite as traditional as what you might get at a German pub or Oktoberfest.
Why do you want a higher pH solution for the pretzels?
The higher the alkaline solution the more it breaks down proteins on the surface of the dough, accelerating the Maillard reaction. This reaction is the caramelization reaction that gives browned food (think seared steak, crusty European-style sourdough bread and pan-fried dumplings) it's flavor. That traditional blistered and dark mahogany brown pretzel crust can only be achieved with a higher pH solution dip!
What is lye and where can I get it?
Lye is a very strong alkaline base with a pH of around 13. The higher the pH, the more powerful the alkaline base. The active ingredient of food safe lye is sodium hydroxide. it is sometimes is also called caustic soda. It's the primary ingredient in making soap and can be found in some de-clogging plumbing liquids like Drano and Liquid Plumber.
Food safe lye can be found online (<– affiliate link) and at craft stores in the soap making section.
Is lye safe to use in food?
All this sounds SUPER scary and you should definitely use caution when using lye. However, in the 3% to 4% solution that you are using it in this recipe, the food safe lye is no more dangerous than using household bleach to clean or do laundry with. In other words, use common sense and caution, and you'll be fine.
All that said, once the pretzels have been dipped in the lye solution and then baked, the steam produced in the oven from the pretzel dough reacts with the lye and turns it into a benign carbonate that is completely safe to eat.
In fact, any commercially made pretzel that you have eaten in the past, most likely was made with a lye solution.
What precautions should I use when working with lye?
As I said above, lye is dangerous but you shouldn't be scared of it. It's like working with household bleach, in that you don't want it on your bare skin but if that happens, just calmly go to the sink and rinse the area that touched the lye under water for 3 to 5 minutes.
I do recommend that you use plastic gloves when working with lye. When I'm feeling cautious, I also wear a long sleeve shirt and long pants with shoes just in case. My partner is chemistry professor at a community college, so he gets super overprotective of me and makes me wear safety googles, but that's optional. If you use caution and common sense, it's fairly unlikely you'll be splashing the lye solution enough to get it in your eyes.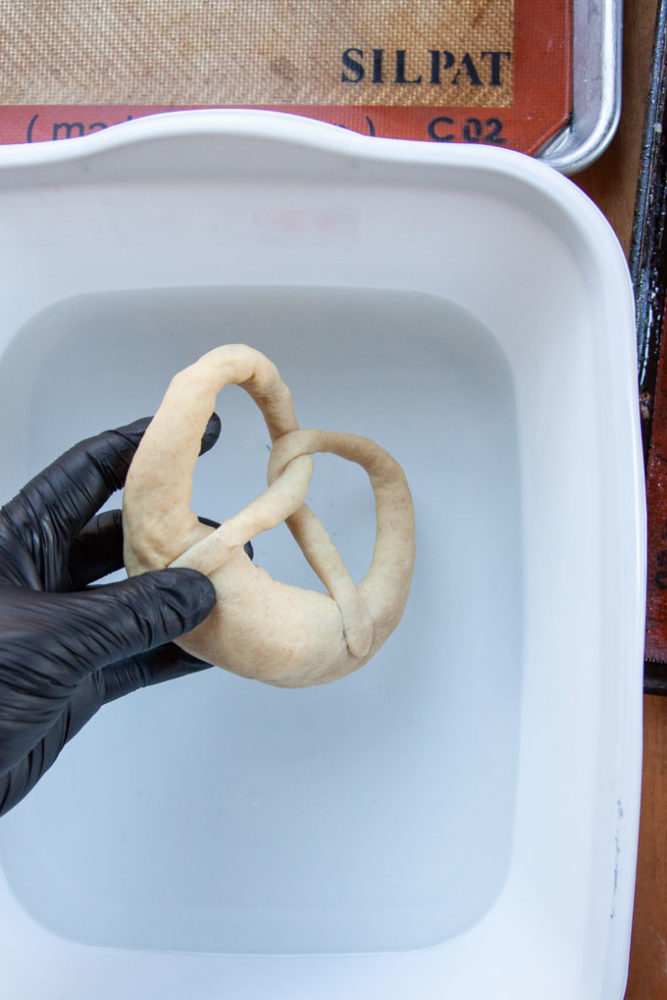 All that said, lye is caustic to your skin, so precaution and plastic gloves are recommended and make it easier to work with. I often also lay a couple of pieces of parchment or wax paper underneath the bowl that I put the lye in. That way, if anything splashes or drips as I move the pretzels in and out of the solution, it won't get on my table or counter and damage it.
One thing to note, always add lye to the water. Never add water to lye! Pouring water into lye has a much higher risk of splashing and getting it on you.
What sort of container should I put the lye solution in?
Lye is a strong alkaline solution that powerful enough to actually ruin containers! It is, in fact, corrosive to glass, so I don't recommend using glass bowls for the lye solution at all. Though you might not notice any damage to the glass bowl, over time, using lye in a glass bowl will continue to degrade the quality of it and potentially weaken it. Nothing like having a glass bowl shatter randomly in your kitchen!
Stainless steel is a better choice, but unfortunately there are multiple types of stainless steel and there's often no real way to tell if what is metal is used in the stainless steel. Lye can be corrosive to some metals. For instance, you do not want to use aluminum, as the lye will dissolve the aluminum. Stainless steel is a better choice than glass however.
All that said, the best option is to use a plastic bowl or container. But keep in mind the bowl should be made of high density polyethylene or polypolypropelene. Thankfully here in the United States, it's easy to figure out what plastic is being used. Just flip the bowl over and look at the recycling number. You want plastic #2 (HDPE or high-density polyethylene) or plastic #5 (PP or polypropylene) as those are unreactive to the alkaline lye solution.
For more detailed information about what sort of container to use for lye solution, check out this webpage.
All this lye stuff is freaking me out. Can I just use baking soda?
Absolutely! You can make the dough and form the pretzels, but instead of using the lye solution, boil 2/3 cup of baking soda with 10 cups of water and boil the pretzels in the baking soda solution for 45 seconds, then flip and boil for an additional 45 seconds. This method is what I use to make my rye soft pretzels, my beer pretzel twists , my sourdough pretzels and my pretzel buns.
You can also go the extra step and bake the baking soda! Heating the baking soda will break it down from sodium bicarbonate (the chemical name for baking soda) to sodium carbonate, making it even more alkaline. Sodium carbonate is somewhere between a 10 and 11 on the pH scale, a significant jump from the 8.3 pH of baking soda.
To make sodium carbonate, just spread 1 cup of baking soda on a baking sheet lined with parchment paper in a 275°F oven for an hour, stirring the soda every 20 minutes. The baking soda should reduce down to about 2/3 cup. Dissolve the baked baking soda in 10 cups of water and boil the pretzels for 45 seconds on both sides. Be sure to use caution, as the solution is a higher alkaline than baking soda.
All that said, you won't get the same crisp blistered crust that you get from using lye, regardless of the baking soda or baked baking soda solution. The pretzel will be tasty, but it won't quite the same as a traditional German-style pretzel.
How can you prevent the lye dipped pretzel from sticking to the parchment paper/silicon baking sheet?
One of the things with baking with lye is that the dough has been chemically changed and will stick to the paper/silicon baking sheet after baked! I've tried different quality parchment paper, as well as silicon baking paper. Higher quality parchment paper definitely works better than the cheap stuff, and silicon baking sheets also works nicely.
But the best way to keep the pretzels from sticking is to generously spray or grease the paper or silicon mat! A layer of oil helps to prevent the pretzels from sticking, even on the silicon baking mat. So don't skimp oiling step. Otherwise you'll be picking and peeling paper from the bottom of your pretzels.
All that said, if you DO have pieces of parchment paper stuck to the bottom of your pretzels, I found the best way to remove them, without removing too much pretzel bread, is to use a rasp grater like a Microplane, the type that you would use to grate Parmesan cheese, to grate off the parchment paper.
What is barley malt syrup and diastatic malt?
You'll notice, along with the lye, there are two ingredients that most folks might not be familiar with. Barley malt syrup is a bitter sweet syrup that gives pretzels and bagels their traditional bitter sweet flavor. It is made from barley grain that has been sprouted, dried and then cooked. The resulting liquid is reduced down into a syrup.
I use barley malt syrup in this recipe because it's the traditional ingredient for Bavarian pretzels and I was striving for authenticity in this recipe. But if you don't feel like getting yet another specialty ingredient, you can substitute an equal amount of brown sugar or honey for the malt barley syrup. Just know the pretzels won't taste quite as authentic.
The other ingredient is diastatic malt. This is a powdered ingredient, again usually made from barley grain. It helps improve the dough texture, volume, flavor and increase the golden brown crust. It is an ingredient for a lot of professional bakers and bread baking enthusiasts.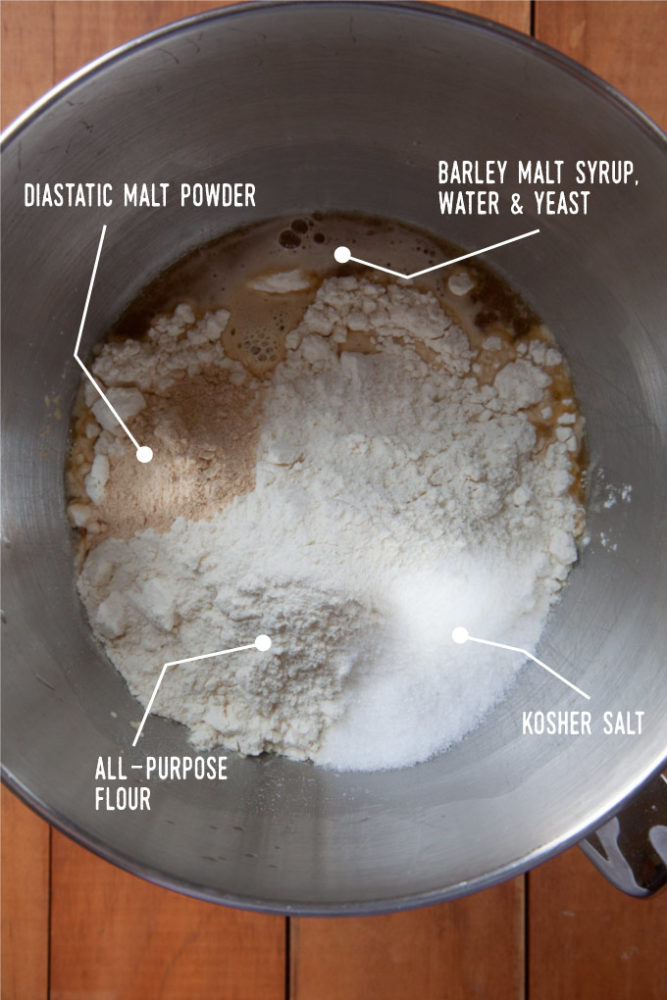 Don't mix up diastatic malt with non-diastatic malt or grocery store malted milk powder. Non-diastatic malt and malted milk powder are both flavoring agent and won't improve the dough texture, volume or golden crust of the pretzel. If you don't have diastatic malt and don't feel like getting it, just omit it from the recipe. The resulting pretzel will still taste great.
Barley malt syrup can be found online and so can diastatic malt (<– both of those are affiliate links). Barley malt syrup can also be found at well-stock health food stores, and diastatic malt can be found at beer making stores.
Frequently Asked Questions
How do you store German style pretzels?
Store these pretzels at room temperature in an airtight container or resealable Ziplock bag for up to 2 days at room temperature. Warm them up in a toaster (if the slots are big enough) or in a toaster oven/regular oven at 350°F for about 3 to 5 minutes.
Can you freeze these pretzels?
Yes! These pretzels freeze great. Store them in an airtight container or resealable Ziplock bag for up to 2 months in the freezer. Keep in mind that salt will dissolve when you freeze them, so they won't look exactly the same as when you initially baked them, but they will still have a salty skin topping and will taste great.
To defrost, just leave them on the counter for 30 to 60 minutes. Or warm them directly from the freezer, in a toaster with a wide slot or a toaster oven/oven at 350°F for 5 to 10 minutes.
What sort of yeast should I use?
I developed this recipe using active dry yeast in this recipe. I recommend using it if you can. But if you have only have Rapid Rise or Instant yeast you can use those two. Just keep in mind that the yeast works faster and will rise quicker.
If you do use Rapid rise or Instant yeast, skip the pre-ferment stage, adding all the flour, water and yeast to the main dough. And keep an eye on the dough as it rises. It will rise and double faster.
What to dip these pretzels in:
The classic German pretzel is enjoyed all by itself, or with a cold glass of beer. But you can also serve it with condiments if you like. Try it with
Whole grain mustard
Spicy hot honey mustard
Obadza (a classic German cheese dip served with pretzels)
Queso, a Mexican cheese dip
Pimiento Cheese
And if you like this German pretzel, try these other bread recipes
Bavarian Pretzels dipped in lye (aka Laugenbrezel)
These Bavarian pretzels are done the authentic and traditional way, dipped in food safe lye. They also use a pre-ferment dough and use specific bread making ingredients like diastatic malt and barley malt syrup. The entire project requires sometime to let the pre-ferment develop, as well as the dough to cool and chill in the refrigerator so keep that in mind.The effort is absolutely worth it for authentic tasting Bavarian pretzels that taste like they're from an actual German pub.
Ingredients
Pre-ferment dough
1/4

cup

warm water

90 to 100°F

1/4

teaspoon

active dry yeast

1/2

cup

all-purpose flour

70 g

1/2

teaspoon

kosher salt
Dough
1 1/4

cups

warm water

90 to 100°F

1

tablespoon

barley malt syrup or dark brown sugar

2

teaspoon

active dry yeast

3 3/4

cup

all-purpose flour

525 g

2

tablespoons

unsalted butter

melted

2 1/2

teaspoon

kosher salt

1

teaspoon

diastatic malt powder

optional
Lye solution
1

quart

room temperature water

950 g

2

tablespoons

food grade lye

also called caustic soda, 35 g
Instructions
Make the pre-ferment dough by placing the water in a glass measuring cup and dissolving the yeast in it. Mix in the flour and salt. Cover with plastic wrap and set aside for 1 hour at room temperature. Then refrigerate the pre-ferment dough for a minimum of 3 hours, or up to 12 hours.

In the bowl of stand mixer fitted with a dough hook, add the warm water and stir in malt syrup or brown sugar. Add in the yeast and stir to dissolve. Set aside for 5 minutes to proof or until foam starts to form on the surface of the liquid.

Add the flour, melted butter, salt, and malt powder to the bowl. Add in the pre-ferment dough as well, scraping the measuring cup to make sure all of it is added.

Stir together with a spatula, until a shaggy dough forms, then on slow speed mix and knead with the dough hook until the dough is smooth or elastic, increasing the speed to medium as the dough comes together. It should take about 4 to 5 minutes. You may need to scrape down the side of the bowl a couple of times.

If you don't have a stand mixer or want to hand knead the dough, stir all the ingredients together with a wooden spoon until a shaggy dough has formed and most of the dry ingredients are absorbed. Knead the dough by hand on a clean surface for 7 to 10 minutes, or until the dough is smooth and elastic.

Grease a large bowl with cooking spray. Grab the dough and pull/stretch the sides of it until a smooth round ball is formed. Place the dough, rough side down, in the bowl and cover it with plastic wrap. Set in a warm place to rise until double in size, about 1 to 1 1/2 hours depending on the warmth of your kitchen.

Once the dough has risen, dump the dough onto a clean surface. Divide the dough into 8 pieces, about 4 ounces (115 g) each.

On a clean bare surface, roll the dough out into a long rope. To get a more traditional German style pretzel shape, taper the ends of the rope thin and leave the middle of the dough thicker and more fat. Do not flour the surface, as you need a bare surface for the dough to properly roll out.

As you roll the dough, you might encounter some resistance from the dough itself, with the ends of the rope becoming super elastic and bouncing back. If that happens, just step away from the dough for about a minute or two. This will allow the gluten in the dough to relax. Once the gluten has relaxed, this will allow you to roll out the ends easier. You want your rope to be about 24 inches long or longer.

Form the pretzels by first making a "U" shape with the rope.

Cross the arms over once. Then cross them over again in the same direction, twisting them.

Then bring the arms down to the bottom of the "U" firmly press the ends to the belly, forming a pretzel shape. Move the pretzel to a baking sheet and repeat with the remaining dough.

Cover the pretzels with plastic wrap for 15 to 20 minutes, or until they start to look a little puffy. Remove the plastic wrap and let the pretzels sit out to help form a "skin" on the dough for about another 15 minutes.

At this point you can either move the pretzels (uncovered) to the freezer for a faster chill or the refrigerator for a slow cool down. If you have room in the freezer, place the pretzels in there for 15 minutes to chill and firm up. If you don't have room in the freezer, place the pretzels in the refrigerator for 30 minutes. Chilling the pretzels makes them easier to handle when dipping them in the lye.

While the pretzels are chilling, preheat the oven to 450°F. Line two baking sheets with silicon baking mats or parchment paper then generously spray or brush each of them with cooking oil.

At this point you can prepare the lye solution. Lye is a concentrated basic solution that is caustic and can burn. See my section above on working with lyehttps://www.eatthelove.com/bavarian-pretzels/#bakingsoda. Prepare the lye solution by pouring the water in a large plastic bowl (preferred) or stainless-steel bowl. Add the lye powder to the water. Carefully stir the lye solution. It will first seem cloudy, as the powder is suspended in the water, but then it will start to clear up as the lye powder dissolves. Once it's clear, set it aside.

Once the pretzels have chilled and firmed up, take them out of the fridge/freezer. Dip one pretzel in the lye solution and leave it there for 30 seconds, making sure it's completely submerged. Pull the pretzel out of the lye and place on the prepared oiled baking sheet. The pretzels will be a little slippery so keep that mind. Repeat with the remaining pretzels.

After all the pretzels have been dipped, sprinkle the pretzels with coarse salt. Slice the belly of the pretzel with a sharp knife or razor.

Bake the pretzels for 16 to 20 minutes, depending on how deeply brown you want the pretzel and how crisp you want them. You may want to check your pretzels halfway through and rotate the pans if your oven heats unevenly. Enjoy the pretzels warm from the oven or at room temperature.
Notes
If you want to skip the pre-ferment dough, just add all the pre-ferment ingredients to the pretzel dough when you form it or use a different pretzel dough like my rye soft pretzels, beer pretzel twists, pretzel buns or sourdough pretzels.
If lye scares you, you can make a baking soda solution or a baked baking soda solution. See my section above for directions.
If you want to make these German pretzels even MORE traditional, you can use 1 tablespoon melted butter and 1 tablespoon pork lard instead of just butter.