This easy-to-make sparkling strawberry lemonade is refreshing, made from fresh-squeezed lemon juice, strawberries, and minimal sugar.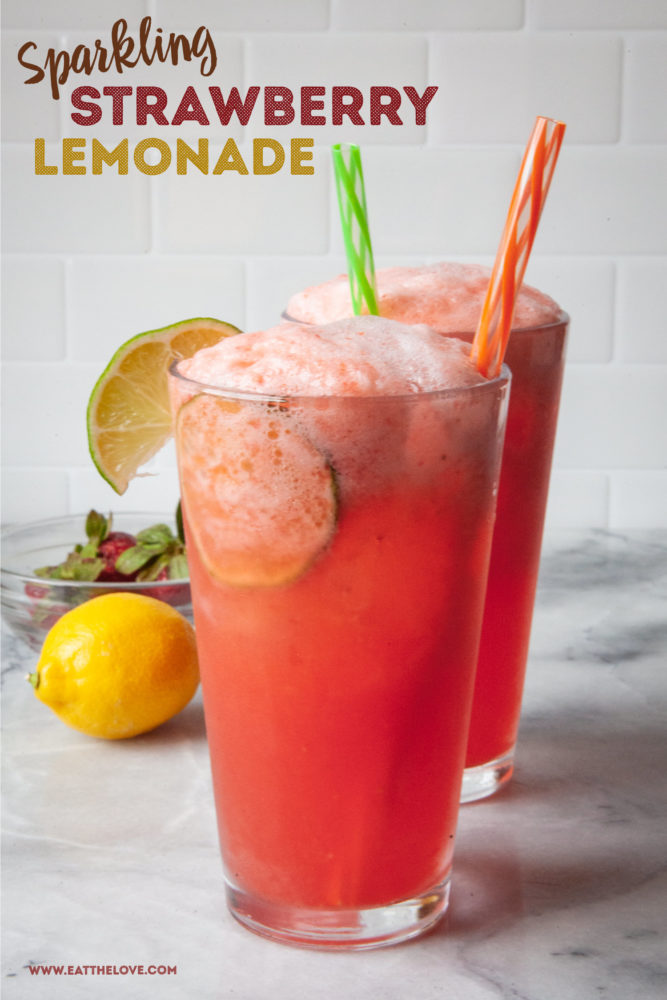 I low-key hate the phrase "if life gives you lemons…" but because I was working on a work project, I ended up with about 8 pounds of lemon. Specifically, I ended up with 8 pounds of already zested lemons, which I was trying to figure out what do with. And since things are warming up here in San Francisco and seasonal strawberries were popping up on sale the market, and I had already bought some to make my strawberry rhubarb syrup, I jumped at making some sparkling strawberry lemonade!
I still have a bunch of lemons left though, which means I'll probably end up making a version of my Meyer lemon shaker tart with strawberries and rhubarb with regular lemons or maybe some honey lemon glaze for a fig focaccia. Or a different lemon recipe that I have yet to figure out. But in the meanwhile, I'll be sipping on this easy strawberry lemonade while I contemplate all my options…
Why this recipe is so easy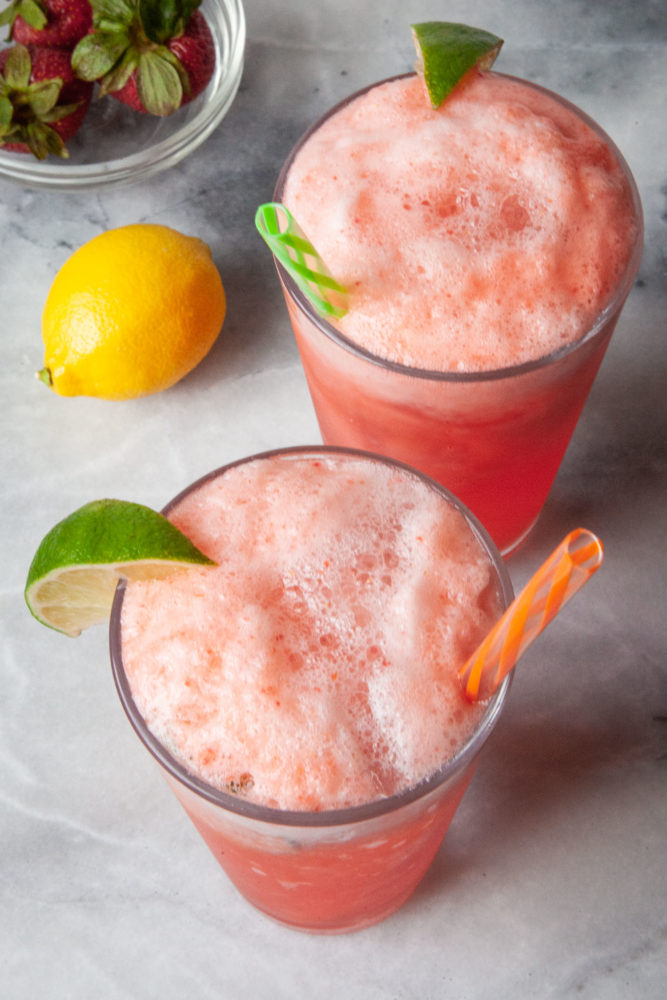 There are recipes out there that have you making a simple syrup, but I just throw all the ingredients in a blender instead of cooking the syrup on the stove. Simple syrup is usually made by boiling water with sugar at 1:1 ratio. But because there's more liquid in this recipe (2 cups lemon juice + juice from the pureed strawberries) and only 3/4 cups white sugar, the sugar dissolves pretty quickly without heating up. No heating means faster and easier strawberry lemonade.
Refine it
I like this recipe because it's super easy and simple. Squeeze the lemons, cut the strawberries, blend. That's it. But if you want to go one step further, and strain the syrup after you blend it, to remove the strawberry seeds and pulp, as well as any lemon solids that might have snuck through. I don't bother with this step as it's one more thing for me to wash, but it does give you a smoother beverage in the end.
Customize it
Use plain water: Don't want to make it sparkling? Don't use sparkling water! This recipe works great with just plain water, making a more standard (but still fantastic tasting) strawberry lemonade.
Meyer Lemon: Swap out the regular lemon for Meyer lemon.
Adjust Sweetness: This recipe makes a not-so-sweet strawberry lemonade. If you prefer a more sweet, less tart lemonade, increase the sugar to 1 cup. If you like your lemonade puckering tart refreshing-style, reduce the sugar down to 1/2 cup. Or just tinker with it to your liking.
Brown Sugar: Swap the white sugar with the same amount of brown sugar to give some molasses undertones.
Maple Syrup: Use 2/3 cup maple syrup instead of the white sugar.
Honey: Swap out 1/2 cup of honey for the white sugar.
Berries: swap out the same amount of a different berry like fresh or frozen raspberry, blackberry or blueberry. Or swap out 1 pound of pitted cherries to make cherry lemonade!
Mint: add a handful of fresh mint leaves after you have pureed the strawberry lemon syrup thoroughly. Pulse the blender in short burst until the mint leaves are chopped.
Storage
Keep the strawberry lemonade syrup in the fridge for up to 5 days. But you can also freeze the syrup if you can't drink all of it in that time! Frozen syrup will keep for up to 4 months in the freezer, in an airtight container or a Ziploc container. Just scoop or pour some of the frozen syrup into a glass with ice, add the sparkling water and you have instant refreshment!
If you like this strawberry lemonade, check out these other recipes using strawberries
Sparkling Strawberry Lemonade
This strawberry lemonade is an easy beverage that is absolutely refreshing. The recipe makes a not-so-sweet but not puckeringly sour lemonade, so if you like your lemonade a little more on the sweet side, increase the sugar to 1 cup. Make it with fresh water if you don't want it sparkling. I highly recommend you use fresh squeezed lemons and not bottled lemon juice which tastes slightly off. Strain the fruit syrup if you want a cleaner smoother lemonade, but feel free to skip this step if you don't care if the lemonade has a little more body.
Ingredients
1

pound

strawberries

hulled and coarsely chopped

2

cups

fresh squeezed lemon juice

about 2 1/2 to 3 pounds or 10 -12 medium lemons

3/4

cup

white sugar

150 g

Sparkling water or seltzer

Lime wedges as garnish

optional
Instructions
Place the chopped strawberries, lemon juice and sugar in a blender or food processor. Process until the strawberries are pureed smooth and the sugar has dissolved.

Strain the liquid if you want a smoother lemonade. Skip this step if you don't mind if your lemonade has a little more body.

Add about 3/4 cup of the strawberry lemon syrup to a glass and add 1 cup of sparkling water. Stir and add ice. Adjust the ratio of water to syrup by taste. Enjoy!
Nutrition
Calories:
137
kcal
|
Carbohydrates:
32.5
g
|
Protein:
1.2
g
|
Fat:
0.9
g
|
Saturated Fat:
0.7
g
|
Sodium:
17
mg
|
Potassium:
204
mg
|
Fiber:
1.8
g
|
Sugar:
30.4
g
|
Calcium:
18
mg